Years active

1968–present




Name

Chuck Norris




Net worth

$70 million (2015)




Role

Martial Artist




Children

5




Height

1.78 m




Website

www.chucknorris.com







Full Name

Carlos Ray Norris




Born

March 10, 1940 (age 83) (

1940-03-10

) Ryan, Oklahoma, U.S.


Occupation

Actor, martial artist, film producer, screenwriter




Siblings

Aaron Norris, Wieland Clyde Norris




Spouse

Gena O'Kelley (m. 1998), Dianne Holechek (m. 1958–1988)




Movies and TV shows

Walker - Texas Ranger, The Delta Force, Missing in Action, The Expendables 2, Firewalker


Similar People

Bruce Lee, Aaron Norris, Jean‑Claude Van Damme, Gena O'Kelley, Sylvester Stallone
Chuck norris biography 2005
Carlos Ray "Chuck" Norris (born March 10, 1940) is an American martial artist, actor, film producer and screenwriter. After serving in the United States Air Force, he began his rise to fame as a martial artist, and has since founded his own school, Chun Kuk Do.
Contents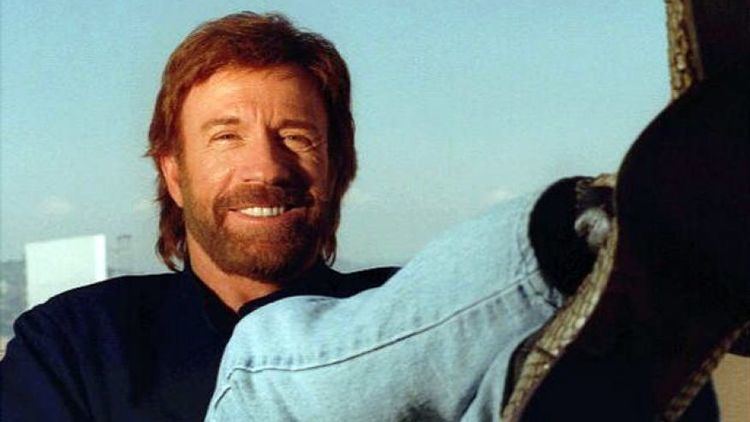 Norris appeared in a number of action films, such as Way of the Dragon, in which he starred alongside Bruce Lee, and was The Cannon Group's leading star in the 1980s. He played the starring role in the television series Walker, Texas Ranger from 1993 until 2001.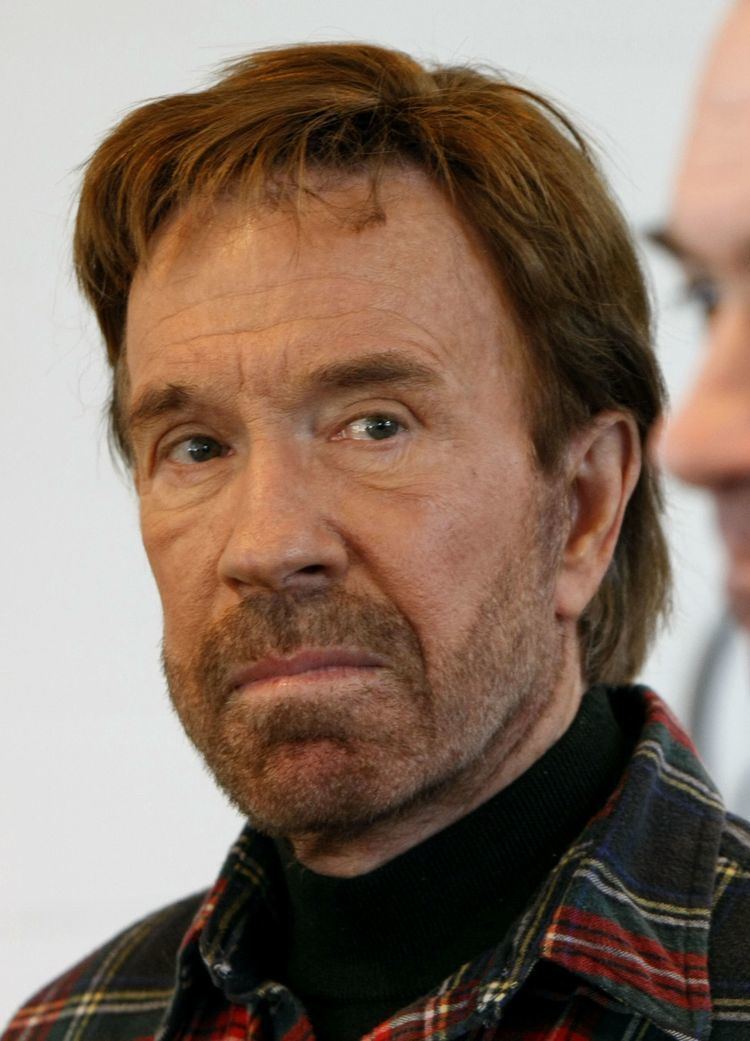 Norris is a devout Christian and politically conservative. He has written several books on Christianity and donated to a number of Republican candidates and causes. In 2007 and 2008, he campaigned for former Arkansas Governor Mike Huckabee, who was running for the Republican nomination for president in 2008. Norris also writes a column for the conservative website WorldNetDaily. Since 2005 Norris has been widely associated with an internet meme which documents fictional and often absurd feats associated with him.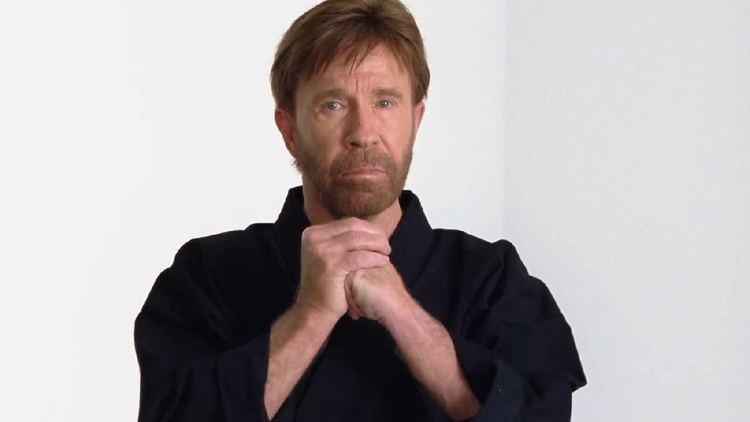 Chuck Norris - Dojo - 2014 (Q&A Part 2)
Early life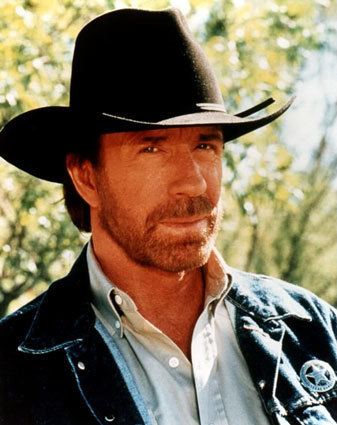 Norris was born in Ryan, Oklahoma on March 10, 1940, the son of Wilma (nee Scarberry) and Ray Norris, who was an World War II Army soldier, a mechanic, bus driver, and truck driver. Norris is one half Irish and one half Cherokee Indian, whose paternal grandmother and maternal grandfather were full blooded Cherokees. Norris was named after Carlos Berry, his father's minister. He has two younger brothers, Wieland (1943-1970; killed in Vietnam) and Aaron (a Hollywood producer). When Norris was sixteen, his parents divorced, and he later relocated to Prairie Village, Kansas, and then to Torrance, California, with his mother and brothers.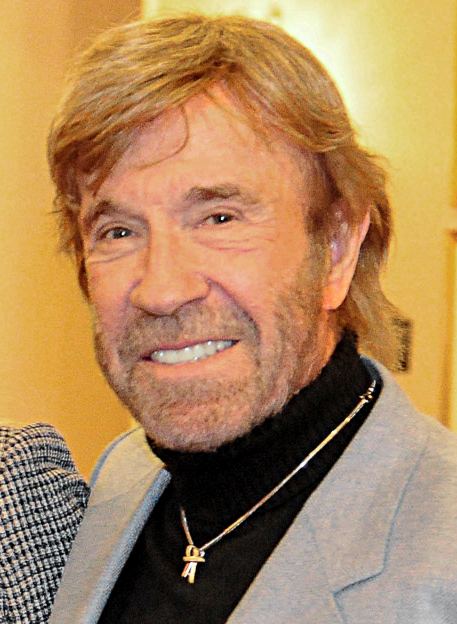 Norris has described his childhood as downbeat. He was nonathletic, shy, and scholastically mediocre. His father, Ray, worked intermittently as an automobile mechanic, and went on alcohol drinking binges that lasted for months at a time. Embarrassed by his father's behavior and the family's financial plight, Norris developed a debilitating introversion that lasted for his entire childhood.
He joined the United States Air Force as an Air Policeman (AP) in 1958 and was sent to Osan Air Base, South Korea. It was there that Norris acquired the nickname Chuck and began his training in Tang Soo Do (tangsudo), an interest that led to black belts in that art and the founding of the Chun Kuk Do ("Universal Way") form. When he returned to the United States, he continued to serve as an AP at March Air Force Base in California.
Norris was discharged in August 1962. He worked for the Northrop Corporation and opened a chain of Karate schools including a storefront school in his then-hometown of Torrance on Hawthorne Boulevard. Norris' official website lists celebrity clients at the schools; among them Steve McQueen, Chad McQueen, Bob Barker, Priscilla Presley, Donny Osmond and Marie Osmond.
Martial arts career
Norris was defeated in his first two tournaments, dropping decisions to Joe Lewis and Allen Steen and three matches at the International Karate Championships to Tony Tulleners. By 1967 Norris had improved enough that he scored victories over the likes of Lewis, Skipper Mullins, Arnold Urquidez, Victor Moore, Ron Marchini, and Steve Sanders. Norris would be a two time winner at S. Henry Cho's All American Championship. In early 1968, Norris suffered the tenth and last loss of his career, losing an upset decision to Louis Delgado. On November 24, 1968, he avenged his defeat to Delgado and by doing so won the Professional Middleweight Karate champion title, which he held for six consecutive years. In 1969, he won Karate's triple crown for the most tournament wins of the year, and the Fighter of the Year award by Black Belt (magazine) magazine.
Norris made history in 1990 when he was the first Westerner in the documented history of Tae Kwon Do to be given the rank of 8th Degree Black Belt Grand Master. In 1999, Norris was inducted into the Martial Arts History Museum's Hall of Fame. On July 1, 2000, Norris was presented the Golden Lifetime Achievement Award by the World Karate Union Hall of Fame.
Rise to fame
In 1969, Norris made his acting debut in the Dean Martin film The Wrecking Crew. In June 1970, his younger brother Wieland, a private in the 101st Airborne Division, was killed in Vietnam while on patrol in the defense of Firebase Ripcord. Norris later dedicated his Missing in Action films to his brother's memory.
At a martial arts demonstration in Long Beach, Norris met the martial artist Bruce Lee. In 1972, he acted as Lee's nemesis in the movie Way of the Dragon (titled Return of the Dragon in its U.S. distribution), which is widely credited with launching him toward stardom. In Asia, Norris is still known primarily for this role. In 1974, McQueen encouraged him to begin acting classes at MGM.
Norris' first starring role was 1977's Breaker! Breaker!, and subsequent films such as Good Guys Wear Black (1978), The Octagon (1980), An Eye for an Eye (1981), and Lone Wolf McQuade proved his increasing box office bankability. In 1984, Norris starred in Missing in Action, the first of a series of Rambo-inspired POW rescue fantasies themed around the Vietnam War POW/MIA issue that were produced by Israeli cousins Menahem Golan and Yoram Globus and released under their Cannon Films banner. The film, however, was criticized heavily as being a preemptive cash-in on the Rambo film series.
Over the next four years, Norris became Cannon's most prominent star, appearing in eight films, including Code of Silence, The Delta Force, and Firewalker, in which he co-starred with Academy Award winner Louis Gossett, Jr.. Many of the aforementioned films were produced by Norris' brother Aaron Norris, as were several episodes of Walker, Texas Ranger. In 1986, he was involved in the production of the Ruby-Spears cartoon Karate Kommandos.
In October 2014 he revealed that he would be shooting a new film, The Finisher, in March 2015.
Walker, Texas Ranger
By the end of the 1980s, Cannon Films had faded from prominence, and Norris' star appeal seemed to go with it. He reprised his Delta Force role for MGM, which had acquired the Cannon library after the latter's Chapter 11 bankruptcy. Norris went on to make several more films before making a transition to television. In 1993, he began shooting the series Walker, Texas Ranger, which lasted eight years on CBS and continued in heavy syndication on other channels, notably the Hallmark Channel.
On October 17, 2005, CBS premiered the Sunday Night Movie of the Week, Walker, Texas Ranger: Trial by Fire. The production was a continuation of the series, and not scripted to be a reunion movie. Norris reprised his role as Cordell Walker for the movie. He has stated that future Walker, Texas Ranger Movie of the Week projects are expected; however, this was severely impaired by CBS's 2006–2007 season decision to no longer regularly schedule Movies of the Week on Sunday night.
Product endorsements
Norris has appeared with Christie Brinkley in a long-running series of cable TV infomercials promoting Total Gym home fitness equipment.
In 2010, Norris appeared in advertisements for communications company T-Mobile in the Czech Republic. In 2011, Norris appeared in advertisements for the World of Warcraft video game. In 2012, Norris appeared in a series of commercials for the Polish bank BZ WBK.
Norris has also appeared in a commercial for Mountain Dew.
Chun Kuk Do
Norris created the martial art Chun Kuk Do, which is based primarily on Tang Soo Do and includes elements from every combat style he knows. Like many other martial arts, Chun Kuk Do includes a code of honor and rules to live by. These rules are from Norris' personal code. They are:
I will develop myself to the maximum of my potential in all ways.
I will forget the mistakes of the past and press on to greater achievements.
I will continually work at developing love, happiness and loyalty in my family.
I will look for the good in all people and make them feel worthwhile.
If I have nothing good to say about a person, I will say nothing.
I will always be as enthusiastic about the success of others as I am about my own.
I will maintain an attitude of open-mindedness.
I will maintain respect for those in authority and demonstrate this respect at all times.
I will always remain loyal to my God, my country, family and my friends.
I will remain highly goal-oriented throughout my life because that positive attitude helps my family, my country and myself.
Family
Norris married Dianne Holechek in 1958. In 1963 their first child, Mike, was born. His daughter Dina was born in 1964 out of an extramarital affair. Later, he had a second son, Eric, with his wife in 1965. After 30 years of marriage, Norris and Holechek divorced in 1988.
In November 1998, he married former model Gena O'Kelley, born in 1963 and 23 years Norris' junior. O'Kelley had two children from a previous marriage. She delivered twins in 2001: Dakota Alan Norris, a boy, and Danilee Kelly Norris, a girl. The wedding was performed by Lawrence Kennedy, who is featured in Norris' autobiography.
On September 22, 2004, Norris told Entertainment Tonight's Mary Hart that his daughter Dina was the result of an extramarital affair. He did not meet her until she was 26, although she learned that he was her father when she was 16. She sent a letter to his home informing him of their relationship. After meeting her, Norris said he knew she was his daughter upon seeing her.
In 2005, Norris mentioned in an autobiography that his mother gave birth to him when she was 18 years-old and that his deceased brother Wieland was his first black belt when he was teaching him how to fight.
Norris has nine grandchildren.
Christianity
An outspoken Christian, Norris is the author of several Christian-themed books, such as The Justice Riders. He has also been in a few TV commercials promoting Bible study and prayer in public schools, in addition to efforts to reduce drug use. In his WorldNetDaily columns, he has expressed his belief in Biblical creationism, that those who are troubled should turn to Jesus, and is quoted as saying "true patriots" do not stay clear of discussing religion and politics.
On April 22, 2008, Norris expressed his support for the intelligent design movement when he reviewed Ben Stein's Expelled for Townhall.com.
Martial arts and personal fitness
Norris has received a black belt in Brazilian jiu-jitsu from the Machado family.
In his February 15, 2010 WorldNetDaily column, Norris announced that, starting in the fall of 2010, he will begin a second weekly column for Creators Syndicate. This new column, "C-Force", will focus on personal fitness.
Philanthropy
He is known for his contribution towards organizations such as Funds for Kids, Veteran's Administration National Salute to Hospitalized Veterans, the United Way, and the Make-A-Wish Foundation in the form of donations as well as fund-raising activities.
His time with the U.S. Veterans Administration as a spokesperson was inspired by his experience serving the United States Air Force in Korea. His objective has been to popularize the issues such as Pensions and Health care, that concern hospitalized war veterans. Due to his significant contributions, and continued patriotism, he received the Veteran of the Year award in 2001 at the American Veteran Awards.
Norris also established the United Fighting Arts Federation and Kickstart Kids in 1990. As a significant part of his philanthropic contributions, the organization was formed to develop self-esteem and focus in at-risk children as a tactic to keep them away from drug-related pressure by training them in martial arts. Norris hopes that by shifting middle school and high school children's focus towards this positive and strengthening endeavour, these children will have the opportunity to build a better future for themselves.
In 2005, Norris founded the World Combat League (WCL), a full-contact, team-based martial arts competition, of which part of the proceeds are given to his Kickstart Kids program.
Additionally, Norris supports the Vijay Amritraj Foundation, which aims at bringing hope, help and healing to the defenceless and innocent victims of disease, tragedy and circumstance in India. Through his donations, he has helped the foundation support Paediatric HIV/AIDS homes in Delhi, a blind school in Karnataka, and a mission that cares for HIV/AIDS infected adults, as well as mentally ill patients in Cochin.
Political views
Norris is a Republican and has donated more than $32,000 to Republican candidates and organizations since 1988. Norris supports gun rights and ownership and is against public schools celebrating the Day of Silence.
In 2006, Norris began penning a column for the conservative news website WorldNetDaily, sharing his "musings about faith, family, freedom, country, loyalty – maybe even kickboxing."
On October 22, 2007, Norris announced his endorsement of Arkansas Governor Mike Huckabee for President. Norris said, "I believe the only one who has all of the characteristics to lead America forward into the future is ex-Arkansas Gov. Mike Huckabee."
After the 2008 presidential election, Norris drafted a letter to President-elect Barack Obama, stating that he should "use and cite the Constitution ... protect American life ... learn from the mistakes of your Democratic predecessors ... [and] lead more from the center".
On November 18, 2008, Norris became one of the first members of show business to express support for the California Proposition 8 ban on same-sex marriage, and he chided activists for "interfering" with the democratic process and the double standard he perceived in criticizing the LDS Church without criticizing African Americans, who had voted for the measure by a wide margin.
During the 2012 presidential election, Norris first recommended Ron Paul, and then later formally endorsed Newt Gingrich as the Republican presidential candidate. After Gingrich suspended his campaign in May 2012, Norris endorsed Republican presumptive nominee Mitt Romney, despite Norris having previously accused Romney of flip-flopping and of trying to buy the nomination for the Republican Party candidacy for 2012. On the eve of the election he and his wife Gina made a video warning that if evangelicals didn't show up at the polls and vote out President Obama, "...our country as we know it may be lost forever...". Norris also produced the film Answering the Call, which featured his 2007 trip to Iraq to visit the troops.
Honors
On March 28, 2007, Commandant Gen. James T. Conway made Norris an honorary United States Marine during a dinner at the commandant's residence in Washington, D.C.
On December 2, 2010, he (along with brother Aaron) was given the title honorary Texas Ranger by Texas Governor Rick Perry.
Internet meme
In late 2005, Norris became the object of an ironic internet meme known as "Chuck Norris Facts", which document fictional, often absurdly heroic feats and characteristics about Norris. Norris has written his own response to the parody on his website, stating that he does not feel offended by them and finds some of them funny, claiming that his personal favorite is that they wanted to add his face to Mount Rushmore, but the granite is not hard enough for his beard.
On November 29, 2007, Gotham Books, the adult division of Penguin USA, released a book entitled The Truth About Chuck Norris: 400 facts about the World's Greatest Human based on the Chuck Norris Facts. Norris filed suit in December against Penguin USA and author Ian Spector claiming "trademark infringement, unjust enrichment and privacy rights." Norris dropped the suit in May of the following year.
Quotes
Men are like steel When they lose their temper - they lose their worth
A lot of times people look at the negative side of what they feel they can't do I always look on the positive side of what I can do
Violence is my last option

References
Chuck Norris Wikipedia
(Text) CC BY-SA