Occupation

Writer, actress




Name

Christina Crawford




Role

Writer








Born

June 11, 1939 (age 83) (

1939-06-11

) Los Angeles, California, United States


Parents

Phillip Terry, Joan Crawford


Siblings

Christopher Crawford, Cathy Crawford, Cynthia Crawford




Movies

Mommie Dearest, Wild in the Country, Surviving Mommie Dearest, Faces


Spouse

Michael Brazzel (m. 1994–1999), David Koontz (m. 1976–1982), Harvey Medlinsky (m. 1966–1968)




Books

Mommie Dearest, No safe place, Daughters of the Inquisitio, Survivor, Black Widow




Similar People

Joan Crawford, Christopher Crawford, Faye Dunaway, Phillip Terry, Diana Scarwid
Christina crawford author of mommie dearest interview with bill boggs
Christina Crawford (born June 11, 1939) is an American writer and actress, best known as the author of Mommie Dearest, an autobiographical account of child abuse by her adoptive mother, actress Joan Crawford. She is also known for roles in various television and film projects, such as Joan Borman Kane in the soap opera The Secret Storm and Monica George in the Elvis Presley film Wild in the Country.
Contents
ULTIMATE CHRISTINA CRAWFORD SUPPORT VIDEO GREAT JOB 'SURVIVING MOMMIE DEAREST' NEW SHOW
Early life and education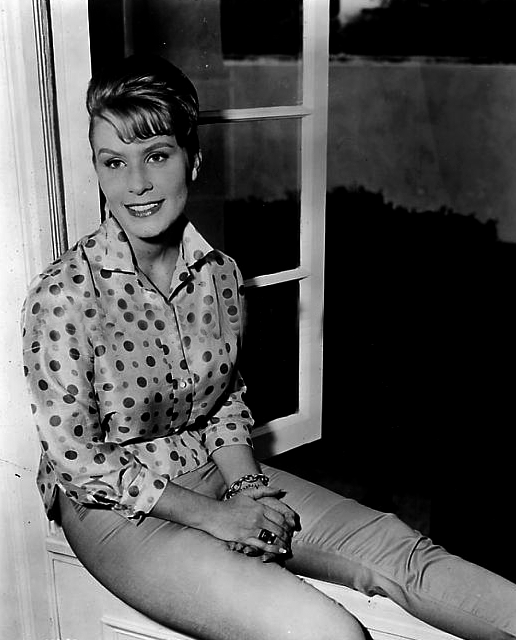 Christina Crawford was born in Los Angeles, California, in 1939 to unmarried teens. According to her personal interview with Larry King, her father was married to another woman, and supposedly in the Navy, while her mother was unmarried. Christina Crawford was adopted from a baby broker in the state of Nevada because Joan Crawford was formally denied an adoption by social services for being an unfit candidate in California in 1940. Christina maintains that Joan Crawford did not have a positive relationship with her own mother or with her brother, which contributed to social services' conclusion, as well as her multiple divorces. Christina was one of five children adopted by Joan Crawford. Her siblings are Christopher, adopted in 1943, and twin girls, Catherine (Cathy) and Cynthia (Cindy), adopted in 1947. Another boy, also named Christopher, was adopted in 1942 but reclaimed by his birth mother.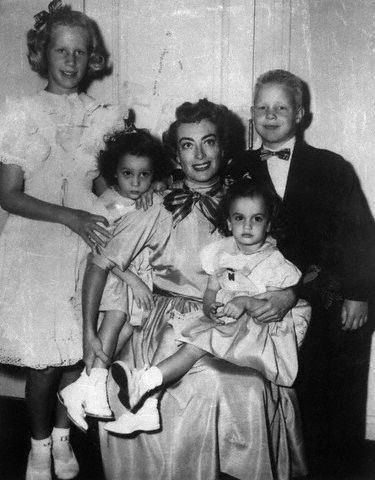 Christina Crawford has stated that her childhood was affected by her adoptive mother's alcoholism. At age 10 Christina was sent to Chadwick School in Palos Verdes, California, where many other celebrity children were in attendance. However, her mother sent her from Chadwick to graduate from Flintridge Sacred Heart Academy in La Cañada (now the city of La Cañada Flintridge), California, and curtailed Christina's outside contact until her graduation. After graduating from Flintridge, Crawford moved from California to Pittsburgh to attend Carnegie Mellon School of Drama and then to New York City where she studied at the Neighborhood Playhouse in Manhattan. After seven years she gained a Bachelor of Arts degree from UCLA. After fourteen years as an actress, Christina returned to college, graduating Magna Cum Laude from UCLA and received her Masters degree from the Annenberg School of Communication at USC. after which she worked in corporate communications at the Los Angeles headquarters of Getty Oil Company.
Personal life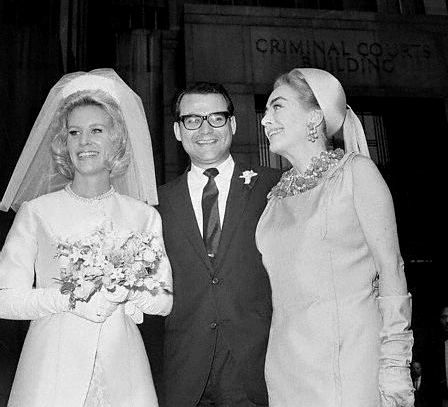 Christina met Harvey Medlinsky, a director and Broadway stage manager, while while appearing in the Chicago national company of Barefoot in the Park. They were married briefly. She met her second husband, commercial producer David Koontz, while working on a car commercial.
Acting career
Crawford appeared in summer stock theatre, including a production of Splendor in the Grass. She also acted in a number of Off-Broadway productions, including In Color on Sundays (1958). She also appeared in At Chrismastime (1959) and Dark of the Moon (1959) at the Fred Miller Theater in Milwaukee, and The Moon Is Blue (1960).
In 1960, Crawford accepted a role in the film Force of Impulse, which was released in 1961. Also in 1961, Crawford appeared in a small role in Wild in the Country, a film starring Elvis Presley. That year, she made a guest appearance on Dean Miller's NBC celebrity interview program Here's Hollywood, promoting the films. In 1962, she appeared in the play The Complaisant Lover. She played five character parts in Ben Hecht's controversial play Winkelberg; that same year, she appeared on the CBS courtroom drama The Verdict is Yours. In October 1965 she appeared in Neil Simon's Barefoot in the Park, with Myrna Loy, a friend of her mother. She also had a role in Faces, a 1968 film directed by John Cassavetes and starring John Marley and Gena Rowlands.
Christina played Joan Borman Kane on the soap opera The Secret Storm in New York from 1968 until 1969. While Christina was in the hospital recovering from an emergency operation in October 1968, Joan Crawford, then over 60 years old, asked for the role of the 24-year-old character. She did this without mentioning it to her daughter, and under the guise of "holding the role" for Christina, so that the part wouldn't be recast during her absence, appearing in four episodes. Viewers increased 40% during this replacement time, and Christina, already feeling betrayed, also felt embarrassed due to her mother's seemingly intoxicated performance. Eventually let go from the series, Christina believed her mother's interference had contributed to her departure. The producers, however, claimed that the character and her storyline had simply run its course.
Crawford would also appear on other TV programmes, including Medical Center, Marcus Welby, M.D., Matt Lincoln, Ironside and The Sixth Sense.
Career after mother's death
After Joan Crawford died in 1977, Christina and her brother Christopher discovered that their mother had disinherited them from her $2 million estate, her will citing "reasons which are well-known to them". In November 1977 Christina and her brother sued to invalidate their mother's will, which she signed on October 18, 1976. Cathy LaLonde (another Crawford daughter) and her husband, Jerome, the complaint charged, "took deliberate advantage of decedent's seclusion and weakened and distorted mental and physical condition to insinuate themselves" into Miss Crawford's favor. A court settlement was reached on July 13, 1979, awarding Christina and Christopher $55,000 from their mother's estate.
In 1978, Crawford's book Mommie Dearest was released. It accused her mother of being a cruel, violent, neglectful, and manipulative narcissistic parent, as she adopted her children only to raise money and publicity instead of out of a desire to be a responsible, humane mother after being labeled "box office poison". It also raised public discourse about child abuse, which was just beginning to be widely acknowledged as a problem. In 1981, a movie adaptation of the book was released, starring Faye Dunaway as Joan Crawford and Diana Scarwid as Christina. The film, while critically panned, went on to gross more than $39 million worldwide from a $5 million budget, and garnered five Golden Raspberry Awards. The film is now regarded as an unintentional comedy and a cult classic; however, Christina was horrified by the film, and said in her interview with Larry King it depicted what her childhood was like. Christina has published five subsequent books, including Survivor. For seven years she served as a member of Los Angeles' Inter-Agency Council on Abuse and Neglect Associates, during which time she campaigned for the reform of laws regarding child abuse and child trafficking.
After a near-fatal stroke in 1981, Crawford spent five years in rehabilitation before moving to the Northwest. She ran a bed and breakfast called Seven Springs Farms in Tensed, Idaho, between 1994 and 1999. She formed Seven Springs Press in 1998 to publish the 20th-anniversary edition of Mommie Dearest in paperback from the original manuscript. This included material omitted from the first printing about the years following her graduation from high school.
In 2000 Crawford began working as Entertainment Manager at the Coeur d'Alene Casino in Idaho, and left this position in 2007. She then wrote and produced an award-winning regional TV series, Northwest Entertainment. On November 22, 2009, she was appointed county commissioner in Benewah County, Idaho, by Governor Butch Otter, though she lost her bid for election in November 2010. In 2011, Crawford founded the non-profit Benewah Human Rights Coalition and served as the organization's first president. In 2013, she made a documentary titled Surviving Mommie Dearest.
On November 21, 2017, the ebook editions of Mommie Dearest, Survivor, and Daughters of the Inquisition will be published through Open Road Integrated Media. Crawford is also currently working with composer David Nehls on a stage musical adaptation of Mommie Dearest to be produced in regional theater and on Broadway.
Books
Mommie Dearest (1978) ISBN 0-9663369-0-9
Black Widow: A Novel (1981) ISBN 0-425-05625-2
Survivor (1988) ISBN 0-515-10299-7
No Safe Place: The Legacy of Family Violence (1994) ISBN 0-88268-184-2
Daughters Of The Inquisition: Medieval Madness: Origin and Aftermath (2003) ISBN 0-9663369-1-7
Mommie Dearest: Special Edition (2017) ebook ISBN 978-1-5040-4908-5
Survivor (2017) ebook ISBN 978-1-5040-4907-8
Daughters of the Inquisition: Medieval Madness: Origin and Aftermath (2017) ebook ISBN 978-1-5040-4905-4
References
Christina Crawford Wikipedia
(Text) CC BY-SA