Chori Chori Chupke Chupke (English: Secretly and Stealthily) is a 2001 Indian Hindi romantic drama movie directed by Abbas-Mustan. It stars Salman Khan, Rani Mukerji and Preity Zinta in leading roles. The film generated heavy controversy during its release because it was one of the first Bollywood films to handle the taboo issue of surrogate childbirth. It emerged as a commercial success and was one of the highest-grossing films of 2001.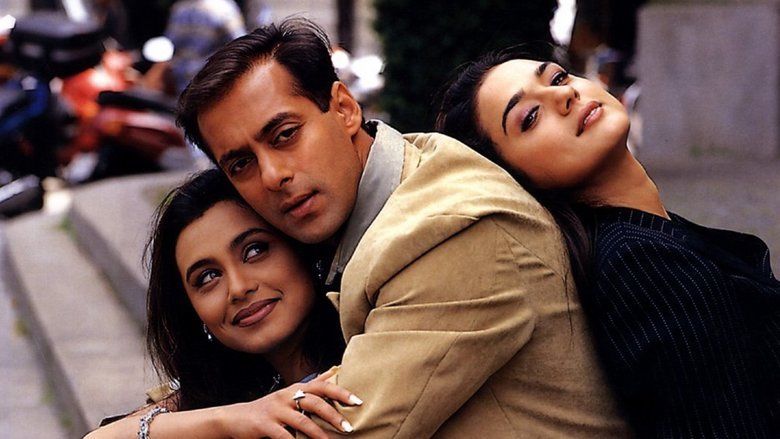 This is the only movie of director duo Abbas-Mustan in which Salman Khan worked. Earlier they approached him for the 1993 movie Baazigar. However, the role was later offered to Shahrukh Khan.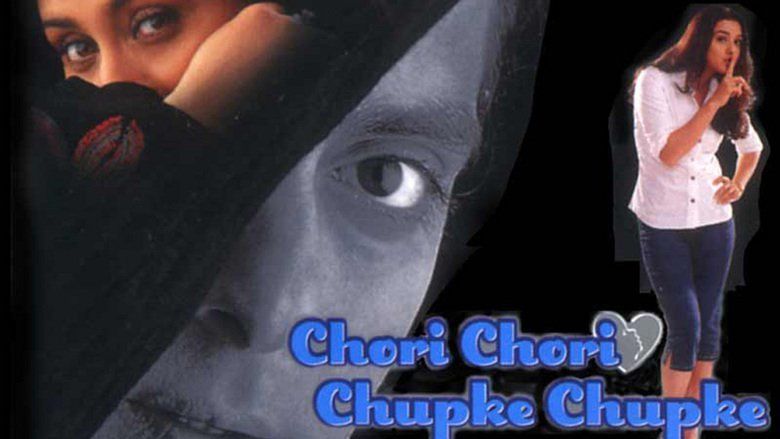 Some of the scenes in the film have been borrowed from Pretty Woman (1990), and the storyline is similar to Doosri Dulhan by Lekh Tandon.
In 2001, the CBI (Central Bureau of Investigation) seized prints of Chori Chori Chupke Chupke, after it was discovered the movie was funded by Chhota Shakeel of the Mumbai underworld, which resulted in the well publicised Bharat Shah case.
Raj Malhotra (Salman Khan) and Priya (Rani Mukerji) are members of high society. They meet, get married and soon afterwards Priya gets pregnant. Very early in the pregnancy, Priya trips, miscarries, and becomes permanently infertile. On the doctor's (Prem Chopra) advice, they decide to look for a surrogate mother to bear Raj's child. The surrogacy is concealed from their conservative family. Raj meets Madhubala a.k.a. Madhu (Preity Zinta), a prostitute who agrees to have Raj's baby, in exchange for money. After some much-needed behavioural grooming and an image make over, Madhu meets Priya—who will be left unaware that Madhu is a prostitute—and the three depart for Switzerland together to carry out their plan.
Soon Madhu is pregnant with Raj's child, and he happily tells his family that Priya is expecting. Meanwhile, Raj's business partner (Adi Irani) has begun sexually harassing Madhu until she's ready to leave Switzerland, upset at the thought that Raj told his friend that she is a prostitute, although he didn't. Eventually, Priya finds out about Madhu's past, but she still believes that Madhu should carry their child, and she begs her to stay. Finally, Raj's friend assaults Madhu while he thinks she's home alone, but Raj saves her. Overwhelmed by Raj's kindness, Madhu falls in love with him.
Raj's family suddenly arrives in Switzerland. While Priya reaches for pregnancy-simulating pillows, the family meet the heavily pregnant Madhu and Raj tells them that she is a friend who is staying with him and Priya while her husband is business-traveling and she has no other family. Raj's grandfather (Amrish Puri) arranges a religious ceremony and tells Raj and Priya that they are going back to India; this also includes Madhu.
The ceremony is very important so Priya sends Madhu as herself. The emotion at the ceremony is too much for Madhu and she becomes conflicted about giving up her child. Priya finds Madhu's room empty and the money dumped on the bed, and pursues her to the train station, only to slap Madhu when she confesses that she loves Raj. By the time Raj gets there, Madhu has gone into premature labor. The doctor announces that only one—Madhu or her child—can be saved, and Priya asks him to save Madhu. However, both mother and baby survive and seem likely to thrive. Madhu gives the baby to Priya, who quickly settles into a hospital bed with "her" baby. The doctor tells Raj's family that Madhu's child was stillborn and Madhu has made a recovery.
When Madhu is ready to leave, she promises Raj that she won't go back to prostitution. When he takes her to the airport he realizes that she loves him and kisses her forehead. Madhu leaves happily, ready and able to start fresh, as Raj and Priya start their new lives as thankful and proud parents.
Salman Khan as Raj Malhotra, a wealthy businessman who is deeply in love with his wife.
Rani Mukerji as Priya Malhotra, Raj's extraordinarily beautiful wife who suffers a miscarriage causing her to be infertile.
Preity Zinta as Madhubala Sharma, a prostitute who is hired by Raj to be a surrogate mother for him and Priya.
Amrish Puri as Kailashnath Malhotra
Dalip Tahil as Ranjit Malhotra
Farida Jalal as Asha Malhotra
Prem Chopra as Dr. Balraj Chopra
Johnny Lever as Pappu Bhai
Adi Irani as Ajay Sharma
Ruby Bhatia as News reporter
Deepti Bhatnagar as Dancer
Dinyar Contractor
The film met with mostly mixed-positive reviews, with critics praising the uniqueness of the film which dealt with a previously untouched subject. Preity Zinta's performance in a meaty, unconventional role was especially noted by many critics alike. However, the duo of Salman Khan and Rani Mukerji faced criticism, with reviews expressing that they were nothing more but beauty fillers in the film. Film critic Sukanya Verma found Mukerji to be "handicapped with a role that doesn't give her much scope besides weeping and sobbing" and stated Khan's performance lacked substance.
Nominations
Filmfare Best Supporting Actress Award - Preity Zinta
Bollywood Movie Award - Most Sensational Actor - Salman Khan
Music by Anu Malik and lyrics by Sameer. According to the Indian trade website Box Office India, with around 20,00,000 units sold, this film's soundtrack album was the year's sixth highest-selling.