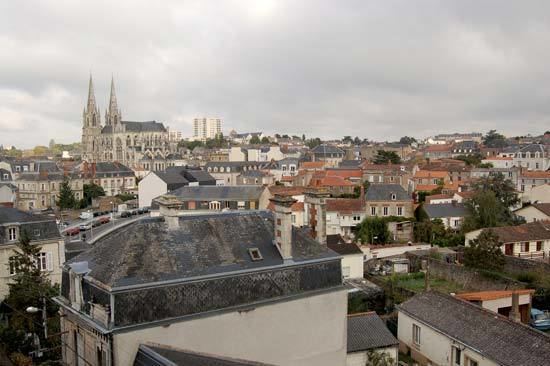 In 1906 the population was 16,554, and 54,632 in 2006.
Cholet stands on an eminence on the right bank of the Moine, which used to be crossed by a bridge from the fifteenth century. It is about 50 km southeast of Nantes.
The town owes the rise of its prosperity to the settlement of weavers there by Édouard Colbert, count of Maulévrier, a brother of the great Jean-Baptiste Colbert. It then became an estate of Gabriel François, Count de Rougé and Marquess of Cholet, who developed the city and its economy. The main commercial mall being built this year is named after him: The "Arcades Rougé".
During the early years of the French revolutionary wars, the town found itself at the heart of the counter-revolutionary struggle in the Vendée, culminating in October 1793 with the Battle of Cholet which was won by the republicans and followed by a period of brutal government repression.
Cholet hosted Stage 4 (Individual Time Trial) and was the departure of Stage 5 in the 2008 Tour de France.
According to the Jan 10th 1885 edition of Corbett's Herald, a temporary theatre had collapsed on an audience of 1000, causing 150 fatalities.
A public garden occupies the site of the old castle; the public buildings and churches, for example the Church of the Sacred Heart (1939), are modern.
Megalithic monuments are numerous in the neighborhood.
A textile museum (Musée du Textile) exists to conserve the traditional machines used to create the famous handkerchiefs made in this town, as well as the techniques used to make them and the oral and local history associated with the industry.
There are granite quarries in the vicinity of the town. The chief industry is the manufacture of linen and linen handkerchiefs, which is also carried on in the neighboring communes on a large scale. Woolen and cotton fabrics are also produced, and bleaching and the manufacture of preserved foods are carried on. Cholet is the most important center in France for the sale of fat cattle, sheep and pigs, for which Paris is the chief market.
Cholet Aérodrome serves Cholet. The Gare de Cholet railway station offers regional services towards Nantes and Angers.
Cholet is twinned with:
Oldenburg, Germany since 1985
Dorohoi, Romania
Solihull, United Kingdom
Dénia, Spain
Sao, Burkina Faso – cooperation
Araya, Lebanon
Pierre-De Saurel Regional County Municipality (Quebec, Canada) – twinning of the communauté d'agglomération
Antoine Rigaudeau (b. 1971), basketball player
François Morellet (1926–2016), painter, sculptor and light artist