Chokher Bali ( Bengali: চোখের বালি; literally translated to "sand in the eye", figuratively to "constant irritant") is a Bengali drama film based on the novel Chokher Bali by Rabindranath Tagore. It was directed by Rituparno Ghosh in 2003 and stars Aishwarya Rai as Binodini and Raima Sen as Ashalata. Ashalata and Binodini refer to each other as Chokher Bali. The other major characters are played by Prosenjit Chatterjee as Mahendra, Lily Chakravarty as Rajlakshmi, the mother of Mahendra, Tota Roy Chowdhury as Behari, Rajlakshmi's adopted son and Swastika Mukherjee in a cameo role. The film was later dubbed into Hindi and was released internationally in that language.
Contents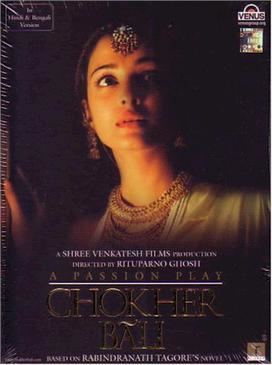 Upon release, Chokher Bali met with positive critical and box office reception.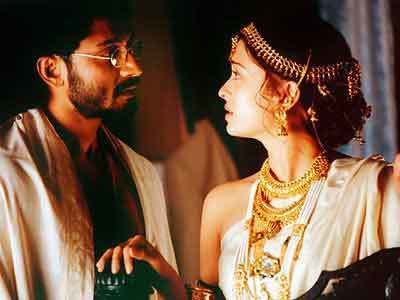 Chokher Bali won the National Film Award for Best Feature Film in Bengali and was nominated for the Golden Leopard (Best Film) award at the Locarno International Film Festival in 2003. The film screened at the 34th International Film Festival of India on 19 October. It was the Official Selection at the Chicago International Film Festival in 2003 and was showcased in over 25 international festivals including the Toronto International Film Festival, London Film Festival, Palm Springs, Karlovy Vary and Washington DC International Film Festival besides winning the Apsara Film Producers' Award for the Best Regional Film 2004. Aishwarya Rai had won the Best Actress award at the Anandalok Awards 2003.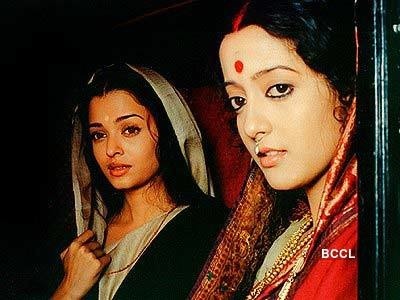 Plot
Binodini is a young girl who is left to her own devices when her sickly husband dies soon after their marriage. She returns to her village and lives there for a couple of months until she sees one of her aunts passing by. Binodini hails the woman and her two sons agree that it would be best if Binodini came to live with the woman and her son, Mahendra. But that son, Mahendra, was one of the first to see Binodini's photo when she was propsed as a prospective wife for him, yet refused her on account of his being "unready for marriage." When Binodini arrives with her aunt, Mahendra and his new bride are constantly sneaking off to be alone together. This infatuation does not last long, however, and Mahendra soon begins to see that Binodini is more his type. Mahendra and Binodini, start an affair, and this is soon revealed to Ashalata, who, unaware of her pregnancy, leaves for Kashi. Binodini, after realizing that Mahendra is self-obsessed, leaves Mahendra's house. She pleads with Behari to marry her, but Behari, true to his values, rejects her offer. Binodini leaves the town for her village. She writes a letter to Behari that she'll be waiting for him in Kashi. As she is leaving for Kashi, Mahendra comes to mend their relations, which she refuses. Instead she makes him promise to take her to Behari. At Kashi, Binodini meets Behari who, after some incidents, agrees to marry her. On the day of marriage Binodini vanishes, leaving a letter for Asha. The story details the lives of these three and Mahendra's best friend as they deal with issues such as distrust, adultery, lies, and falling-out.123
Music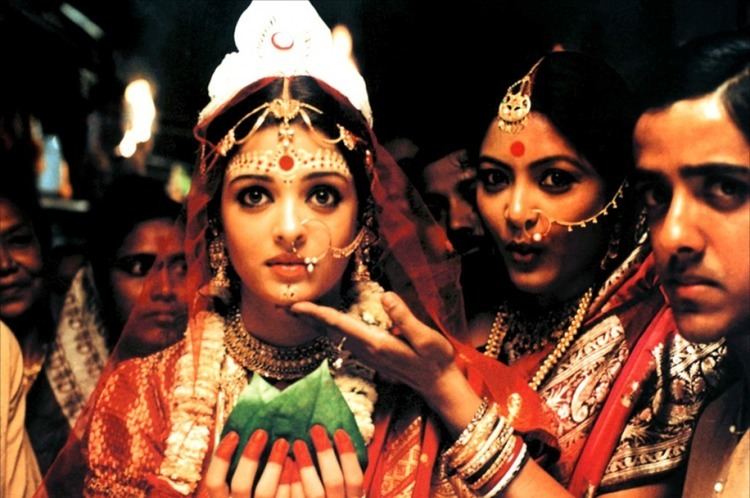 The film's background score is by Debojyoti Mishra and, notably, it contains no playback singing. Sreela Majumdar dubbed for Aishwarya Rai and Sudipta Chakraborty dubbed for Raima Sen.
Culture
In olden days in Bengal, women and girls who were best friends would often set a common nickname for themselves and address each other by that name. In this story, two friends Binodini and Ashalata call each other 'Chokher Bali.'
Subtitled a 'A Passion Play', Rituparno Ghosh's Chokher Bāli based on the Tagore novel of the same title, seeks to portray the natural yet socially forbidden desires of a widow, ironically called Binodini, a name that often recurs in Vaishnav Kirtan, connoting 'sensuous' and 'pleasure-loving'. Binodini refuses to die a virgin and hence she moves from Mahendra to Bihari seeking consummation of her sexual desires. In the process, Binodini comes across as promiscuous, impudent, and manipulative.
In this way, Tagore defamiliarizes the image of a widow who is traditionally supposed to submit herself unquestioningly to the dictates of a patriarchal society, one which has also feared female sexuality and felt the need to control it by every possible means. Western Feminism as academics understands it today was yet to take shape when Tagore was writing, so his ideas on the subject are unique to him. But Ghosh's film, located within modern feminist discourses, is much more iconoclastic.
Cast
Aishwarya Rai as Binodini
Prosenjit Chatterjee as Mahendra
Raima Sen as Ashalata
Lily Chakravarty as Rajlakshmi, Mahendra's mother
Tota Roy Chowdhury as Behari
Tina Dutta
Critical reception
Aishwarya has given one of her finest performances and one of the best in cinema.
Box office
The film was declared a hit at the box office.
Other titles
Choker Bali: A Passion Play (International: English title)
Sand in the Eye (India: English title)
Binodini (India: English title)
References
Chokher Bali (film) Wikipedia
(Text) CC BY-SA
Chokher Bali (film) IMDb
Chokher Bali (film) Rotten Tomatoes
Chokher Bali (film) themoviedb.org