CHOCOLATE - Classroom Comedy
Chocolate is a Malayalam movie released in 2007, directed by Shafi. This is a campus story entertainer. Main actors are Prithviraj, Jayasurya, Roma, Samvrutha Sunil, and Remya Nabeeshan. Music by Alex Paul and lyrics by Vayalar Sarath Chandra Varma and Singers are M.G. Sreekumar and Rimi Tomy. The film has been remade in Telugu as Chalaki with Aditya Babu.
Contents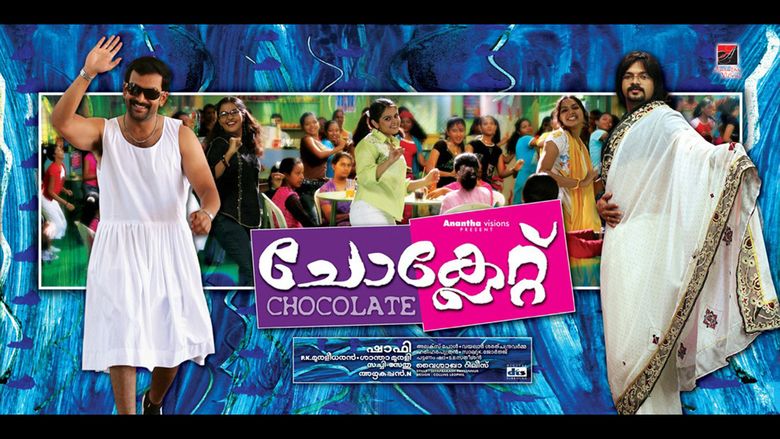 Plot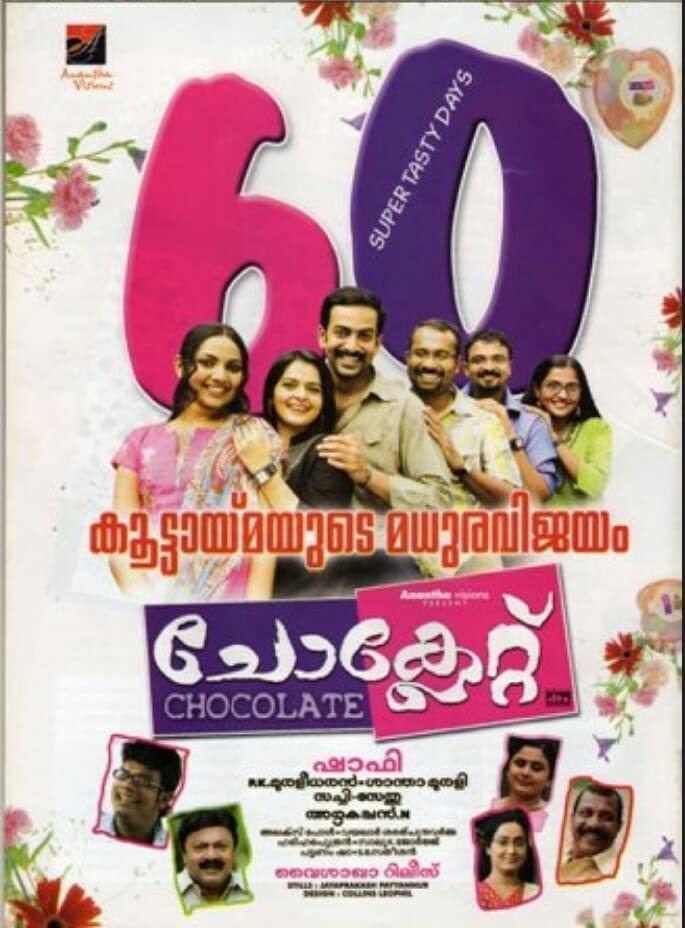 The story revolves around three friends, Ann Mathews (Roma Asrani), Nandana (Samvrutha), and Susan (Remya Nambeesan), who attend a women's college. Ann and her father (Lalu Alex) share a very friendly and open relationship. Her mother is no more. Nandana's two older siblings had love marriages that her father didn't approve of. Therefore, he sends her to the all-girls college in order to avoid her falling in love with another boy. After 50 years, the college can be opened up for men as well. When the principal asks for this change, the parents (and the trio) strongly disagree, and thus the college is kept as an all-girls college.
However, one seat in the PG courses is open to a boy and thus enters Shyam (Prithiviraj), who has earned himself 9 suspensions from 3 other colleges. The trio immediately dislikes his entrance to their world. In his first day, Shyam encounters a few mishaps like an encounter with Maxi pads and having to use the ladies restroom. Meanwhile, there is a designer named Ranjith (Jayasurya), who is after Nandhana to be a model in his Femina show. The trio rags Shyam into wearing ladies' petticoat, as there is a rule that says "all students must wear a petticoat," which earns both Ann & Shyam a suspension for 15 days.
After the 15 days, when they both return to school, Ann tricks Shyam into running for the chairperson position against Preetha, a student that is much loved and the trio's nemesis. When Shyam finds out, he gets angry with Ann. However, he takes it all in good humor and befriends the trio. He decides to keep running for the chairperson position. Hearing this Preetha resigns and Shyam wins. Shyam and Ann mutually start liking each other but never express their love for each other.
Meanwhile, Ann's dad finds a guy for Ann and asks her to meet the boy at a hotel. Ann spoils it by acting like a traditional and naive girl who stammers when she speaks. However, the guy comes to know the truth and takes it all as a joke, and the marriage is fixed between him and Ann at a party. Later that night, Ann admits to her dad that she's in love with Shyam. Her dad tells her that if Shyam admits his love to her first, then he'll accept them. If not, she agrees that she will marry whoever her father chooses for her. Meanwhile, Shyam goes to Ann's fiance's house, drunk, and tells him that he and Ann are in love. Ann finds out and when she questions Shyam about it; he says it is because he was trying to save her from a marriage she doesn't like. Ranjith admits to Shyam that he's in love with Nandana as well.
Meanwhile, after some months later, the Youth Festival is taking place in Ernakulam and the college has a chance to participate in it. Shyam is chosen to lead the show. He brings in Renjith and his other friends in the college to help out with the show. At the rehearsal of a play for the Youth Festival, Ann takes a few pictures of Shyam and Nandana rehearsing together. Nandhana's father receives these pictures and he sends people to beat up Shyam, but Shyam manages to beat them. He then gets mad at Ann, since he believes she sent those pictures to Nandhana's father. In his outburst, he also admits that he liked Ann. Nandhana is also mad at Ann and moves out of their room.
On one of the days of the Youth Festival, Nandhana's father receives more photos of her with Shyam and comes to the college to hurt him. Nandhana's mother calls her and informs her, so she searches for Shyam and ends up at the hotel room that they used to store costumes and such for the festival. The police come and arrest them for human trafficking. However, another officer sets them free as he believes them to be innocent, but as they come out of the police station, the press is there and the story is published in the newspaper.
Nandhana's father and Shyam's mother expects the two to get married now. Also, posters and such are put up all over the college making fun of Nandhana and Shyam. The PTA is called for a meeting, and it is revealed by Ann and Susanna that it was Preetha who send the pictures to Nandhana's father and informed the police as she had feelings for Shyam and felt cheated when he showed more attention to Ann. At the meeting, it is also revealed that Ranjith and Nandhana are married, and Nandhana's father accepts the couples.
The trio once again become friends, but Ann refuses to make up with Shyam because in her mind he'll never understand her. Finally, during the play, a semi-drunk Shyam and Ann ends up together after a lengthy and beautiful dialogue from Shyam.
Cast
Prithviraj Sukumaran as Shyam Balagopal
Jayasurya as Renjith
Roma Asrani as Ann Mathews
Samvrutha Sunil as Nandana Bahuleyan
Remya Nambeesan as Sussan Thomas
Shahnu as Preetha K V
Saiju Kurup as Manuel Abraham, Ann's groom
Lalu Alex as Mathews
Shari as Eleena John
Rajan P. Dev as Bahuleyan
Salim Kumar as Pappan
Vanitha Krishnachandran as Vanaja
Bindu Panicker as Maria
Ambika Mohan as Rossie Abraham
P. Sreekumar as Abraham
Sadiqas Police Officer
Gayathrias Ambily
Anoop Chandran as Niyas
Spadikam George as CI Anirudhan
Deepika Mohan aa Nandana's mother
Box office
Chocolate was superhit at the box office.
Reception
The film was released during the Pooja holidays of 2007 and became the third highest grossing film after Mayavi and Hallo
Music Track
The film's music by Alex Paul and lyrics by Vayalar Satathchanra Varma.
"Kalkanda Malaye" - Rimi Tomy, Liji Francis, Akhila Anand
"Chocolate" - M.G. Sreekumar, Rimi Tomy
"Ishtamalle" - Shahbaz Aman
"Tamarayum Sooryanum" - K. J. Yesudas
"Tamarayum Sooryanum" - Jyotsna
References
Chocolate (2007 film) Wikipedia
(Text) CC BY-SA
Chocolate (2007 film) IMDb
Chocolate (2007 film) themoviedb.org