Nicaragua




Universidad de Chinandega




265.10 sq mi




151,707



Chinandega is a city and the departmental seat of Chinandega department (4,822.42 km2) in Nicaragua. It is also the administrative centre of the surrounding municipality of the same name. It is Nicaraguas fifth largest city, with a population of 121,793 inhabitants (2006), and with 151,000 in the municipality. It is located about 80 miles (134 km) northwest of Managua and about 43 miles (72 km) southwest of El Guausaule, on the border with Honduras.
The region around Chinandega produces mostly agricultural products, particularly oils, flour, peanuts, shrimp, sugarcane, with sugar mills in Chichigalpa and El Viejo, and the production of liquors with an international reputation.
The weather is humid and hot because of the tropical climate. Chinandega is about 12 miles (20 kilometers) from the Pacific Ocean.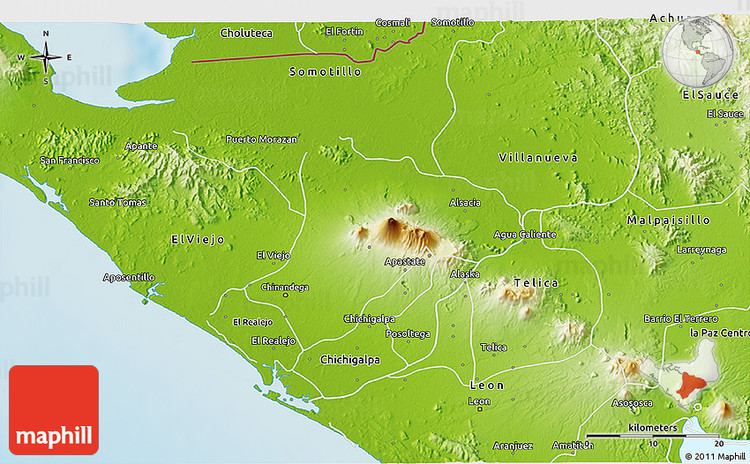 A city near the frontier with Honduras, Chinandega is crossed by the CA-1 or Pan-American Highway. The department of Chinandega is 4.929 km² and its population is 378,970, which is distributed amongst thirteen municipalities: Chinandega (department seat), El Viejo, Corinto, Chichigalpa, Posoltega, El Realejo, Puerto Morazán, Villanueva, Somotillo, Santo Tomás del Norte, Cinco Pinos, San Pedro del Norte and San Francisco del Norte.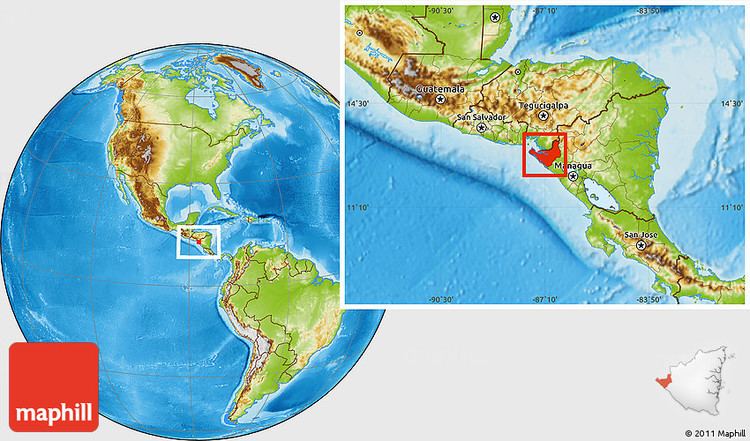 The department has numerous beaches, natural reserves, historic towns, mangroves, and ancient churches; the volcano of San Cristóbal, the highest in Nicaragua, can be found here, as well as the other volcanoes of the San Cristóbal complex (El Chonco, Moyotepe, and Casita), and further east, the peninsula-forming Cosigüina volcano.
Chinandega is also a center of agriculture growing sugarcane, bananas, peanuts, sesame seeds, cashews, oranges, and grains. It is also a shrimping and fishing center and it manufactures salt, and leather goods. It is also home to the largest sugar mills and rum factory (Flor de Caña) in the country. The port of Corinto, also in Chinandega, is the most important in Western Nicaragua.
Natives of the department include Salomón Ibarra Mayorga, writer of the national anthem of Nicaragua; Tino López Guerra, the bullfighter; the priest Tomás Ruiz; and athletes like Vicente Padilla and Próspero González.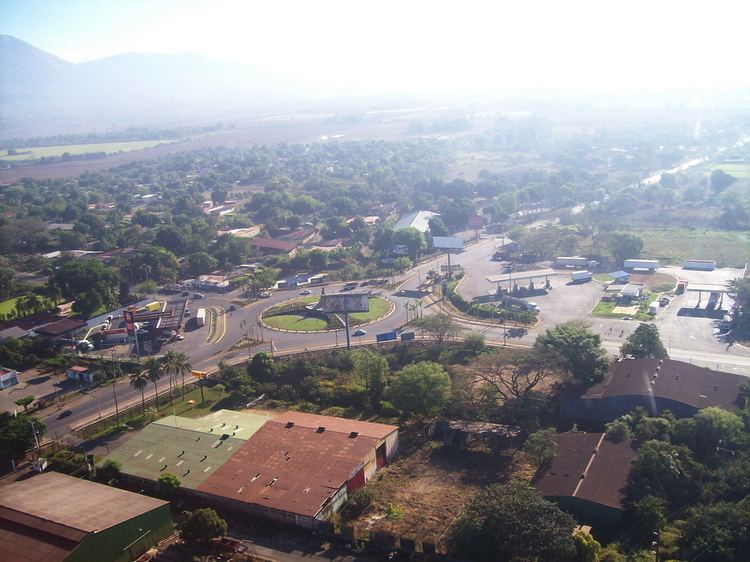 The city of Chinandega has been nicknamed "City of Oranges" (Ciudad de las Naranjas) and "Hot City" (Ciudad Cálida). Its name is of Nahuatl origin, though its exact meaning is disputed. It may come from the words Chinamitl-tacalt, "place surrounded by reeds."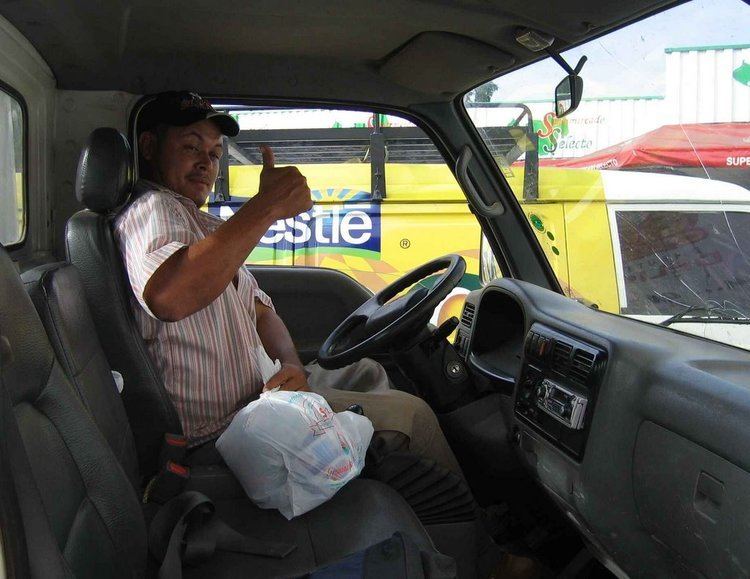 It was a small city during the colonial era, but its location amongst fertile and flat lands, and its position as a commercial center, improved its status little by little over the course of a few years. The Spanish chronicler Friar Antonio Vázquez Espinoza in his compendium and description of the West Indies describes his visit to Chinandega in 1613 as follows: "The town of Chinandega is comprised of many Indians, plentiful corn, and all of the fruits of the earth, and appears to be a piece of paradise."
Officially a settlement (poblado) from 1796, well-planned roads were built at Chinandega after the design of the engineer Antonio Rojas. On March 30, 1835, a law was instituted that mandated the established a fair that would fall on December 8 of every year.
On March 15, 1836, during the government of José Núñez, it received the title of town (villa), and on September 2, 1839, it received the title of city.
In 1842, it was named capital of the short-lived Federal Republic of Central America, and in 1858, it became the center of a new administrative department.
On November 1, 1998, Chinandega was hit by massive flooding caused by Hurricane Mitch. The flooding resulted in many thousands of people losing their homes, as well as damages to infrastructure which have still (as of 2009) not been repaired.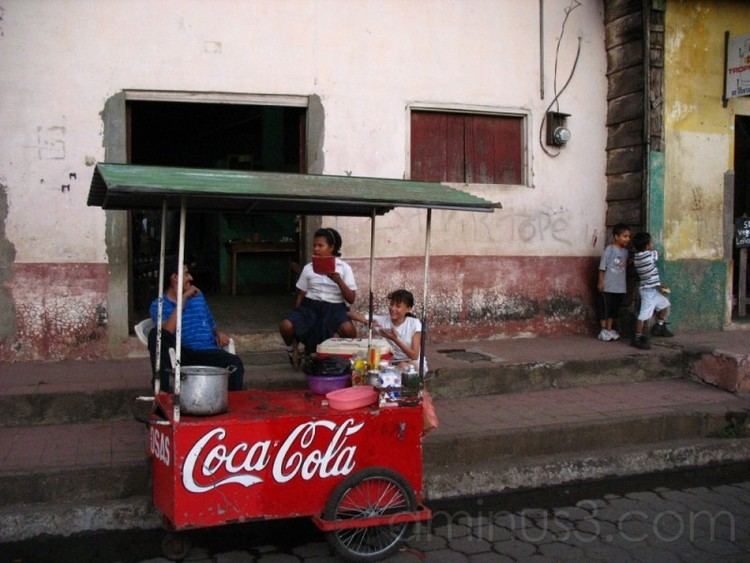 Chinandegas cultural and historical riches date from before the Spanish conquest, when this region was inhabited by various indigenous tribes, who had perhaps proceeded from the north, possibly present-day Mexico. There is a museum in the city, "Enrique Mantica Deshon", which contains 1200 archaeological artifacts of Pre-Columbian origin. There is also a municipal theater called "Rodrigo Callejas" which can seat 400 people.
Chinandega Wikipedia
(,)http://upload.wikimedia.org/wikipedia/commons/9/9d/Rotonda_de_Chinandega.jpg(,)http://photos1.blogger.com/blogger/7354/1746/1600/Luis.jpg(,)http://upload.wikimedia.org/wikipedia/commons/e/e2/HuellasdeAcahualinca.jpg(,)http://upload.wikimedia.org/wikipedia/commons/8/88/U.S._Marine_baseball_team.jpg(,)http://www.nicaraguantrails.com/public/images/newtours/hiking_san_cristobal_volcano4.jpg(,)http://photos1.blogger.com/blogger/7354/1746/1600/Gravel%2520Crushers.jpg(,)http://www.nicaraguantrails.com/public/images/zones/chinandega5.jpg(,)http://www.nicaraguantrails.com/public/images/zones/chinandega2.jpg(,)http://photos1.blogger.com/blogger/7354/1746/1600/Street%2520Scene.jpg(,)http://p.rdcpix.com/v01/l2a2d0645-m0xd-w640_h480_q80.jpg(,)http://www.gutenberg.org/files/32350/32350-h/images/001.jpg
(,)http://maps.maphill.com/nicaragua/chinandega/chinandega/3d-maps/physical-map/physical-3d-map-of-chinandega.jpg(,)http://maps.maphill.com/nicaragua/chinandega/location-maps/physical-map/physical-location-map-of-chinandega.jpg
(,)http://www.mapsofworld.com/nicaragua/maps/chinandega-department-map.jpg(,)https://vianica.com/imgi/550/16856.jpg(,)http://alcielonicaragua.com/wp-content/themes/alCielo/images/rancho.png(,)http://media-cdn.tripadvisor.com/media/photo-s/06/3a/30/92/el-espigon.jpg(,)http://www.mapsofworld.com/nicaragua/maps/nicargua-political-map.jpg(,)https://vianica.com/imgi/550/17569.jpg(,)http://www.mapsofworld.com/nicaragua/maps/nicargua-outline-map.jpg(,)http://www.mapsofworld.com/nicaragua/maps/nicaragua-rail-map.jpg(,)https://vianica.com/imgi/970/14436.jpg(,)https://vianica.com/imgi/550/17198.jpg
(,)https://vianica.com/imgi/970/4984.jpg(,)https://vianica.com/imgi/970/14437.jpg(,)https://vianica.com/imgi/550/20779.jpg
(,)http://aminus3.s3.amazonaws.com/image/g0008/u00007057/i00198765/5ec21392a5a2489e503c18b3d7fcd639_large.jpg(,)https://s-media-cache-ak0.pinimg.com/originals/d5/48/9b/d5489b40513e990c00bc1495efb8f4c7.jpg(,)http://www.nicaraguantrails.com/public/images/newtours/leon_city_tour_plus_mudsprings1.jpg(,)https://vianica.com/imgi/550/6743.jpg(,)https://vianica.com/imgi/550/3609.jpg(,)http://www.nicaraguantrails.com/public/images/zones/chinandega3.jpg(,)http://www.thisisnicaragua.com/images/parquecentral1.jpg(,)http://upload.wikimedia.org/wikipedia/commons/1/18/Piezas_Arqueologicas.JPG(,)http://www.thisisnicaragua.com/images/Monumento.jpg(,)http://www.thisisnicaragua.com/images/Corinto.jpg
(,)http://www.turkey-visit.com/map/nicaragua/chinandega/Chinandega%2520map.jpg(,)http://photos1.blogger.com/blogger/7354/1746/1600/Bus%2520Stop.0.jpg(,)https://vianica.com/imgi/550/22537.jpg(,)http://media-cdn.tripadvisor.com/media/photo-s/01/53/58/5a/corinto-nicaragua-market.jpg(,)http://solidcashflow.com/mapsnicaragua/chinandega.jpg(,)http://www.spanishabroadnicaragua.com/images/chinandega-720.jpg(,)https://fbexternal-a.akamaihd.net/safe_image.php%3Fd%3DAQDt6rug-LE5F4er%26w%3D720%26h%3D540%26url%3Dhttp%253A%252F%252Fupload.wikimedia.org%252Fwikipedia%252Fcommons%252Fthumb%252F6%252F6c%252FBasilica_Inmaculada_Concepcion.jpg%252F720px-Basilica_Inmaculada_Concepcion.jpg(,)https://fbexternal-a.akamaihd.net/safe_image.php%3Fd%3DAQBMzU90-CPJz3tp%26w%3D640%26h%3D480%26url%3Dhttp%253A%252F%252Fupload.wikimedia.org%252Fwikipedia%252Fcommons%252Fa%252Fab%252FCorinto_Port_Ship.jpg(,)http://photos1.blogger.com/blogger/7354/1746/1600/Central%2520Street.jpg(,)http://www.thisisnicaragua.com/images/ctlaestacion.jpg(,)http://www.cuentadelmilenio.org.ni/staff/Comunicacion/bei/bei213/images/hacienda_en.jpg