Chilakaluripet is a city in Guntur district of the Indian state of Andhra Pradesh. It is the headquarters for Chilakaluripet mandal and one of the 12 municipalities in Guntur district, located in Narasaraopet Revenue Division.
Contents
Map of Chilakaluripet
Iwalkerlookwalker ads in dharmavaramgudivadanarasaraopetkavalitadpatrichilakaluripet
History
Chilakaluripet was known as "chilakala thota, Rajagari Kota and Purushothama patnam" in the 18th and 19th centuries. A village on the outskirts of Chilakaluripet has a great history. The British used to call this town as "Chick pet". Due to the number of orchards in and around the town, parrots used to flock here and live on the trees. Hence, this place was called "Chilakaluru" during the time of Chilakaluripet zameendars(Land Lords).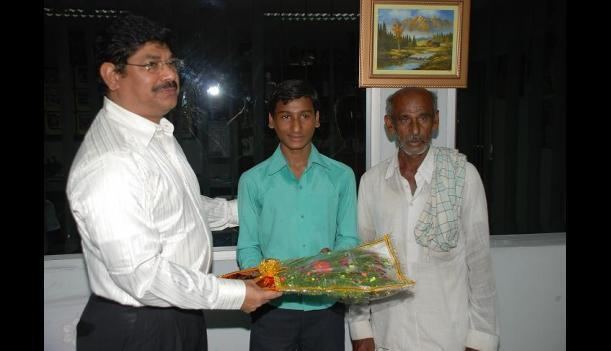 Before independence, the Chilakaluripet zameendars were always liberal with the people. They prevented the people from paying much taxes to the government.When the decoits, namely Pindaries attacked chilakaluripet during the late 1800s, they were driven out by the able administration of zameendars. In 1818, these zameendars printed their own gold coins with the symbol pagoda. They received the best administrative award from the British in revenue affairs. They used to import horses of fine quality from foreign countries such as Persia and Eastern Europe. Chilakaluripet was transformed into a municipality after India gained Independence. At present also the zameendary heriditor Sri Raja Manuri Raghavendra rao and his family were living in there zameendary palace named "Pedda kota".
Economy
Chilakaluripet has many small to medium scale industries. Many cotton spinning mills, tobacco companies and stone crusher factories are situated around the town providing employment to a large number of people. Andhra Pradesh government built the Spices Park in Maidavolu village of the constitution. The main idea behind constructing this is it serves as a processing and storage facility for chillies, turmeric and other spices. This may improve the economic prospects of the region drastically. It is also famous for its jeep building industry.
Culture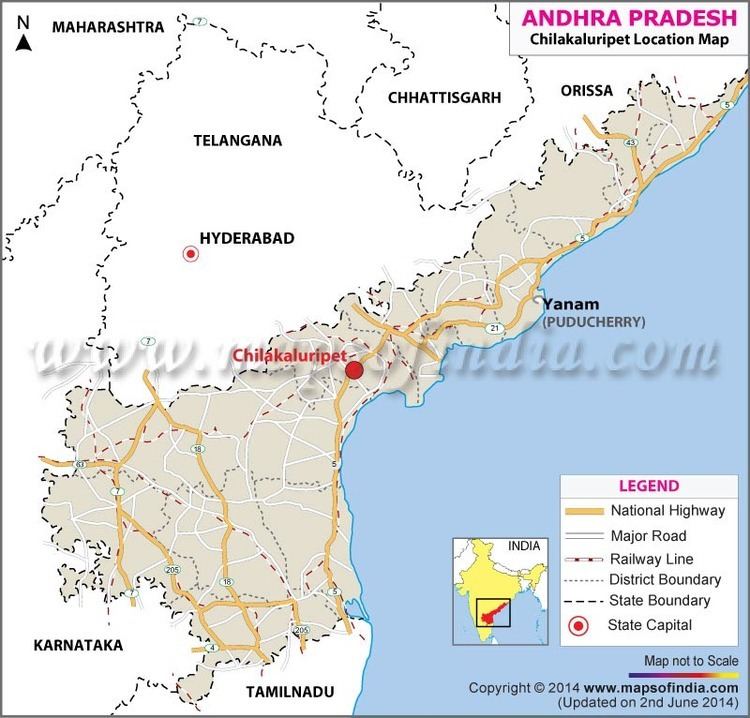 Hinduism is the most widely followed religion; Islam and Christianity are also followed by many. Many major festivals like Sankranthi, Maha Shivarathri, Vinayakachavithi, Sri Ramanavami, Diwali, Ramzan, Bakrid and Christmas are celebrated. Sri Ramanavami is celebrated in the town for three days. Coconut thatched roofs are laid across the business area of the town during March and April every year. Thousands of people gather in the town for festival celebrations from nearby villages.
References
Chilakaluripet Wikipedia
(Text) CC BY-SA
(,)http://www.chilakaluripet.com/SiteAssets/Pages/test1/b.jpg(,)http://4.bp.blogspot.com/_v-6xzLQXfHc/S__byftxrSI/AAAAAAAAAAM/3lnAAw9DwGc/s1600/932809DSC_0028.JPG(,)http://www.chilakaluripet.com/SiteAssets/earthquake.jpg(,)http://www.chilakaluripet.com/Lists/Photos/photo.JPG(,)http://i.ytimg.com/vi/dmdLxJqLUMI/0.jpg
(,)http://www.mapsofindia.com/india/maps/chilakaluripet-location-map.jpg(,)http://www.greeninfrastructuresystems.com/img/31.png(,)http://graphics8.nytimes.com/images/2005/12/06/international/highway4.large.jpg(,)http://graphics8.nytimes.com/images/2005/12/05/international/06highway.large1.jpg(,)http://3.bp.blogspot.com/-cPViK1qYMP4/VTtwZlDbAiI/AAAAAAAAu3Q/mP5yhUZd1bI/s1600/herbs.jpg(,)http://2.bp.blogspot.com/-qeninKXtAHU/UXUthpIBJ9I/AAAAAAAAAqs/ElmvAjw_ZI4/s1600/_DSC2413.jpg(,)http://3.bp.blogspot.com/-0Ui4p7HDGIA/VKFIQ-YHbsI/AAAAAAAAiA8/lX3KJEyu90A/s1600/7.jpg(,)http://2.bp.blogspot.com/-TMJWQLSLAdc/VKEzqDeWtdI/AAAAAAAAiAY/RsJ8NT3OVO8/s1600/kommineni.jpg(,)http://i.ytimg.com/vi/mN4mA97iceQ/0.jpg(,)http://i.ytimg.com/vi/Rujz3-l5yw8/0.jpg(,)http://i.ytimg.com/vi/62wvJGsfCyk/0.jpg(,)http://i.ytimg.com/vi/JBgmG1Kl2iA/hqdefault.jpg