Children

Raphael Elmaleh




Name

Charlotte Casiraghi





Role

Industrialist




Partner

Gad Elmaleh





Born

3 August 1986 (age 37) (

1986-08-03

) Princess Grace Hospital, Monte Carlo, Monaco


Occupation

editor-at-large, Above magazineCo-founder, Ever ManifestoAmateur show jumpingEquestrian sports ambassador, GucciPatroness, Public Safety Division (Monaco)Honorary President, Jumping International de Monte-Carlo


Siblings

Pierre Casiraghi, Andrea Casiraghi, Princess Alexandra of Hanover


Parents

Caroline, Princess of Hanover, Stefano Casiraghi


Grandparents

Grace Kelly, Rainier III, Prince of Monaco, Giancarlo Casiraghi, Fernanda Biff


Cousins

Pauline Ducruet, Jazmin Grace Grimaldi, Louis Ducruet, Princess Gabriella - Countess, Camille Marie Kelly Gottlieb





Similar

Andrea Casiraghi, Pierre Casiraghi, Stefano Casiraghi
Princess Charlotte Casiraghi Lifestyle 2018 || Biography || Dating Boyfriends
Charlotte Marie Pomeline Casiraghi (born 3 August 1986) is the second child of Caroline, Princess of Hanover, and Stefano Casiraghi, an Italian industrialist. She is ninth in line to the throne of Monaco. Her maternal grandparents were Rainier III, Prince of Monaco, and American actress Grace Kelly. She is named after her maternal great-grandmother, Princess Charlotte, Duchess of Valentinois.
Contents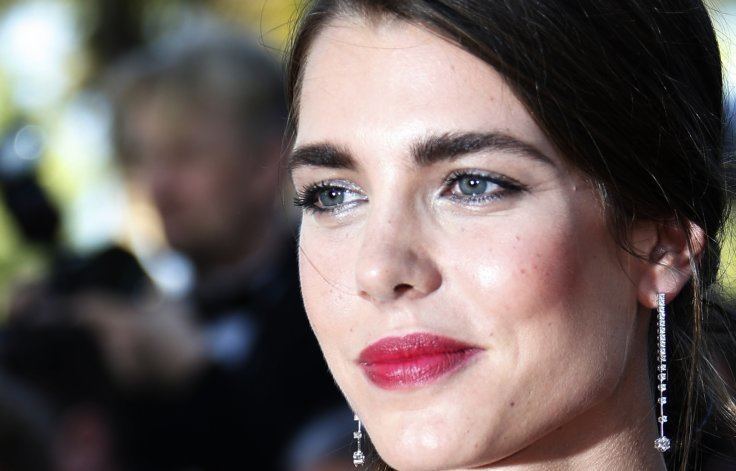 Early life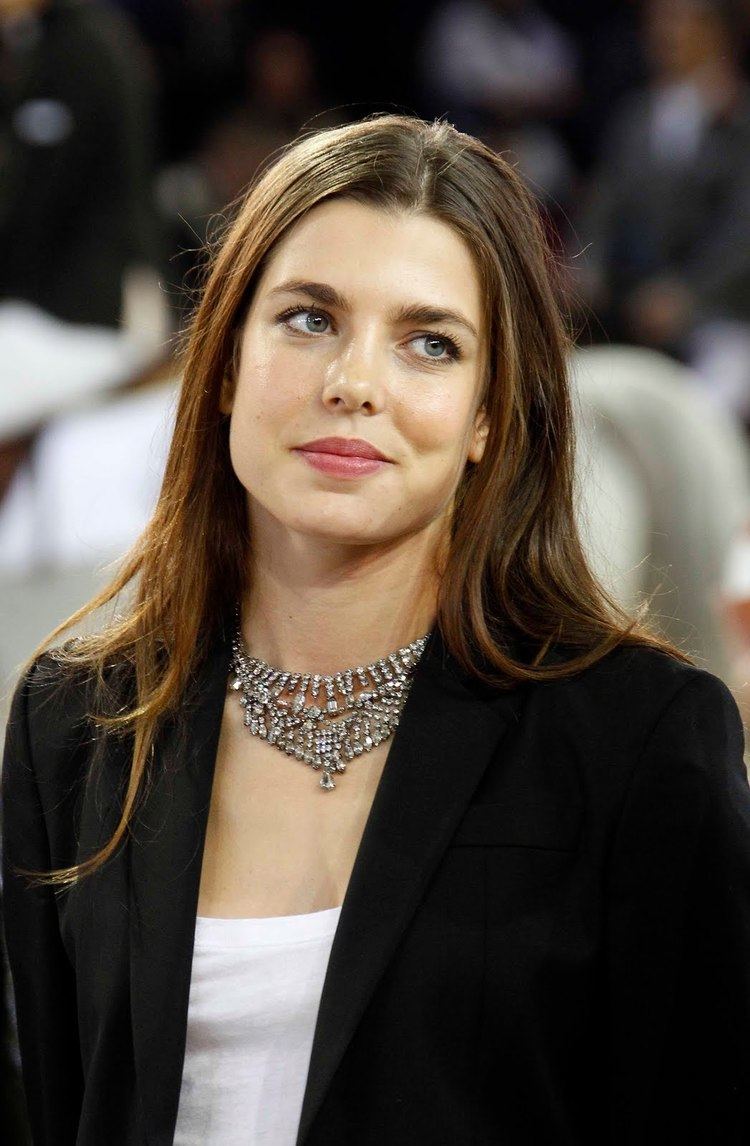 Charlotte and her two brothers, Andrea and Pierre, were born in the Mediterranean Principality of Monaco, ruled by their maternal grandfather, Prince Rainier III. When she was four years old, her father was killed in a boating accident. After his death, Princess Caroline moved the family to the Midi village of Saint-Rémy-de-Provence in France, with the intention of minimising their exposure to the press.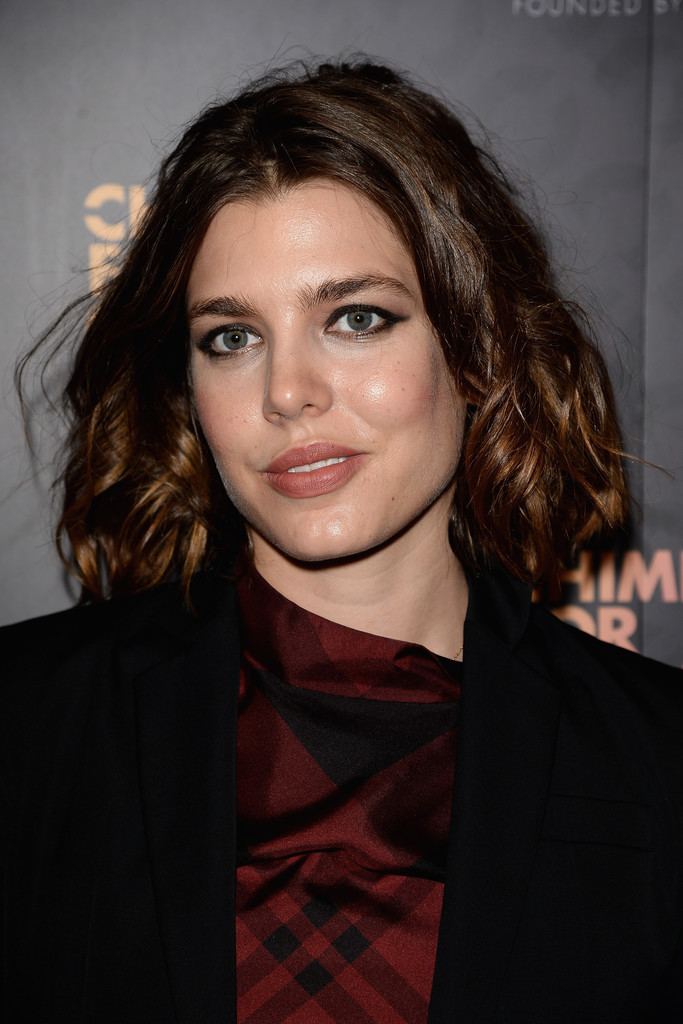 In January 1999, Charlotte gained a stepfather and two stepbrothers, (Prince Ernst of Hanover and Prince Christian of Hanover), when her mother married Ernst August, Prince of Hanover. Six months later, Casiraghi's half-sister, Princess Alexandra of Hanover, was born at a clinic in Voecklabruck, Austria. The family then moved to the Parisian suburb of Fontainebleau.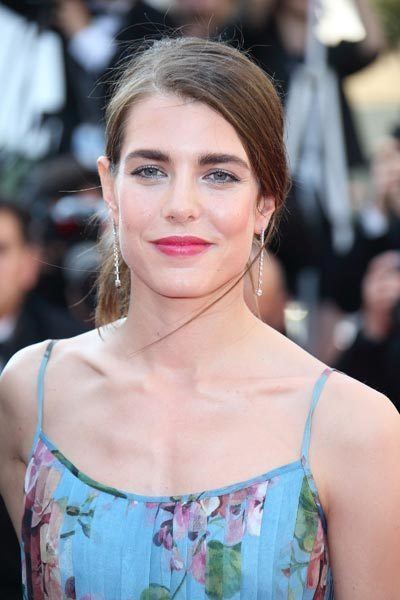 From 2001 through 2004, as a member of Marcel Rozier's Team Marionnaud, Casiraghi participated in a number of Junior and Amateur class show jumping competitions. She was trained successively by both of Rozier's sons, first Philippe and then Thierry Rozier.
Education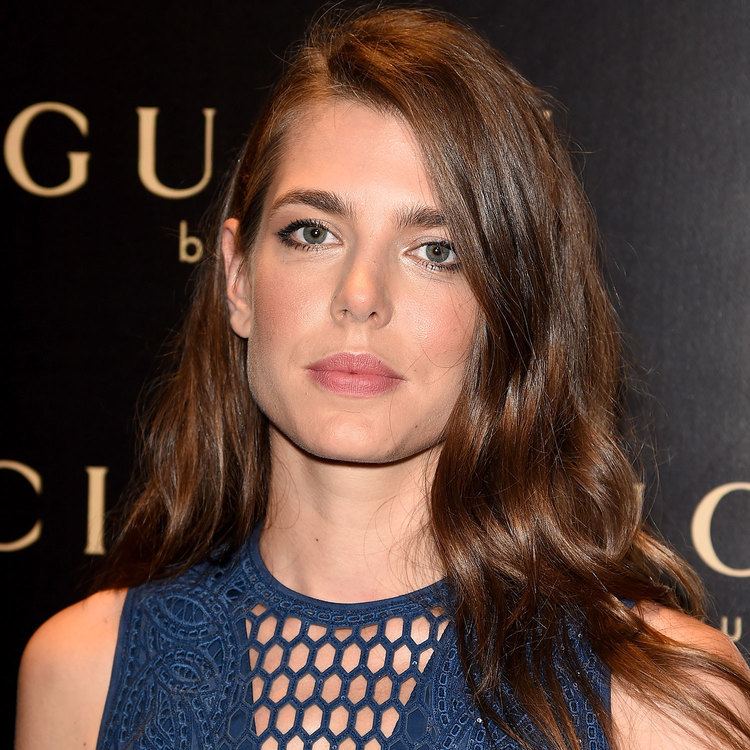 From the ages of two to six, Casiraghi attended Les Dames de Saint Maur in Monaco. At the age of six, she moved on to the École de la République (state school) and the Collège Glanum of Saint-Rémy-de-Provence. From 2000 to 2004 she attended the Lycée François-Couperin, Fontainebleau.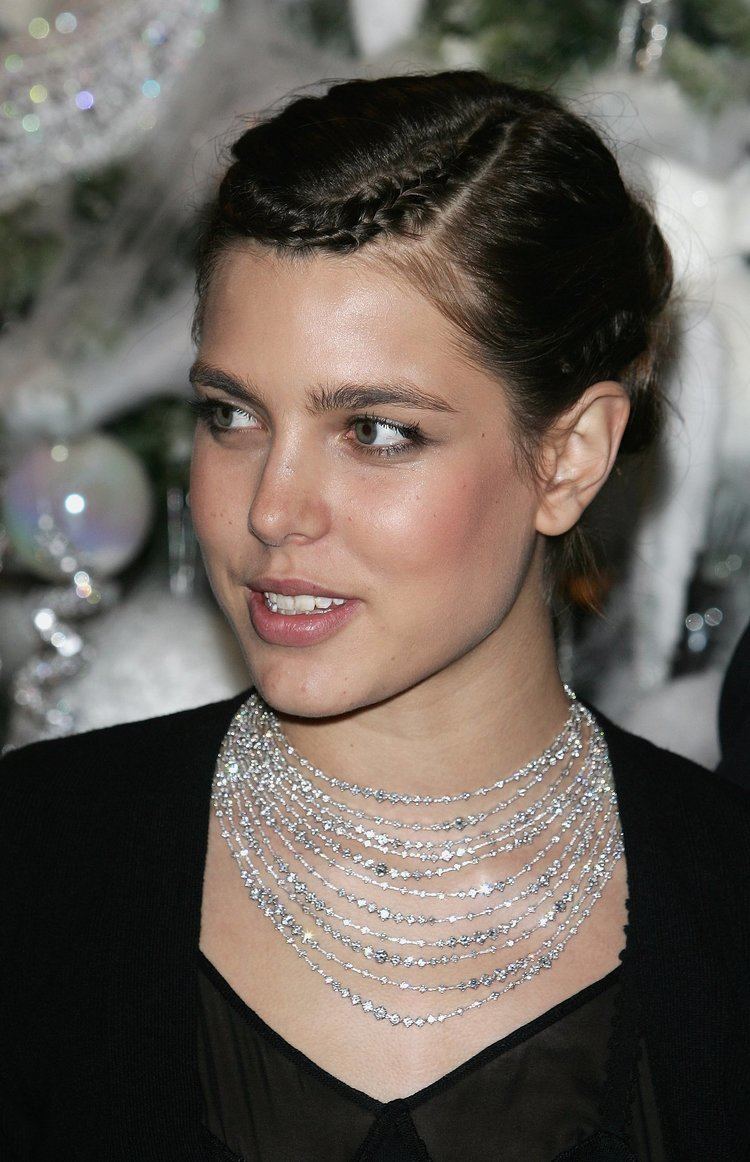 She obtained an "excellent" mark on her baccalaureate exam in July 2004. After passing her bac, she enrolled in the hypokhâgne and khâgne course at the Lycée Fénelon, in St-Germain-des-Près, Paris, in the hope of entering the École normale supérieure (Paris). She took the written entrance exam for ENS in June 2006, but failed to make the list of candidates eligible to proceed to the oral exam.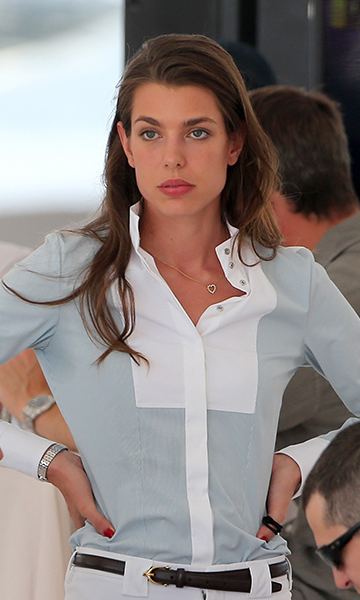 In 2007, Casiraghi is believed [1] to have earned a License of Philosophy (B.A.) from the University of Paris IV: Paris-Sorbonne; there isn't any evidence for this belief, but Casiraghi has never denied it. Casiraghi certainly completed two internships, firstly with the publishing house of Pierre Laffont in Paris, and then later from October 2007 with the Sunday magazine supplement of The Independent newspaper of London.
Activities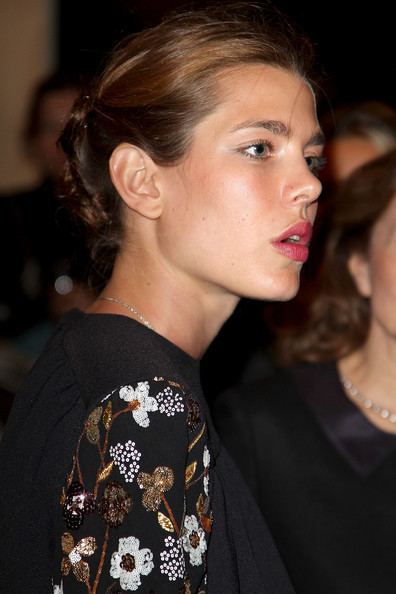 In 2010, she assumed the role of honorary president of the Jumping International de Monte-Carlo, a role previously fulfilled by her mother. Since 1997, by the appointment of her grandfather, Casiraghi has been patron of the Public Safety Division, Maritime and Airport Police of Monaco. In 2009, and again in 2011, she joined her uncle for the presentation of the trophies for the Monaco Grand Prix, a task usually undertaken by her mother. Every year since 2006, she has attended the Rose Ball (Bal de la Rose) to help raise funds for the Princess Grace Foundation.
Equestrian career
In June 2009, Casiraghi, accompanied by her uncle Albert II, Prince of Monaco, appeared on the French television programme Stade 2 to speak about her recent enrollment in the Global Champions Tour. It was her first experience of public speaking and she appeared poised and confident.
Since returning to the show jumping sport in April 2009 (after a four-year hiatus), she continues to train with Thierry Rozier. Casiraghi and the bay gelding named GI Joe (owner: Jan Tops), participated in the 2009 Global Champions Tour in Valencia, Spain, Monte Carlo, Cannes, Estoril, Rio de Janeiro, and Valkenswaard.
Casiraghi continued participation in the Global Champions Tour throughout 2010. For the most part, she rode horses Troy (a chestnut stallion) and Tintero (a grey gelding).
Casiraghi is the official equestrian "ambassador" of the Gucci label.
Journalism career
Casiraghi is a published writer and magazine editor. Her credits include work for AnOther magazine (its issue for January 2008) and the Sunday supplement to the British The Independent newspaper in the late months of 2007. She was the editor-at-large for Above magazine in 2009. With two friends, she left that role in order to focus on the founding of the ecological/fashion-related Ever Manifesto.
Through her work as the editor-at-large for Above magazine, Casiraghi befriended Stella McCartney, whom she interviewed for the magazine's first issue. McCartney enlightened Casiraghi and readers as to the many ways the fashion industry can harm the ecosystem. Also for Above, Casiraghi was reported in Women's Wear Daily as being "instrumental in securing an interview with Gomorrah author Roberto Saviano (which took place in hiding thanks to Saviano's dissection of the Mafia)."
On 21 September 2009, Casiraghi announced plans to publish 3,000 copies of Ever Manifesto, a free publication on what she considers the fashion industry's harmful impact on the global environment and to promote sustainability in fashion. Casiraghi revealed that her collaborators with the Loro Piana-funded project are the socialite Alexia Niedzielski and advertising executive Elizabeth von Guttman. She also revealed that the environmentally conscious designer Stella McCartney, as well as her own uncle Prince Albert II, greatly enlightened and influenced her. Specifically, she said: "It's only recently that I've questioned the way that I've been consuming. I haven't been as conscious as I should have been."
The debut issue of Ever Manifesto was distributed free at the 10 Corso Como boutique during Milan Fashion Week and again at Colette in Paris during Paris Fashion Week. Casiraghi explained that the magazine will not have a predetermined publication schedule. "We want to publish when we have something to say or people to support," she said. "It will be short and meaningful so that people will read it."
The day after the publication of her La Stampa interview, 22 September, Casiraghi joined her partners, Niedzielski and Guttman, at the gallery of Michelangelo Pistoletto, in the town of Biella, in the Italian region of Piedmont. Along with the artist and the Vogue Italia editor-in-chief Franca Sozzani, Casiraghi unveiled plans for Ever Manifesto and the Città dell'arte Fashion: Bio Ethical Sustainable Trend.
In October 2009, Casiraghi was a guest at the Stella McCartney show in Paris. Sitting on the front row with Dasha Zhukova, Paul McCartney, Gwyneth Paltrow, she told Women's Wear Daily about Ever Manifesto. Copies of the magazine's first issue were left on the seats before the show. "We will announce [succeeding issues] on the website soon," she said.
Casiraghi contributed to the October 2009 issue of 20, the free newspaper of Alex Dellal's gallery, 20 Hoxton Square Projects.
Personal life
Casiraghi is a private citizen, but occasionally attends official functions in Monaco, such as a fundraising gala for AMADE Mondiale and Nelson Mandela's foundation in September 2007. In 2006, she made her debut appearance at Monaco's Rose Ball (in French: Bal de la Rose), which also raises money for the Princess Grace Foundation. Since childhood, she and her brothers have made regular appearances with their family on occasions such as the Monaco National Day and the Monaco Grand Prix. Princess Caroline has, however, tried to minimize publicity in spite of increasingly intensive coverage by the mass media, especially in Europe.
At the age of 16, Casiraghi was named number ten on a list of the world's most eligible young women. Vanity Fair, selected Casiraghi as one of the International Best Dressed List of 2006.
Casiraghi is often photographed at fashion shows, art exhibits, and equestrian events.
Casiraghi appeared on the cover of Vogue Paris September 2011.
In December 2011 Casiraghi started dating stand-up comedian and actor Gad Elmaleh. Their son, Raphaël, was born in December 2013. As Raphaël's parents were not married, he is not included in the line of succession to the Monegasque throne. The couple split in June 2015.
References
Charlotte Casiraghi Wikipedia
(Text) CC BY-SA