Chamomile or camomile (/ˈkæməˌmaɪl, -ˌmiːl/ KAM-ə-myl or KAM-ə-meel) is the common name for several daisy-like plants of the family Asteraceae that are commonly used to make herb infusions to serve various medicinal purposes. Popular uses of chamomile preparations include treating hay fever, inflammation, muscle spasms, menstrual disorders, insomnia, ulcers, gastrointestinal disorders, and haemorrhoids. Camomile tea is also used to treat skin conditions such as eczema, chickenpox and psoriasis.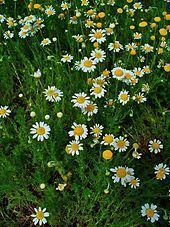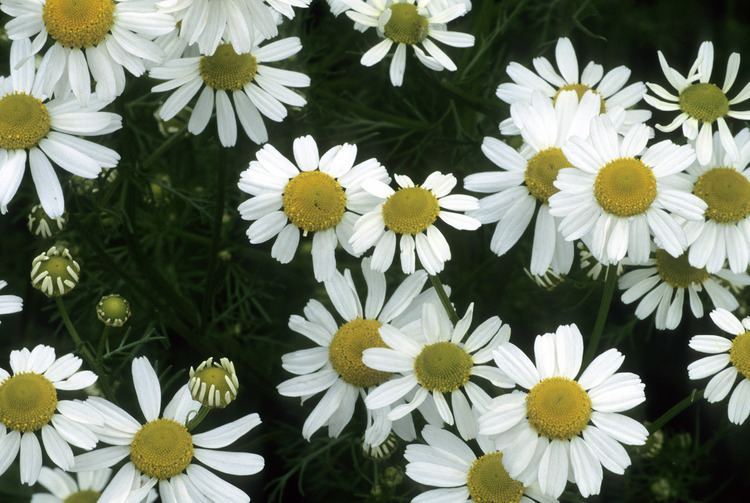 The word "chamomile" derives, via French and Latin, from Greek χαμαίμηλον (khamaimēlon), i.e. "earth apple", from χαμαί (khamai) "on the ground" and μῆλον (mēlon) "apple". The more common British spelling "camomile," is the older one in English, while the spelling "chamomile" corresponds to the Latin and Greek source. The spelling camomile more accurately corresponds to the more immediate derivation from French.
Some commonly used species include:
Matricaria chamomilla (also known as Water of Youth'), German chamomile or wild chamomile, the most commonly used species
Chamaemelum nobile, Roman, English or garden chamomile, also frequently used, (C. nobile 'Treneague' is normally used to create a chamomile lawn).
A number of other species' common names include the word "chamomile". This does not mean they are used in the same manner as the species used in the herbal tea known as "chamomile." Plants including the common name "chamomile," of the family Asteraceae, are:
Anthemis arvensis, corn, scentless or field chamomile
Anthemis cotula, stinking chamomile
Cladanthus mixtus, Moroccan chamomile
Cota tinctoria, dyer's, golden, oxeye, or yellow chamomile
Eriocephalus punctulatus, Cape chamomile
Matricaria discoidea, wild chamomile or pineapple weed
Tripleurospermum inodorum, wild, scentless or false chamomile
Chamomile 'tea' is an herbal infusion made from dried chamomile flowers and hot water, though does not contain black, green, yellow or white tea (Camellia sinensis). There are two main types of chamomile that are used to produce the infusion; German chamomile (Matricaria recutita) and Roman chamomile (Chamaemelum nobile). Chamomile 'tea' is said to be a digestive relaxant.
German Chamomile has been used for treatment of inflammation associated with hemorrhoids when topically applied. There is level B evidence that German chamomile possesses anti-anxiety properties and could be used to treat stress and insomnia.
Major chemical compounds present within chamomile include apigenin and alpha-bisabolol. Other compounds in chamomile include: sesquiterpenes, terpenoids, flavonoids, coumarins such as herniarin and umbelliferone, phenylpropanoids such as chlorogenic acid and caffeic acid, flavones such as Apigenin and luteolin, flavanols such as quercetin and rutin, and polyacetylenes. Apigenin has demonstrated chemopreventive effects against cancer cells in the laboratory, and alpha-bisabolol has been shown to have antiseptic properties, anti-inflammatory properties, and reduces pepsin secretion without altering secretion of stomach acid.
Anticancer effect – Studies have shown that chamomile extracts have in vitro growth inhibitory effects on cancer cells in skin, prostate, breast, ovarian, prostate cancer cell lines with minimal effects on normal cells.
anticoagulant effect – Coumarin compounds in chamomile such as herniarin and umbelliferone may have blood-thinning properties. However, the mechanism is not well understood.
Antiinflammatory effect – Several chemical constituents of chamomile such as bisabolol, chamazulene, apigenin, and luteolin possess anti-inflammatory properties although the exact mechanism is not well characterized.
Antispasmodic/antidiarrheal effects – Bisabolol and flavonoids have demonstrated antispasmodic effects in animal experiments. In human studies, chamomile tea in combination with other herbs (vervain, licorice, fennel, balm mint) was shown to be effective in treating colic in children. Flavonoids and coumarins are considered smooth muscle relaxants.
CNS/sensory effects - Chemical compounds present within chamomile bind to GABA receptors, modulate monoamine neurotransmission, and have neuroendocrine effects.
Apigenin and other compounds may interact with medications causing drug-drug interactions, some of the possible interactions include those with antiplatelet agents, anticoagulant agents, and nonsteroidal anti-inflammatory agents. Apigenin was found to interact with antiarrhythmic agents and antihypertensive agents in animal research. Other interactions include those against sedative agents, antibiotic agents, and antianxiety agents. Remarkable symptoms are exacerbation of effects of these agents that are used in combination with chamomile.
While chamomile exhibits some anti-inflammatory effects by itself, it is not recommended that it be taken concurrently with aspirin or non-salicylate NSAIDs (non-steroidal anti-inflammatory drugs) as it is unknown if a clinically significant herb-drug interaction exists.
"Chamomile consists of several ingredients including coumarin, glycoside, heniarin, flavonoid, farnesol, nerolidol and germacranolide. Despite the presence of coumarin, as chamomiles effect on the coagulation system has not yet been studied, it is unknown if a clinically significant drug-herb interaciton exists with antiplatelet/anticoagulant drugs. However, until more information is available, it is not recommended to use these substances concurrently."
People who are allergic to ragweed (also in the daisy family) may also be allergic to chamomile, due to cross-reactivity. However, there is still some debate as to whether people with reported allergies to chamomile were actually exposed to chamomile and not a plant of similar appearance.
Because chamomile has been known to cause uterine contractions that can invoke miscarriage, the U.S. National Institutes of Health recommends that pregnant and nursing mothers not consume Roman chamomile (Chamaemelum nobile).
Chamomile is frequently added to skin cosmetics to serve as an emollient, and for its anti-inflammatory effects. Chamomile is also often used to enhance the color of blonde hair.
The chamomile plant is known to be susceptible to many fungi, insects, and viruses. Fungi such as Albugo tragopogonis (white rust), Cylindrosporium matricariae, Erysiphe cichoracearum (powdery mildew), and Sphaerotheca macularis (powdery mildew) are known pathogens of the chamomile plant. Aphids have been observed feeding on chamomile plants and the moth Autographa chryson causes defoliation.
German chamomile oil is used as a diffuser for aromatherapy benefits; and is also used to treat wounds and be blended with other essential oils such as lavender and rose.
Chemical components of chamomile extract have demonstrated anti-inflammatory, antihyperglycemic, and anticancer properties when examined in test tubes and in animal studies.