Catherine Maureen Cobert is a fictional character published by DC Comics. She first appeared in Justice League International vol. 1 #8 (December, 1987), and was created by Keith Giffen, J. M. DeMatteis and Kevin Maguire.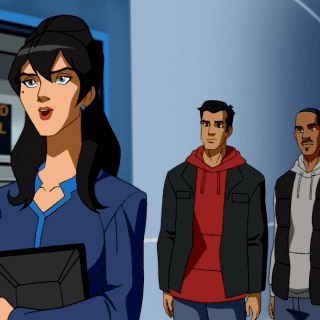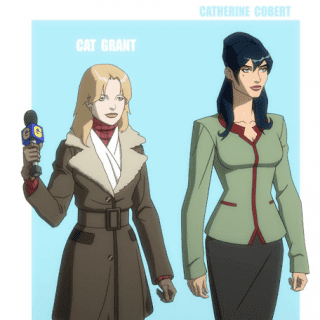 Catherine Cobert was born into the upper crust of France. After her father, a diplomat, disappeared, Catherine quickly learned that she, along with her mother and younger brother, would have to fend for themselves. However prior to his disappearance her father had left them a significant stipend. Her mother soon followed in her husband's professional footsteps and got involved in French politics, becoming an outspoken activist against worldwide civil-rights atrocities.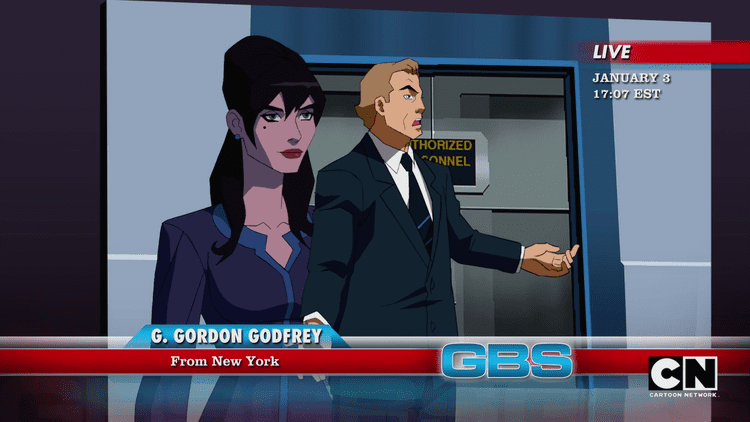 Catherine was well educated throughout the world and as a result of this she became fluent in several languages. After leaving school she worked her way through college by modeling. Soon as a result of this her face began appearing on every magazine in France, most of Europe and eventually the United States of America. Around this time she developed a skill in fencing.
When she graduated from college, Catherine originally planned on helping her little brother, Marc through college himself. However he had become quite an athlete and was awarded several scholarships in that field. Since then he has now become a global adventurer, though a trifle irresponsible. He is also quite "the ladies man". After learning of this Catherine too wanted to follow the family tradition of trying to do some good for the world.
She eventually accomplished this feat by slowly and humbly working her way up in the United Nations. She was eventually promoted into a decision making capacity and kept the betterment and welfare of all peoples in the forefront of her concerns. It was at this point when Catherine's work was noticed by Maxwell Lord who was the U.N. liaison for the Justice League America.
He signed her up to become the Paris embassy chief for the Justice League Europe and was eventually promoted to JLE chief (over Captain Atom). For a time she worked with former Green Lantern Kilowog, who would repair Justice League equipment as needed. Due to the actions of the otherwise decent hero Beefeater, the J.L.E. French embassy was obliterated while otherwise empty. Cobert and the team have difficulty in the move to England.
A scruffy computer hacker gets Cobert and the League involved with a worldwide conspiracy to steal valuable information.
Her continued hard work gave her a chance to be assigned to the "Special Officer on Paranormal Forces" who was in charge of both branches of the Justice League teams (over Maxwell Lord). She also had a brief romantic liaison with Captain Atom. Her relationship ended with the Justice League when the Leagues lost their United Nations sponsorship.
She is brought in to consult with the League threatens to go against the wishes of the United Nations to rebel against the Overmaster, a villain that threatened the planet. When she learns from Fire the plan is definite, Cobert informs the U.N., who then has Maxwell Lord unleash a counter-league team. Cobert returns to attend the funeral of JLA member Ice, who had perished in the successful battle to defeat Overmaster.
Catherine made a brief appearance in Extreme Justice, now in a relationship with Captain Atom's alternate self, Monarch.
Catherine has appeared in Justice League Europe Annual #2, as a bitter, manipulated 'den mother' of an older JLE. Forced into a grocery trip by herself, she is the only one outside of the Interpol-sponsored headquarters when a time-travel accident removes it and the entire team. This timeline is neutralized by Waverider when he destroys a spy camera installed in the JLE's cat.
After an alteration to the time line Catherine appeared in an alternate present in Booster Gold #7 running a museum out of the old London embassy of the Justice League International. Having been infected with the OMAC virus she lured Booster Gold and Blue Beetle into a trap using an old JLI distress signal. Her attack is halted by Green Arrow and Hawkman, and Booster Gold and Blue Beetle are able to escape, confront Maxwell Lord and pinpoint the point of divergence from the normal timeline, thus erasing the hellish alternate present altogether, and with it the alternate Catherine. Only the new Time Masters, Booster Gold, Supernova and Rip Hunter retain knowledge of this version of the character.
Catherine appears in the Young Justice: Invasion, voiced by Stephanie Lemelin. She first appears in the episode "Happy New Year," where she blows off Cat Grant after she tries to interview Rocket and Zatanna. Like in the comics, she is shown to be the Justice League's public relations liaison.