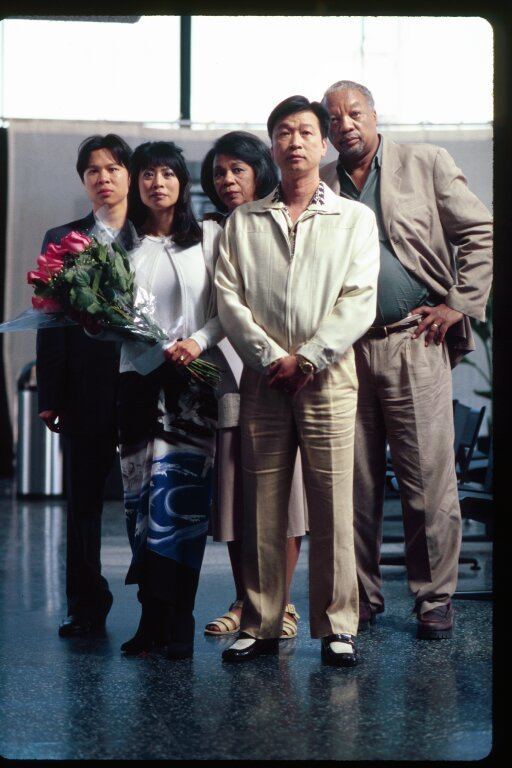 Dwayne, Dolores and Harold play a game of cards with Dolores trying to convince Dwayne to take a cat Harold found on the way home. Dwayne thinks there is something wrong with the cat and refuses. One afternoon, Dwayne in his living room with his girlfriend Nina and excuses himself. Dwayne grabs a small red box, a rose and some champagne. When he returns to the living room however he finds his roommate, Michael and his new transgender girlfriend waiting there. He puts the ring away as he and Nina head to Dwayne's parents' house for a barbecue.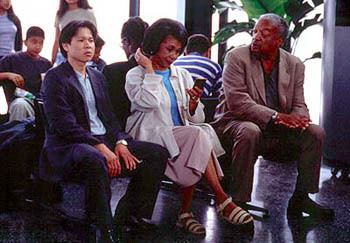 On the way over, Dwayne fails to stop for a stop sign and is pulled over by a cop who asks him to step out of the car. He spots the ring and tells Dwayne that Nina is out of his league and to enjoy it while it lasts, which makes Dwayne question the relationship. At the barbecue, Dwayne proposes to Nina offhandedly. She says yes just as Mai walks in. Mai lets the family know she has located their birth mother, Thanh, and she is flying her to Los Angeles. Dolores takes the news hard and worries she'll be replaced, Harold is optimistic and Dwayne pretends to be indifferent.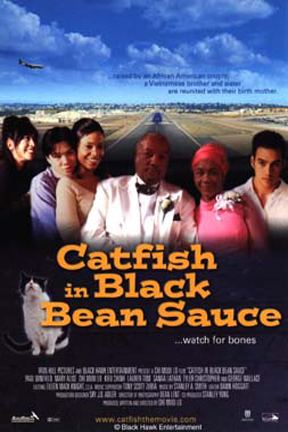 There is a brief flashback to when Mai was young and she yells at Dolores saying "you're not my mother" and runs to hug Harold. At the airport, Mai cries when she sees her mother, while Dwayne has no reaction. They sit down for a family dinner and Dolores feels like she is being replaced. As everyone leaves, Thanh demands to go with Dwayne and Sap despite the preparations Mai has made at her house.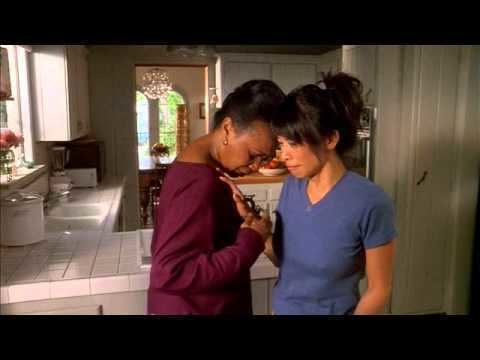 Thanh worries about Dwayne and does not think Nina is the right girl for him and tells Mai. Nina goes to Mai's for lunch and tells her that she ought to be more affectionate with Dwayne, but Nina feels she has been affectionate enough. Harold's birthday arrives and no one shows up for the party. Dolores has a fit and blames it on Thanh's arrival. Harold gets frustrated and has a heart attack. Mai rushes to the hospital to meet Dolores, where they have a fight. When the doctor says that Harold will be okay, Dolores tries to apologize, but Mai leaves telling her to spend time with Harold.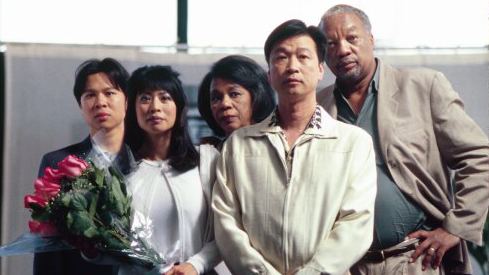 The next day, Dwayne calls to Dolores and she is upset that he was not there. Wanting to be more affectionate, Nina prepares a big dinner for the two of them. Dwayne arrives and suggests they break up. Finally, there is an all out war with everyone: Thanh and Dolores, Nina and Dwayne, Samantha and Michael ending when Michael's girlfriend lifting Dolores and Thanh in the air to separate them.
The next day, Mai comes over to help with Harold's food. Dolores says she does not need help, but Mai goes in to hug her. Mai realizes that Dolores has been more of a mother and treated her far better than Thanh. Over a game of Monopoly, Dwayne, Mai, Dolores and Harold discuss that Dwayne has broken up with Nina. Everyone thinks he is stupid because she loves him. Mai says that Nina has accepted a job in New York City. Dwayne realizes he made a mistake and everyone finally gets along. The movie ends with a big family dinner with Dolores and Thanh nod in understanding and playing Monopoly.
Chi Muoi Lo as Dwayne Williams/Sap
Sanaa Lathan as Nina
Paul Winfield as Harold Williams
Mary Alice as Dolores Williams
Lauren Tom as Mai
Kieu Chinh as Thanh
Tyler Christopher as Michael
Tzi Ma as Vinh
George Wallace as James
Wing Chen as Samantha
Amy Tran as Young Mai
Kevin Lo as Young Dwayne/Sap
Kevin D'Arcy as Guard 1
Andre Rosey Brown: Guard 2
Ron Galbraith as Doctor
Calvin Nguyen as Teacher
Richard F. Whiten as Motorcycle Cop
Lalanya Master as Bank Teller
Mark Daniel Cade as Assistant Bank Manager
Jedda Jones as Agnes
Roxanne Reese as Nadine
Saachiko Magwili as Mother
William Thomas as Douglas
April Tran as Interpreter
Thomas Ryan as Lt. Davis
Carol Kiernan as Nurse
Thu Hong: Opera Singer
Ho Lo as Man at Airport
Vien Hong as Transvestite
The film has received mixed reviews. A Los Angeles Times review noted that as the film's writer/director/actor Chi Muoi Lo "spread himself too thin, resulting in an uneven picture but one that has plenty of substance and emotion". Roger Ebert wrote that the film was "a first draft for a movie that could have been extraordinary". The San Francisco Chronicle noted that the film was "a comedy of interracial wariness and misunderstanding marked by a refreshing lack of sappiness".