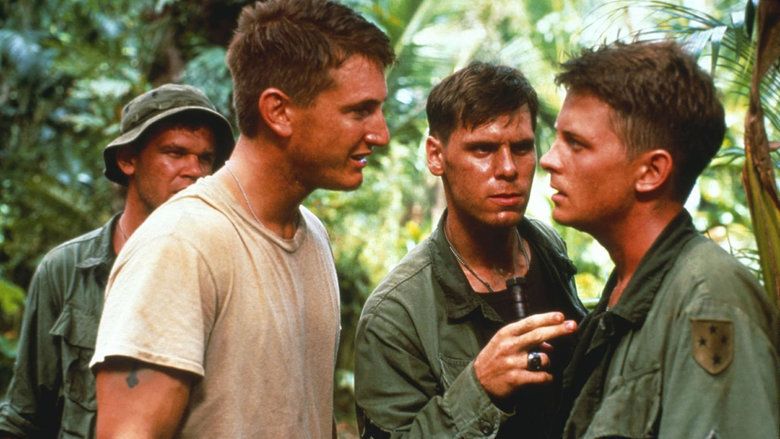 The story is presented as a flashback of Max Eriksson, a Vietnam veteran.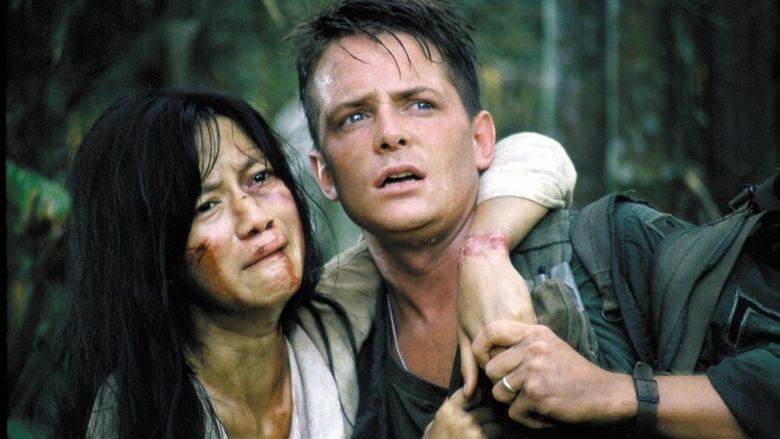 Lt. Reilly leads his platoon of American soldiers on a nighttime patrol. They are attacked by the Viet Cong after a panicked soldier exposes their position. While on flank security, the ground cracks under Eriksson and he ends up partially stuck in a Viet Cong tunnel. Eriksson's squad leader, Sergeant Tony Meserve, pulls Eriksson out of the hole and eventually, the platoon retreats out of the jungle.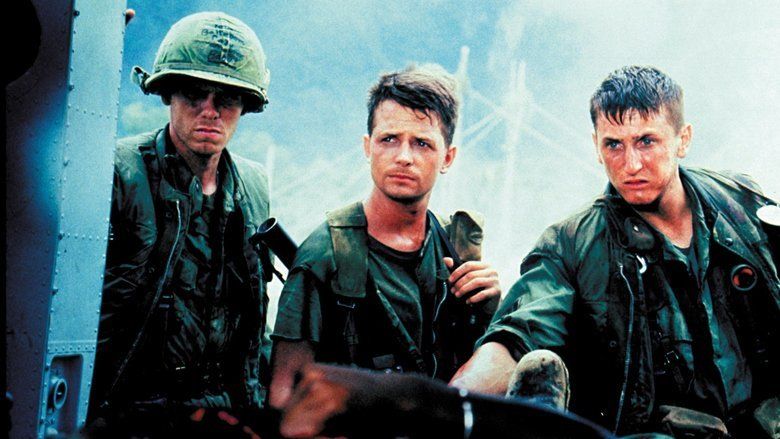 The platoon takes a break outside a river village in the Central Highlands. While relaxing and joking around, one of Meserve's friends, Specialist 4 "Brownie" Brown, is killed when the Viet Cong ambushes them. Brownie's death has a major impact on Meserve. Shortly afterward, the platoon is sent back to their barracks at Wolfe Base. Private First Class Antonio Dìaz arrives as the replacement radio operator.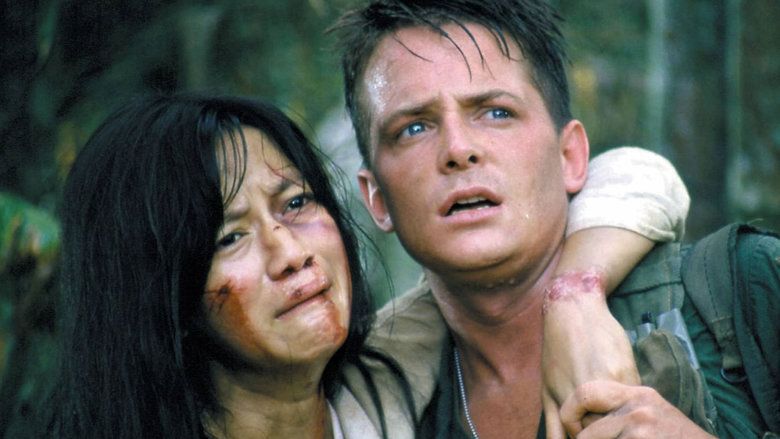 Frustrated because his squad has been denied leave for an extended period, Meserve orders the squad to kidnap a Vietnamese girl to be their sex slave. Eriksson strenuously objects but Meserve, Cpl. Thomas E. Clark, and Private First Class Herbert Hatcher ignore Eriksson's objections. Before the five-man squad disembarked, Eriksson talks about his concerns to his closest friend, Rowan. At nightfall, the squad enters a village and kidnaps a Vietnamese girl, Than Thi Oahn.
As the squad treks through the mountains, Dìaz begins to reconsider raping Than and begs Eriksson to back him up. The squad and Than eventually take refuge in an abandoned hooch, where Eriksson is confronted and threatened by Meserve, Clark, and Hatcher. As the taunting continued, Dìaz decides to go along with the rape in order to avoid ridicule. Eriksson, who is now outnumbered, is ordered to the guard the hooch as the rest of the men take their turn raping Than.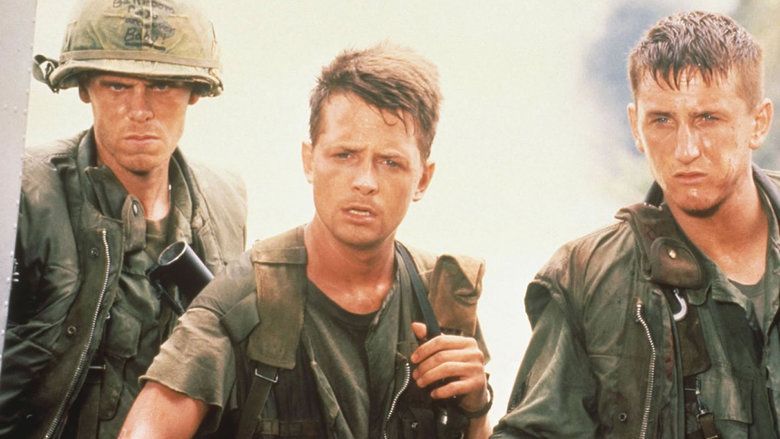 At daybreak, Eriksson is ordered to guard Than while the rest of the squad takes up a position near a railroad bridge overlooking a Viet Cong river supply depot.
Through his acts of kindness, Eriksson manages to earn Than's trust and prepares to go AWOL and return Than to her family. However, Meserve sends Clark to get Eriksson and Than to go to the bridge before Eriksson can carry out his plan.
Meserve has Dìaz order air support for an assault on the depot and then orders Than to be stabbed to death by Dìaz. Before Dìaz can kill her, Eriksson fires his rifle into the air, exposing them to the nearby Viet Cong. In the midst of the firefight, Than tries to escape. Eriksson tries to save her but is stopped by Meserve, who knocks Eriksson down with the butt of his gun. Eriksson watches helplessly as the entire squad shoots Than numerous times until she falls off of the bridge.
After the battle, Eriksson wakes up in a field hospital on Wolfe Base. Eriksson eventually bumps into Rowan and tells him everything that happened. Rowan suggests that Eriksson sees Lt. Reilly and Company commander Captain Hill. Both Reilly and Hill prefer to bury the matter and Eriksson is told that he will be reassigned to a Tunnel Rat unit. In addition, the other four men were to be split up and reassigned to other units.
Later that evening an attempt on Eriksson's life is made by Clark, who tries to frag Eriksson while he is using the latrine. Eriksson takes action by confronting Meserve and his men, and using a shovel, strikes Clark across the face, scaring the rest of the men.
Eriksson then meets a chaplain at a bar and tells him the story of what happened during the patrol. There is an investigation and the four men who participated in the rape and murder are court martialed: Meserve receives ten years hard labor and a dishonorable discharge, Clark is sentenced to life in prison, Hatcher receives fifteen years hard labor, and Dìaz receives eight years hard labor.
At the end of the film, Eriksson wakens from a nightmare to find himself on a J-Church transit line in San Francisco, just a few seats from a Vietnamese-American student who resembles Than (same actress). She disembarks at Dolores Park and forgets her scarf and Eriksson runs after her to return it. As she thanks him and turns away, he calls after her in Vietnamese. She surmises that she reminds him of someone, and adds that he's had a bad dream. They go their separate ways and Eriksson is somewhat comforted.
The film was based on the real-life incident on Hill 192, and on Daniel Lang's book of the same title, but all names and some details of the story were altered.
The novel was published in 1969. Film rights were bought by David Susskind who was to produce the film for Warner Bros. Pete Hamill wrote a script and Jack Clayton was to direct. However the film was not made. In the late 1970s Susskind announced he would make the film for ABC-TV. This did not happen.
In 1979 David Rabe mentioned the project to Brian De Palma, who was interested but was unable to raise the money to finance it. Some years later Rabe had written a script, and De Palma attached Michael J. Fox and Sean Penn as actors. They almost succeeded in getting the film financed at Paramount, but ultimately decided not to proceed when the budget went from $17 million to $20 million. De Palma then went on to make The Untouchables which was a big hit; Dawn Steel had liked the project at Paramount, and when she became head of production at Columbia Studios, Casualties of War was the first film she green-lit.
"Historically Vietnam War movies have been very profitable," said Steel. "All of them. Platoon, Full Metal Jacket, Apocalypse Now, The Deer Hunter. You're looking at movies that have never been not pretty successful, but very successful. The foreign numbers have been extraordinary."
The film was shot in early 1988, mostly on location in Thailand, with some filming in San Francisco. The bridge location was filmed in Kanchanaburi, Thailand, which was the same as the famous Bridge on the River Kwai.
This film was Fox's third major dramatic role. He had previously starred in Light of Day and Bright Lights, Big City. John C. Reilly and John Leguizamo make their screen debuts in the film, and the latter would again star with Penn in another picture by De Palma, 1993's Carlito's Way.
"Let's be honest," said Fox at the time. "If this movie makes a buck and a half it's going to be things like Bikini's Away for me. But to fail doing something unexpected is no disgrace. To fail doing the ordinary is a disaster. This movie is about how much you will risk if you have nothing to gain."
The movie debuted at number four. It was criticised by Vietnam Veteran Groups.
The theatrical cut of the film was released on DVD in 2001. This version has the original 113 minute running time. An extended cut of the film was released on DVD in 2006, that contains two scenes cut from the original release. One has Eriksson being interrogated by the two investigators, and the other is the defense attorney trying to discredit Eriksson during the trial. This extended version has a running time of 119 minutes.
Casualties of War opened in 1,487 theatres, and ranked number 4 in box office for the first week of its release. It went on to gross $18,671,317, making it a box office loss. Most of the reviews were positive, and it garnered an 84% rating on Rotten Tomatoes based on 43 reviews.
De Palma invited Steven Spielberg to a private screening of the film, and after the screening ended, Spielberg said to Columbia Pictures executive Dawn Steel, "You'll be thinking about this for a week." Quentin Tarantino has hailed the film as "the greatest film about the Vietnam War."
Wins
Political Film Society: PFS Award; Peace; 1990.
Nominations
Golden Globes: Golden Globe; Best Original Score - Motion Picture Ennio Morricone; 1990.
Motion Picture Sound Editors: Golden Reel Award; Best Sound Editing - Sound Effects; Maurice Schell; 1990.