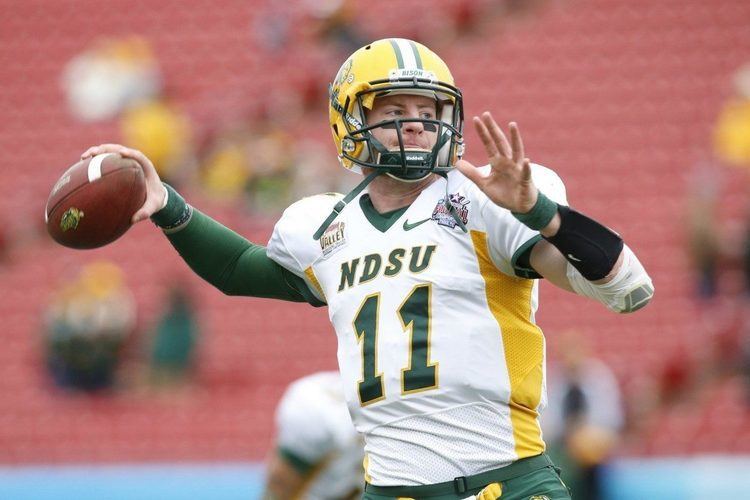 Born in Raleigh, North Carolina, Wentz moved to North Dakota with his family at the age of three. He played quarterback and defensive back for the football team at Century High School in Bismarck, and also played basketball and baseball for the Patriots. As a freshman, he was 5 ft 8 in (1.73 m) in height, grew to 6 ft 5 in (1.96 m) as a senior, and graduated in 2011 as valedictorian of his class.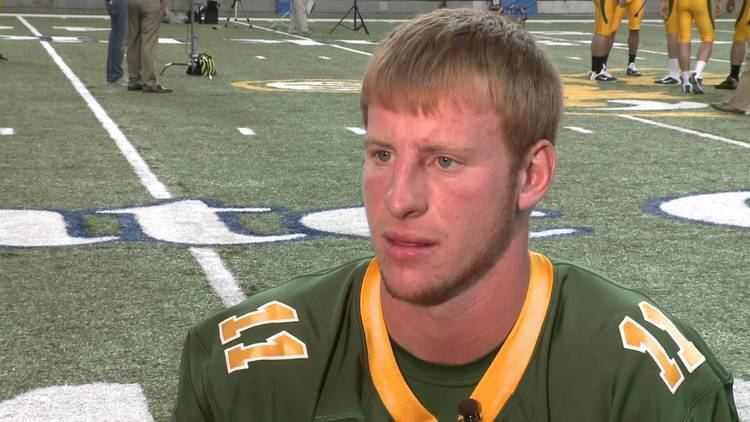 Wentz attended North Dakota State, redshirting his first season with the Bison as they won their first FCS title under ninth-year head coach Craig Bohl.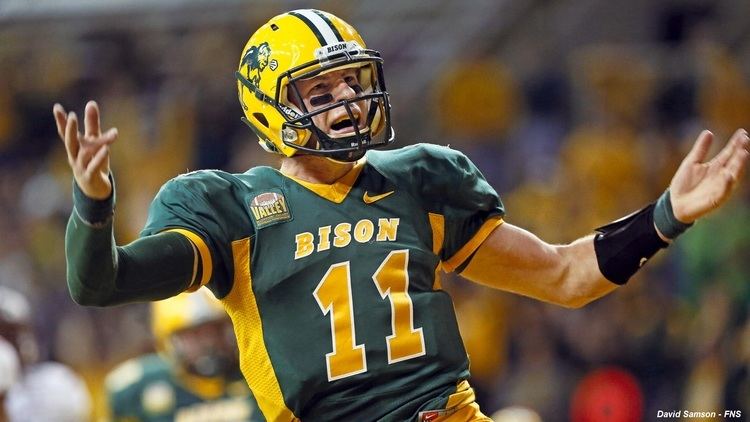 As a redshirt freshman in 2012, Wentz was the backup quarterback to Brock Jensen, and played in his first collegiate game on September 22. He completed all eight of his passes for 93 yards and threw his first touchdown in relief of Jensen in a 66–7 blowout victory over Prairie View A&M. Wentz finished the season completing 12-of-16 pass attempts for 144 passing yards and two touchdowns.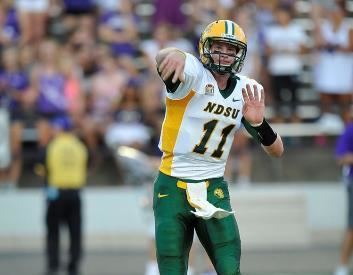 Wentz was again the second-string quarterback in 2013 and appeared in 11 games. He had his best game that season on October 13, against Delaware State, completing 10 of 13 attempted passes for 105 passing yards and a touchdown. Wentz ended the season completing 22 of 30 passes for 209 yards and a touchdown.
Wentz became the Bison starting quarterback during his junior year in 2014. In his first start in the opener at Iowa State of the Big 12 Conference, he completed 18-of-28 pass attempts for 204 yards in a 34–14 victory on August 30. During the game at Western Illinois on October 10, Wentz caught a 16-yard touchdown pass from running back John Crockett and led the Bison to a 17–10 comeback victory. Statistically, his best game that season was at Missouri State, where he threw for 247 yards and 5 touchdowns.
In his first season as a starting quarterback, Wentz led NDSU to a 15–1 record. On January 10, 2015, he started in his first national championship game against Illinois State and passed for 287 yards and a touchdown and rushed for 87 yards and scored a touchdown on a five-yard run to give North Dakota State the lead with 37 seconds left. NDSU won their fourth consecutive NCAA Division I Football Championship game, 29–27. Wentz started all 16 games in 2014, completing 228 of 358 passes for 3,111 yards with 25 touchdowns and 10 interceptions. He was also the team's second leading rusher, with 642 rushing yards and six rushing touchdowns.
As a fifth-year senior in 2015, Wentz had one of the best games of his career on October 10 against Northern Iowa, when he passed for a career-high 335 yards. The following week against South Dakota, Wentz suffered a broken wrist in the first half but managed to complete the game with 16-of-28 completions, 195 passing yards, and two touchdown passes as the Bison lost 24–21. After starting the first six games of the season and completing 63.7 percent of his passes for a total of 1,454 yards and 16 touchdowns, he missed the next eight weeks of the season. He returned to practice in the beginning of December and was cleared to play in the national championship. On January 9, 2016, Wentz led NDSU to its fifth straight FCS title, running for two touchdowns and throwing for a third. He was named the NCAA Division I-AA Championship Game Most Outstanding Player for the second straight year.
Wentz graduated from NDSU with a degree in health and physical education, finishing with a 4.0 GPA and earning recognition as CoSIDA Academic All-American of the Year for Division I football.
Source:
In February 2016, most analysts had Wentz projected to be selected in the mid-first round of the draft. However, Wentz began to be regarded as a Top 10 prospect after his pro day. On January 30, 2016, he played in the 2016 Reese's Senior Bowl and finished the game completing 6 of 10 pass attempts for 50 yards. At the NFL Scouting Combine, Wentz showcased his athleticism as he was in the top three in the 40-yard dash, the broad jump, and the three-cone drill among all quarterbacks. Wentz also reportedly scored a 40/50 on his Wonderlic test.
On April 28, 2016, the Philadelphia Eagles selected Wentz with the 2nd overall pick in the 2016 NFL Draft. He is the first quarterback the Eagles selected in the first round of an NFL Draft since Donovan McNabb in 1999, who was also taken second overall. He is also the first FCS quarterback taken in the first round since Joe Flacco was taken with the 18th overall selection in 2008, and the highest FCS quarterback taken in draft history. The Eagles traded three top 100 picks in 2016, a first round pick in 2017, and a second round pick in 2018 in order to move up in the draft order and get him. On May 12, 2016, Wentz signed a four-year deal worth $26.67 million, fully guaranteed, featuring a $17.6 million signing bonus. He suffered a rib injury in the team's first preseason game of 2016, but was fully healthy for the beginning of the 2016 regular season.
Originally intending to have Wentz sit and learn for the 2016 season, those plans changed when on September 3, 2016, the Eagles traded quarterback Sam Bradford to the Minnesota Vikings. The same day, it was also reported that the team planned to start Wentz when he became healthy. On September 5, Wentz was officially named the starter for the Eagles season opener against the Cleveland Browns. He made his first regular season start on September 11 against the Cleveland Browns, throwing for 278 passing yards and 2 touchdowns in the 29–10 victory. He was named the Pepsi NFL Rookie of the Week for Week 1. Wentz threw for 190 yards and a touchdown in a 29–14 win over the Chicago Bears in Week 2. He became the first rookie quarterback since 1970 to win his first two games of the season and not throw an interception. During Week 3 against the Pittsburgh Steelers, Wentz finished with 301 passing yards and 2 touchdowns as the Eagles won 34-3. He was named the NFC Offensive Player of the Week for his performance against the Steelers. In his rookie season, Wentz started all 16 games for the Eagles as they finished the season with a 7–9 record. Wentz threw for a league record 379 completions by a rookie, breaking the record of 354 held by former teammate Sam Bradford, who was with the St. Louis Rams at the time. The 379 completions also set a single season franchise record, breaking the record of 346 also held by Bradford from the previous season. Wentz also set a single season franchise record with 607 pass attempts, the second highest attempts by a rookie in league history (Andrew Luck had 627 in the 2012 season).
During Week 1 against the Washington Redskins, Wentz finished with 307 passing yards, 2 touchdowns, and an interception from a pass tipped at the line of scrimmage as the Eagles won 30–17.
Most pass completions by a rookie (379)
Philadelphia Eagles records
Single-season pass completions (379, 2016)
Single-season pass attempts (607, 2016)
3× Pepsi NFL Rookie of the Week – Weeks 1, 3, and 5, 2016
NFC Offensive Player of the Week – Week 3, 2016
NFL Offensive Rookie of the Month – September 2016
Carson Wentz is an avid hunter during the offseason, and frequently visits his home state of North Dakota. He is particularly noted for his friendship with Major League Baseball player Mike Trout, and gave him a ball as a gift after a touchdown in a win against the Cowboys on January 1, 2017. Wentz is a Christian.