Nationality

American




Name

Carrie Baade




Known for

Painting, Drawing








Full Name

Carrie Ann Jones




Born

February 18, 1974New Orleans, LA


Notable work

The Involuntary Thoughts of Lady Caroline Dubois (2005),The Perilous Compassion of the Honey Queen (2009), Queen Bitch (2009), Happy Whore of Babylon and the Anti-Christ (True Love on the Eve of the Apocalypse (2008), Lady or Tiger (2010)




Movement

Pop Surrealism, Visionary


Awards

Florida Division of Cultural Affairs Individual Artist Fellowship, the Delaware Division of the Arts Fellowship for Established Artist, and a nomination for the prestigious United States Artist Fellowship.


Website

http://www.carrieannbaade.com


Education

University of Delaware, School of the Art Institute of Chicago


Similar People

Chris Mars, Kris Kuksi, Chet Zar, Peter Gric, Ernst Fuchs
Carrie Ann Baade (born February 18, 1974) is a painter based in Tallahassee, FL where she is an Associate Professor in the Fine Arts Department at Florida State University
Contents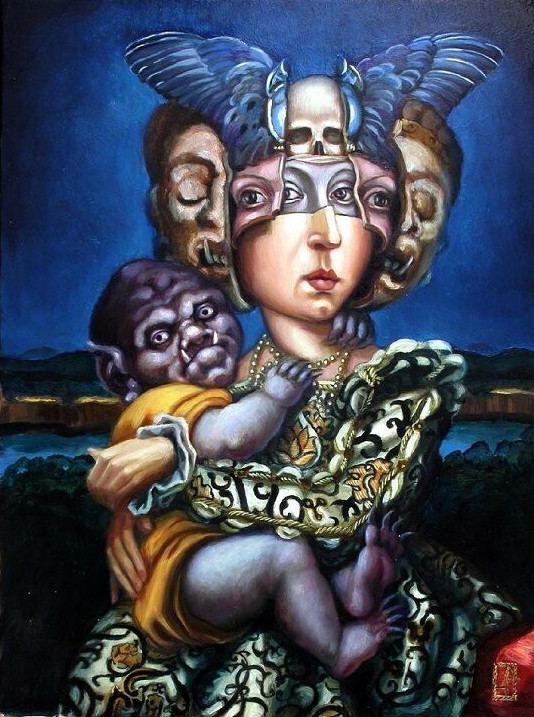 In the Studio with Carrie Ann Baade - Visionary Arts Academy Interview
Education and early life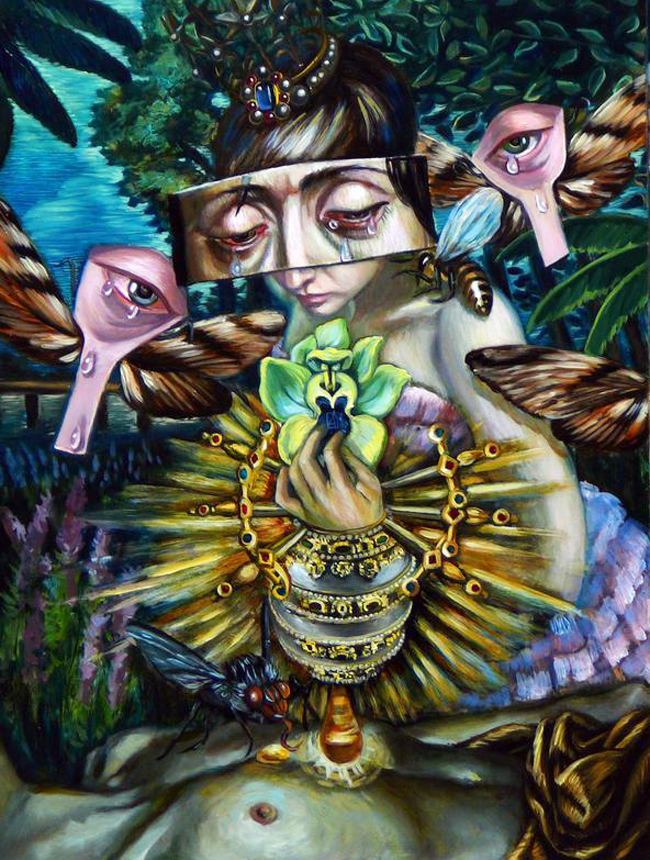 Baade was born in New Orleans but spent the majority of her early years in a small town in central Colorado, where she graduated from high school. She attended The School of the Art Institute of Chicago, graduating with her BFA in 1997. During that period she spent a year in Italy studying the techniques of the old masters at the Florence Academy of Art. In 2003, she earned her MFA from the University of Delaware.
Style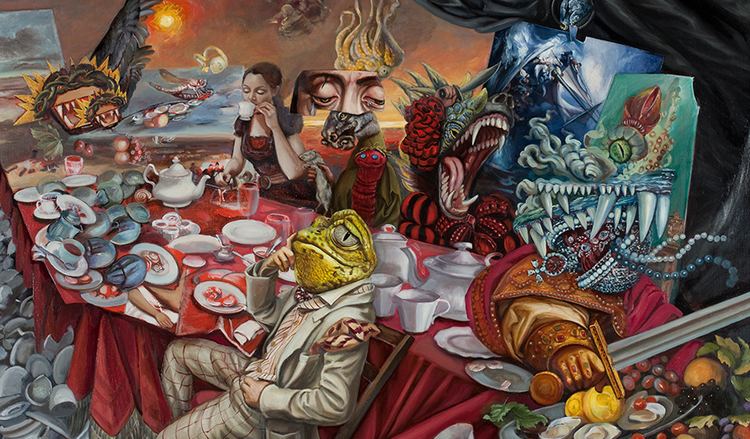 Baade's paintings are oil works blending dense, imaginative contemporary and classic symbology with luminescent color, often featuring themes of mortality, sexuality, personal transformation, and the darker side of human nature. She has been associated with the contemporary surreal movement, though her work treats this in an academic manner that rewards detailed study. "Carrie Ann Baade's autobiographical parables combine fragments of Renaissance and Baroque religious paintings, resulting in surreal landscapes inhabited by exotic flora, fauna, and figures."
Exhibitions, Grants, and Awards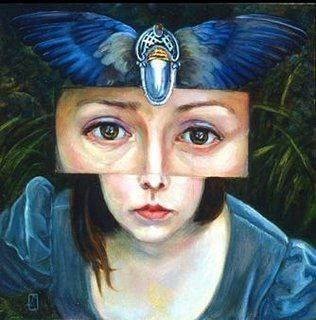 Carrie Ann has been nominated for the United States Artists Fellowship (2006) and the Joan Mitchell Grant (2012) and received the Florida Division of Cultural Affairs Individual Artist Fellowship, the Delaware Division of the Arts Fellowship for Established Artists, and many more.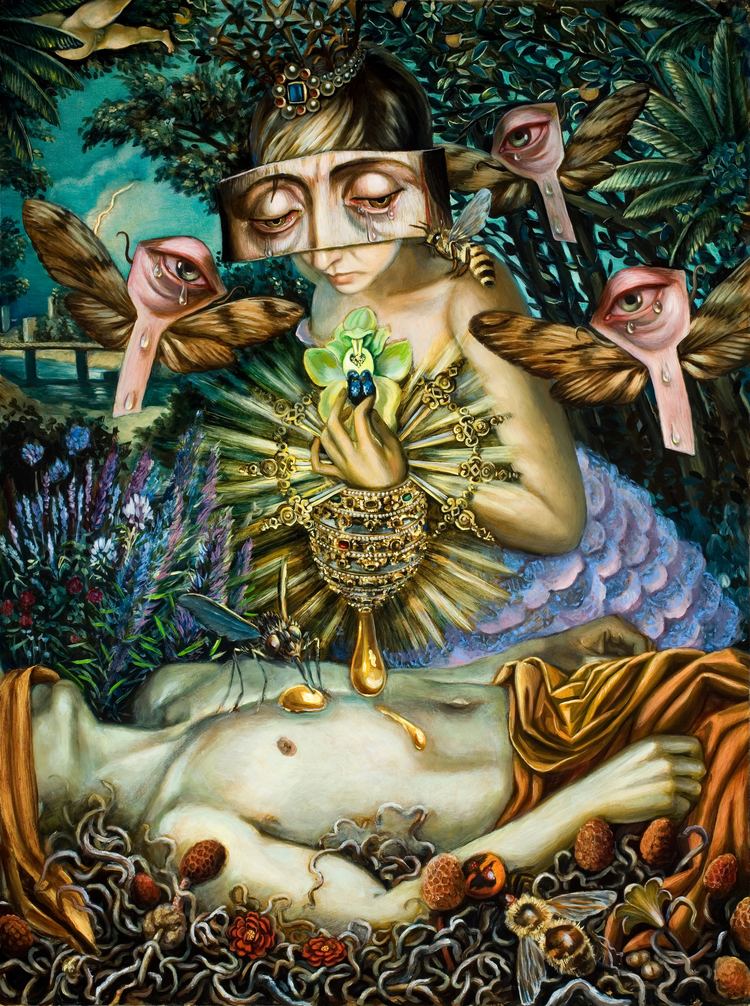 Her paintings have been featured in various narrative art exhibitions including: "Solar Midnight" at the Museum of Contemporary Art Jacksonville (solo show,) "In Canon" at the Delaware Center for Contemporary Art, "Suggestivism" at Grand Central Art Center in Santa Monica, and "Another Roadside Attraction" at ISE Cultural Foundation in New York City. In 2007 she was among a group of three artists who became the first Americans ever to exhibit at the Ningbo Museum of Art, one of the largest provincial museums in China, located outside of Shanghai. The director of the Ningbo Museum called them "the Mayflowers" for their contributions as cultural ambassadors.
Baade has exhibited in group shows alongside the likes of Ernst Fuchs, H. R. Giger, Chet Zar, Robert Williams, Mark Ryden, Mark Mothersbaugh, Daniel Martin Diaz, Chris Mars, Jessica Joslin, Gary Baseman, Kris Kuksi Travis Louie, Molly Crabapple, Greg Simkins, Christopher Ulrich, Julie Heffernan, Ron English, Christian Rex van Minnen, Audrey Kawasaki, Jeff Soto, Madeline von Foerster, and Nicola Verlato
In 2011, Baade curated "Cute and Creepy", a large group exhibit at the Museum of Fine Art at Florida State University including many of the biggest names in the contemporary pop surrealist movement. This represented a major cultural shift, being the first time works of this genre had ever been presented in a major show in an academic, museum setting.
Publications
Books
Baade, Carrie Ann & Hightower, Nancy E. (2011) Cute and Creepy. University of Washington Press. ISBN No. 978-1889282244
Spoor, Nathan. (2011) Suggestivism: A Comprehensive Survey of Contemporary Artists. Gingko Press. ISBN No. 978-1584234470
Ziegler, Tina. (2010) Hunt & Gather. Mark Batty Publisher. ISBN No. 978-0981960036
Becket-Griffith, Jasmine. (2008) Gothic Art Now. HarperCollins Canada / Harper International. ISBN No. 978-0061626999.
Kuntyj, Lynda. (2008) Visual Arts: A Resource for Units 2A-2B. Impact Publishing. ISBN No. 978-1921305245.
Beinart, Jon. (2007) Metamorphosis: 50 Surrealists and Visionary Artists. Visionary Press. ISBN No. 978-0980323108
Magazines
Staniec, Kevin. (2008) ISM: Untitled Love Project. Issue #15
Weird Tales (Hugo Award Winner). Cover, Issue #358
References
Carrie Ann Baade Wikipedia
(Text) CC BY-SA