After his radical restructuring of Renault that returned the company to profitability in the late 1990s Ghosn became known as "Le Cost Killer". In the early 2000s, for orchestrating one of the auto industry's most aggressive downsizing campaigns and spearheading the turnaround of Nissan from its near bankruptcy in 1999, he earned the nickname "Mr. Fix It".
Ghosn stepped down as CEO of Nissan on April 1, 2017, while remaining Chairman of the company.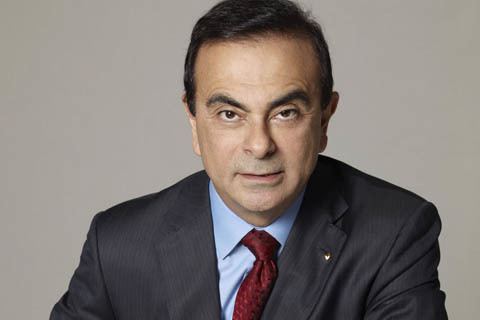 Ghosn's grandfather Bichara Ghosn emigrated from Lebanon to Brazil at the age of 13, eventually settling in remote Guaporé, Rondônia, near the border between Brazil and Bolivia. Bichara Ghosn was an entrepreneur and eventually headed several companies, in fields including the rubber trade, the sale and purchase of agricultural products, and aviation. His son Jorge Ghosn married a Nigerian-born woman whose family also came from Lebanon, and they settled in Porto Velho, the state capital of Rondônia.
Carlos Ghosn was born on March 9, 1954 in Porto Velho. When he was about two years old he became sick after drinking unsanitary water, and his mother moved with him to Rio de Janeiro. He did not fully recover there, and in 1960, when Ghosn was six years old, he and his mother and sister moved to Beirut, Lebanon, where his grandmother lived.
Ghosn completed his secondary school studies in Lebanon, at the Jesuit school Collège Notre-Dame de Jamhour. He then completed his classes préparatoires in Paris, at the Collège Stanislas and the Lycée Saint-Louis. He graduated with university engineering degrees from the École Polytechnique in 1974 and the École des Mines de Paris in 1978.
After graduation in 1978, Ghosn spent 18 years at Michelin, Europe's largest tire maker, initially training and working in several plants in France and Germany. In 1981, he became plant manager in Le Puy-en-Velay, France. In 1984 he was named head of research and development for the company's industrial tire division.
In 1985, when Ghosn was 30 years old, he was appointed Chief Operating Officer (COO) of Michelin's South American operations. He returned to Rio de Janeiro, reporting directly to François Michelin, who tasked Ghosn with turning around the operation, which was unprofitable and struggling under Brazil's hyperinflation. Ghosn formed cross-functional management teams to determine best practices among the French, Brazilian, and other nationalities working in the South American division. The multicultural experience in Brazil formed the basis of his cross-cultural management style and emphasis on diversity as a core business asset. "You learn from diversity ... but you're comforted by commonality", Ghosn has said. The division returned to profitability in two years.
After turning around Michelin's South American operations, Ghosn was appointed President and COO of Michelin North America in 1989, and moved to Greenville, South Carolina with his family. He was promoted to CEO of Michelin North America in 1990. He presided over the restructuring of the company after its acquisition of the Uniroyal Goodrich Tire Company.
In 1996, the ailing French auto manufacturer Renault recruited Ghosn as Executive Vice President in charge of purchasing, advanced research, engineering and development, powertrain operations, and manufacturing; and he was also in charge of Renault's South American division, located in the Mercosur. Ghosn's radical restructuring of Renault successfully returned the company to profitability in 1997.
In March 1999, Renault and Nissan formed the Renault-Nissan Alliance, and in May 1999 Renault purchased a 36.8% stake in Nissan. While maintaining his roles at Renault, Ghosn joined Nissan as its Chief Operating Officer (COO) in June 1999, became its President in June 2000, and was named Chief Executive Officer (CEO) in June 2001. When he joined the company, Nissan had a consolidated interest-bearing net automotive debt of more than $20 billion (more than 2 trillion yen), and only three of its 46 models sold in Japan were generating a profit. Reversing the company's sinking fortunes was considered nearly impossible.
Ghosn's "Nissan Revival Plan", announced in October 1999, called for a return to profitability in fiscal year 2000, a profit margin in excess of 4.5% of sales by the end of fiscal year 2002, and a 50% reduction in the current level of debt by the end of fiscal year 2002. Ghosn promised to resign if these goals were not met. Ghosn's Nissan Revival Plan called for cutting 21,000 Nissan jobs (14% of total workforce), mostly in Japan; shutting five Japanese plants; reducing the number of suppliers and shareholdings; and auctioning off prized assets such as Nissan's aerospace unit.
Ghosn was the fourth non-Japanese person to lead a Japanese automaker, after Mark Fields, Henry Wallace, and James Miller were appointed by Ford to run Mazda in the late 1990s. In addition to cutting jobs, plants, and suppliers, Ghosn spearheaded major and dramatic structural and corporate-culture changes at Nissan. He defied Japanese business etiquette in various ways, including by eliminating seniority-based and age-based promotion, by changing lifetime employment from a guarantee to a desired goal for when the company achieved high performance, and by dismantling Nissan's keiretsu system – an interwoven web of parts suppliers with cross-holdings in Nissan. When the Nissan Revival Plan was announced, the proposed dismantling of keiretsu earned Ghosn the nickname "keiretsu killer", and the Wall Street Journal quoted a Dresdner Kleinwort Benson analyst in Tokyo as saying Ghosn might become a "target of public outrage" if Nissan threw former affiliates out of its supply chain. Ghosn changed Nissan's official company language from Japanese to English, and included executives from Europe and North America in key global strategy sessions for the first time.
In the first year of the Nissan Revival Plan, Nissan's consolidated net profit after tax climbed to $2.7 billion for fiscal year 2000, from a consolidated net loss of $6.46 billion in the previous year. Twelve months into his three-year turnaround plan, Nissan had returned to profitability, and within three years it was one of the industry's most profitable auto makers, with operating margins consistently above 9%—more than twice the industry average. The goals of the Nissan Revival Plan were all reached before March 31, 2002.
In May 2002 Ghosn announced his next set of goals for the company, "Nissan 180", a three-year plan for growth based on the numbers 1, 8, and 0: By the end of September 2005 Nissan planned to increase its global sales by one million vehicles; and by the spring of 2005 it was committed to achieving an operating margin of at least 8% and reducing its net automotive debt to zero. These goals were all reached: In the spring of 2003 Nissan announced that its net automotive debt was eliminated in fiscal year 2002. Nissan's operating profit margin climbed to 11.1% in fiscal year 2003; it had been 1.4% in fiscal year 1999. In October 2005 Nissan announced that its annual sales from September 30, 2004 to September 30, 2005 were more than 3.67 million, up from the 2.6 million vehicles sold in the fiscal year ended March 2002.
In May 2005, Ghosn was named President and Chief Executive Officer of Renault. When he assumed the CEO roles at both Renault and Nissan, Ghosn became the world's first person to run two companies on the Fortune Global 500 simultaneously.
In 2005, billionaire investor Kirk Kerkorian acquired a 9.9% stake in General Motors (GM) and seated one of his representatives on the company's board, then urged GM to investigate a merger with Renault and Nissan with Ghosn as the new Chairman of GM. In 2006, GM's embattled management rebuffed the takeover attempt, and by the end of the year, Kerkorian's Tracinda Corp. sold most of its GM stock.
In 2006, Ford Motor Co. made Ghosn a formal offer to lead the company, according to the book American Icon: Alan Mulally and the Fight to Save Ford Motor Company by Bryce Hoffman. Ghosn refused, reportedly saying the only way he would come to the struggling company was if he was named both the CEO and Chairman of the board. Bill Ford Jr. refused to give up his chairmanship.
In 2007, Ghosn led the Renault-Nissan Alliance into the mass-market zero-emission electric car market in a major way, and committed €4 billion (more than $5 billion) to the effort. In 2008 he confirmed that Nissan-Renault would bring an "entire lineup" of zero-emission electric cars to the worldwide market by 2012. In 2009, he told the University of Pennsylvania's Wharton School of Business, "If you're going to let developing countries have as many cars as they want—and they're going to have as many cars as they want one way or another—there is no absolutely alternative but to go for zero emissions. And the only zero-emissions vehicle available today is electric.... So we decided to go for it." The Nissan Leaf, an electric car billed as "the world's first affordable zero-emission car", debuted in December 2010. As of 2017, the Renault-Nissan Alliance is the world's electric vehicle leader, selling more than double the number of electric cars as Tesla, and the Nissan Leaf is the world's best-selling electric vehicle by a wide margin.
In 2008, Ghosn was named Chairman, President, and CEO of Nissan. In 2009 he was named Chairman and CEO of Renault.
Ghosn was a visible leader in recovery efforts after the Japanese earthquake and tsunami on March 11, 2011, one of the worst natural disasters in modern history. On March 29, 2011, he made the first of several visits to the hard-hit Iwaki engine plant in Fukushima prefecture, 50 km (31 miles) from the Fukushima Daiichi nuclear power plant, and at his direction Nissan restored full operations at the Iwaki factory well ahead of expectations. He appeared on television in Japan to encourage optimism. In May 2011 Ghosn remained committed to building at least 1 million of Nissan's cars and trucks in Japan annually.
In June 2012, Ghosn was named Deputy Chairman of the Board of Directors of Russian automobile manufacturer AvtoVAZ. In June 2013 he was appointed Chairman of the Russian company, a position he retained through June 2016. Renault had begun a strategic partnership with AvtoVAZ in 2008 by acquiring a 25% stake in the company; this led to increasingly deeper partnerships between Renault-Nissan and AvtoVAZ, ending in Renault-Nissan Alliance control of the Russian automaker in 2014.
In February 2017 Ghosn announced he would step down as CEO of Nissan on April 1, 2017, while remaining chairman of the company. Hiroto Saikawa, who had been at Nissan 40 years and was co-chief executive of the company, became its CEO.
In October 2016, Nissan completed the acquisition of a controlling 34% stake in Mitsubishi Motors. Ghosn became, in addition to his Renault-Nissan posts, Chairman of Mitsubishi, with an aim to rehabilitate the automaker after a months-long scandal involving fuel-economy misrepresentation and consequent falling revenues. The Nissan-Mitsubishi partnership includes partnership in developing electric automobiles for Mitsubishi, and the Renault-Nissan-Mitsubishi alliance creates the world's fourth-largest auto group, after Toyota, Volkswagen AG, and General Motors Co.
Ghosn served on the International Advisory Board of Brazilian bank Banco Itaú until 2015. He is also a member of the Advisory Board of Tsinghua University School of Economics and Management in Beijing. He has received an honorary doctorate from American University of Beirut; and he is a member of the Strategic Council, Saint Joseph University of Beirut. In 2014 and 2015, he was elected president of the European Automobile Manufacturers Association. He serves as Governor of the World Economic Forum.
Ghosn, whom Forbes magazine called "the hardest-working man in the brutally competitive global car business", splits his time between Paris and Tokyo and as of 2006 logged roughly 150,000 miles in airplanes per year. Japanese media have called him "Seven-Eleven" ("work very hard from early in the morning till late at night"). He holds both Brazilian and French citizenships. He has been noted for his direct, no-nonsense, results-oriented and execution-oriented style in business strategy meetings, but also for his interest in resolving problems from within a company by listening to workers and by cross-functional and cross-cultural team groupings.
Ghosn is multilingual and speaks four languages fluently: French, Portuguese, English, and Arabic, and he has also studied Japanese. He also maintains ties to Lebanon, where he lived for 10 years and where he completed his primary and secondary education. He is a partner in Ixsir, a winery in the northern coastal town of Batroun, Lebanon. In 2012 he was named to the Honorary Board of the American Foundation of Saint George Hospital in Beirut.
Ghosn has been hailed as a potential presidential candidate in Lebanon. In a June 2011 survey by life-insurance company AXA, Ghosn was ranked No. 7 in a random poll asking Japanese people, "Which celebrity do you want to run Japan?" (Barack Obama was No. 9, and Prime Minister Naoto Kan was No. 19.) He has so far declined such overtures, saying he has "no political ambitions".
Ghosn is the divorced father of four grown children. He has residences in France, Japan, and Brazil.
Beginning in November 2001, Ghosn's life story was turned into a superhero comic book series in Japan, titled The True Story of Carlos Ghosn, in the manga comic book Big Comic Superior. The series was published as a book in 2002.
Ghosn also has a Japanese bento box named after him on the menus at some Tokyo restaurants. Bento boxes are popular with businessmen, students, and others who want a quick lunch. The Financial Times called the "Carlos Ghosn Bento" a "measure of the extraordinary rise of Mr. Ghosn in Japan that he should be deemed worthy enough to eat. The Japanese take their food seriously and do not welcome foreign intrusions. As such, the 'Ghosn bento' could be seen as a Japanese way of bestowing acceptance upon him."
Ghosn is the subject of a number of books in English, Japanese, and French. In English, he wrote a best-selling business book called Shift: Inside Nissan's Historic Revival. He was the subject of another business book called Turnaround: How Carlos Ghosn Rescued Nissan by David Magee. He also provided strategic business commentary and on-the-job lessons to aspiring managers in a book called The Ghosn Factor: 24 Inspiring Lessons From Carlos Ghosn, the Most Successful Transnational CEO by Miguel Rivas-Micoud.
Ghosn's quest to develop Nissan's line of zero-emission electric cars is one of the four subjects of the 2011 documentary Revenge of the Electric Car. The zero-emission Nissan Leaf, which Nissan began delivering in late 2010 in the United States and Japan, is the world's first mass-produced zero-emission electric vehicle. Ghosn authorized more than $5 billion to bring the Leaf, and numerous derivative electric cars based on the Leaf's architecture, to market—a gamble that prompted BusinessWeek to ask whether he was "crazy".
Ghosn is a frequent subject of university thesis papers and essays among business students. CyberEssays has a section dedicated to papers about Ghosn's corporate leadership. One of the more commonly cited thesis papers is the June 2005 MBA thesis written by Koji Nakae of the MIT Sloan School of Management, which compares Ghosn to U.S. General Douglas MacArthur, who restructured Japanese society after World War II.
As a result of his achievements, Ghosn has had numerous awards and honors bestowed upon him. Some of these include:
In 2002, he was appointed a Chevalier of the Legion of Honour (Knight of the Legion of Honour) by the French government.
In 2002 Fortune awarded him Asia Businessman of the Year.
In 2003, he was named Man of the Year by Fortune magazine's Asian edition.
In 2003 Fortune listed him as one of the 10 most powerful business leaders outside the U.S.
In 2004, he was added to the Automotive Hall of Fame.
In 2004, he was also added to the Japan Automotive Hall of Fame.
In October 2006, Ghosn was made an Honorary Knight Commander of the Order of the British Empire.
In 2010, CEO Quarterly magazine listed Ghosn as one of the "Most Respected CEOs"
In November 2011, CNBC listed Ghosn as Asia Business Leader of the Year.
In June 2012, Ghosn received the Japan Society Award.
In October 2012, Ghosn became the first person in the auto industry, and the fourth overall, to win a Lifetime Achievement Award from the Strategic Management Society, a non-profit group that promotes ethical and strategic business stewardship.
In October 2012, Ghosn was awarded the Grand Cross of the Order of Isabella the Catholic, an honorific designation to civilians in recognition of services that benefit Spain.
In 2013, he was appointed an International Fellow of the Royal Academy of Engineering.