Carlo Urbani ([ˈkarlo urˈbaːni]; Castelplanio, Italy October 19, 1956 – Bangkok, Thailand March 29, 2003) was an Italian doctor and microbiologist and the first to identify severe acute respiratory syndrome (SARS) as a new and dangerously contagious viral disease. Although he became infected and died, his early warning to the World Health Organization (WHO) touched off a massive response that helped save the lives of millions of people around the world.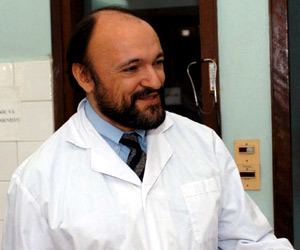 Urbani graduated with a medical degree in 1981 from the University of Ancona and obtained a specialization in infectious and tropical diseases from the University of Messina. He subsequently earned a postgraduate degree in tropical parasitology.
Urbani started volunteering for the African endemic disease cause since young joining the Italian Catholic NGO Mani Tese. After years working in the epidemic medicine fields, in 1993 he became an external consultant of the World Health organization and in 1996 he joined Médecins Sans Frontières which took him to Vietnam and Cambodia for long term work periods combatting parasitic diseases and curing endemic pathologies. Soon he became president of the Italian chapter of Médecins Sans Frontières and was one of the individuals who accepted the 1999 Nobel Peace Prize on behalf of that organization. With the money that the organization cashed off the Nobel Prize, President Urbani decided to create a fund to promote an international campaign for access to essential medicines for the world's poorest populations.
In late February 2003, Urbani was called into The French Hospital of Hanoi to look at patient Johnny Chen, an American businessman who had fallen ill with what doctors thought was a bad case of influenza. Urbani realized that Chen's ailment was probably a new and highly contagious disease. He immediately notified the WHO, triggering the most effective response to a major epidemic in history. He also persuaded the Vietnamese Health Ministry to begin isolating patients and screening travelers, thus slowing the early pace of the epidemic.
On March 11, as he flew from Hanoi to a conference in Bangkok, Thailand where he was to talk on the subject of childhood parasites, Urbani started feeling feverish on the plane. A colleague who met him at the airport called an ambulance. They sat in chairs eight feet apart until an ambulance arrived 90 minutes later, because its attendants stopped for protective gear first.
Due to the work he did in Hanoi treating SARS infected patients, Urbani had become infected with the virus himself. His Bangkok hospital room was an improvised isolation ward, so his wife, Giuliana Chiorrini, could only talk to him by intercom. Chiorrini saw him conscious just once. It is said that Urbani had an argument with Chiorrini who said it wasn't responsible behaviour for the father of three children ages 4 to 17 to risk his life treating such sick patients but Urbani replied, "If I can't work in such situations, what am I here for? Answering e-mails, going to cocktail parties and pushing paper?"
As his lungs weakened he was put on a respirator. During a moment of consciousness, Urbani asked for a priest to give him last rites and, according to the Italian Embassy in Bangkok, said he wanted his lung tissue saved for scientific research. Urbani died on 29 March 2003 at 11:45 AM, after 18 days of intensive care.