Cap'n Crunch is a product line of corn and oat breakfast cereals introduced in 1963 and manufactured by Quaker Oats Company, a division of PepsiCo since 2001.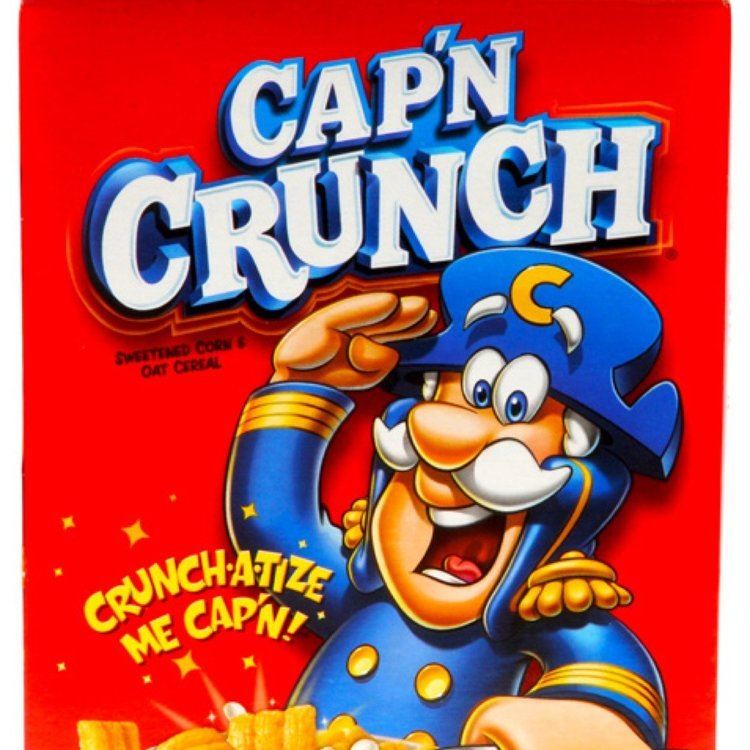 Cap'n Crunch was developed to recall a recipe of brown sugar and butter over rice, requiring innovation of a special baking process—as the cereal was one of the first to use an oil coating for flavor delivery.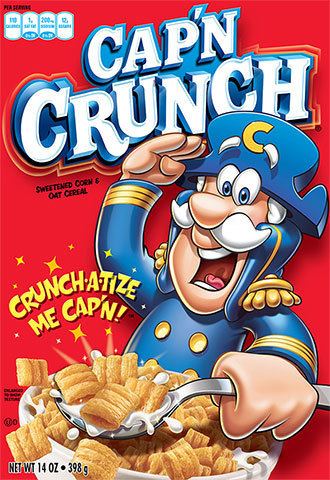 Pamela Low, a flavorist at Arthur D. Little and 1951 graduate of the University of New Hampshire with a microbiology degree, developed the original Cap'n Crunch flavor in 1963—recalling a recipe of brown sugar and butter her grandmother Luella Low served over rice at her home in Derry, New Hampshire. Before developing the flavor, the cereal already had a marketing plan, and once having arrived at the flavor coating for Cap'n Crunch, Low described it as giving the cereal a quality she called "want-more-ishness". After her death in 2007, the Boston Globe called Low "the mother of Cap'n Crunch." At Arthur D. Little, Low had also worked on the flavors for Heath, Mounds and Almond Joy candy bars.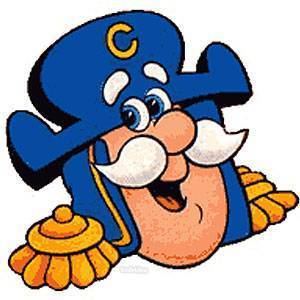 In 1965, the Quaker Oats Company awarded the Fredus N. Peters Award to Robert Rountree Reinhart, Sr. for his leadership in directing the development team of Cap'n Crunch. Reinhart developed a technique in the manufacture of Cap'n Crunch, using oil in its recipe as a flavor delivery mechanism—which initially presented problems in having the cereal bake properly.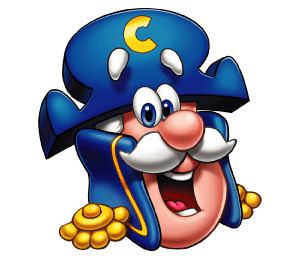 The product line is heralded by a cartoon mascot named Cap'n Crunch. The mascot is depicted as a late 18th-century naval captain, an older man with white eyebrows and a white moustache, who wears a Revolutionary-style naval uniform: a bicorne hat emblazoned with a "C" and a gold-epauletted blue coat with gold bands on the sleeves. While typically an American naval captain wears four bars on his sleeves, the mascot has been variously depicted over the years wearing only one bar (commodore), two bars (lieutenant) or three bars (commander).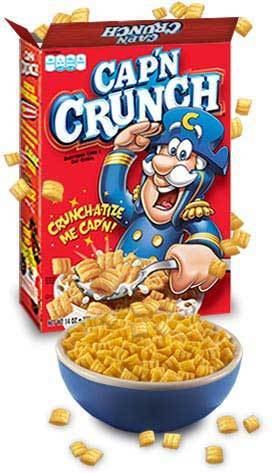 According to a humorous 2013 Wall Street Journal article, the mascot, whose full name is Horatio Magellan Crunch, captains a ship called the Guppy, and was born "on Crunch Island in the Sea of Milk – a magical place with talking trees, crazy creatures and a whole mountain (Mt. Crunchmore) made out of Cap'n Crunch cereal." The article refers to the Captain's bicorne as a "Napoleon-style" hat, and claims that this has led to speculation that he may be French.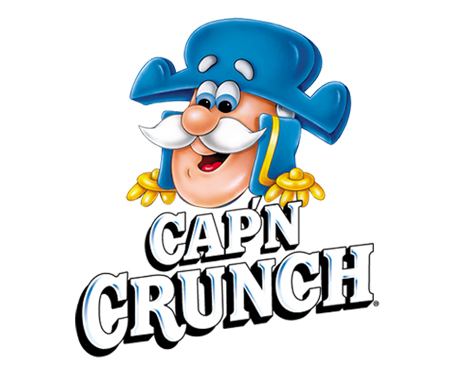 Cap'n Crunch's original animated television commercials featured the slogan, "It's got corn for crunch, oats for punch, and it stays crunchy, even in milk."
In 2014, Cornell University studied the box designs of 65 brands of cereals and discovered that buyers show 28% greater brand loyalty where the box cover features a mascot making direct eye contact with the purchaser, citing Cap'n Crunch as an example.
In 2013, sources including the Wall Street Journal and Washington Times reported that the three stripes on the mascot's uniform indicate a rank of Commander and not the four needed on his uniform to be a Captain. In jest, the Wall Street Journal reported that the U.S. Navy had no record of Crunch and that NCIS was investigating him for impersonating a naval officer.
Daws Butler provided the original voice of the Cap'n until his death in 1988. Author Philip Wylie wrote a series of short stories, Crunch and Des, beginning in the 1940s, which featured a similarly named Captain Crunch Adams. The Cap'n Crunch commercials have historically used basic cartoon animation by Jay Ward Productions. Vinton Studios produced a claymation ad during the 1980s.
Cap'n Crunch: The original Cap'n Crunch cereal, which at the time was referred to as The Crunchy Captain's Cereal (CCC), is made of sweetened, yellow, square-shaped cereal pieces made by combining corn and oats. The cereal was launched in 1963, bolstered by a successful advertising campaign created by noted animator Jay Ward introducing the cereal's longtime naval mascot, Cap'n Crunch.
Cap'n Crunch's Crunch Berries: Cap'n Crunch's Crunch Berries cereal was introduced in 1967 and contained, in addition to the yellow pieces found in the original Cap'n Crunch, spherical red Crunch Berry pieces. There was a version of Crunch Berries available briefly in which the berries, instead of being spherical, were three small berries in a cluster. The Crunch Berry Beast mascot was introduced alongside the cereal. There are currently four Crunch Berry colors: red, green (introduced in 2002), blue, and violet (both introduced in the '90s). All the berry pieces are flavored the same, regardless of color.
Peanut Butter Crunch: First released in 1969, with a large elephant named Smedley as its mascot; according to sales charts, this version was the most successful at the time. It consists of peanut butter-flavored corn puffs.
Punch Crunch, Vanilly Crunch, Jean LaFoote's Cinnamon Crunch: Three more editions issued in the early 1970s but later discontinued. Punch Crunch was fruit-flavored cereal rings, and the mascot was sailor-clad hippopotamus named Harry. Jean LaFoote's Cinnamon Crunch featured cinnamon flavored corn puffs with a similar appearance to Peanut Butter Crunch; it was revived and renamed Cinnamon Roll Crunch.
Choco Crunch: In 1982, a variant called Choco Crunch, featuring the mascot "Chockle the Blob", was introduced. This version contained the yellow corn squares, plus chocolate flavored pieces similar to Crunch Berries.
Chocolatey Crunch: Introduced in 2011, consisting of chocolate flavored corn squares.
Christmas Crunch: A special edition first released for the 1988 Christmas holiday season. It contains the signature Cap'n Crunch yellow corn squares with red and green Crunch Berries, shaped like evergreen trees, in a green box with the Cap'n wearing a Santa Claus hat. Originally, it contained a toy or Christmas tree ornament inside the box.
Deep Sea Crunch: A version of the cereal introduced in 1993, which featured Crunch Berries shaped like sea creatures. This version was discontinued but returned in 2009.
Oops! All Berries: First released in 1997, "Oops! All Berries" contained nothing but the berry flavored Crunch Berries and none of the corn squares. This version was discontinued the following year. In 2008, 2009, and again in 2010, "Oops! All Berries" has made limited time only returns. Recent boxes do not state "Limited Time Only" printed on the box. Current "Oops! All Berries" colors are red, purple, blue and green.
Halloween Crunch: A limited edition version of the cereal introduced in 2007. This includes green Crunch Berries in the form of ghosts.
Galactic Crunch: A discontinued version which featured space-related marshmallows.
Choco Doughnuts: A discontinued version which featured chocolate flavored doughnut shaped cereal with candy sprinkles.
Soft Crunch: A discontinued version which featured softer cereal rings, designed to prevent cuts in the roof of consumer's mouths.
Home Run Crunch: A limited edition version of the cereal, currently available, released in 1995 which featured baseball-related marshmallows, like home plates, caps, and mitts. It has the flavor of Crunch Berries but the pieces of the cereal are shaped as bats and balls. It occasionally comes back during the summer.
Cap'n Crunch's Mystery Volcano Crunch: Red and yellow fruit flavored berries with "'free' packet of lava rocks that pop in milk!".
Cap'n Crunch's Oops! Smashed Berries: Oops! All Berries cereal with flat berries that the kids smashed.
Cap'n Crunch's CoZmic Crunch: Star shaped berries with "orange space dust that turns milk green".
Polar Crunch: A version of the cereal in which the Crunch Berries change color to blue when milk is poured.
Cinnamon Roll Crunch: Released in 2013.
Cap'n Crunch's Crunch Treasures: Star shaped crunchy yellow corn and oat rings. Contains half the sugar of regular Cap'n Crunch.
Cap'n Crunch Bars: Later called Cap'n Crunch Treats, they were marshmallow treats similar to Rice Krispies Treats and came in Cap'n Crunch, Crunch Berries, and Peanut Butter Crunch varieties.
Airhead Berries: A crossover between Airheads candy and Cap'n Crunch cereal.
Cap'n Crunch's Sprinkled Donut Crunch: Released in 2014. Donut-flavored cereal rings smothered in sprinkles.
Cap'n Crunch's Orange Creampop Crunch: Modeled after nostalgic orange/vanilla popsicles.
Cap'n Crunch's Blueberry Pancake Crunch: Released in 2016. Features blue, light blue and white corn and oat puffs with natural and artificial blueberry and maple syrup flavoring.
On May 21, 2009, Judge Morrison England, Jr., of the U.S. District Court for the Eastern District of California dismissed the case Sugawara v. PepsiCo, Inc. The plaintiff, Janine Sugawara, claimed she had purchased the cereal Cap'n Crunch with Crunchberries because she believed "crunchberries" indicated she was eating real fruit. Sugawara alleged that after four years of purchasing the product she had only recently discovered to her dismay that said "berries" were in fact simply brightly colored cereal balls. The judge commented "In this case...it is simply impossible for Plaintiff to file an amended complaint stating a claim based upon these facts. The survival of the instant claim would require this Court to ignore all concepts of personal responsibility and common sense. The Court has no intention of allowing that to happen."