Giorgi went on reach the fourth round of the 2012 Wimbledon Championships in just her second appearance at the tournament. After her successful run at the championships, she made her top 100 debut in the WTA rankings. The following year Giorgi followed it up with a third round run at the Wimbledon Championships, and made her second Grand Slam fourth round at the 2013 US Open. Giorgi reached her WTA Tour event singles final at the 2013 BNP Paribas Katowice Open and won her first title at the 2015 Topshelf Open. She reached her best singles ranking of world number 30 in July 2015.
Giorgi is known for her aggressive style of game and her powerful flat groundstrokes, and is considered to be one of the hardest hitters of the ball on the tour. Her biggest professional wins have come at the 2013 US Open, 2014 BNP Paribas Open, and 2014 Aegon International, defeating former world no. 1 players Caroline Wozniacki, Maria Sharapova, and Victoria Azarenka, respectively. In addition to that, Giorgi has won more matches against top 10 players than she has lost.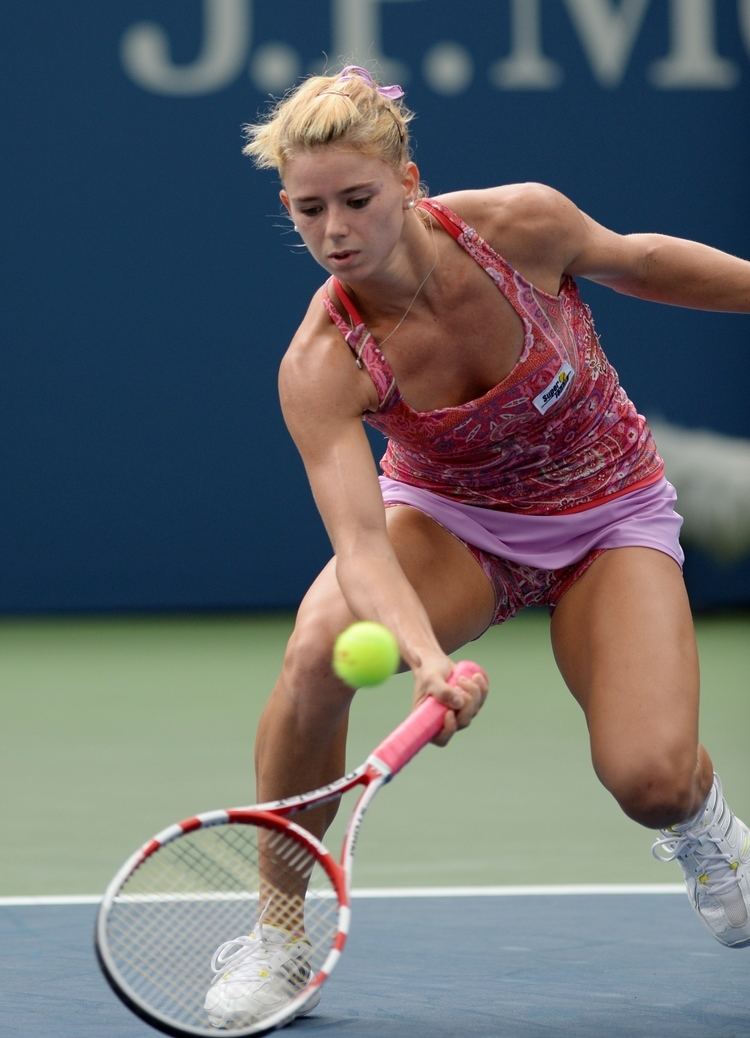 Giorgi was born in Macerata, Italy to Argentinian parents of Italian descent. Her parents are Claudia Gabriella Fullone, a fashion designer, who designs different dresses for every match and Sergio Giorgi. The Giorgi family has Jewish roots. Both moved to Italy from La Plata, Argentina. Sergio Giorgi was drafted in Argentina in 1982, and fought in the Falklands War against the British; he now coaches Camila full-time. As of September 2013, the Giorgi family was based in the Italian city of Pisa.
Giorgi is one of four children. Her older brother Leandro is studying to be an actor, and younger brother Amadeus is a developing pro football player. She had a sister named Antonela who died in a car accident in Paris. Giorgi, who is Jewish, considered emigrating to Israel in 2012 after her father Sergio opened negotiations with the Israel Tennis Association over the financial terms for her immigration.
Giorgi's passion for tennis began at a very young age. Following an initial interest in artistic gymnastics, she decided to devote herself to tennis after assisting in her brother's training, when she was just five years old. She was subjected to hard training by her father, Sergio. Two years later, Adriano Panatta, one of the greatest Italian tennis players said about her: "It's the first time I play a girl who plays like Andre Agassi." In 2000, she was spotted by Nick Bollettieri, the famous tennis coach, who subsequently offered her seven months of training (previously offered only to Maria Sharapova).
In November 2005, she reached the final of the Nike Junior Tour, but was defeated by Slovakia's Zuzana Luknarova. Camila reached the final at the Sey Development Cup in the Czech Republic, and the round of 16 at the Astrid Bowl in Belgium.
She started with $10,000 tournaments, and obtained her first significant results reaching two semi-finals in Baku and Jakarta. At the end of the season she took part in her first $25,000 tournament. She closed 2006 with 10 wins and 7 losses, and with a 944 ranking in the WTA.
She obtained her best results in September at Limoges in France, reaching the quarter-finals in a $10,000 tournament; then in $25,000 tournaments that she played at the end of the season, in December, in Lagos, Nigeria, where she reached the quarterfinals.
Giorgi started 2008 playing several tournaments in France, where she lived with her family, and reached her best WTA ranking, entering the top 600. In May, she played for the first time qualifying for a major tournament circuit, thanks to a wild card obtained at the Internazionali d'Italia in Rome. She lost to Jill Craybas, # 66 in the world, in a third set tie-breaker. She also played in the first round of the main draw in Rome Tevere Remo ($25,000), Contexeville ($50,000), and Rimini ($75,000). In Martina Franca ($25,000) she qualified and reached the second round. In November, in Saint Denis – The Reunion ($25,000), she reached the quarter-finals. Giorgi finished the year 480th in the WTA rankings.
At the beginning of the season, Giorgi played few tournaments, failing to qualify for the main draw. She achieved her first important results in April, when she qualified for and reached the quarter-finals of two $25,000 tournaments. After some successes in tournaments in France, Giorgi won her first career ITF tournament in August, in Katowice ($25,000), starting again from qualifying and defeating players such as Barbora Záhlavová-Strýcová (ranked # 105) and, in the final, Ksenia Pervak (ranked # 135). After another quarter-final in Nantes ($50,000), Giorgi ended with the victory in a $50,000 ITF tournament in Toronto. With these two successes, she ended the year with 33 wins and 12 defeats, and reached 285 in the WTA rankings.
The year began poorly for Giorgi, in which she suffered three defeats in the first round in the first three months of the year. In June she reached the final of a $25,000 tournament, in Bratislava. In the summer she played several tournaments in America, where she went to live (in Miami, with her family), without remarkable results. In August, trying for the first time to qualify in a Grand Slam tournament – the U.S. Open – she was defeated in the first round. However, in October, Camila won (losing only one set, in the first round) a $25,000 tournament in Rock Hill, South Carolina.
In February, Giorgi reached the semi-finals in two ITF tournaments, but her best result came in May, where she reached the final of a $50,000 tournament, in Raleigh, North Carolina, and a week later triumphed in Carson ($50,000) yielding a single set and dominating the semi-final with an unprecedented double 6–0. In June, at Wimbledon, Giorgi passed the qualifiers and reached her first appearance in a major tournament, but she lost in the first round to eventual quarter-finalist Tsvetana Pironkova. Giorgi reached semifinals in two other tournaments before closing the year with 36 wins and 21 defeats, and 149th in the WTA rankings, reaching her best ranking in October (when she was no. 141 in the world).
Giorgi began her season by playing at the 25K tournament in Innisbrook, Florida. As the top seed, she lost in the 2nd round to Jessica Pegula 6-2, 7-6(2). Then, she competed at the 25K tournament in Plantation, Florida. Seeded 2nd, she was defeated in the 1st round by Johanna Konta 6-2, 6-1. In February, Giorgi played in her WTA tournament of the year at the 2012 Memphis International. Seeded 4th for qualifying, she made it to the main draw beating Naomi Broady 6-2, 6-1 and 6th seed Chichi Scholl 6-2, 6-4. In the 1st round, she stunned top seed Nadia Petrova 6-4, 6-2. In the 2nd round, she lost to Stéphanie Foretz Gacon 7-5, 6-4. During the week of March 5, Giorgi competed at the 25K tournament in Fort Walton Beach, Florida. As the 2nd seed, she reached the semifinals where she was defeated by Madison Brengle 7-5, 6-4. Next, Giorgi was the top seed at the 25K tournament in Clearwater, Florida. She made it from qualifying all the way to the quarterfinals where she was stopped by Stefanie Vögele 6-4, 6-4.

Giorgi played in her 1st WTA clay court tournament of the year at the 2012 Family Circle Cup. Seeded 19th for qualifying, she made it to the main draw defeating Grace Min 6-4, 6-4 and 12th seed Chan Yung-jan 6-7(5), 7-5, 6-3. In the 1st round, Giorgi lost to Barbora Záhlavová-Strýcová 6-1, 6-3. Giorgi fell in the final round of qualifying at the 2012 French Open to Heidi El Tabakh 6-7(5), 6-4, 6-2.
Giorgi successfully qualified for the 2012 Wimbledon Championships for the 2nd year in a row defeating Emily Webley-Smith, Olivia Rogowska, and Alexa Glatch. In the 1st round, she beat 16th seed and compatriot Flavia Pennetta 6-4, 6-3. In the 2nd round, she defeated Anna Tatishvili 6-3, 6-1. In the 3rd round, she beat 20th seed Nadia Petrova 6-3, 7-6(6) to reach the 4th round of a Grand Slam for the 1st time in her career. However, Giorgi's Wimbledon run came to an end when she lost in the 4th round to 3rd seed and eventual finalist Agnieszka Radwańska 6-2, 6-3.

In June, it was reported that Giorgi was considering immigrating to Israel to play on the Israel Federation Cup team. Raphael Gellar of Israel Sports Radio said that "based on her ranking ... [she] would automatically ... [be] second on the team following Shahar Pe'er."
Giorgi began her US Open Series by playing qualifying at the 2012 Mercury Insurance Open. As the top seed in qualifying, she lost in the 1st round of qualifying to Noppawan Lertcheewakarn 6-4, 6-1. Giorgi then received a wildcard to compete at the 2012 Citi Open. She was defeated in the 1st round by Irina Falconi 6-2, 2-6, 6-4. Playing as a wildcard at the 2012 Western & Southern Open, Giorgi beat 14th seed and compatriot Francesca Schiavone in the 1st round 6-1, 6-3. In the 2nd round, she lost to wildcard Sloane Stephens 6-2, 6-1.
While ailing from a shoulder injury, Giorgi lost in the first round in Brisbane, Sydney, and at the Australian Open. Her first win came in April, in Charleston, where she reached the second round but lost in straight sets to Serena Williams. Giorgi qualified for the main draw in Madrid, but lost in the first round to Nadia Petrova in three sets. Two weeks later Giorgi stunned world no. 13 Marion Bartoli in the first round in Strasbourg, but lost in the second round to Eugenie Bouchard.
At the 2013 French Open, Giorgi lost again in the first round. Former top-15 player Peng Shuai defeated her in two sets. At the 2013 Wimbledon Championships Giorgi got to the third round, beating British wildcard Samantha Murray in straight sets and then Romanian no. 1 Sorana Cîrstea. However, she lost in straight sets in the third round to eventual champion Marion Bartoli.
At the 2013 US Open, Giorgi had one of the biggest upsets of her career, defeating former world no. 1 Caroline Wozniacki in three sets. She subsequently lost to compatriot Roberta Vinci in the fourth round.
Giorgi competed at the Australian Open, where she reached for the first time the second round beating Australian wild card Storm Sanders in three sets. She lost in the next round to Alizé Cornet, despite 4–1 lead in decider. In February, Giorgi competed for the first time in the Fed Cup. She defeated Madison Keys and Italy went on to defeat the United States team 3–1.
In March, Giorgi qualified for the main draw in Indian Wells. There, she beat Andrea Petkovic, Sorana Cîrstea and former world no. 1 Maria Sharapova, ranked no. 5 during the tournament. With this victory, she improved her record to 3–2 lifetime against top-10 opponents. She lost in the fourth round to eventual champion Flavia Pennetta.
In April at the BNP Paribas Katowice Open, she defeated defending champion Roberta Vinci, Shahar Pe'er, and Carla Suárez Navarro to reach the final, which she lost to Alizé Cornet in three sets after holding a match point at 5–4 in the third. In Rome Giorgi defeated top 10 player Dominika Cibulková in the first round, but lost to Christina McHale after winning the first set. Giorgi finally beat Alizé Cornet who was second seed in Strasbourg, after losing two significant matches to her. At the French Open, Giorgi defeated Bojana Jovanovski in the first round, but she lost to 2009 champion Svetlana Kuznetsova in the second round.
Giorgi competed in Eastbourne, beating Victoria Azarenka in the first round before going down to Caroline Wozniacki in the quarterfinals. At Wimbledon, she lost in the second round to Alison Riske. Giorgi reached quarterfinals in Bad Gastein and then lost in the first round at next three tournaments. Giorgi made a good run in New Haven, defeating Caroline Wozniacki who would finish summer hard court season with 19–4 and Garbiñe Muguruza, before losing in the semifinal to Magdaléna Rybáriková. She was upset early in the US Open however, losing to a ranked 221 in the world Anastasia Rodionova after serving for the match in the second set.
Giorgi lost in the opening rounds in Wuhan and Beijing to Elina Svitolina and Lucie Šafářová respectively. She has broken her series of losses in Linz defeating Andrea Petkovic for the third time in the season. Then she advanced to her second WTA final without losing a set, but lost to Karolína Plíšková in three sets, again after holding a match point on the opponent's serve.The Italian has ended her season reaching quarterfinals in Moscow where she defeated the third seed Flavia Pennetta for the second time in her career before losing to Kateřina Siniaková in over three hours. Giorgi finished the season with 8–3 record against Top 20 players and reached a career-high ranking of 31 before the US Open.
Giorgi played in Hobart and reached quarterfinals, despite serving 23 double faults in the first round against Storm Sanders. At the Australian Open Giorgi reached the third round for the first time, beating Flavia Pennetta and Tereza Smitková, before losing to Venus Williams, despite serving for the match in the second set. Giorgi played in Fed Cup and beat Alizé Cornet to give 2-0 lead against France. However, she lost her second match to Caroline Garcia, and Italy later lost the tie being the first ever team to lose after 2-0 lead in World Group.
After early losses in Indian Wells and Miami, Giorgi once again performed well in Katowice, reaching her second consecutive final by defeating top seed Agnieszka Radwańska in the semifinal. In the final however she fell to Anna Karolína Schmiedlová in straight sets.
After a close match with world #1 Serena Williams, Giorgi endured a disappointing clay court season, losing in the first round of her three warm-up events for the French Open. She secured her first win in five matches against Tatjana Maria in the first round of the French Open before falling to eventual Quarterfinalist Garbiñe Muguruza in straight sets in the second round.
Giorgi returned to form at the start of the grass court season, claiming her first WTA Tour title at the Topshelf Open in Rosmalen, defeating Irina Falconi, Dutch wildcard Michaëlla Krajicek, Yaroslava Shvedova in the quarterfinals where Giorgi saved 3 match points in the final set tiebreak, home favourite Kiki Bertens in the semifinals and Belinda Bencic in the final with a score of 7-5, 6-3.
At the 2015 Wimbledon Championships, Giorgi was the no. 31 seed and defeated Teliana Pereira and Lara Arruabarrena in the first and second rounds, respectively, then lost to Caroline Wozniacki in the third round.
Giorgi did not proceed deep into the draws of the four Grand Slam tournaments of 2016. She lost to Serena Williams in the first round of the Australian Open, Kiki Bertens in the second round of the French Open, Garbiñe Muguruza in the first round of Wimbledon, and Samantha Stosur in the first round of the US Open.
Giorgi utilizes aggressive serve-forehand combinations. She is primarily known for her tendency to aim for the lines. During extended rallies, she often attempts to hit past a stationary opponent by directing shots toward the sidelines and the corners of the court. She will also use this tactic to move opponents around the baseline before changing direction. She regularly hits deep returns, and takes the ball early while receiving.
In an article for LiveTennis.com, Nicholas Walz commented on an occasional issue in Giorgi's game, noting, "Her play is often too erratic – she followed her result at the 2014 Indian Wells Masters tournament (defeating No. 4 seed, Maria Sharapova) by losing in the qualification round of the 2014 Sony Open (two weeks later) to Zarina Diyas."
Giorgi uses a two-handed backhand and employs flat groundstrokes. Her tendency is to play near and inside the baseline. She is known to be one of the hardest hitters on the tour, despite her height. Her serves are powerful but very inconsistent. Giorgi tends to hit two first serves, resulting in many double faults. Her preferred surfaces are the fast hard and grass courts.
Jon Wertheim of Sports Illustrated reported on January 10, 2014 regarding a long series of breached financial commitments by Giorgi. Sergio, Giorgi's father, was stated to be involved in no fewer than four scams for success fee sharing by Giorgi in return for cash to support Giorgi's tennis career. Dominic Owen, a well-regarded tennis pro at the Harbour Island Athletic Club & Spa in Tampa, works with a handful of tour players. In describing his dealings with Giorgi and her father, Owen has stated "They ripped me off the way they ripped off all these other people and figured it would go away, People say, 'Oh, it's the dad.' But she's 22 years old."
Giorgi was criticized for smacking a ball into the stands during a match played at the 2014 Aegon International. Although nobody required medical attention, an elderly woman sitting in the first row was hit directly by the incoming ball. While Giorgi was not defaulted, she was issued a warning for ball abuse and would subsequently lose her quarterfinal encounter against Caroline Wozniacki.
Giorgi debuted for the Italy Fed Cup team in 2014.
Players who have been ranked World No. 1 are in boldface.