Name

Cady Noland




Role

Sculptor




Cousins

Robin Bond Noland








Artwork

Enquirer Page with Eyes Cut Out




Parents

Kenneth Noland, Cornelia Langer




Siblings

William Noland, Lyn Noland, Sam Noland




Grandparents

William Langer, Bessie Noland, Harry Caswell Noland




Similar People

Kenneth Noland, Paige Rense, Robert Graham, William Langer
Cady noland at paula cooper with special guest holland cotter
Cady Noland (born 1956 in Washington, DC.) is a postmodern conceptual sculptor and an internationally exhibited installation artist, whose work deals with the failed promise of the American Dream and the divide between fame and anonymity, among other themes. Her work has been exhibited in museums and expositions including the Whitney Biennial in 1991 and Documenta 9 in Kassel, Germany. She attended Sarah Lawrence College and is the daughter of the Color Field painter Kenneth Noland (1924–2010).
Contents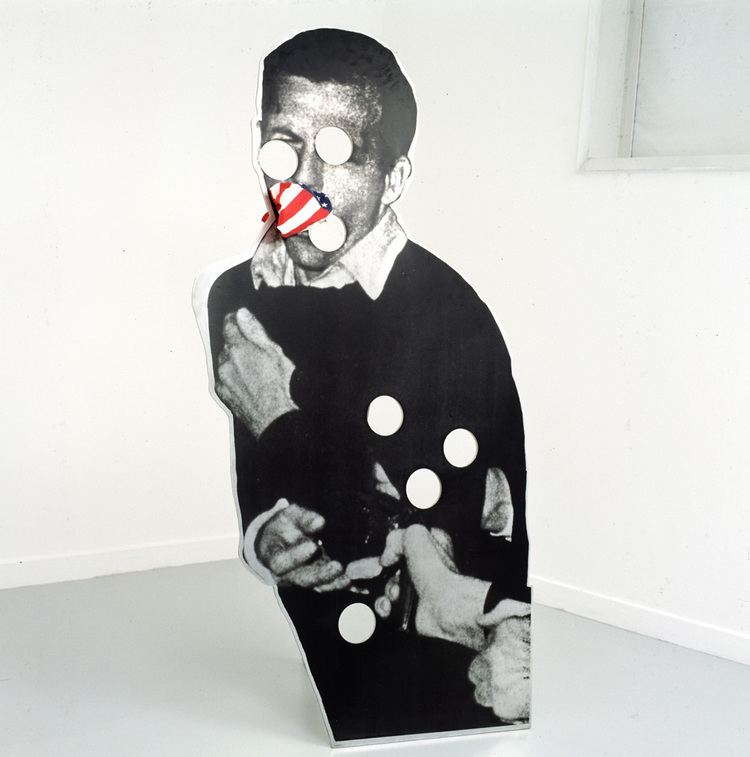 Cady noland metal fence frame divice at kaos exhibition 1993
Style and themes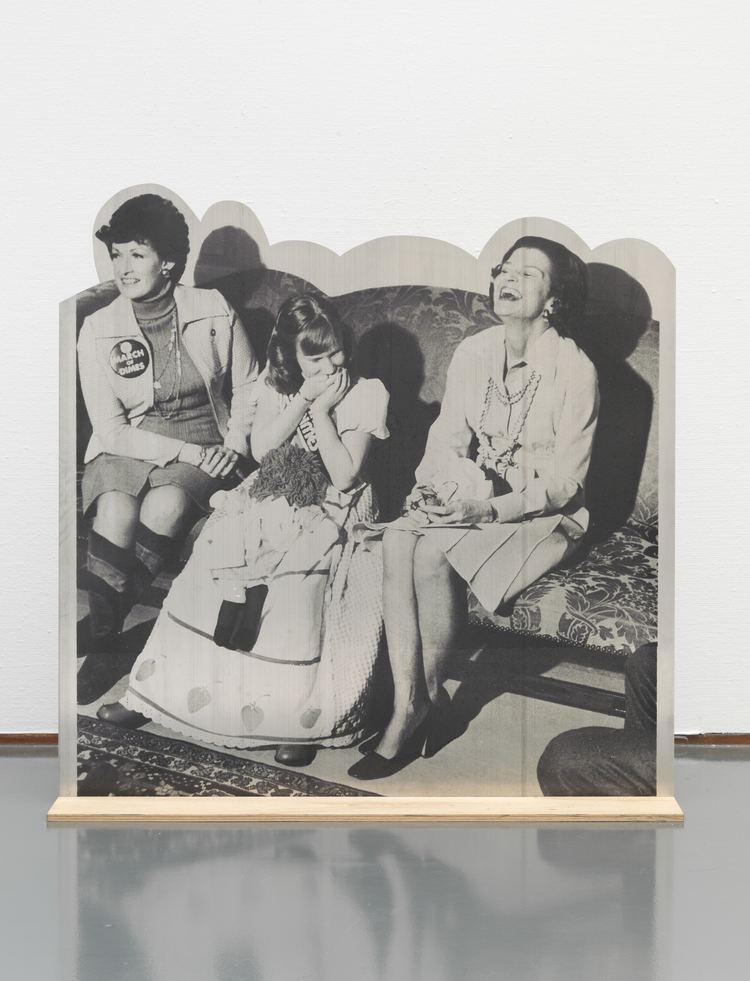 Noland's work often explores what she calls "The American Nightmare," or aspects of American culture she considers toxic, such as social climbing, glamour, celebrity, violence, and death. She describes these social constructs as a "game." Noland's work has dealt with themes of restrictions, both physical and mental, often using metal in her work to evoke senses of joining or separating.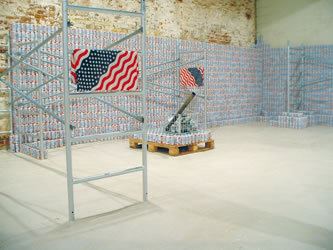 Noland's central theme in her work retains fear, both personal and cultural. Crashed Car was brought upon by the fact that she was in a car wreck at a very young age. In Plane Crash she emphasizes her fear of flying. The Family and the SLA that kidnapped Hearst is based on her fear of cults. Her newest work has been said to be less aggressive and more friendly to viewers, and more stable and grounded.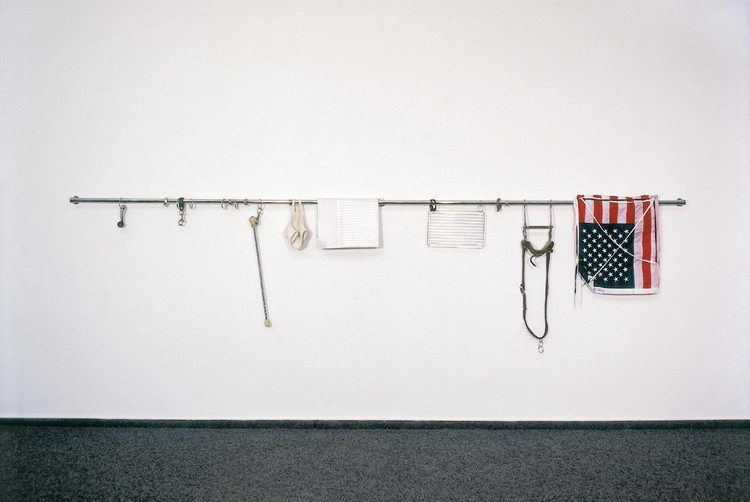 Noland's work also studies the American social landscape and shows America's social identity to be in fragments. On top of that, she makes sculptures that are prompted by the theme of humiliation that in part lives in the American consciousness. It is all in relation to the institution, containment and mobility, and to the American way of life.
Noland's arrangement of objects have casualness that call into question the status of the art object and its artistic position. Like other fellow artists, such as Mike Scott and Laurie Parsons, Cady Noland's paintings resist interpretation. Appropriated by Noland, the role of the press photograph expanded in a post-war country that was understanding and exporting itself through images. She is known for reframing the photo that she appropriates through the materiality of the image itself. It is then transferred by silkscreen from source to surface. According to Noland, to reproduce the image is to insert it into a category of knowledge and understanding. One that is transformed by way of a continuous return.
Exhibition history
Her work has been exhibited in museums and expositions including the Whitney Biennial in 1991 and Documenta 9 in Kassel, Germany.
Solo exhibitions of Noland's work have been organized by the Paula Cooper Gallery in New York (1994), Museum Boijmans Van Beuningen in Rotterdam (1995), and Wadsworth Atheneum in Hartford, Connecticut (1996).
Exhibitions
The American Dream (2010–2011) was an exhibition of assemblages and silkscreens that showed Noland's practice from 1989 to 1995. This was the date of her last solo presentation in the Netherlands at Rotterdam's Museum Boijmans Van Beuningen.
In her work, Not Yet Titled (Bald Manson Girls Sit-In Demonstration, 1993–1994), Noland changes both the image and the text. It is a wire photo capturing four of the young women from the Manson family kneeling on a sidewalk.
Art market
Noland set the record for the highest price ever paid for an artwork by a living woman ($6.6 million), for her 1989 work Oozewald sold at Sotheby's. In the fall of 2012 the same auction house, Sotheby's, removed her aluminum print Cowboys Milking (1990) from a contemporary sale after the artist "disavowed" the work. Both Noland and the auction house were later sued by the piece's owner, gallerist Marc Jancou, for twenty six million dollars (with twenty million having been sought from Noland and six from Sotheby's). In November 2012 a judge dismissed Jancou's lawsuit.
Noland's 1989 red silkscreen on aluminum of Lee Harvey Oswald, titled Bluewald, sold for $9.8 million at Christie's in May 2015, setting a new auction record for the artist.
In June 2015, the Ohio collector Scott Mueller filed a lawsuit at the United States District Court for the Southern District of New York seeking to reverse his 2014 purchase of Noland's sculpture Log Cabin (1990) for $1.4 million; he claimed that Nolan had "disavowed" the work by not approving the extensive restoration of the piece.
References
Cady Noland Wikipedia
(Text) CC BY-SA