Country

Mozambique




Capital

Pemba





Area

78,778 km2


Population

1,606,568





Map of Cabo Delgado Province
Cabo Delgado is the northernmost province of Mozambique. It has an area of 77,867 km² and a population of 1,893,156 (2015). As well as bordering the neighboring country of Tanzania, it borders the provinces of Nampula and Niassa. The region is an ethnic stronghold of the Makonde tribe. Macua and Mwani ethnic groups are also present.
Contents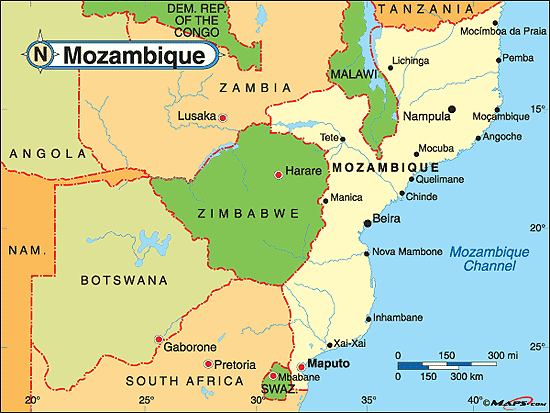 Pemba is the capital of the province; other important cities include Montepuez and Mocimboa da Praia.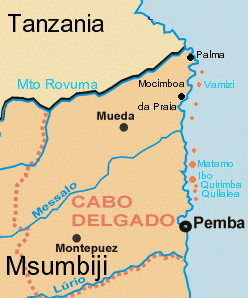 History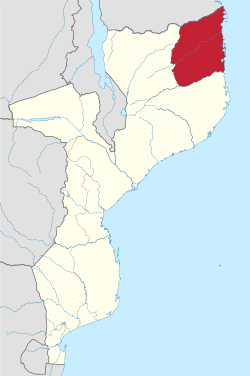 On 25 September 1964, Frelimo guerrillas arrived from Tanzania, with help from some individuals of the surrounding population, attacking a Portuguese administrative post in the province. This raid marked the beginning of the Portuguese Colonial War, the armed struggle between the Portuguese colonial authorities in the then Portuguese Overseas Province of Mozambique. This province was the focus of Operation Gordian Knot, where the Portuguese colonials attempted to wipe out the guerrilla bases in the province.
The province is named after Cape Delgado (Portuguese: Cabo Delgado), a coastal headland on the border between Mozambique and Tanzania, which forms the northernmost point in Mozambique.
Districts
Cabo Delgado Province is divided into the 16 districts of:
Ancuabe District - covering 4,606 km² with 109,792 inhabitants,
Balama District - covering 5,619 km² with 126,116 inhabitants,
Chiúre District - covering 4,210 km² with 230,044 inhabitants,
Ibo District - covering just 48 km² with 9,509 inhabitants,
Macomia District - covering 4,049 km² with 81,208 inhabitants,
Mecúfi District - covering 1,192 km² with 43,573 inhabitants,
Meluco District - covering 5,799 km² with 25,184 inhabitants,
Mocímboa da Praia District - covering 3,548 km² with 94,197 inhabitants,
Montepuez District - covering 15,871 km² with 185,635 inhabitants,
Mueda District - covering 14,150 km² with 120,067 inhabitants,
Muidumbe District - covering 1,987 km² with 73,457 inhabitants,
Namuno District - covering 6,915 km² with 179,992 inhabitants,
Nangade District - covering 3,031 km² with 63,739 inhabitants,
Palma District - covering 3,493 km² with 48,423 inhabitants,
Pemba-Metuge District - covering 1,094 km² with 65,365 inhabitants (excluding the city of Pemba),
Quissanga District - covering 2,061 km² with 35,192 inhabitants;
and the municipalities of:
Mocimboa da Praia
Montepuez
Pemba - covering 194 km² with 141,316 inhabitants.
References
Cabo Delgado Province Wikipedia
(Text) CC BY-SA