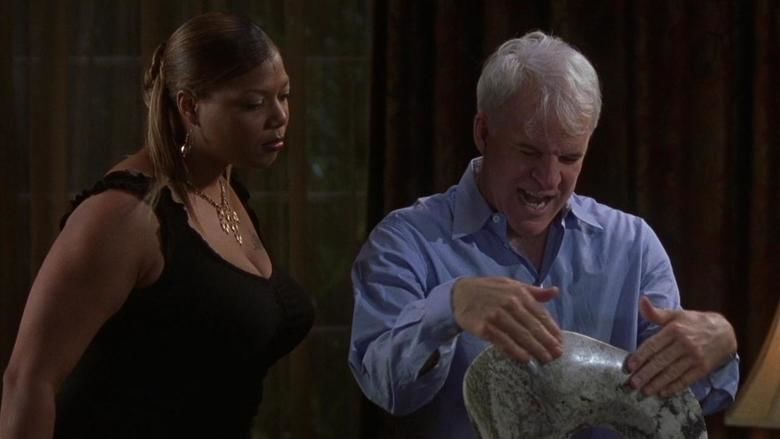 Peter Sanderson (Steve Martin) is an uptight workaholic tax attorney in his 50s. He is separated from his wife Kate (Jean Smart), who has an extremely unpleasant sister Ashley (Missi Pyle). Peter and Kate have two children, 15-year-old Sarah (Kimberly J. Brown) and 8-year-old Georgie (Angus T. Jones).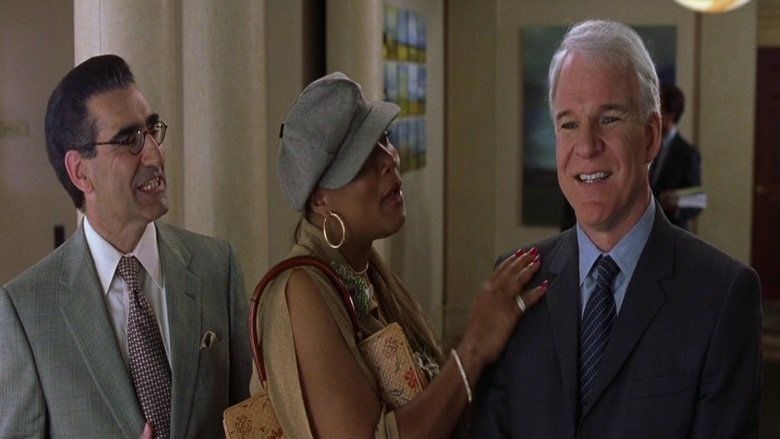 Online, Peter has been conversing with a woman who seems ideal to him, "lawyer-girl", who appears to be a blond, successful, and well-educated lawyer. He sets up a blind date at his house, and is shocked to see that lawyer-girl is in fact Charlene Morton (Queen Latifah), a convicted felon who wants Peter to help her get her record cleared. Peter tries to throw her out, but reluctantly lets her stay overnight in the guest room.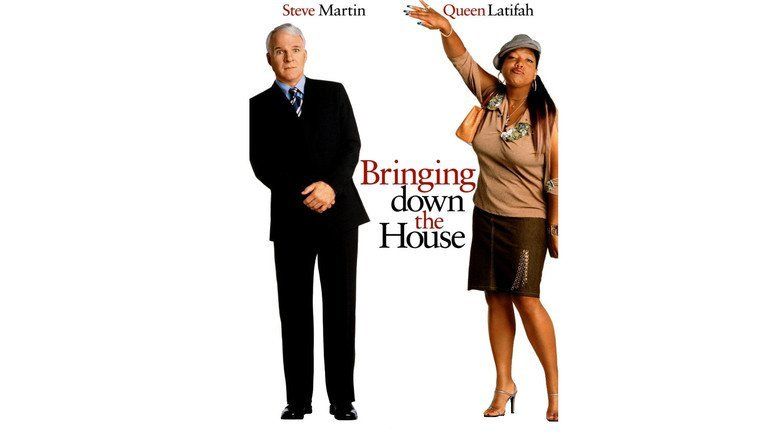 At the law office, Peter's friend Howie Rottman (Eugene Levy) is helping Peter's attempt to land a huge contract with a wealthy client, Mrs. Virginia Arness (Joan Plowright). Howie finds Charlene very attractive as soon as he meets her, and is actively wooing her during most of the film.
Charlene is very determined, and despite Peter's rejection, she keeps reappearing at Peter's home, his office, and other places where he visits. She comes very close to ruining his chances of landing the big contract. However, it becomes apparent that although she is from a very different social stratum than Peter, and has a self-presentation which is the polar opposite of his, she is nonetheless kind, intelligent, ingenious, and well-educated in the law, thanks to the studying she did while she was incarcerated.
At one point, Charlene is forced to "pass" as the nanny of Peter's children. She ends up genuinely making friends with the children, and she is able to help Peter's son Georgie overcome his inability to read, as well as forcibly sorting out Peter's daughter Sarah's boyfriend problems.
Charlene even helps Peter himself learn to loosen up a lot more, so he has a chance of being successful in winning his wife back again, which is what he wants more than anything else.
As the movie ends, Peter has set up a small law firm with Howie, who is now in a relationship with Charlene, and Peter is much less of a workaholic and succeeds in winning his wife's affections back.
Steve Martin as Peter Sanderson. An uptight lawyer who reluctantly helps Charlene with her case. They eventually bond, becoming close friends.
Queen Latifah as Charlene Morton. An escaped convict who was framed seeks Peter's help in proving her innocence. Over the course of the film, she bonds with Peter and the family as she poses as their nanny. She is also Howie's love interest.
Eugene Levy as Howie Rottman, Peter's over-sexed best friend and colleague. He falls madly in love with Charlene upon meeting her.
Kimberly J. Brown as Sarah Sanderson, Peter's daughter and older child.
Angus T. Jones as George "Georgie" Sanderson, Peter's son and younger child.
Jean Smart as Kate Sanderson, Peter's estranged wife. It's apparent that they still harbor feelings for one another, as she is jealous of his new friendship with Charlene, believing them to be in a relationship.
Joan Plowright as Virginia Arness. An arrogant client of Peter's.
Missi Pyle as Ashley, Kate's promiscuous, and alcoholic sister.
Betty White as Mrs. Kline, Peter's racist neighbor.
Michael Rosenbaum as Todd Gendler, Peter's arrogant colleague & apparent replacement.
Steve Harris as Widow, Charlene's shady ex-boyfriend.
Matt Lutz as Aaron
Victor Webster as Glen
Kelly Price as herself
A soundtrack containing hip hop and R&B music was released on March 4, 2003 by Hollywood Records. It peaked at 111 on the Billboard 200 and 23 on the Top R&B/Hip-Hop Albums.
Since the film's release in 2003, Bringing Down the House has received mixed to negative reviews from critics. Review aggregator Rotten Tomatoes currently gives the film a "rotten" score of 34% based on 148 reviews, the general consensus being, "Though the cast shines, they can't save this comedy, which is overly contrived and filled with outdated and offensive racial jokes."
On a budget of $35 million, the film became a surprise hit. It earned $132.6 million in the United States and an international gross of $32 million, bringing its worldwide gross to $164.6 million. As of March 2009, it is ranked #231 of the All Time Top Grossing USA Motion Pictures.
Awards and nominations
Queen Latifah
Won – Teen Choice Awards 2003 for Choice Movie Actress Comedy
Won – NAACP Image Award for Outstanding Actress in a Motion Picture
Nominated – MTV Movie Award for Best Performance
Nominated – MTV Movie Award for Best Fight (shared with Missi Pyle)
Steve Martin
Nominated – MTV Movie Award for Best Dance Sequence