Nationality

British




Name

Brendan McCarthy





Role

Artist




Movies

Mad Max: Fury Road






Area(s)

Writer, Penciller, Artist, Colourist


Notable works

Shade, the Changing ManHighlanderRogan GoshMad Max: Fury Road




Books

A. B. C. Warriors: The Meknificent Seven, Judge Dredd: Future Crime, Skin, Forward Thinking: The Danny Cleary Story




Nominations

AACTA Award for Best Original Screenplay




Similar People

Nick Lathouris, George Miller, Hugh Keays‑Byrne, Peter Milligan, John Seale
Meltdown presents pod sequentialism with matt kennedy 001 brendan mccarthy
Brendan McCarthy is a British artist and designer who has worked for comic books, film and television.
Contents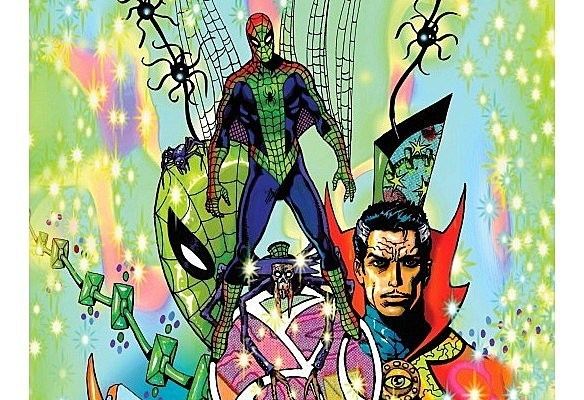 Lfcc 2014 brendan mccarthy sketching paradax 2 1
Biography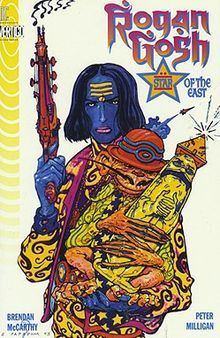 Brendan McCarthy was born in London. As a boy McCarthy soon began drawing his own home-made comics.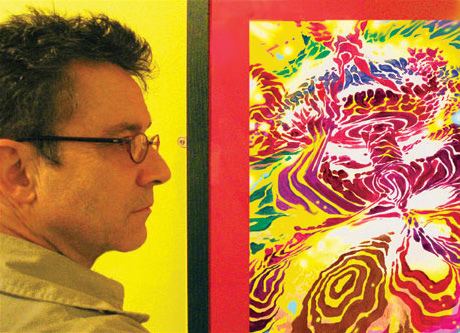 After leaving Chelsea Art College in London, where he studied film and Fine Art Painting, McCarthy decided to become a full-time artist. He created the independent comic book Sometime Stories with art college pal Brett Ewins. His first paid commercial work was a one-page strip Electrick Hoax in the British weekly music paper Sounds with another art school escapee, writer Peter Milligan in 1978. McCarthy held a solo exhibition of paintings, drawings and collages at Car Breaker Gallery in London, a squat in Ladbroke Grove's Republic of Frestonia.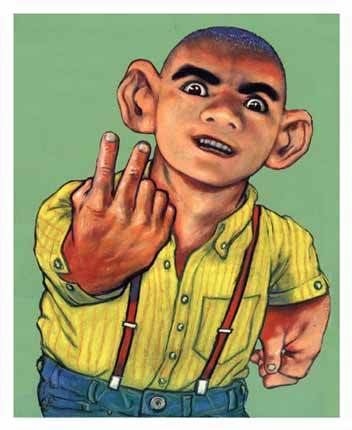 McCarthy started working for 2000 AD including Judge Dredd and at the same time he was working on designs for his first television show – the unmade Dan Dare live-action television series for Lew Grade's ATV in the late 1970s. It was to have been a stylish retro 50's take on the classic Eagle hero with James Fox as Dan Dare.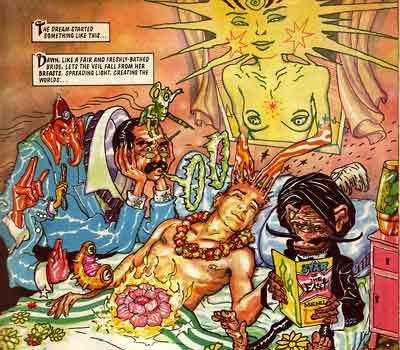 Inspired by George Miller's Mad Max 2, McCarthy mulled over a post-apocalyptic surfing story, later written with Peter Milligan and called Freakwave.
In 1983 McCarthy collaborated with Peter Milligan and Brett Ewins on Strange Days, an anthology title published by Eclipse Comics. He also drew a two issue series featuring his alternative media-brat superhero Paradax from Strange Days.
Returning to the pages of 2000 AD, he again drew Judge Dredd, depicting the Judda and Brit-Cit Judges. In 1986, McCarthy and Milligan produced Sooner or Later for 2000 AD.
Around this time, McCarthy designed and storyboarded the Arabian cel-animated TV series, New Babylon and also The Storyteller for Jim Henson's company.
McCarthy designed the characters in Grant Morrison's Zenith strip which started in 1987, Doom Patrol (creating Danny The Street) and on Morrison and Mark Millar's Marvel series Skrull Kill Krew. He also produced covers and character designs for Pete Milligan's revamp of Shade, the Changing Man.
Over the next few years he worked for the 2000 AD spin off titles Crisis and Revolver. For Revolver, McCarthy drew Rogan Gosh (later compiled into a single edition by the Vertigo imprint of DC Comics). For Crisis, he drew Skin. Both books were created with and written by Peter Milligan. Skin proved to be highly controversial, with Crisis refusing to release the story and their printers refusing to print it due to claims of it being "morbidly obscene". The story was eventually being released by Kevin Eastman's Tundra Publishing in 1992.
McCarthy worked as designer on the films Highlander, the first live action Teenage Mutant Ninja Turtles film, Lost in Space and The Borrowers. He was also hired by Saturday Night Live producer Lorne Michaels to write and design visual gags to the film Coneheads.
McCarthy spent much of the remainder of the 1990s working in film and television, most notably as the production designer of the international hit CGI animated science fiction TV series ReBoot and as the character creator for War Planets.
He was then asked to co-write and design Mad Max: Fury Road with director George Miller after meeting Miller in Hollywood and pitching a storyline which would go on to become the seed of the new story. Also with Miller, McCarthy created, co-wrote and designed a new CGI animated feature called Fur Brigade which awaits production.
In 2004 McCarthy created an illustrated visual autobiography of his original art and design work titled Swimini Purpose. This was released in 2005 in the UK, as a limited artist's edition.
In 2006, McCarthy was featured in the final issue of DC Comics' Solo. His comic had new takes on characters such as The Flash, Batman, and Johnny Sorrow and he considers the single issue to be one of his best works.
In 2009, Brendan was commissioned by Marvel Comics to create a new take on Doctor Strange. The bizarre mini-series, Spider-Man: Fever, appeared in April 2010.
Brendan returned to 2000 AD in 2010 on a Judge Dredd story with Al Ewing spoofing the Dr Who TV series, and with whom he would go on to create a popular new story, The Zaucer of Zilk, which he has described as a cross between Harry Potter and Aladdin Sane: "A glammatronic phantasmagoria." The series debuted in March 2012. It was rapidly reprinted by IDW in a new format with both issues quickly selling out. The Zaucer of Zilk comic appeared in many 'best of the year' lists.
In 2012, McCarthy traveled to Namibia in Africa, to visit the set of Mad Max: Fury Road, which featured his script and designs. He also finished the design and editorial chores for The Best of Milligan & McCarthy, a brand new collection of his most famous comic works co-created with Peter Milligan. Dark Horse released the edition in September 2013.
Mad Max Fury Road was finally released in May 2015. McCarthy attended the Hollywood premiere. The wave of industry accolades for Mad Max Fury Road was remarkable, with the film sweeping up many 'Best of the Year' awards and going on to win six Oscars. It was McCarthy's first Hollywood screenplay, and he was the original Production Designer on the movie.
McCarthy's new graphic novel "Dream Gang" for Dark Horse Comics was released in July 2016.
A collection of his classic Judge Dredd stories from over 35 years of work was collected by IDW in hardcover and released in January 2017.
Awards
1992: nominated for Eisner Award for "Best Cover Artist", for Shade, the Changing Man
1993: nominated for Eisner Award for "Best Cover Artist", for Shade, the Changing Man and "Best Graphic Album: New" for Skin
References
Brendan McCarthy Wikipedia
(Text) CC BY-SA