6.5

/

10

Alchetron

6.4

Rate This





First episode date

14 January 1986




Created by

Jim HillBill Stair

Country of origin

United Kingdom




Starring

Michael ElphickDavid DakerRachel DaviesNeil MorrisseyLesley-Anne SharpeAmanda BurtonElizabeth CarlingBrigit ForsythSaskia Wickham

Ending theme

"Hi Ho Silver", "Texas Rangers", "He's My Friend, He's My Buddy", "We'll Be Friends", "I Can't Stop Thinking About You"

Cast
Boon series 2 dvd starring michael elphick and neil morrissey is out
Boon is a British television crime drama starring Michael Elphick, David Daker, and later Neil Morrissey. It was created by Jim Hill and Bill Stair and filmed by Central Television for ITV. It revolved around the life of an ex-fireman called Ken Boon. Since 16 January 2017 it has been rerun on UKTV channel Drama.
Contents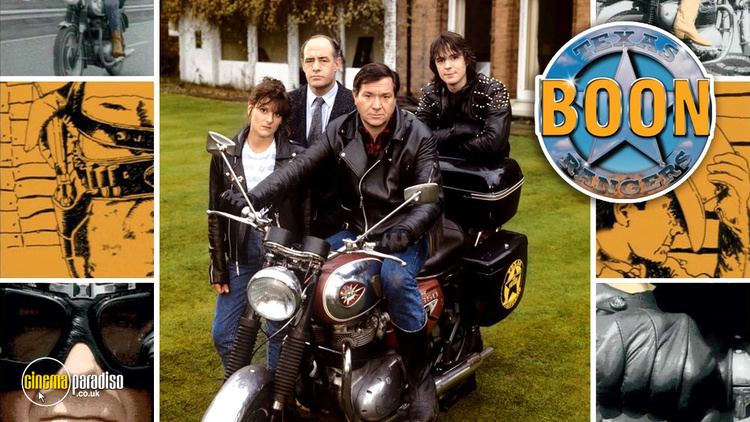 Premise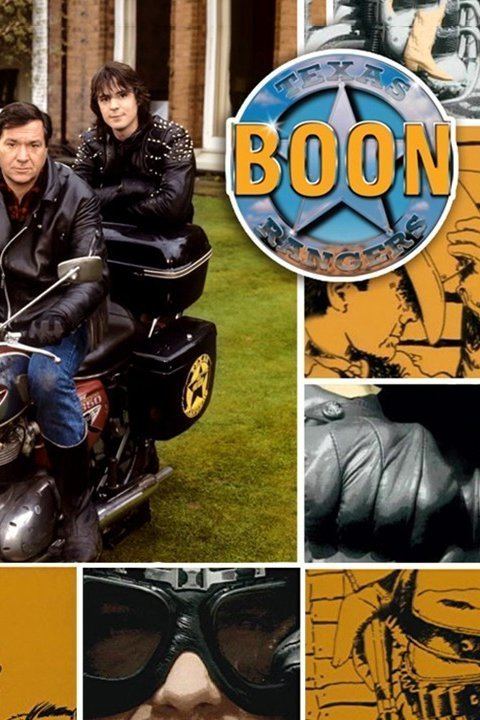 Ken Boon (Elphick) and Harry Crawford (Daker) were both old-fashioned 'smokeys' (firemen) in the West Midlands Fire Service. In episode 1 Crawford takes early retirement and moves to Spain to open a bar, leaving Ken behind. In the same opening episode, Ken attends a house fire where a child is trapped upstairs. Realising he must act quickly he goes into the house without breathing apparatus, rescues the child but is severely injured by inhaling toxic smoke. He attempts to prove he can still make it but he is declared unfit for duty after collapsing during a practice-simulation because his lungs have been permanently damaged, and he is forced to retire from working in fire service.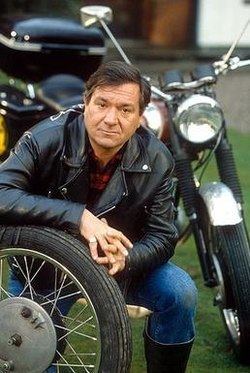 He started a market garden called 'The Ponderosa' in a village about ten miles outside of Birmingham but found that it wasn't working out. As he struggled to pay bills and keep afloat, he was surprised when a visitor arrived at the garden; Harry had returned from Spain to Birmingham, after his wife Alison had left him for a young hairdresser. Harry had acquired a hotel in Birmingham and offered a 'port in a storm' for Ken.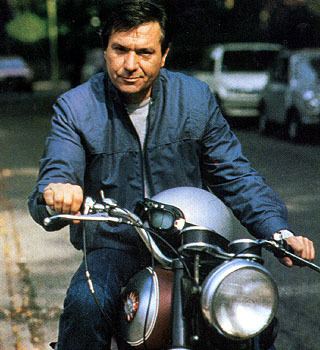 On Ken's behalf, and without his knowledge, Harry places a Post Office box-number advert in a newspaper stating: "Ex-fireman seeks interesting work. Anything legal considered." From these humble beginnings, Boon's career as a Courier, 'Minder' and Private Investigator began.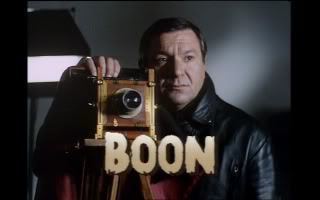 During the time that Ken and Harry worked together, portrayed in series 1–3, Harry ran two hotels (The Grand Hotel and The Coaching Inn) and a ballroom (The Plaza Suite); from series 4 he operated a country club (Woodcote Park) and later a security firm (CBS – Crawford Boon Security). Ken ran a motorbike courier firm (Texas Rangers), two private investigation firms (BDI – Boon-Daly Investigations – and Boon Investigations) and CBS. CBS was a joint venture, with Ken being responsible for private investigations and Harry for security.
The series moved away from Birmingham to Nottingham at the beginning of series 4, with production of the show being based at Central Television's studio in Nottingham. The Birmingham episodes (Series 1–3) were made on film whereas the Nottingham episodes (Series 4–7) were made on video. Apart from studio interiors of Series 1, all filming was done on location.
Cast
The cast included Michael Elphick (Ken Boon) and David Daker (Harry Crawford). Neil Morrissey joined in the second series as Rocky, his first major television role. Other regular characters were played by Rachel Davies (Doreen Evans), Lesley-Anne Sharpe (Debbie Yates), Amanda Burton (Margaret Daly), Elizabeth Carling (Laura Marsh), Brigit Forsyth (Helen Yeldham) and Saskia Wickham (Alex Wilton)-Joan Scott (Ethel Ellard)(cook). Christopher Eccleston had a small role, one of his first ones.
Writers
The show's writers included Geoff McQueen, Anthony Minghella, Kieran Prendiville and Veronica Henry. Ted Childs was the first executive producer.
Theme song and incidental music
Music was a huge part of the series. A large reason for its popularity was the catchy theme song 'Hi Ho Silver' which was written and recorded by Jim Diamond, who was by that time famous for his Number 1 hits 'I Won't Let You Down' and 'I Should Have Known Better'. It was so popular with fans that it was released as a single in 1986 and reached number 5 in the UK charts. Though Diamond was commissioned to write and record the song for the series, it was actually written in memory of his father, who had then recently died. Most episodes did not end with the theme song; many ended with country and western songs such as 'Handsome Stranger' and 'Texas Rangers', written for the series by Dean Friedman. Friedman wrote the incidental music and songs from the second series through to the end of the show. The incidental music for the first series was provided by Barrington Pheloung.
Trademarks
Ken's trademark style included his red and silver BSA A65 'White Lightning' 650cc motorbike which he had in every series – though towards the end of the series, Ken's BSA was seen less frequently.
Ken's protective goggles are also considered a trademark. They were chosen over a visor, to mimic the Lone Ranger's mask.
Ken also had distinctive jackets he wore in each series. Series 1 was a long duffle coat. Series 2 was his tassled leather jacket with his Texas Rangers logo on the back, which he also wore for much of series 3. For Series 4 and 5 he wore a black jacket. Series 6 was a brown suede jacket. Series 7 was a regular leather jacket. Ken also had his trademark grey helmet for the first 5 series, but for series 6 and 7, his helmet was a black one.
Rocky Cassidy's trademark for most of the series was his leather jacket, which featured his name "Rocky" written in studs on the back. He also wore leather trousers.
Harry was usually seen in a grey or black suit of some sort.
Later years
At the end of the final series, in episode 'Shot in the Dark', Harry becomes engaged to an Irish woman he met during a case, and Ken and Alex seemed to be becoming romantically attached after she tenderly reads him poetry while he is in hospital recovering from gunshot wounds. Neither of these plot developments were referred to during the special episode 'Thieves Like Us', broadcast two-and-a-half years later on 1 May 1995. This episode, although thought to be part of an eighth series which was cancelled, was actually an episode from the final series that had not been aired.
In all, seven series, each of which consisted of 13 episodes (apart from the last two series which had 14) were filmed. The sixth series featured a 90-minute Christmas special dedicated to the memory of Bill Stair, one of the show's creators.
Title sequence
The title sequences of the series played a major role and helped distinguish the character of 'Boon'. The titles would change for each series, normally showing the location that the characters were in at the time. The titles also allowed the viewer to learn that Ken daydreamed of being a modern-day Lone Ranger.
Series one: Ken is seen sitting down in front of a mirror to read a comic called White Lightnin. As the camera pans across his desk we also see a collection of Western novels such as Jornado and Ramondo and Thorp. As Ken continues to read his comic, it comes alive and we begin to view Ken as the hero of the story.
Series two: With a similar theme as series one's titles, series two shows Ken in his flat (a section of Harry's Coaching Inn hotel) watching TV. He flips through the channels and finds a Western. The viewer then sees Ken in this Western and his B.S.A. motorcycle turns into a horse.
Series three: Ken walks into a building and is greeted by an old time camera. Suddenly we see Ken and other characters (Harry and Margaret) in a Wild West setting. Again we watch as Ken upon his motorcycle turn into a cowboy upon a horse.
Series four: We see a view of Nottingham and the camera pans into Ken's office. He is asleep at his desk and his soul comes out of his body, picks up his helmet and leaves the building. We see Ken's soul riding 'White Lightning' through the streets of Nottingham, and as he passes buildings, the shadow is that of the Lone Ranger. Later, Ken wakes up and runs out into the street, suddenly seeing his soul riding past.
Series five: Keeping in with the theme of Ken's soul and motorcycle having a life of their own, we see Ken leaving his current home (a canal boat) and walking off into the night. As he approaches the trucks that are parked nearby at CBS, he throws his motorcycle keys into the air and we are left to assume that his 'soul' catches them. We then see the wheels of the motorcycle becoming the legs of a horse. As Ken reaches the building that his bike is parked in, everything returns to normal.
Series six: Ken is asleep on his bed as the camera pans across the room. Meanwhile, outside, 'White Lightning', with Ken's soul upon the steed is riding through the streets towards his current home, a cottage in a Nottinghamshire village. Ken suddenly wakes up and sense that something is going on and rushes to his window. The view suddenly changes and Ken is now himself riding White Lightning. We then see Ken arrive at CBS, greeted by Harry and Rocky.
Series seven: Slightly different from previous titles, series seven's titles are pretty much a collection of clips from previous years. Ken wanders into a cinema and is greeted by Harry who sells him a ticket. He walks in to watch the movie and sees several 'Kens' seated, telling him to be quiet. As he sits down he looks at the screen, on which a montage of clips from the previous six series is shown. As the sequence ends, Ken wakes up in his arm chair and gives his famous smile at the camera.
History of the show
According to Jim Hill (co-creator), the name 'Boon' was derived as follows: "Originally called 'Anything Legal Considered', we fell foul of the vogue of the main character's name being all or part of the title. Boon had been derived from an American TV series from the 1950s that Bill Stair and I both watched and liked. It was called 'Have Gun – Will Travel' (1957) – a troubleshooting cowboy answered distress calls. He was called Paladin and was played by the actor Richard Boone. We dropped the E and we had BOON – a modern-day trouble shooter on a motorbike instead of a steed."
References
Boon (TV series) Wikipedia
(Text) CC BY-SA