Covid-19
7.4

/

10

1

Votes

Alchetron

Rate This




United States






Animation, Comedy, Family





English






Arrin Skelley

(Charlie Brown (voice)),

Laura Planting

(Patricia "Peppermint Patty" Reichardt (voice)),

Casey Carlson

(Marcie (voice)),

Daniel Anderson

(Linus van Pelt (voice))


Bill Melendez, Phil Roman




May 30, 1980 (1980-05-30)




Charles M. Schulz (comic strip "Peanuts"), Charles M. Schulz (creator), Charles M. Schulz




A Charlie Brown Christmas Film Series




Judy Munsen, Ed Bogas, The Andrews Sisters, Jule Styne, Sammy Fain




Related Bill Melendez movies




Travel with the PEANUTS gang on their first overseas adventure
Charlie Brown (Arrin Skelley) heads to Europe as an exchange student in this animated movie based on the "Peanuts" comic strip. Along for the ride are Snoopy, Woodstock, Peppermint Patty, Marcie and Linus. In London, Snoopy and Woodstock test out their tennis skills at Wimbledon before the gang heads off to France. Charlie has an invitation to stay at the chateau of a mysterious baron. But when they arrive on a dark and stormy night, it soon becomes clear that their adventure has only begun.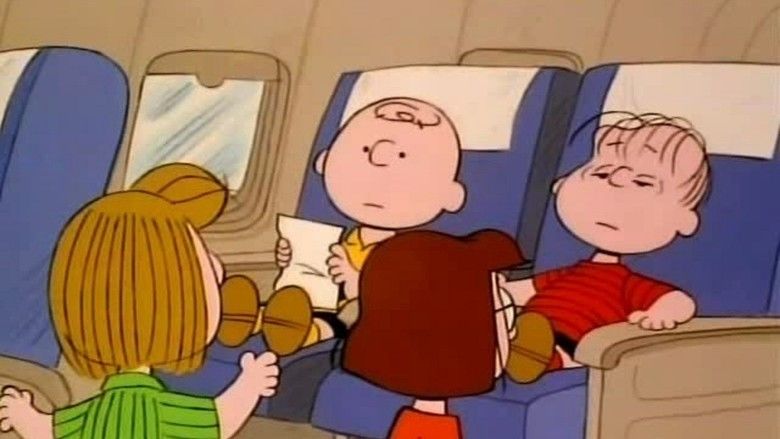 Bon Voyage, Charlie Brown (and Dont Come Back!!) is a 1980 animated comedy-drama film produced by United Feature Syndicate and distributed by Paramount Pictures, directed by Bill Melendez and Phil Roman. It was the fourth full-length feature film to be based on the Peanuts comic strip, and was followed three years later by a 1983 television special, What Have We Learned, Charlie Brown?, in which the gang sees memorials and places related to World Wars I and II. It also use the same voice cast that worked on the 1979 Peanuts television special Youre the Greatest, Charlie Brown.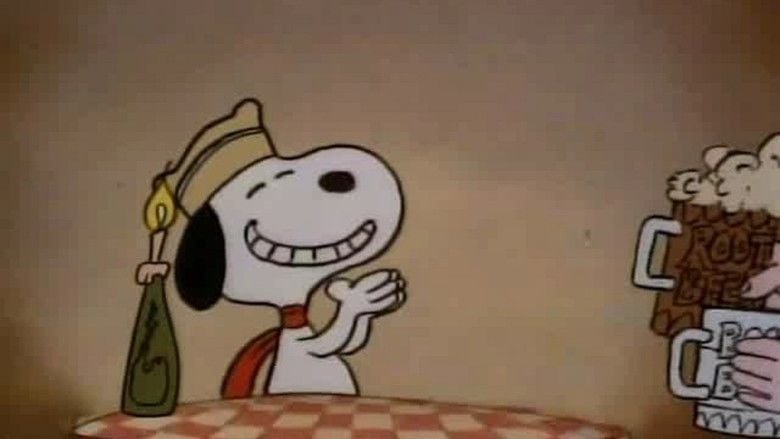 Paramount Home Entertainment released this film on VHS in 1995, and will release it to DVD on October 6, 2015.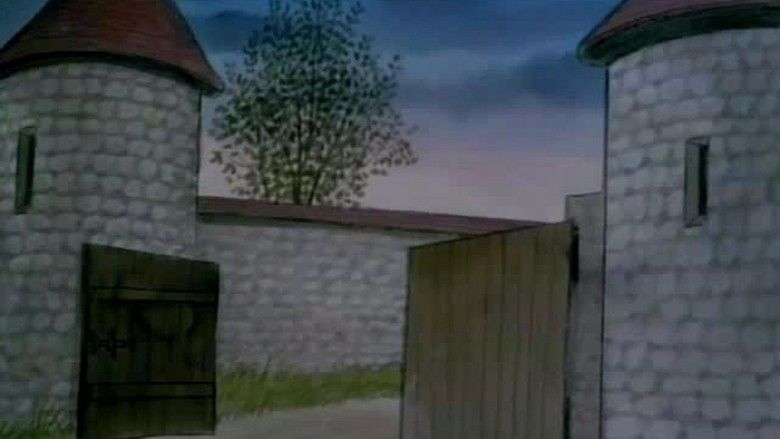 Charlie Brown, Linus, Peppermint Patty and Marcie travel to France as foreign exchange students. Also along is Snoopy and Woodstock. While everyone is excited about the opportunity to travel to a foreign country, Charlie is disturbed by a letter he receives from a mysterious girl from France who invites him as a her guest only to find that he does not seem welcomed to her Chateau.

As part of an exchange program, two French students, Babette and Jacques, are spending two weeks at Charlie Browns school while he, Linus van Pelt, Peppermint Patty, and Marcie go to France. At the airport, the kids (along with Snoopy and Woodstock) are seen off by their friends. Lucy van Pelt, who was not invited, tells them not to come back. On the plane, Charlie Brown reveals a letter he received that was written in French. Marcie, who had been studying French, translates and says it is an invitation from Violette Honfleur to stay at the Chateau du Mal Voisin, or The House of the Bad Neighbor. Peppermint Patty asks who Violette could be, but Charlie Brown has no idea.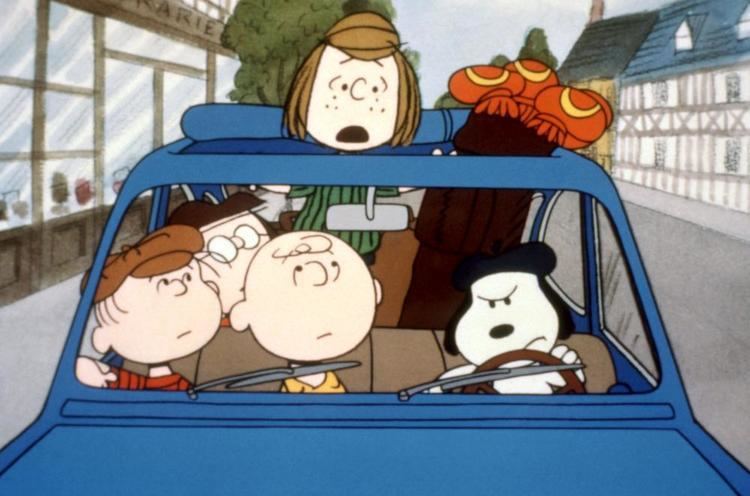 The group first arrives in London and goes on a sightseeing tour downtown while Snoopy and Woodstock play some tennis at Wimbledon. When he finds himself losing, Snoopy lashes out and gets thrown out. He and Woodstock head to Victoria station and rejoin the rest of the group. They eventually travel to France and head to the farmhouse where Peppermint Patty and Marcie will be staying with Pierre. While Marcie seems to adjust quite well, Peppermint Patty experiences significant culture shock. Charlie Brown produces the letter from Violette who Pierre says is the niece of the Baron who owns the Chateau. He says the Baron, a recluse who hates everyone, cannot have known about the invitation.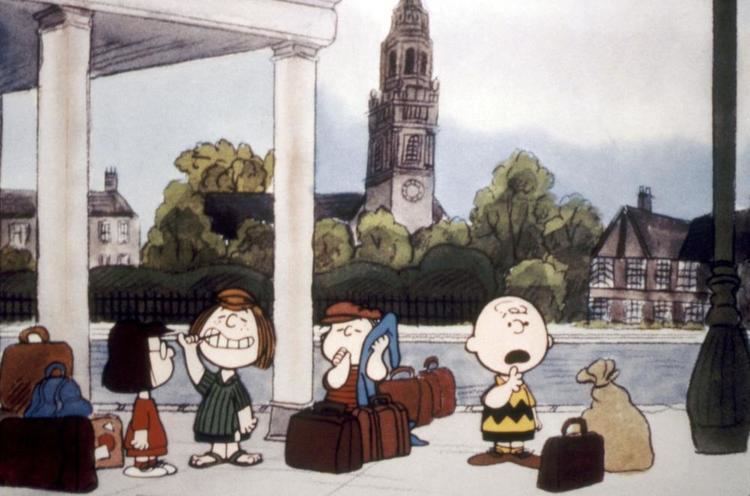 When the boys arrive at the Chateau, a thunderstorm forces them to spend the night in an unused stable with nothing but Linus blanket. That night, Snoopy, in his "World War I Flying Ace" persona, and Woodstock head down to the local pub to down a few pints of Root Beer. The next morning, Charlie Brown and Linus find that breakfast and warm blankets have been provided by an unknown benefactor. That night, the Baron leaves the Chateau to go to the pub and instructs Violette not to let the boys in. Meanwhile, Charlie Brown and Linus agree to take turns standing watch to identify their mysterious benefactor. During Charlie Browns watch, Linus wakes up to see him asleep. He sees that the blankets have been fixed and new food has been put out and goes to investigate. He enters the Chateau and eventually finds Violette.
Violette says that her invitation was a mistake. She explains that her grandmother had told her the story of a wartime love affair that she had with Silas Brown, Charlie Browns grandfather. He was an infantryman stationed in France during World War II, and stayed at the Chateau. When he received his marching orders, he promised to write letters which eventually stopped coming. Violettes grandmother moved on, though she never forgot him.
Meanwhile, Snoopy and Woodstock are at the pub playing foosball and overhear the Baron confide in the bartender that knows about the boys and has tolerated them long enough. He returns home to Violettes surprise, and in her rush to get Linus out of the room, she knocks down a candle which causes a fire throughout the house. He takes her towards a pair of casement windows, throws them open and shouts for help. Charlie Brown wakes up and runs to the pub. Snoopy and Woodstock rush off to the Chateau and Charlie Brown continues running to the farmhouse. Pierre calls the Fire Department while Peppermint Patty and Marcie follow Charlie Brown towards the Chateau.
When Snoopy and Woodstock arrive at the Chateau, it is engulfed in flames. Snoopy immediately heads to a shed and brings out an old fashioned fire hose. Linus throws his blanket down to Charlie Brown, Peppermint Patty, Marcie, and Pierre which they use to catch Violette when she jumps from the window. Snoopy moves a barrel of water under Linus who also jumps to safety. He then barks out instructions to work the hose but the intense water pressure spins him around, splashing Charlie Brown. Woodstock pops out of the hose with a violin and begins playing along to the dramatic scene. While Snoopy is working the hose, a fire truck with three shadowed fire fighters arrives and the fire is extinguished.
The Baron, thankful they saved his niece and the Chateau, vows that he will never be so inhospitable again. Charlie Brown learns the full truth behind the mysterious letter he received: many years ago, an American friend of Violettes family stopped in a small village to have his hair cut, and the barber was Charlie Browns father. She found out about Charlie Brown and wrote the letter inviting him to stay. As the group leaves the Chateau to go home, she gives Silass satchel to Charlie Brown. The group says their goodbyes and gets into their beat-up rental car.
Arrin Skelley as Charlie Brown
Daniel Anderson as Linus van Pelt
Patricia Patts as Peppermint Patty
Casey Carlson as Marcie
Annalisa Bortolin as Sally Brown
Laura Planting as Lucy van Pelt
Bill Melendez as Snoopy, Woodstock
Pascale De Barolet as Pierre
Roseline Rubens as Violet Honfleur
Scott Beach as Waiter, Baron, Driver, Tennis Announcer, English Voice, American Male
Schroeder, Pig-Pen, Frieda, Violet, Patty, Babette, and Jacques appear but had no lines.
Music by: Ed Bogas and Judy Munsen
Additional Music by: Doug Goodwin
Paramount Pictures Presents
A Lee Mendelson-Bill Melendez Production
"Bon Voyage, Charlie Brown (and Dont Come Back!!)"
Copyright ©1980 by United Feature Syndicate, Inc. All rights reserved
Written and Created by: Charles M. Schulz
Executive Producer: Al Brodax
Produced by: Lee Mendelson and Bill Melendez
Music by: Ed Bogas and Judy Munsen
Directed by: Bill Melendez
Co-Directed by: Phil Roman
Additional Music by: Doug Goodwin
Designed by: Evert Brown, Bernard Gruver, Dean Spille, Lance Nolley
Animation by: Sam Jaimes, Hank Smith, Al Pabian, Joe Roman, Ed Newmann, Utit Choomuang, Larry Huber, Graham Place, Morey Reden, Dave Tendlar, Bill Littlejohn, Bob Carlson, Dale Baer, Spencer Peel, Larry Leichliter, Sergio Bertolli, Hank Tucker, Abner Kneitel, Lloyd Vaughan, Margaret Nichols
Checking: Carole Barnes, Eve Fletcher, Jane Gonzales
Ink and Paint Supervisor: Joanne Lansing
Ink and Paint: Joanne Lansing, Emalene Seutter, Lee Guttman, Joan Pabian, Julie Maryon, Lee Hoffman, Ginny Hansard, Pat Capozzi, Marie White, Sue Rowan, Adele Lenart, Valerie Green, Karin Stover, Micky Kreyman, Chandra Poweris, Roubina Babajanian, Charlotte Richardson, Hem Goel, Louise Padden, Karen Webb
Voices: Daniel Anderson, Scott Beach, Casey Carlson, Debbie Muller, Patricia Patts, Laura Planting, Arrin Skelley, Bill Melendez, Annalisa Bortolin, Roseline Rubens, Pascale de Barolet
Editing: Chuck McCann, Roger Donley
Music Editing: Roger Donley
Music Recordist: Wally Heider
Negative Cutting: Alice Keillor
Cameramen: Thomas Baker, Bill Kent
Production Manager: Carole Barnes
Production Assistants: Lora Sackett, Martha Grace, Sandy Claxton Arnold
Camera: Nick Vasu, Inc.
Recording: Mix - Producers Sound Service, Hollywood
Dialogue - Music Annex, San Francisco
Music - Filmways/Wally Heider, San Francisco
Color by: Movielab-Hollywood, Inc.
A Lee Mendelson-Bill Melendez Production
in association with Charles M. Schulz Creative Associates
The persons and events in this film are fictitious. Any similary to actual persons is purely coincidental. This motion picture is protected under laws of the United States and other countries. Unauthorized duplication, distribution or exhibition may result in civil liability and criminal prosection.
Approved No. 25921 Motion Picture Association of America
This Picture Made Under the Jurisdiction of IATSE-IA Affiliated with A.F.L.-C.I.O.
The End
Bon Voyage, Charlie Brown (and Dont Come Back!!) Wikipedia
Bon Voyage, Charlie Brown (and Dont Come Back!!) IMDb
Bon Voyage, Charlie Brown (and Dont Come Back!!) themoviedb.org