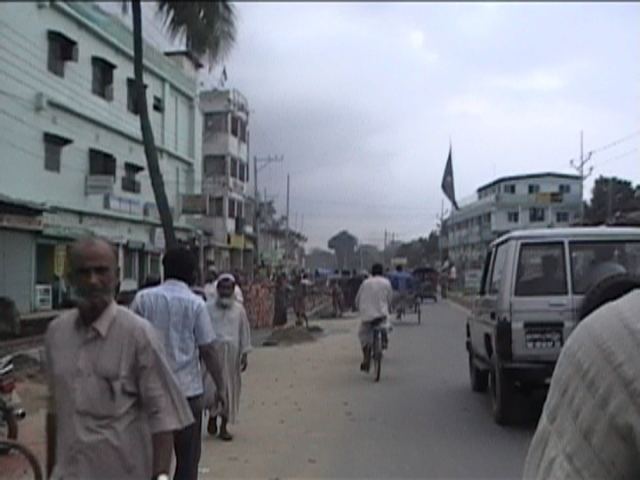 Supposedly the oldest city of Bengal in the Great Emperor Ashoka's India, Emperor Ashoka conquered the Bengal (Bongo) and founded Borgra, previously called Pundra Bardhan. Possibly confirming this origin story, an ancient engraved stone believed to be of Gupta era was discovered on a pond bank near Sura Masjid at Ghoraghat Upazila in Dinajpur in October 2008.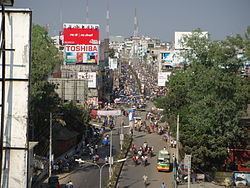 During the Bangladesh War of Independence, the area witnessed the Battle of Bogra a fierce battle between the guerrilla units of the BDF under Sector 7 which defeated the Pakistan Army.
Bogra is named after Nasiruddin Bughra Khan. He was the son of Delhi Sultan Ghiyasuddin Balban. He was the Governor of Bengali from 1279 to 1282.
First formed in 1821, the administrative district of Bogra contains an area of 1,359 sq mi (3,520 km2).
The principal rivers in the district are formed by the different channels of the Brahmaputra, which river here bears the local names of the Konai, the Daokoba and the Jamuna, the last forming a portion of the eastern boundary of the district. The Brahmaputra and its channels, together with three minor streams, the Bangali, Karatoya and Atrai, allow for significant facilities for the usage of commerce.
In 1911 the Karatoya (which flows from north to south), divided the district into two portions, the eastern tract consisting of rich alluvial soil, subject to fertilizing inundations and yielding heavy crops of coarse rice, oil-seeds and jute, while the soil of the high-lying western portion of the district allow for growing rice.
Since 2009 with the advancment of urban planning, there has been a significant development in the infrastructure of Borgra including, restructured and widened town roads, improved telecommunications, and the instillation of underground gas connections.
Additionally, red chili production in Bogra has become a major local industry, with companies such as Square, Acme, BD Food collecting red chili from as many as 12 centers withinBogra.
Often called the "Town of Banks", Bogra is the location of numerous online banking facilities, credit card, debit card, and money gram companies. Banking in Bogra has significantly expanded with the branch of government banks such as the Bangladesh Bank (Central Bank), Sonali Bank, Rupali Bank, Janata Bank, Rajshahi Krishi Unnayan Bank, Bangladesh Development Bank Ltd., Uttara Bank Ltd, Agrani Bank, as well as a number of private and specialized banks including, Pubali Bank, National Bank, IFIC bank Ltd., Citi Bank Ltd., and others.
Additionally, Bogra is the home of IT, software, technology, and computer services companies, and in 2008 the French Grameen Group and Groupe Danone entered into a joint venture named Grameen Danone in Bogra.
Statistically, Bogra's workforce is divided between jobs in agriculture (29.95%), agricultural manufacturing (12.53%), general commerce (18.11%), customer service (15.62%), transportation (6.66%), wage labor (2.2%), and other industries (14.93%).
There is a some railway staitions and some bus terminals in Bogra.
Borga is home to Mahasthangarh, the earliest urban archaeological site so far discovered in Bangladesh, as well as the village Mahasthan in Shibganj thana of Bogra District, which contains the remains of Pundranagara (or Paundravardhanapura), an ancient city in the territory of Pundravardhana. This place is considered to be sacred by Buddhists, Muslims and Hindus alike.
Also popular among tourists to Bogra is the Behular Bashor Ghor which is very near to Mahasthangar, Nawab Palace (called Neelkuthi during the British period), Kherua Mosque (Sherpur Upazila), Bara Mosque, Mazar of Shah Sultan Balkhi, Mazar of Panchpir, Gokul Medh, palace of Parshuram, Basu Bihara, Palli Unnayan Academy, Saudia City Park, Bhimer Jangle, museum of Nawab Bari Palace, Wonderland Shishupark (children park), Shanewaz Shishubagan, Woodburn Park, Dreshtinandan Park, Bijayangan (war of liberation museum) and the Jaina Temple.
Akhteruzzaman Elias (1943–1997), Novelist and short story writer
Gaziul Haque (1929–2009), Language movement veteran
Khademul Bashar (1935–1976), Bir Uttam, Sector Commander of Liberation War & former Chief of Bangladesh Air Force.
Muhammad Ali Bogra (1909–1963), Notable diplomat, former Prime Minister of Pakistan (from 1953–1955)
Mushfiqur Rahim, Famous Cricketer, Bangladesh Cricket Team
Ziaur Rahman, Freedom Fighter, Social Worker, Former President of Bangladesh (21 April 1977 - 30 May 1981)
Khaleda Zia, Former First Lady of Bangladesh, First Female Prime Minister of Bangladesh (2nd Female Prime Minister in the Muslim world) and Holding the office 3 times (20 March 1991 – 30 March 1996) (15 February 1996 - 12 June 1996) (10 October 2001 – 29 October 2006), Leader of the Bangladesh Nationalist Party (30 May 1984 - Present)