Years active

1959–1967




Resting place

Keystone Cemetery




Name

Bobby Buntrock





Nationality

American


Role

TV actor




Occupation

Actor




TV shows

Hazel





Full Name

Robert W. Buntrock




Born

August 4, 1952 (

1952-08-04

) Denver, Colorado, U.S.


Education

Lake Marie Public School




Similar People

Whitney Blake, Shirley Booth, Don DeFore, Ray Fulmer, Lynn Borden



Cause of death

Automobile Accident





Died

April 7, 1974 (aged 21) Keystone, South Dakota, U.S.
Hazel 4/12/62 Bobby Buntrock Story Conclusion
Robert W. Buntrock (August 4, 1952 – April 7, 1974) was an American child actor. Buntrock is best known for playing the character of Harold "Sport" Baxter on the 1960s sitcom Hazel.
Contents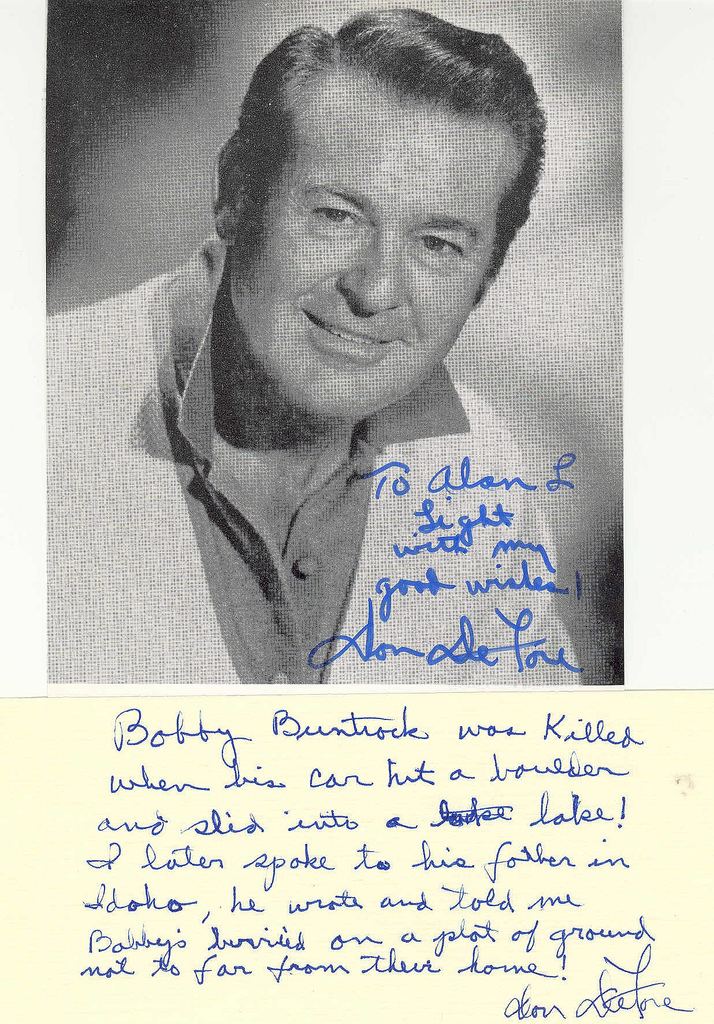 Career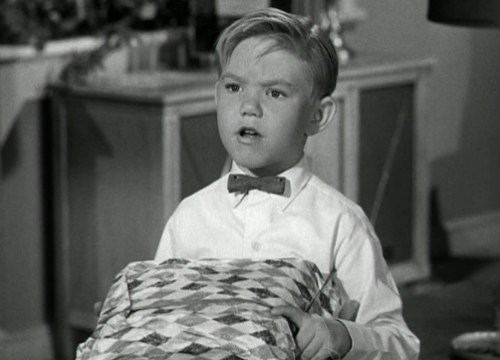 Buntrock was born in Denver, Colorado to Robert and Maxine Buntrock. He had a younger sister, Stella. When he was three, the family moved to Whittier, California, where neighbors urged Buntrock's parents to get their son into acting. After submitting Buntrock's picture to various agents, he was signed by Marcella Bell. Shortly after signing with Bell, Buntrock landed his first role on an episode of Wagon Train at the age of four. He also appeared in guest spots on Westinghouse Desilu Playhouse, Mister Ed, and The Donna Reed Show.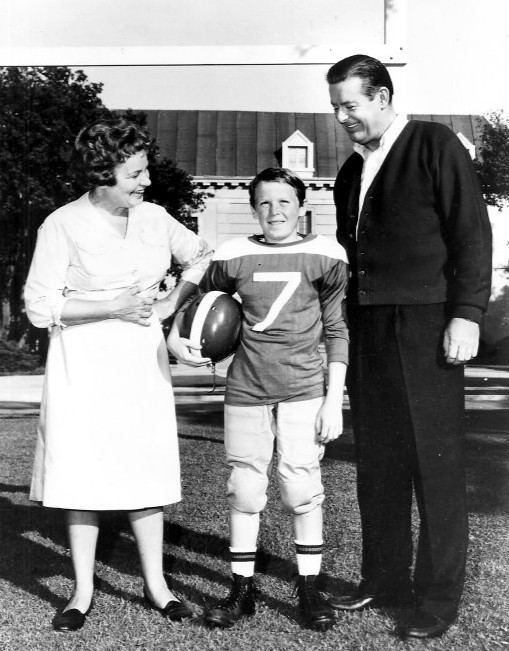 In 1961, Buntrock won the role of Harold "Sport" Baxter on the sitcom Hazel, starring Shirley Booth. The series aired for five seasons, first on NBC with Don DeFore and Whitney Blake in the role of Harold's parents, George and Dorothy Baxter. In the fifth and final season (1965-1966) shown on CBS, the series was retooled after DeFore and Blake were dismissed and Harold lived with his Uncle Steve Baxter (Ray Fulmer), Aunt Barbara (Lynn Borden), and cousin Susie (Julia Benjamin). During the run of Hazel, Buntrock was tutored on the set and attended Lake Marie Public School in Whittier when the show was on hiatus.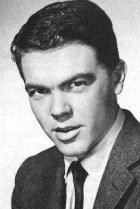 After Hazel ended its run in 1966, Buntrock appeared in two guest spots on The Virginian in 1967 after which he retired from acting.
Death
On April 7, 1974, Buntrock died in an automobile accident in Keystone, South Dakota, at the age of 21. He is buried in Keystone Cemetery in Keystone, South Dakota.
Filmography
Actor
1963
The Virginian (TV Series)
as
Tim Messinger / Tim Bates / Andrew
- The Masquerade (1967) - Tim Messinger
- Doctor Pat (1967) - Tim Bates
- Brother Thaddeus (1963) - Andrew
1961
Hazel (TV Series)
as
Harold Baxter
- A Question of Ethics (1966) - Harold Baxter
- A Little Bit of Genius (1966) - Harold Baxter
- The Perfect Boss (1966) - Harold Baxter
- Bee in Her Bonnet (1966) - Harold Baxter
- Hazel's Free Enterprise (1966) - Harold Baxter
- Who Can Afford a Bargain? (1966) - Harold Baxter
- But Is It Art? (1966) - Harold Baxter
- Please Don't Shout (1966) - Harold Baxter
- My Son, the Sheepdog (1966) - Harold Baxter
- How to Find Work Without Really Trying (1966) - Harold Baxter
- Harold's Gift Horses (1966) - Harold Baxter
- Boom or Bust (1966) - Harold Baxter
- $285 by Saturday (1966) - Harold Baxter
- Once an Actor (1966) - Harold Baxter
- A Car Named Chrysanthemum (1966) - Harold Baxter
- Hazel's Endearing Young Charms (1965) - Harold Baxter
- Noblesse Oblige (1965) - Harold Baxter
- Kindly Advise (1965) - Harold Baxter
- The Crush (1965) - Harold Baxter
- A Bull's Eye for Cupid (1965) - Harold Baxter
- A Lot to Remember (1965) - Harold Baxter
- Hazel Sits It Out (1965) - Harold Baxter
- Hazel Needs a Car (1965) - Harold Baxter
- A-Haunting We Will Go (1965) - Harold Baxter
- The Holdout (1965) - Harold Baxter
- Do Not Disturb Occupants (1965) - Harold Baxter
- How to Lose 30 Pounds in 30 Minutes (1965) - Harold Baxter
- Hazel's Second Week (1965) - Harold Baxter
- Who's in Charge Here? (1965) - Harold Baxter
- The Investor (1965) - Harold Baxter
- George's Man Friday (1965) - Harold Baxter
- Hazel's Inquisitive Mind (1965) - Harold Baxter
- Hazel's Day in Court (1965) - Harold Baxter
- What's Buggin' Hazel? (1965) - Harold Baxter
- Stop Rockin' Our Reception (1965) - Harold Baxter
- Bonnie Boy (1965) - Harold Baxter
- Temper, Temper (1965) - Harold Baxter
- Love 'em and Leave 'em (1965) - Harold Baxter
- It's a Dog's Life (1965) - Harold Baxter
- Champagne Tony (1965) - Harold Baxter
- Just 86 Shopping Minutes to Christmas (1964) - Harold Baxter
- Hazel Squares the Triangle (1964) - Harold Baxter
- Better to Have Loved and Lost (1964) - Harold Baxter
- To Build or Not to Build (1964) - Harold Baxter
- A Lesson in Diplomacy (1964) - Harold Baxter
- Mix-Up on Marshall Road (1964) - Harold Baxter
- Just Me, Harold and the Universe (1964) - Harold Baxter
- High Finance Hits a New Low (1964) - Harold Baxter
- Mind Your Own Business (1964) - Harold Baxter
- Welcome Back, Kevin (1964) - Harold Baxter
- The Flagpole (1964) - Harold Baxter
- Marriage Trap (1964) - Harold Baxter
- Ain't That a Knee Slapper? (1964) - Harold Baxter (credit only)
- Luncheon with the Governor (1964) - Harold Baxter
- Never Trouble Trouble (1964) - Harold Baxter
- Maid for a Day (1964) - Harold Baxter
- Let's Get Away from It All (1964) - Harold Baxter
- Campaign Manager (1964) - Harold Baxter
- Such a Nice Little Man (1964) - Harold Baxter
- Arrivederci, Mr. B (1964) - Harold Baxter
- All Mixed Up (1964) - Harold Baxter
- Everybody's a Comedian (1964) - Harold Baxter
- Hazel's Midas Touch (1964) - Harold Baxter
- The Countess (1964) - Harold Baxter
- Democracy at Work (1964) - Harold Baxter
- The Reluctant Witness (1964) - Harold Baxter
- George's Ordeal (1964) - Harold Baxter
- The Fashion Show (1964) - Harold Baxter
- Scheherazade and Her Frying Pan: Part 2 (1964) - Harold Baxter
- Scheherazade and Her Frying Pan: Part 1 (1964) - Harold Baxter
- Hot Potato a La Hazel (1964) - Harold Baxter
- Hazel and the Model T (1964) - Harold Baxter
- Hazel and the Halfback (1963) - Harold Baxter
- Hazel's Nest Egg (1963) - Harold Baxter
- The Retiring Milkman (1963) - Harold Baxter
- Call Me Harve (1963) - Harold Baxter
- Hazel and the Vanishing Hero (1963) - Harold Baxter
- All Hazel Is Divided Into Three Parts (1963) - Harold Baxter
- The Baby Came C.O.D. (1963) - Harold Baxter
- George's 32nd Cousin (1963) - Harold Baxter
- Hazel Scores a Touchdown (1963) - Harold Baxter
- Piccolo Mondo (1963) - Harold Baxter
- Cheerin' Up Mr. B (1963) - Harold Baxter
- You Ain't Fully Dressed Without a Smile (1963) - Harold Baxter
- Dorothy Takes a Trip (1963) - Harold Baxter
- An Example for Hazel (1963) - Harold Baxter
- Potluck a la Mode (1963) - Harold Baxter
- So Long, Brown Eyes (1963) - Harold Baxter
- Maid of the Month (1963) - Harold Baxter
- Oh, My Aching Back (1963) - Harold Baxter
- Hazel's Luck (1963) - Harold Baxter
- Hazel Sounds Her 'A' (1963) - Harold Baxter
- Hazel Digs a Hole for Herself (1963) - Harold Baxter
- The Hazel Walk (1963) - Harold Baxter
- Hazel's Navy Blue Tug-Boats (1963) - Harold Baxter
- The Fire's Never Dead, While the Ashes Are Red (1963) - Harold Baxter
- I've Been Singing All My Life (1963) - Harold Baxter
- Hazel's Day Off (1963) - Harold Baxter
- Hazel and the Stockholder's Meeting (1963) - Harold Baxter
- Mr. Griffin Throws a Wedding (1963) - Harold Baxter
- Ain't Walter Nice? (1963) - Harold Baxter
- Hazel's Highland Fling (1963) - Harold Baxter
- A Good Example for Harold (1963) - Harold Baxter
- The Sunshine Girls Quartet (1963) - Harold Baxter
- Top Secret (1963) - Harold Baxter
- Hazel and the Lovebirds (1962) - Harold Baxter
- Herbert for Hire (1962) - Harold Baxter
- New Man in Town (1962) - Harold Baxter
- The Natural Athlete (1962) - Harold Baxter
- Genie with the Light Brown Lamp (1962) - Harold Baxter
- License to Wed (1962) - Harold Baxter
- Mr. B on the Bench (1962) - Harold Baxter
- Hazel's Tax Deduction (1962) - Harold Baxter
- A Four-Bit Word to Chew On (1962) - Harold Baxter
- Barney Hatfield, Where Are You? (1962) - Harold Baxter
- How to Lure an Epicure (1962) - Harold Baxter
- We've Been So Happy Till Now (1962) - Harold Baxter
- Rosie's Contract (1962) - Harold Baxter
- Hazel's Cousin (1962) - Harold Baxter
- Hazel's Day (1962) - Harold Baxter
- George's Assistant (1962) - Harold Baxter
- Heat Wave (1962) - Harold Baxter
- The Burglar in Mr. B's PJ's (1962) - Harold Baxter
- Rock-A-Bye Baby (1962) - Harold Baxter
- Hazel the Matchmaker (1962) - Harold Baxter
- Hazel Quits (1962) - Harold Baxter
- Bringing Out the Johnsons (1962) - Harold Baxter
- Three Little Cubs (1962) - Harold Baxter
- Hazel's Pajama Party (1962) - Harold Baxter
- Them New Neighbors Is Nice (1962) - Harold Baxter
- Number, Please? (1962) - Harold Baxter
- Dorothy's Birthday (1962) - Harold Baxter
- Hazel and the Gardener (1962) - Harold Baxter
- Hazel's Mona Lisa Grin (1962) - Harold Baxter
- The Investment Club (1962) - Harold Baxter
- Hazel, the Tryst-Buster (1962) - Harold Baxter
- Hazel's Secret Wish (1962) - Harold Baxter
- Hazel's Tough Customer (1962) - Harold Baxter
- Hazel's Famous Recipes (1962) - Harold Baxter
- A Replacement for Phoebe (1962) - Harold Baxter
- Hazel's Dog Days (1962) - Harold Baxter
- Dorothy's Obsession (1961) - Harold Baxter
- Hazel's Christmas Shopping (1961) - Harold Baxter
- Hazel's Winning Personality (1961) - Harold Baxter
- Winter Wonderland (1961) - Harold Baxter
- Everybody's Thankful But Us Turkeys (1961) - Harold Baxter
- George's Niece (1961) - Harold Baxter
- A Dog for Harold (1961) - Harold Baxter
- What'll We Watch Tonight? (1961) - Harold Baxter
- Dorothy's New Client (1961) - Harold Baxter
- A Matter of Principle (1961) - Harold Baxter
- Hazel Plays Nurse (1961) - Harold Baxter
- Hazel Makes a Will (1961) - Harold Baxter
- Hazel and the Playground (1961) - Harold Baxter
1965
The Farmer's Daughter (TV Series)
as
Peter (Scout #2)
- Ja, Ja, a Thousand Times Ja (1965) - Peter (Scout #2)
1965
Many Happy Returns (TV Series)
as
Jimmy
- It's a Gift (1965) - Jimmy
1963
Burke's Law (TV Series)
as
Scout Hendricks
- Who Killed Eleanora Davis? (1963) - Scout Hendricks
1961
Death Valley Days (TV Series)
as
Frank Clayton
- A Bullet for the D.A. (1961) - Frank Clayton
1961
Bus Stop (TV Series)
as
Jonathan
- Afternoon of a Cowboy (1961) - Jonathan
1961
The Donna Reed Show (TV Series)
as
Crying Child
- Mary's Little Lambs (1961) - Crying Child
1961
Mister Ed (TV Series)
as
Small Boy
- Kiddy Park (1961) - Small Boy
1960
Westinghouse Desilu Playhouse (TV Series)
as
Buddy
- Dr. Kate (1960) - Buddy
1959
Wagon Train (TV Series)
as
Bo Lindstrom
- The Ella Lindstrom Story (1959) - Bo Lindstrom (uncredited)
Soundtrack
1962
Hazel (TV Series) (performer - 2 episodes)
- Hazel's Pajama Party (1962) - (performer: "Michael Finnegan" - uncredited)
- Dorothy's Birthday (1962) - (performer: "For She's A Jolly Good Fellow" - uncredited)
Self
1963
Hootenanny (TV Series)
as
Self
- Boston University #1 (1963) - Self
References
Bobby Buntrock Wikipedia
(Text) CC BY-SA