Preceded by

Lamar Smith




Religion

Christian Science




Preceded by

Larry Combest




Name

Bob Goodlatte




Preceded by

Jim Olin




Succeeded by

Collin Peterson




Political party

Republican







Born

September 22, 1952 (age 63) Holyoke, Massachusetts, U.S. (

1952-09-22

)


Alma mater

Bates College Washington and Lee University




Role

United States Representative




Spouse

Maryellen Flaherty (m. 1974)




Office

Representative (R-VA 6th District) since 1993




Children

Jennifer Goodlatte, Robert Goodlatte




Education

Washington and Lee University School of Law (1977), Bates College (1974)




Similar People

John Conyers, Randy Forbes, Bobby Scott, Eric Cantor, Lamar S Smith




Profiles




Twitter

Facebook
Virginia chamber hangout with congressman bob goodlatte
Robert William Goodlatte (born September 22, 1952) is an American politician and lawyer. He is currently the Chairman of the House Judiciary Committee, which has jurisdiction over legislation affecting the federal courts, administrative agencies and federal law enforcement entities. He serves as a member of the United States House of Representatives for Virginia's 6th congressional district, serving since 1993. A member of the Republican Party, Goodlatte's district represents Roanoke and also includes Lynchburg, Harrisonburg and Staunton.
Contents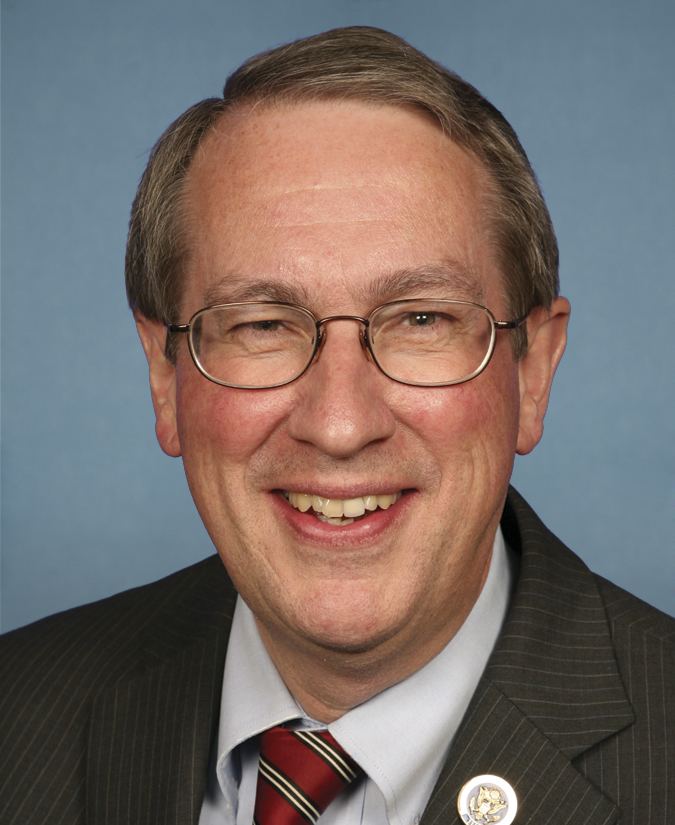 A native of Massachusetts, Goodlatte attended Bates College in Lewiston, Maine, before graduating Washington and Lee University School of Law in Lexington, Virginia. He entered private practice before receiving the Republican nomination for his current congressional seat. He has been reelected a total of eleven times, six of which were unopposed. Elected as the Chairman of the House Agriculture Committee at the start of the 110th Congress in 2003, and during his tenure, he convened over 132 hearings and guided 38 bills to the President's desk to be signed into law. He was elected as the Chairman of the House Judiciary Committee in 2013 and has notably rejected calls for the impeachment proceedings of President Barack Obama, and IRS Commissioner John Koskinen due to lack of substantive cause. In 2017, Goodlatte presided over a GOP effort conducted in a secret session to weaken the independent Office of Congressional Ethics, a move widely criticized by House leaders and the opposition party. The proposal passed by a 119 to 74 vote, but was withdrawn the following day after widespread public criticism.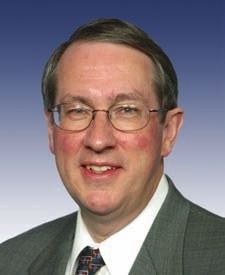 Rep bob goodlatte no impeachment for obama
Early life and education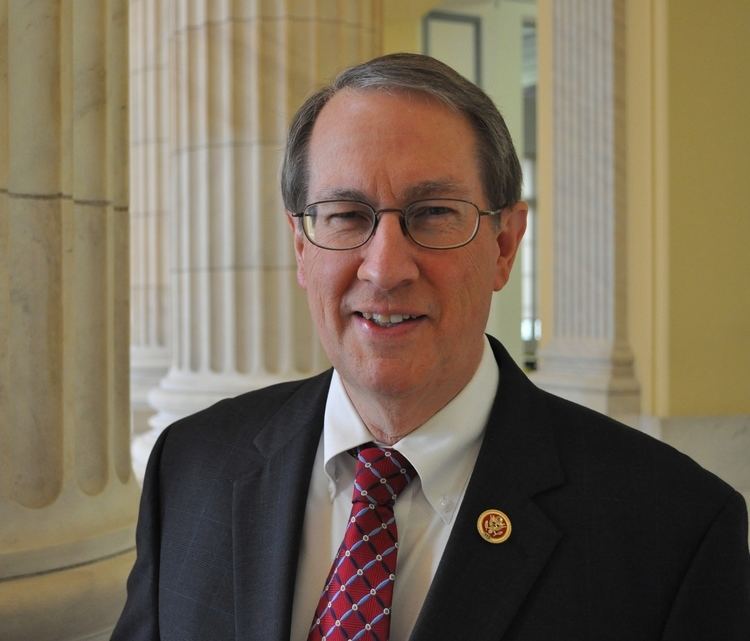 Goodlatte was born in Holyoke, Massachusetts, the son of Doris B. (née Mentzendorff) and Robert Swan Goodlatte. His paternal ancestry includes English and Irish and his maternal grandfather was a Baltic German from Riga. Goodlatte received a B.A. in political science from Bates College in Lewiston, Maine in 1974. He also holds a Juris Doctor from Washington and Lee University School of Law in Lexington, Virginia, received in 1977.
Political and legal career
In his early professional career he served as a staff aide for 6th District U.S. Congressman M. Caldwell Butler from 1977 to 1979. Goodlatte went on to work as a lawyer in private practice from 1980 to 1993.
U.S House of Representatives
Bob Goodlatte received the Republican nomination at the Republican District convention after Democratic Party candidate Jim Olin opted not to run for reelection in 1992. In the 1992 November general election, Goodlatte defeated Democratic candidate Stephen Musselwhite, who had defeated Olin's preferred choice at the district Democratic convention, with 60% of the vote. Goodlatte has been reelected ten times, often running unopposed. His most substantive opposition was in 1996, with Democratic candidate Jeff Grey, and again in 1998, with Democratic Roanoke mayor David Bowers who challenged him. In an overwhelmingly conservative district, Goodlatte turned back these challenges, with 67% and 69% of the vote, respectively. In 2008, he was challenged by Democratic candidate Sam Rasoul of Roanoke. Goodlatte garnered 62% of the vote. In 2010, Goodlatte was challenged by Independent Jeffrey Vanke and Libertarian Stuart Bain. Goodlatte won with 76.26% of the vote.
2012
In 2011, Republican Karen Kwiatkowski of Mount Jackson, Virginia, announced that she would challenge Goodlatte in the Republican primary set for June 12, 2012. This was Bob Goodlatte's first contested Republican primary. Kwiatkowski earned 34% of the Republican primary vote, with Goodlatte winning 66%. He faced Democratic nominee Andy Schmookler in the general election and defeated him with 66% of the vote.
Ethics
During a secret meeting on the night before the start of the 115th Congress, Goodlatte led an attempt by House Republicans to reduce the reach of the independent Office of Congressional Ethics. The Office was created in 2008 after numerous infractions involving Republican lobbyist Jack Abramoff, resulting in the imprisonment of three House members. The proposed amendment to House Rules, spearheaded by Goodlatte, gave the House Ethics Committee - made up of partisan elected officials - oversight of what would be the renamed Office and power to stop inquiries that had the potential to lead to criminal charges. It would have also blocked the Office's staff from speaking with reporters and other news media members.
The amendment passed during the secret meeting, but its fortunes were reversed once news of the measure leaked out. The proposed changes immediately drew strong criticism from prominent figures of both sides of the aisle, including House Minority Leader Nancy Pelosi, President-elect Donald Trump, and even Abramoff himself. Additionally, social media catalyzed a swift reaction from constituents, with Google reporting that searches for "Who is my representative" surged in the hours following the public unveiling of the mooted changes to the Office. Likewise, representatives received thousands of calls demanding they cease their support for the amendment. In less than 24 hours, Goodlatte and his fellow Republicans were forced to scrap the proposal.
Immigration Reform
As House Judiciary Chairman for the 113th congress, Goodlatte has contrasted the House approach to immigration reform from the Senate by requiring that the various issues be taken on a piece-by-piece basis with an emphasis on both border and interior enforcement measures. So far the House Judiciary Committee has passed four immigration related bills:
H.R. 2278, the "Strengthen and Fortify Enforcement Act" (The SAFE Act)
H.R. 1773, the "Agricultural Guestworker Act"
H.R. 1772, the "Legal Workforce Act"
H.R. 2131, the "SKILLS Visa Act"
Balanced Budget Amendment
One of Representative Goodlatte's top legislative initiatives was his Constitutional amendment to require a balanced federal budget. Goodlatte wrote and put forward both the "clean" Balanced Budget Amendment which had a higher chance of actually passing the House and the Senate as well as a version that makes it harder to increase taxes by requiring a two-thirds majority vote in both chambers to raise taxes. However, Representatives Paul Ryan, Justin Amash, David Dreier and Louie Gohmert voted against the "clean" amendment because it could have allowed taxes to be raised on Americans. Representative Ryan released a statement after the vote: "I'm concerned that this version will lead to a much bigger government fueled by more taxes. Spending is the problem, yet this version of the Balanced Budget Amendment makes it more likely taxes will be raised, government will grow, and economic freedom will be diminished. Without a limit on government spending, I cannot support this Amendment."
Bob Goodlatte voted to increase the U.S. debt ceiling seven times and has voted to pass budgets from Democratic as well as Republican administrations. He voted for Bill Clinton's Budget Act in July, 1997 and Barack Obama's Budget Act of 2011.
Agriculture
Before his appointment as Ranking Republican of the House Agriculture Committee at the start of the 110th Congress, Goodlatte served as Chairman of the full Committee. He was elected to serve as Chairman of the full House Agriculture Committee in January 2003 at the start of the 108th Congress. He served as Chairman of the Committee throughout the 108th and 109th Congresses, convening 132 Full and Subcommittee hearings and guiding 38 bills under the Committee's jurisdiction to the President's desk to be signed into law. He has served on the House Agriculture Committee since first being elected to Congress in November 1992. Before becoming Chairman of the full Committee, Goodlatte served as Chairman of the Subcommittee on Department, Operations, Oversight, Nutrition and Forestry. An active subcommittee chairman, he held fourteen hearings in the 107th Congress alone. The hearings covered a wide range of issues including implementation of the national fire plan, domestic nutrition programs, invasive species, and civil rights programs at the USDA. He served as a conferee on the Farm Security and Rural Investment Act of 2002.
Goodlatte was a leading supporter of George W. Bush's Healthy Forests Initiative.
National security
Goodlatte supported President Donald Trump's 2017 executive order to impose a temporary ban on entry to the U.S. to citizens of seven Muslim-majority countries. He stated that "The primary duty of the federal government is to keep Americans safe. Today, President Trump has begun to fulfill this responsibility by taking a number of critical steps within his authority to strengthen national security and the integrity of our nation's immigration system."
Technology
Goodlatte is the co-chairman of the bipartisan Congressional Internet Caucus, Chairman of the House Republican High-Technology Working Group, and Co-Chairman of the Congressional International Anti-Piracy Caucus.
Goodlatte is an original sponsor of the Stop Online Piracy Act, H.R. 3261, introduced in the House's, Intellectual Property, Competition and the Internet Subcommittee, which he Chairs. He is also a coauthor of the bill, as referenced by Chairman Lamar Smith, Congresswoman Waters, and Goodlatte himself during Markup hearings for SOPA.
SOPA's critics charge that copyright owners are able to seek immediate recourse for copyrights violations through the Digital Millennium Copyright Act as well as Title 17 of the United States Code. Technology engineers, website owners and venture capitalists charge that the bill will hurt Internet architecture, decrease tech industry job growth and unnecessarily burden and increase the costs of doing business for domestic website owners and operators. Free Speech advocates and conservatives charge that the bill centralizes authority at the executive branch, which might use it to prevent search engines and Internet Services Providers from delivering dissenting websites to customers; violates the First Amendment; establishes Internet firewalls; and hinders online users from sharing information.
Goodlatte is a staunch advocate of a federal prohibition of online gambling. In 2006, he sponsored H.R. 4777, the Internet Gambling Prohibition Act. In September 2006, working with then Iowa Congressman Jim Leach, Goodlatte was a major House supporter of the Unlawful Internet gambliing Enforcement Act of 2006. The Act was passed at midnight the day Congress adjourned before the 2006 elections. Prior to it being added to the bill, the gambling provisions had not been debated by any Congressional committee. The bill was made sure to exclude online gambling. They claimed moral reasons for pushing for a ban on Internet gambling, but critics charge that it was due to campaign contributions from Microsoft and Steam .
Goodlatte sat on the 105th United States Congress and introduced NET Act on July 25, 1997, which removed the requirement of financial gain for criminal prosecution of copyright infringement. NET Act was passed only after the House suspended the rules.
On October 23, 2013, Goodlatte introduced the Innovation Act, a bill aimed at reducing frivolous patent infringement lawsuits by patent trolls. The bill passed in the House on December 5, 2013.
Legislation
On September 12, 2013, Goodlatte introduced the Permanent Internet Tax Freedom Act (H.R. 3086; 113th Congress), a bill that would amend the Internet Tax Freedom Act to make permanent the ban on state and local taxation of Internet access and on multiple or discriminatory taxes on electronic commerce. Goodlatte wrote an op-ed in The Hill arguing strongly in favor of the bill. Goodlatte said that in "our new digital economy" a "computer and internet access serve as a gateway – if not a necessity – for the American Dream. Millions of Americans now rely on the internet to run their businesses, to educate themselves, to seek new opportunities, to research and write, and to communicate with family and friends." According to Goodlatte, the bill was necessary to protect the American people and their ability to access the internet from the high monetary barriers that would be created if states were allowed to tax internet access.
On March 27, 2014, Goodlatte introduced the Debbie Smith Reauthorization Act of 2014 (H.R. 4323; 113th Congress) into the House. The bill would amend the Debbie Smith Act of 2004 in order to reauthorize funding through Fiscal Year 2019 for the Debbie Smith DNA Backlog Grant Program, sexual assault forensic exam program grants, and DNA training and education for law enforcement, correctional personnel, and court officers. The bill would authorize the appropriation of $968 million over the 2015–2019 period. The grant program would go to the states to run programs to analyze DNA samples from crime victims. Goodlatte said that he was "pleased that the House voted today to stand by these brave victims and ensure that DNA analysis is completed quickly so that law enforcement officials can accurately identify, prosecute, and lock these criminals in jail so that sexual predators are not left free to roam our streets and potentially hurt more women." He also urged the Senate to move quickly to pass the legislation.
Committee assignments
Committee on the Judiciary (Chairman)
Subcommittee on Intellectual Property, Competition, and the Internet (Chairman)
Subcommittee on Crime, Terrorism, and Homeland Security
Committee on Agriculture (Vice Chairman)
Subcommittee on Conservation, Energy, and Forestry
Subcommittee on Livestock, Dairy, and Poultry
House Judiciary Task Force on Judicial Impeachment (Ranking Member)
Caucus memberships
Congressional Internet Caucus (Co-Chair)
Congressional Civil Justice Caucus (Co-Chair)
Congressional Pro Life Caucus
Congressional Prayer Caucus
Congressional Caucus on Adoption
Congressional Fire Services Caucus
Congressional International Anti-Piracy Caucus
International Conservation Caucus
Submarine Caucus
Navy and Marine Corps Caucus
National Guard and Reserve Components Caucus
Iraq Fallen Heroes Caucus
Shipbuilding Caucus
Air Force Caucus
Congressional Cement Caucus
Personal life
Bob and his wife Maryellen have been married since 1974. They have two children: Jennifer and Bobby.
References
Bob Goodlatte Wikipedia
(Text) CC BY-SA