Bortles was the Knights' starting quarterback from midway through the 2011 season to 2013. In 2012, he led UCF to a Conference USA East Division Championship and bowl victory. In 2013, Bortles led the Knights to an upset of then-#8 ranked Louisville to win the inaugural American Athletic Conference Championship, as well as an upset victory over sixth-ranked Baylor in the 2014 Fiesta Bowl.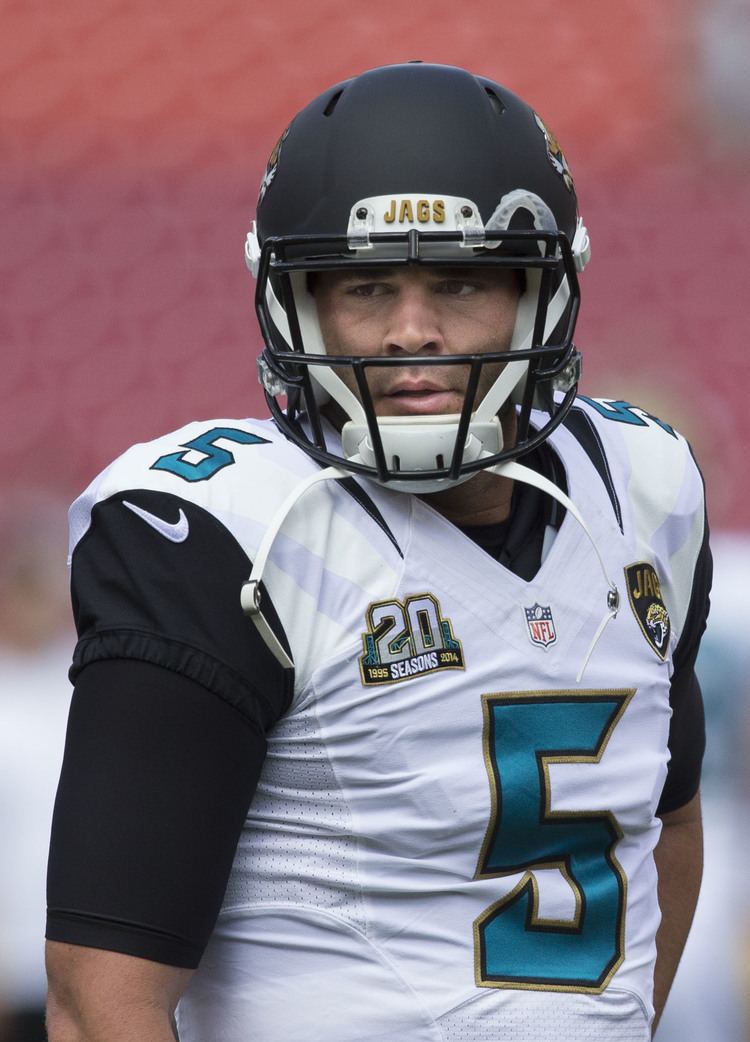 Bortles attended Oviedo High School in Oviedo, Florida, where he excelled in football and baseball. As a senior, he completed 151 of 233 passes for 2,211 yards with 27 touchdowns and seven interceptions. He finished his high school career with a Seminole County record 5,576 career passing yards and 53 touchdowns.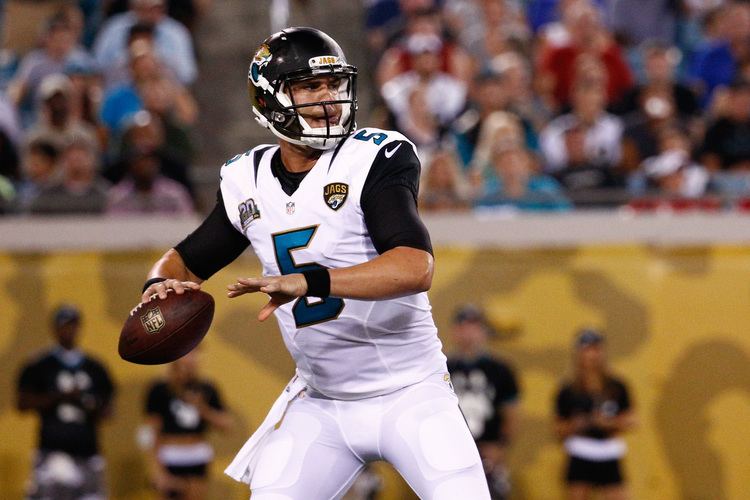 Labeled a three-star recruit by Rivals.com, Bortles was listed as the No. 44 pro-style quarterback in his class. Bortles chose UCF over offers from Colorado State, Purdue, Tulane, and Western Kentucky.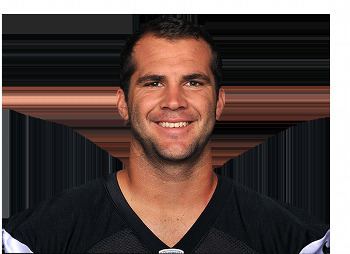 Bortles accepted the offer from UCF, which was the first college to offer him a scholarship and was located near his home. He was redshirted as a true freshman in 2010. As a redshirt freshman in 2011, he played in 10 games, completing 75 of 110 passes for 958 yards with six touchdowns and three interceptions. As a sophomore in 2012, he started all 14 games at quarterback. He completed 251 of 399 passes for 3,059 yards with 25 touchdowns and seven interceptions. He also rushed for 285 yards and scored eight touchdowns. He was the MVP of the 2012 Beef 'O' Brady's Bowl after completing 22 of 32 passes for 271 yards with three touchdowns and 79 rushing yards.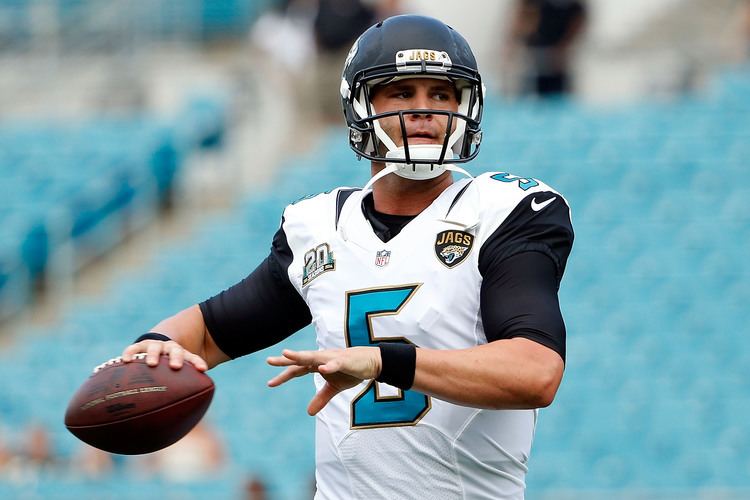 In 2013, Bortles led the Knights to the inaugural championship of the American Athletic Conference, earning the league's automatic berth to a BCS bowl, the Tostitos Fiesta Bowl. Passing for 301 yards and rushing for 93 yards and four touchdowns, Bortles led UCF to an upset of fifth-ranked Baylor, 52–42. Bortles was named the Offensive MVP of the game, which was UCF's first major bowl win in school history.
As a starter from the 2012 and 2013 seasons, Bortles had a 22–5 (.815) record for the Knights.
On January 5, 2014, Bortles announced that he would forgo his senior season and enter the 2014 NFL Draft.
On May 8, 2014, at the 2014 NFL Draft, Bortles was chosen in the first round with the third overall pick by the Jacksonville Jaguars. Bortles was the first of an eventual 14 quarterbacks to be drafted. On June 18, he signed his rookie contract worth $20.6 million guaranteed for four years with the team.
On September 21, in Week 3, Bortles made his regular season debut when he came in relief of Chad Henne in the second half of a 44-17 blowout loss to the Indianapolis Colts. He went on to complete 14-of-24 passes for 223 yards, two touchdowns, and two interceptions. Following the game, head coach Gus Bradley named Bortles the starter going forward.
On September 28, in Week 4, Bortles made his first career start in a road game against the San Diego Chargers. Bortles ended the game 29-of-37 for 253 yards, one touchdown, and two interceptions in a 33–14 loss. His 78.4 percent completion percentage set a record for a rookie quarterback's first start.
In Week 6 against the Tennessee Titans, Bortles produced 336 passing yards, however the Jaguars lost 14–16 due to a blocked field goal. In Week 13 against the New York Giants, Bortles threw for 194 yards, with one touchdown and no interceptions and 68 rushing yards in the Jaguars' largest comeback win in team history. They won 25–24 after trailing by 21 points. In Week 16, Bortles led the Jaguars to a Thursday Night Football win over the Titans, 21–13. He completed 13 of 26 passes for one touchdown and no interceptions, with 50 rushing yards.
Bortles established himself as a dual-threat quarterback in his rookie season by rushing for 20 or more yards seven times in 2014, second only to Russell Wilson of the Seattle Seahawks.
Bortles, after having a strong preseason in his second year, started the 2015 season slow with one touchdown and two interceptions in a 20–9 loss at home against the Carolina Panthers in Week 1. In Week 2, Bortles led a comeback drive against the Miami Dolphins to seal their first victory of the season. He threw for 273 yards and two touchdowns with no interceptions. In Week 5, Bortles threw for a then-career-high four touchdowns along with 303 yards and 21 rushing yards. However, this was not enough as the Tampa Bay Buccaneers won 38–31. In Week 13, Bortles broke the Jaguars single game record with five touchdown passes in a 42–39 loss to the Tennessee Titans.
Despite the Jaguars finishing 5-11 in the 2015 season, Bortles enjoyed a breakout season, setting the Jaguars single-season franchise records for passing touchdowns (35), passing yards, (4,428), pass completions (355), and pass attempts (606). His passer rating only fell below 80 five times in the season, in Weeks 1, 6, 7, 10, and 17. He also threw a touchdown pass in the Jaguars' first 15 games of 2015, a franchise record. After finishing his 15th game, he had the second most touchdown passes in the league with 35. After throwing no touchdowns in the Week 17 regular season finale matchup against the Houston Texans, he had to share second place with Eli Manning, Cam Newton, and Carson Palmer, behind only Tom Brady's 36. He was also seventh in the NFL in passing yards with 4,428, behind Drew Brees, Philip Rivers, Brady, Palmer, Matt Ryan, and Manning. He was ranked 56th by his fellow players on the NFL Top 100 Players of 2016.
Bortles showed massive regression in the 2016 season, as shown by his poor statistics. Jacksonville had a 2–3 record following a 17–16 comeback win over the Chicago Bears in Week 6, but then suffered through a 9-game losing streak. Following a 22-36 loss to the Tennessee Titans in Week 8, offensive coordinator Greg Olson was fired and replaced by quarterbacks coach Nathaniel Hackett. Jacksonville fired head coach Gus Bradley following a 20-21 loss in Week 15 against the Houston Texans, in which the Jaguars blew a 20–11 lead in the fourth quarter. Doug Marrone was named the interim head coach going into a Week 16 matchup against the Tennessee Titans. The game on Christmas Eve against the Titans was a turning point for the Jaguars, as their offense put up its highest score all season (38) in the victory, which snapped their losing streak. Against the Titans, Bortles notched his first career reception on a 20-yard touchdown pass from wide receiver Marqise Lee on a trick play. Bortles joined Russell Wilson of the Seattle Seahawks and Matt Barkley of the Chicago Bears on the list of quarterbacks to have caught a receiving touchdown in the 2016 season. Lee joined Doug Baldwin, Dez Bryant, Willie Snead IV, and Cameron Meredith on the list of wide receivers with a passing touchdown in the 2016 season. This was also the first game in the 2016 season that Bortles posted a passer rating of over 100. Against the Indianapolis Colts in the season finale, Bortles had another solid outing with 301 yards passing and one touchdown. Bortles finished the 2016 season with 3,905 yards passing and a 58.9 completion percentage, 23 touchdown passes, and 16 interceptions.
On May 1, 2017, the Jaguars picked up the fifth-year option on Bortles's contract. On August 26, he was named the starting quarterback to begin the 2017 regular season.
Most passing touchdowns in a single season – 35 (2015)
Most passing yards in a single season – 4,428 (2015)
Most pass attempts in a single season – 625 (2016)
Most pass completions in a single season – 368 (2016)
Most passing touchdowns in a single game – 5 (Week 13, 2015, vs. Tennessee Titans)
Most consecutive games with a passing touchdown – 15 (Week 1, 2015–Week 16, 2015)
Bortles is the son of Rob and Suzy Bortles. Rob was a wrestler and football player in high school; Suzy played high school softball. Bortles's brother, Colby, is a third baseman with the Ole Miss baseball team, and was drafted in the 22nd round of the 2017 MLB draft by the Detroit Tigers.