It is a crime drama about two women: one who murders wealthy men whom she has married for their money (and keeps moving west), and the other an agent with the Department of Justice who grows obsessed with bringing her to justice. It was directed by Bob Rafelson, from a screenplay by Ronald Bass. The story takes on the form of a travelogue, as the murderess moves from New York to Dallas to Seattle and finally to Hawaii.
The story centers on two women. Catharine (Theresa Russell) is a psychopathic femme fatale who preys on wealthy middle-aged men, seducing them into marriage and then fatally poisoning them. Each death is misdiagnosed as Ondine's curse, a condition by which seemingly healthy middle-aged men die in their sleep. Justice Department agent Alexandra "Alex" Barnes (Debra Winger) stumbles onto the first murder while investigating another case. As Alex delves further into the case, she uncovers a pattern which she believes ties the same woman to several similar murders.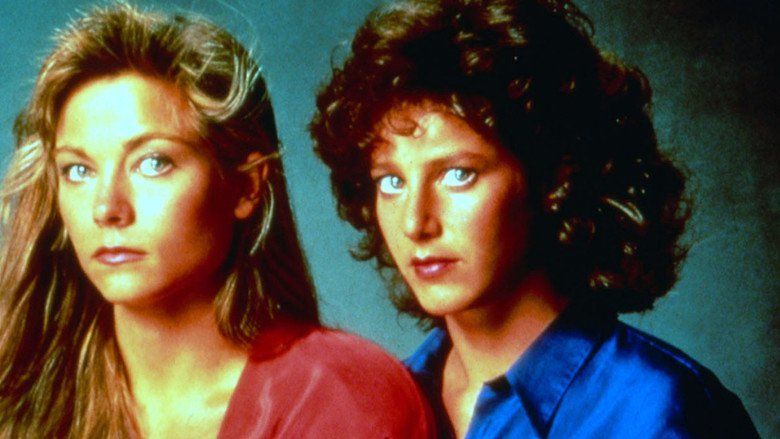 Using exhaustive research and preparation as well as identity and appearance changes, Catharine weaves her web anew with each murder, killing a publishing magnate, a toy maker (Dennis Hopper), and a museum curator (Nicol Williamson), and is quickly moving on to her next victim: Paul Nuytten (Sami Frey), an international hotel tycoon. Later, she reveals that she has been married six times, and possibly has murdered all her husbands.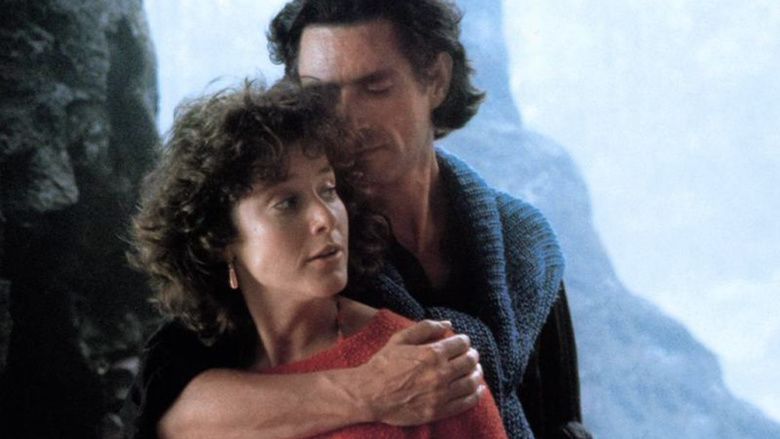 After the death of the rich, lonely museum curator in Seattle, Alex's boss Bruce (Terry O'Quinn) gives her tacit permission to hunt down the killer, and Alex goes undercover as "Jessie Bates" to track down Catharine and identify her next potential victim. The trail leads from Seattle to Hawaii, where Catharine is moving on Paul. With the aid of a private investigator, "Jessie" arranges to meet Catharine; the two women become friends. Catharine arranges for them to compete for Paul's affection; he's attracted to "Jessie," but falls for Catharine's charm and her stylishly executed seduction. Catharine marries him and, during the reception, reveals to "Jessie" that the "black widow" knows about the federal agent.
"Jessie" tries to warn Paul of Catharine's murderous intentions but he is skeptical, refusing to believe she is after his money; in the event of either of their deaths, their wills both stipulate that their net worth be left to the Cancer Foundation and not to each other. The private investigator is found dead of a suspicious drug overdose, after Catharine had forced him at gunpoint to inject himself. After Paul's apparent death, Catharine accuses "Jessie" of killing him, and "Jessie" is arrested when the police find poison in her room. Catharine meets with Paul's attorney, who explains that Paul was a resident of Florida, and according to state law, a spouse has the right to overturn charitable bequests stipulated in their spouse's will. Catharine then tells the attorney that shortly before his death, Paul had expressed "profound reservations" about the Cancer Foundation.
Catharine visits "Jessie" in prison, and while they talk, Catharine is confronted by the sister of one of her husbands and victims: Sam Petersen, the publisher. Then Paul enters the room, alive and well, and now aware that Catharine was in fact after his money. Catharine, shocked, realizes that her attempt to double-cross Jessie/Alex has failed. Catharine is arrested, and Alex emerges as the heroine, leaving as reporters attempt to question her.
Debra Winger as Alexandra Barnes/Jessie Bates
Theresa Russell as Catharine Petersen/Renee Walker/Margaret McCrory/Marielle Dumers
Sami Frey as Paul Nuytten
Dennis Hopper as Ben Dumers
Nicol Williamson as William McCrory
Terry O'Quinn as Alexandra's boss, Bruce
James Hong as H Shin - Honolulu private investigator
Diane Ladd as Etta
D. W. Moffett as Michael
Lois Smith as Sara
Leo Rossi as Seattle Police Detective Ricci
Rutanya Alda as Irene
Mary Woronov as Shelley
Danny Kamekona as the unnamed Honolulu Police detective
Film4 notes that Black Widow succeeds through Rafelson's "menacing direction" and Debra Winger's "convincing struggle with temptation", while Theresa Russell "steals the show as the sexily assured devil sitting on her tracker's shoulder".
Vincent Canby, in The New York Times, writes that while the film promises more than it can deliver, its classy looks make it both soothing and "redeemingly funny, in part, at least, for not becoming mired in its own darker possibilities". He praises Winger for "the gift of seeming always to have hidden reserves of feeling that might erupt in chaos at any minute", while Russell "comes into her own" in the film, and has "a clear-eyed sweetness that adds unexpected dimension to the homicidal Catharine."
Roger Ebert gave Black Widow a mixed rating of 2.5 out of 4 stars, praising the solid performances by the main actors yet lamenting that "The movie makes no effort to keep us in suspense", by revealing too much too soon about Russell's character.