Montenegro


924 km2


Aleksandar Zuric (DPS)



Bijelo Polje (Serbian Cyrillic: ?????? ????, ) is a town in northeastern Montenegro on the Lim River. It has an urban population of 15,400 (2011 census). It is the administrative, economic, cultural and educational centre of northern Montenegro.
Bijelo Polje is the center of Bijelo Polje Municipality (population of 46,051). It is the unofficial center of the north-eastern region of Montenegro. Bijelo Polje means "White Field" in Serbian and all related South Slavic languages.
Bijelo Polje was within the Ottoman Empire until its liberation during the Balkan Wars (1912). Under Ottoman rule the city was known as Akova.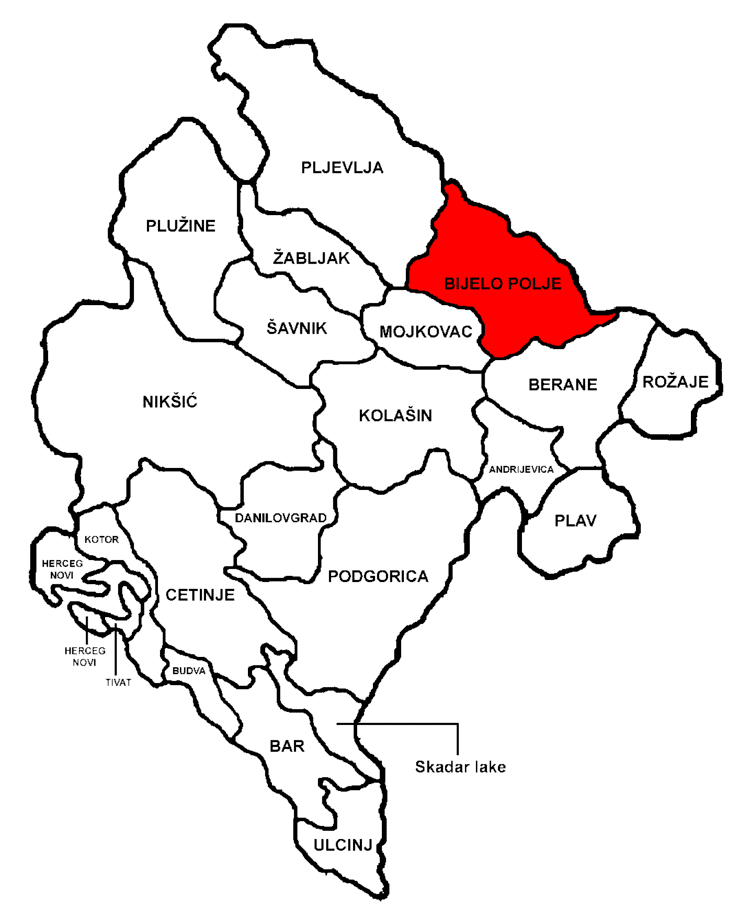 Bijelo Poljes Church of Saint Peter and Paul is the place where the famous UNESCO Miroslavs Gospel of Miroslav, brother of the Serb ruler Stefan Nemanja was written.
Bijelo Polje was the birthplace of the oral poet Avdo Mededovic and of many prominent writers, such as Camil Sijaric, Miodrag Bulatovic. Bijelo Polje is also the birthplace of NBA Center Nikola Pekovic.
Citys best known brand is Rada mineral water, vastly consumed in Montenegro during summer months.
Bijelo Polje Wikipedia
(,)http://www.tobijelopolje.me/wp-content/uploads/2013/08/staro-bp.jpg(,)http://upload.wikimedia.org/wikipedia/commons/e/e2/Montenegro_Bijelo_Polje.png(,)http://www.tobijelopolje.me/wp-content/uploads/2013/09/bijelo-polje-nocu-2-11.jpg(,)http://www.tobijelopolje.me/wp-content/uploads/2013/08/EN.jpg(,)http://upload.wikimedia.org/wikipedia/commons/e/e7/Bijelo_Polje-Position.PNG(,)http://www.tobijelopolje.me/wp-content/gallery/staro-bijelo-polje/staro-bijelo-polje.jpg(,)http://www.mycrnagora.me/uploads/8/4/4/5/8445222/_7083360_orig.png(,)http://www.tobijelopolje.me/wp-content/uploads/2013/09/Internacionalni-likovni-susreti-%25E2%2580%259CStari-most%25E2%2580%259D-.jpg(,)http://www.tobijelopolje.me/wp-content/gallery/crkve/manastir-podvrh-001.jpg(,)http://upload.wikimedia.org/wikipedia/commons/f/fc/BijeloPoljeWeapon.png(,)http://www.tobijelopolje.me/wp-content/gallery/hemingway-caffe/2.jpg(,)http://www.tobijelopolje.me/wp-content/uploads/2013/08/avdo1-Custom.jpg(,)http://www.img.montenegro.travel/sites/montenegro.travel/files/multimedia/www_montenegro_bild_studio_me/objekti/foto/2012/02/_mg_3466.jpg(,)http://diamondtravelguide.com/upload/City/Galleries/2013-03/Park_002~0.jpg
(,)http://www.tobijelopolje.me/wp-content/gallery/dominus-hotel/dominus-hotel-3.jpg(,)http://www.img.montenegro.travel/sites/montenegro.travel/files/multimedia/www_montenegro_bild_studio_me/objekti/foto/2012/02/img_2304.jpg(,)http://www.tobijelopolje.me/wp-content/gallery/restoran-chicken/1008747_669137036436668_1395872998_o.jpg(,)http://r-ec.bstatic.com/images/hotel/840x460/227/22729415.jpg(,)http://www.tobijelopolje.me/wp-content/gallery/dominus-hotel/dominus-hotel-1.jpg(,)http://montenegrohotelsonline.com/foto/hoteli/169/big/1.jpg(,)http://www.img.montenegro.travel/sites/montenegro.travel/files/multimedia/www_montenegro_bild_studio_me/objekti/foto/2012/02/img_2248.jpg(,)http://montenegrohotelsonline.com/foto/hoteli/169/big/3.jpg(,)http://www.montenegro-accommodation.me/wp-content/uploads/2013/04/glavnadominus.jpg(,)http://photos.state.gov/libraries/montenegro/181340/embassynews_001/500iftar.jpg(,)http://english.blic.rs/data/images/2010-02-11/12203_0111-hotel-bijela-rada-foto-vijesti_f.jpg%3Fver%3D1265958951
(,)http://www.img.montenegro.travel/sites/montenegro.travel/files/multimedia/www_montenegro_bild_studio_me/stranice/foto/2012/02/limplaza2.jpg(,)http://www.img.montenegro.travel/sites/montenegro.travel/files/multimedia/www_montenegro_bild_studio_me/stranice/foto/2012/02/limplaza3.jpg(,)http://www.likemontenegro.me/wp-content/uploads/2014/04/mcg-slika-dana-2014-04-09-selo-godusa-bijelo-polje-mensur-trubljanin.jpg(,)http://www.tobijelopolje.me/wp-content/gallery/bijelo-polje/panorama-bijelog-polja-002.jpg(,)https://s-media-cache-ak0.pinimg.com/736x/d4/64/a6/d464a656f0262b6d2c4e254c9c6f8e52.jpg(,)http://www.ramstravel.co.me/page-images/276//3.jpg(,)http://www.ramstravel.co.me/product-images/pbr30/5.jpg(,)http://www.img.montenegro.travel/sites/montenegro.travel/files/multimedia/bijelopolje_montenegro_travel/stranice/foto/2012/02/Panorama%2520Bijelog%2520Polja%2520001.jpg(,)http://www.img.montenegro.travel/sites/montenegro.travel/files/multimedia/bijelopolje_montenegro_travel/stranice/foto/2012/02/Park%2520002.JPG(,)https://rail.cc/img/rut/1/13831468374f58842e091e3674e56fbe6fe812858b.jpg