Covid-19
5

/

10

1

Votes

Alchetron

Rate This





Drama, History, Romance




1h 48m




English






Gottfried Reinhardt





Freddie Young




United States






Ronald Millar

,

George Froeschel




September 7, 1954 (1954-09-07)




Walter Goehr, Bronislaw Kaper




Clark Gable

(Col. Pieter Deventer),

Lana Turner

(Carla Van Oven),

Victor Mature

('The Scarf'),

Louis Calhern

(Gen. Ten Eyck),

O.E. Hasse

(Col. Helmuth Dietrich),

Wilfrid Hyde-White

(Gen. Charles Larraby (as Wilfrid Hyde White))


Fury

,

Captain America: The First Avenger

,

Terminator Salvation

,

The Grand Budapest Hotel

,

The Hunger Games: Catching Fire

,

Kung Fury




M-G-M filmed the mystery of the year in Holland!
When the Dutch resistance brings in Carla Van Oven (Lana Turner) to spy on the Nazis, Col. Pieter Deventer (Clark Gable) initially suspects she could be a double agent. Van Oven eventually convinces Deventer of her character, and when she is sent into occupied territory, she joins up with a rebel leader known as "The Scarf" (Victor Mature). As the resistance endures severe losses and their missions fail, Deventer starts to wonder whose side Van Oven is fighting on.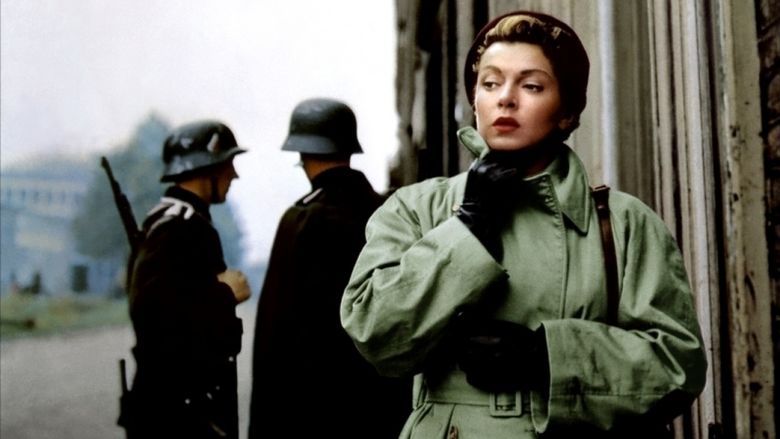 Betrayed is a 1954 war drama film directed by Gottfried Reinhardt from a screenplay by Ronald Millar and George Froeschel, and starring Clark Gable, Lana Turner and Victor Mature. The music score was by Walter Goehr and Bronislau Kaper, and the cinematography by Freddie Young. The picture, Gables last for Metro-Goldwyn-Mayer, was filmed on location in the Netherlands and England. The supporting cast features Louis Calhern, O. E. Hasse, Wilfrid Hyde-White, Ian Carmichael, Niall MacGinnis and Theodore Bikel. Betrayed was the fourth and final movie in which Gable played opposite Turner, and their third pairing set during World War II.
Diana Coupland provided Turners singing voice in the song, "Johnny Come Home".
Betrayed was spoofed in the film Top Secret! (1984).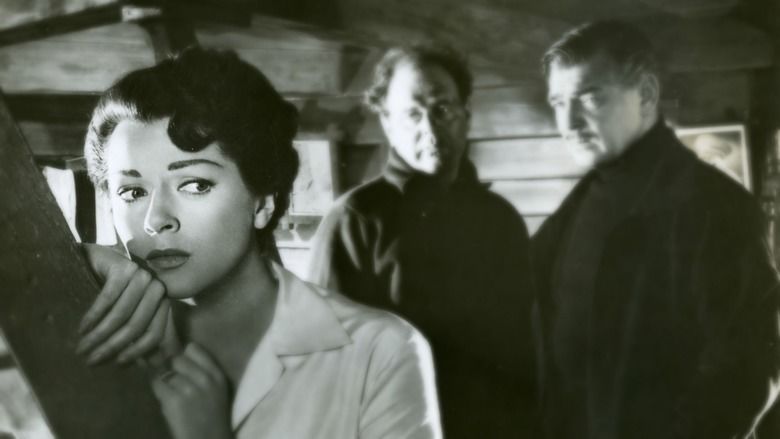 Screen superstars Clark Gable ("Gone With The Wind," "It Happened One Night") and sultry bombshell Lana Turner ("Peyton Place," "The Postman Always Rings Twice") team-up in this intriguing WWII drama. Suspected of being a Nazi spy, Dutch-resistance member Turner is given a last chance mission to redeem herself. Gable is an American colonel who falls in love with her. Co-starring Victor Mature ("My Darling Clementine") and Oscar-nominee Louis Calhern ("The Asphalt Jungle").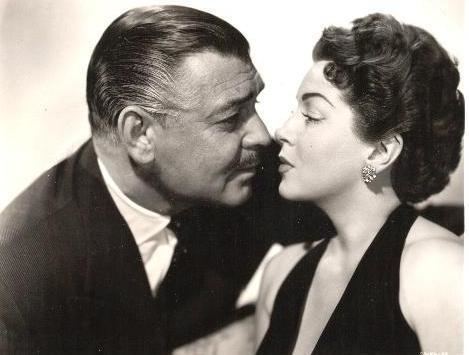 Betrayed is an espionage thriller set in the Nazi-occupied Netherlands during World War II, and revolves mostly around the Dutch resistance movement.

Dutch intelligence agent Pieter Deventer (Clark Gable) is ordered to keep an eye on suspected collaborator Fran Seelers (Lana Turner). Both Deventer and Seelers join the Dutch underground, making contact with a flamboyant resistance leader known as "The Scarf" (Victor Mature).
As Carla Van Oven, Seelers assignment is to use her feminine charms to gain the confidence of admiring Nazi officers. Within the next few weeks, several underground operatives are captured and shot, and it begins to look as though Deventers suspicions concerning Seelers are correct, though he is strongly drawn to her. The ultimate revelation of the collaborators identity settles the issue of whether the couple can be enemies or lovers.
Clark Gable as Colonel Pieter Deventer
Lana Turner as Carla Van Oven
Victor Mature as The Scarf
Louis Calhern as General Ten Eyck
O.E. Hasse as Colonel Helmuth Dietrich
Wilfrid Hyde-White as General Charles Larraby
Ian Carmichael as Captain Jackie Lawson
Niall MacGinnis as Blackie
Nora Swinburne as The Scarfs Mother
Roland Culver as General Warsleigh
Leslie Weston as Pop
Christopher Rhodes as Chris
Lily Kann as Jans Grandmother
Brian Smith as Jan
Anton Diffring as Captain Von Stanger
The film was at one stage known as The True and the Brave with Kirk Douglas mentioned as a possible star. Richard Widmark was at one stage a fore runner for the part played by Victor Mature.
Filming took place in late 1953 and early 1954, on location in Holland and England.
It was the last film Gable made for MGM under his contract with them, which ended in March 1954.
According to MGM records the film earned $1,966,000 in the US and Canada and $2,211,000 overseas, resulting in a profit of $821,000.
In a 1954 New York Times review, critic Bosley Crowther wrote "By the time this picture gets around to figuring out whether the betrayer is Miss Turner or Mr. Mature, it has taken the audience through such a lengthy and tedious amount of detail that it has not only frayed all possible tension but it has aggravated patience as well. Miss Turner and Mr. Gable have had many long-winded talks; Mr. Mature has thumped his chest like Tarzan and bellowed his boasts a score of times. An excess of espionage maneuvering has been laid out on the screen. The beauties of the countryside of the Netherlands have been looked at until they pall."
Clark Gable and Lana Turner appear in Betrayed and Homecoming. Flame & Citron (2008). Clark Gable and Lana Turner appear in Betrayed and Somewhere Ill Find You. Clark Gable and Lana Turner appear in Betrayed and Honky Tonk. Decision Before Dawn (1951).
Betrayed was released on DVD and digital download on March 23, 2009 as part of the Warner Archive.
Betrayed (1954 film) Wikipedia
Betrayed (1954 film) IMDb
Betrayed (1954 film) Rotten Tomatoes
Betrayed (1954 film) themoviedb.org