Full Name

Carl Henry Vogt









Born

February 19, 1895 (

1895-02-19

)

Brooklyn, New York, U.S.

Died

May 12, 1956, Nara, Nara Prefecture, Japan

Spouse

Marianne Stewart (m. 1946–1955)

Nominations

Academy Award for Best Actor, Golden Globe Award for Best Actor – Motion Picture – Drama

Movies

The Asphalt Jungle, Julius Caesar, Notorious, Duck Soup, Annie Get Your Gun




Similar People

Howard Keel, Betty Hutton, Richard Thorpe, Joseph L Mankiewicz, Keenan Wynn
The magnificent yankee 1950 official trailer louis calhern ann harding movie hd
Carl Henry Vogt (February 19, 1895 – May 12, 1956), known professionally as Louis Calhern, was an American stage and screen actor. For portraying Oliver Wendell Holmes in The Magnificent Yankee (1950), he was nominated for the Academy Award for Best Actor.
Contents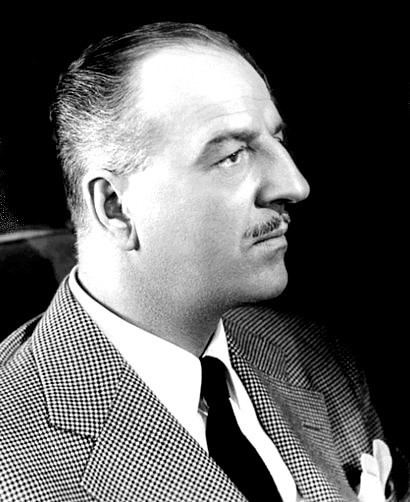 Early life
Calhern was born in Brooklyn, New York, the son of Eugene Adolf Vogt and Hubertina Friese Vogt, both of whom were natives of Germany. He had one sibling, a sister. His father was a tobacco dealer. His family left New York while he was still a child and moved to St. Louis, Missouri, where he grew up. While Calhern was playing high school football, a stage manager from a touring theatrical stock company spotted him, and hired him as a bit player. (Another source says, "Grace George hired his St. Louis high school football team as supers for a Shakespearean play.")
Stage
Just prior to World War I, Calhern decided to move back to New York to pursue an acting career. He began as a prop boy and bit player with touring companies and burlesque companies. He became a matinee idol by virtue of a play titled Cobra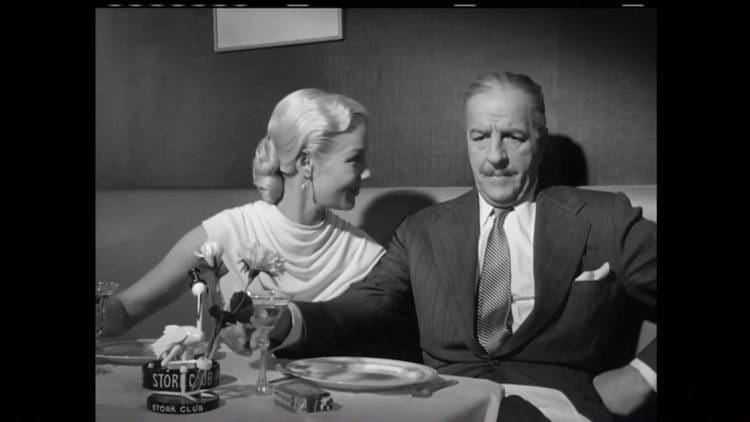 Calhern's Broadway credits include Roger Bloomer (1923), The Song and Dance Man (1923-1924), Cobra (1924), In a Garden (1925-1926), Hedda Gabler (1926), The Woman Disputed (1926-1927), Up the Line (1926), The Dark (1927), Savages Under the Skin (1927), A Distant Drum (1928), Gypsy (1929), The Love Duel (1929), The Rhapsody (1930), The Tyrant (1930), Give Me Yesterday (1931), Brief Moment (1931-1932), The Inside Story (1932), Birthday (1934-1935), Hell Freezes Over (1935-1936), Robin Landing (1937), Summer Night (1939), The Great Big Doorstep (1942), Jacobowsky and the Colonel (1944-1945), The Magnificent Yankee (1946), The Survivors (1948), The Play's the Thing (1948), King Lear (1950-1951), and The Wooden Dish (1955).
Military service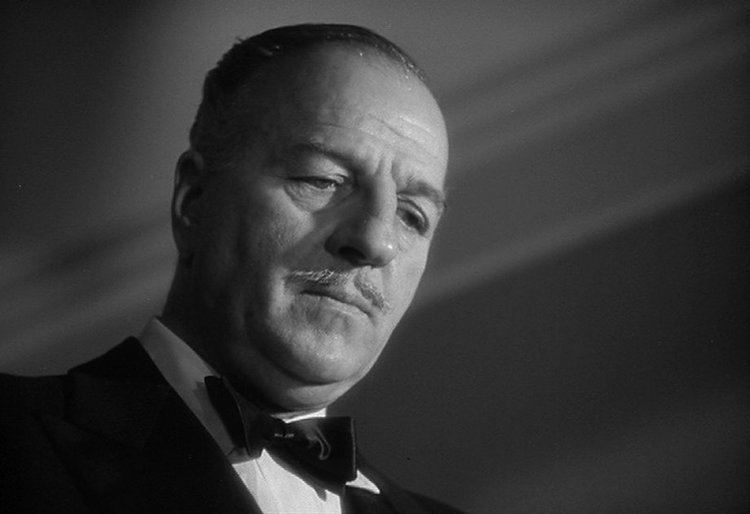 Calhern's burgeoning career was interrupted by the war, and he served overseas in the 143rd Field Artillery of the United States Army during World War I.
Film
Calhern started working in silent films for director Lois Weber in the early 1920s; the most notable being The Blot in 1921. A 1921 newspaper article commented, "The new arrival in stardom is Louis Calhern, who, until Miss Weber engaged him to enact the leading male role in What's Worth While?, had been playing leads in the Morosco Stock company of Los Angeles."
In 1923 he left the movies, but would return to the screen eight years later after the advent of sound pictures. He was primarily cast as a character actor in films while he continued to play leading roles on the stage. He reached his peak in the 1950s as a Metro-Goldwyn-Mayer contract player. Among his most memorable screen roles were Ambassador Trentino in the Marx Brothers classic Duck Soup (1933) and three that he appeared in at MGM in 1950: a singing role as Buffalo Bill in the film version of the musical Annie Get Your Gun, the double-crossing lawyer and sugar-daddy to Marilyn Monroe in John Huston's film noir The Asphalt Jungle, and his Oscar-nominated performance as Oliver Wendell Holmes in The Magnificent Yankee (re-creating his role from the Broadway stage). He was also praised for his portrayal of the title role in the John Houseman production of Julius Caesar (adapted from the Shakespeare play) in 1953, directed by Joseph L. Mankiewicz. Calhern also played the role of the devious George Caswell, the manipulative board member of Tredway Corporation in the 1954 production of Executive Suite.
Calhern's other film roles included the grandfather in The Red Pony (1949), adapted from the novel by John Steinbeck and starring Robert Mitchum, and the spy boss of Cary Grant in the Alfred Hitchcock suspense classic Notorious (1946). A performance as Uncle Willie in High Society (1956), a musical remake of The Philadelphia Story, turned out to be his final film.
Marriages
Calhern was married four times. First, to Ilka Chase (1900-1978) from 1926 to 1927, then to Julia Hoyt (1897-1955) from 1927 to 1932, and then to Natalie Schafer (1900-1991) from 1933 to 1942, and Marianne Stewart (1922-1992) from 1946 to 1955. All four marriages ended in divorce.
Death
Calhern died of a sudden heart attack in Nara, Japan, while filming The Teahouse of the August Moon. He was replaced in the film by Paul Ford, who had played Calhern's role in the original stage version. By an odd coincidence, when playing Buffalo Bill in Annie Get Your Gun, Calhern had replaced Frank Morgan, who had died of a sudden heart attack during the making of that film. Calhern was cremated and is interred at Hollywood Forever Cemetery.
Broadway
Cobra (1921) as Jack Race
Gypsy (1929) as Cleve
The Magnificent Yankee (1946) as Justice Oliver Wendell Holmes, Jr.
Filmography
Actor
1956
High Society
as
Uncle Willie
1956
Forever, Darling
as
Charles Y. Bewell
1955
Blackboard Jungle
as
Jim Murdock
1954
Athena
as
Grandpa Ulysses
1954
Betrayed
as
Gen. Ten Eyck
1954
The Student Prince
as
King Ferdinand of Karlsberg
1954
Men of the Fighting Lady
as
James A. Michener
1954
Rhapsody
as
Nicholas Durant
1954
Executive Suite
as
George Nyle Caswell
1953
Main Street to Broadway
as
Louis Calhern
1953
Latin Lovers
as
Grandfather Eduardo Santos
1953
Remains to Be Seen
as
Benjamin Goodman
1953
Julius Caesar
as
Julius Caesar
1953
Confidentially Connie
as
Opie Bedloe
1952
The Bad and the Beautiful
as
Georgia Lorrison's Father (voice, uncredited)
1952
The Prisoner of Zenda
as
Col. Zapt
1952
We're Not Married!
as
Frederick C. 'Freddie' Melrose
1952
Washington Story
as
Charles W. Birch
1952
Invitation
as
Simon Bowker
1951
A Letter from a Soldier (Short)
as
Narrator (uncredited)
1951
It's a Big Country: An American Anthology
as
Narrator (voice, uncredited)
1951
The Man with a Cloak
as
Charles Francois Thevenet
1950
The Magnificent Yankee
as
Oliver Wendell Holmes - The Magnificent Yankee
1950
Two Weeks with Love
as
Horatio Robinson
1950
A Life of Her Own
as
Jim Leversoe
1950
Devil's Doorway
as
Verne Coolan
1950
The Asphalt Jungle
as
Alonzo D. Emmerich
1950
Annie Get Your Gun
as
Buffalo Bill Cody
1950
Nancy Goes to Rio
as
Gregory Elliott
1949
The Red Danube
as
Col. Piniev
1949
The Red Pony
as
Grandfather
1948
Arch of Triumph
as
'Col.' Boris Morosov
1946
Notorious
as
Captain Paul Prescott
1944
Up in Arms
as
Colonel Ashley
1944
The Bridge of San Luis Rey
as
Don Andre - The Viceroy
1943
Nobody's Darling
as
Curtis Farnsworth
1943
Heaven Can Wait
as
Randolph Van Cleve
1940
Dr. Ehrlich's Magic Bullet
as
Dr. Brockdorf
1940
I Take This Woman
as
Dr. Duveen
1939
Charlie McCarthy, Detective
as
Arthur Aldrich
1939
Fifth Avenue Girl
as
Dr. Kessler
1938
Fast Company
as
Elias Z. 'Eli' Bannerman
1937
The Life of Emile Zola
as
Maj. Dort
1937
Her Husband Lies
as
Joe Sorrell
1936
The Gorgeous Hussy
as
Sunderland
1935
The Last Days of Pompeii
as
Prefect (Allus Martius)
1935
The Arizonian
as
Sheriff Jake Mannen
1934
Sweet Adeline
as
Major Day
1934
The Affairs of Cellini
as
Ottaviano
1934
The Man with Two Faces
as
Stanley Vance
1934
The Count of Monte Cristo
as
Raymond de Villefort Jr.
1933
Duck Soup
as
Ambassador Trentino
1933
Diplomaniacs
as
Winkelreid
1933
The World Gone Mad
as
Christopher Bruno (as Louis Calhearn)
1933
Strictly Personal
as
Magruder
1933
The Woman Accused
as
Leo Young
1932
Frisco Jenny
as
Steve Dutton
1932
20,000 Years in Sing Sing
as
Joe Finn
1932
Afraid to Talk
as
Asst. District Attorney John Wade
1932
Night After Night
as
Dick Bolton
1932
They Call It Sin
as
Ford Humphries
1932
Okay America!
as
Mileaway Russell
1931
Blonde Crazy
as
Dapper Dan Barker
1931
The Road to Singapore
as
Dr. George March
1931
Stolen Heaven
as
Steve Perry
1923
The Last Moment
as
Harry Gaines
1922
Woman, Wake Up
as
Monte Collins
1921
Too Wise Wives
as
Mr. David Graham
1921
What's Worth While?
as
'Squire' Elton
Miscellaneous
1953
The Band Wagon (dialogue coach: Jack Buchanan - uncredited)
Soundtrack
1976
That's Entertainment, Part II (Documentary) (performer: "There's No Business Like Show Business" (1946) - uncredited)
1950
Two Weeks with Love (performer: "By the Light of the Silvery Moon" - uncredited)
1950
Nancy Goes to Rio (performer: "Shine On, Harvest Moon" - uncredited)
1933
Diplomaniacs (performer: "Annie Laurie" (ca 1834) - uncredited)
Self
1996
Intimate Portrait (TV Series documentary)
as
Alonzo D. Emmerich
- Marilyn Monroe (1996) - Alonzo D. Emmerich
1956
The Ed Sullivan Show (TV Series)
as
Self
- Episode #9.34 (1956) - Self
1953
Place the Face (TV Series)
as
Self - Guest
- Episode dated 19 November 1953 (1953) - Self - Guest
1948
Tonight on Broadway (TV Series)
as
Self
- The Play's the Thing (1948) - Self
Archive Footage
2022
Becoming Marilyn (TV Special documentary)
as
Alonzo D. Emmerich
2019
The Directors (TV Series documentary)
as
Self
- John Sturges (2019) - Self (uncredited)
2016
Compression (TV Series documentary)
- Compression the Asphalt Jungle de John Huston (2016)
2006
American Masters (TV Series documentary)
as
Alonzo D. Emmerich
- Marilyn Monroe: Still Life (2006) - Alonzo D. Emmerich
2000
Annie Get Your Gun Intro with Susan Lucci (Video documentary short)
as
Buffalo Bill Cody
1995
American Cinema (TV Series documentary)
as
Alonzo D. Emmerich
- Film Noir (1995) - Alonzo D. Emmerich (uncredited)
1986
Marilyn Monroe: Beyond the Legend (TV Movie documentary)
as
Alonzo D. Emmerich
1976
That's Entertainment, Part II (Documentary)
as
Buffalo Bill Cody
1955
When the Talkies Were Young (Short)
as
Joe Finn (uncredited)
1954
The Ed Sullivan Show (TV Series)
as
Buffalo Bill Cody
- MGM's 30th Anniversary Tribute (1954) - Buffalo Bill Cody
1951
The Metro-Goldwyn-Mayer Story (Documentary)
References
Louis Calhern Wikipedia
(Text) CC BY-SA