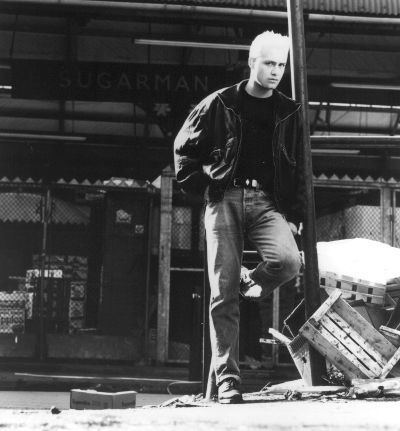 Keighley attended Dulwich Prep London and Royal Russell School in London, England. He started performing as Belouis Some in 1983 and was signed to Parlophone releasing his first album, Some People, in 1985.
After initial production in London with Ian Little and Pete Schwier, Some People was produced by Steve Thompson and Michael Barbiero in New York. Guitarist Carlos Alomar arranged and played on the sessions along with Bernard Edwards, Tony Thompson, Dave Lebolt, Jimmy Maelen, Carmine Rojas, Guy Fletcher, Gary Barnacle, Rick Bell, Jack Waldman, Chester Kamen, Robin Clark, Frank Simms, Earl Slick. The video for the first single release, "Imagination", was directed by Storm Thorgerson and caused controversy as it contained full frontal nudity. The video for the second single, "Some People", also directed by Thorgerson, was used as a Swatch television advertisement in the U.S.
Belouis Some's contribution to the Pretty in Pink soundtrack, "Round,Round", propelled him towards audiences outside of the clubs. After worldwide chart success and extensive touring, including a support slot on Frankie Goes to Hollywood's 1985 US tour, the single "Imagination" was re-issued in 1986 and became a hit in the UK. Both "Some People" and "Imagination" were remixed several times.
In the summer of 1986, Belouis Some was one of the support acts on Queen's Magic Tour appearing at Knebworth, Paris and Manchester.
In late 1986, Belouis Some recorded his second album Belouis Some in New York, produced by Gary Langan and Guy Fletcher. Main band members were Carlos Alomar, Geoff Dugmore, Carmine Rojas, Chester Kamen, Jimmy Maelen, (The Borneo Horns) Lenny Pickett, Steve Elson, Stan Harrison and Fletcher on keyboards. Pete Townshend, Julian Lennon and Neal X made guest appearances on the album.
"Let It Be with You" and "Animal Magic" were both US Hot Dance Club Play hits.
In 1989, Belouis Some formed The Big Broadcast. The band toured the UK playing small venues and clubs.
In 1993, Belouis Some released the album Living Your Life on BMG Records. The album was produced in London by Geoff Dugmore and Nigel Butler. Musicians included Karl Hyde, Steve Barnacle, Peter Oxendale, and J.J. Belle.
In 1995 Belouis Some released the single "Let Me Love You For Tonight" produced by Richard "Biff" Stannard (Biffco) and Matt Rowe
Some People (1985)
Belouis Some (1987)
Living Your Life (1993)