Beerfest is a 2006 beer-themed comedy film by the comedy group Broken Lizard. Along with the regular members of Broken Lizard, other actors who appear in the movie include Will Forte, M. C. Gainey, Cloris Leachman, Jürgen Prochnow, Donald Sutherland, and Willie Nelson.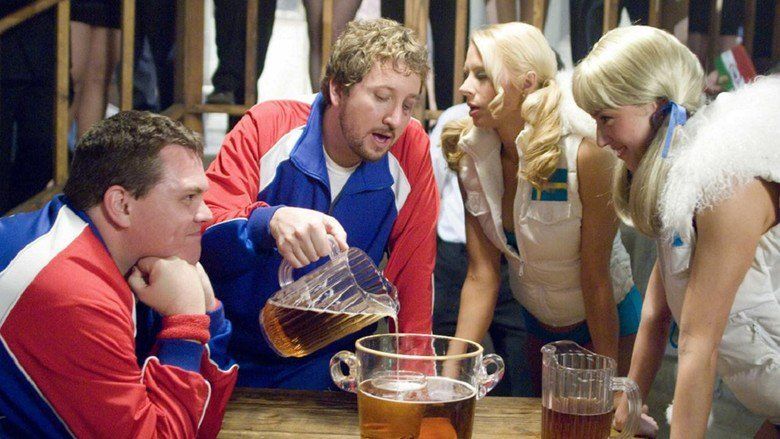 When asked about where the concept for the movie came from, Jay Chandrasekhar said "We were at a Beer garden in Australia (wearing our police uniforms) and we went on stage and challenged the top five drinkers in the room to a chug off. The place exploded. We were winning, but then Paul Soter started drinking and we quickly lost. Then we had arm wrestling contests. Then Steve Lemme insulted national treasure, Russell Crowe and we had to be escorted out by security. We thought that would be a fun movie. The drinking beer part."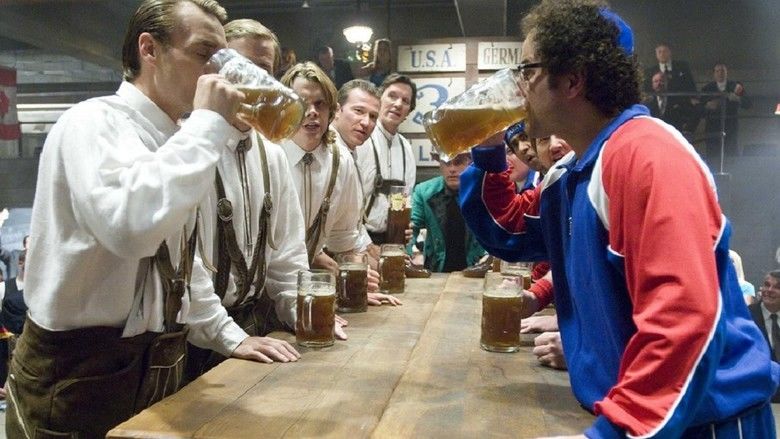 Beerfest was filmed in Albuquerque, New Mexico.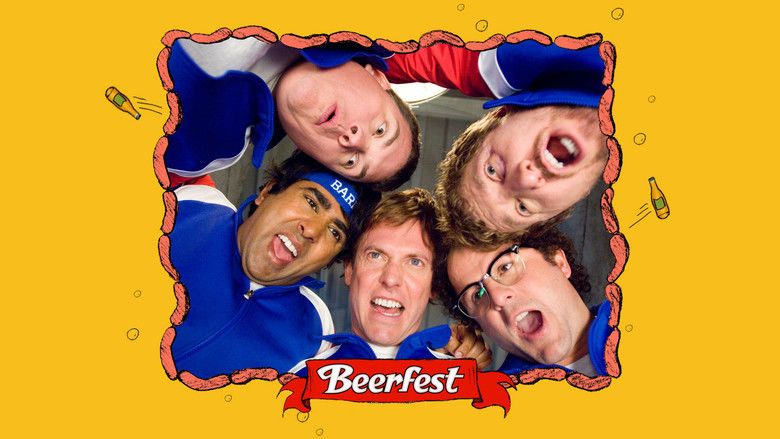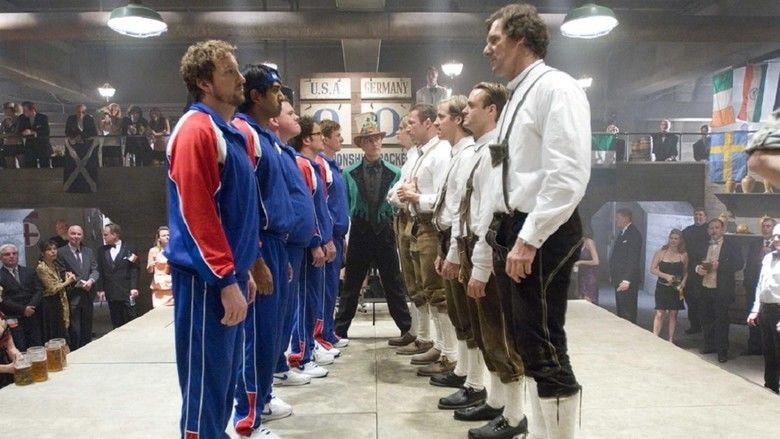 At the funeral of their German-born grandfather Johann von Wolfhausen (Donald Sutherland), brothers Jan and Todd Wolfhouse (Paul Soter and Erik Stolhanske) discover that family tradition demands they travel to Munich during Oktoberfest to spread his ashes on the Theresienwiese.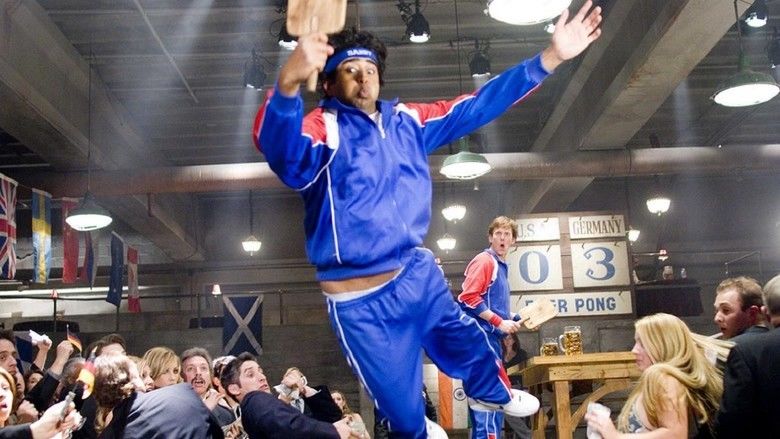 In Munich the brothers unintentionally start a brawl that takes down an entire Oktoberfest tent. They participate in Beerfest, an underground drinking game tournament, run by Baron Wolfgang von Wolfhausen (Jürgen Prochnow), where they discover that the von Wolfhausens are related to the Wolfhouses. The German team reveals that Johann was a stable boy who stole the recipe for "the greatest beer in all ze world" decades ago and ran away with his prostitute mother, Gam Gam. Swearing to get revenge on the Germans, Jan and Todd return to Colorado, where they recruit college drinking friends for an American Beerfest team. Among them are: Barry Badrinath who is good at drinking games like Beer Pong and has since become a male prostitute, Steve "Fink" Finklestein who has a PhD in Chemistry, and Phil "Landfill" Krundle who has been known to drink copious amounts of beer.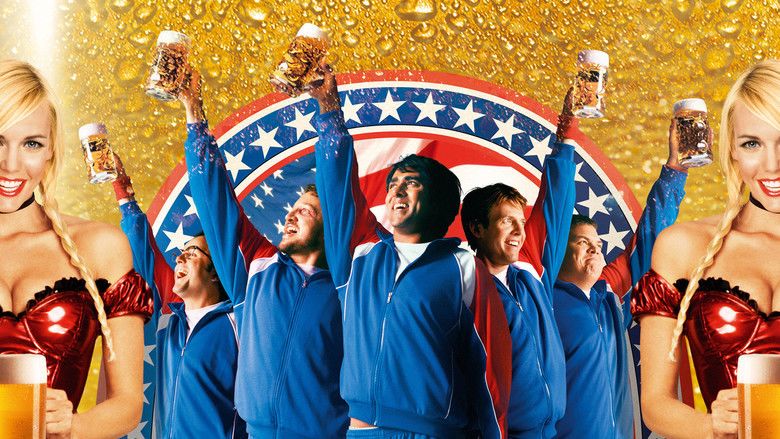 During the team's year of drinking training, Jan and Todd find out their grandfather did not steal the family beer recipe, but was actually the rightful heir to the family brewery in Bavaria. The team uses the rediscovered recipe to brew Schnitzengiggle Beer, which is so good it literally makes them cry. After the German team receive a bottle of Schnitzengiggle in the mail, the Wolfhausen clan goes to America to take the recipe back. Their agent Cherry steals the receipe off Fink's computer, and drowns Landfill in a beer vat when he catches her. Thinking he committed suicide, the team decides to disband, but change their mind when Landfill's twin brother Gil joins. Like his brother, Gil has been known to drink copious amounts of beer and he even invites the other members of the team to call him "Landfill" in honor of his dead brother.
In Germany, the team uses an empty wooden keg as a Trojan Horse to get inside, where they emerge to boos and jeers. The Americans are allowed to participate after Jan and Todd show how uncannily they resemble the two Beerfest founders, thus convincing the crowd of their von Wolfhausen ancestry. In the finals (bootline chug), Cherry tells Gil at a crucial moment how his brother Phil died, causing Gil to crack and the Germans to win.
Jan offers the Germans a double or nothing opportunity. The Germans tell Jan they already have the recipe and thus no need for a rematch, but Fink points out that Cherry only stole a recipe for a low-carb strawberry beer, which prompts Wolfgang to have Cherry killed. When one of the von Wolfhausens knocks off Fink's yarmulke, he enters into a state of purely concentrated rage (the "Eye of the Jew") which allows him to coach the team to victory, barely gaining the win when the German team's anchor fails to finish "Das Boot" (Boot of beer).
In the post credits, the team go to Amsterdam to celebrate their victory in winning the brewery. Upon their travels they find Willie Nelson who is in need of a team for an international pot smoking contest.
Paul Soter as Jan Wolfhouse
Erik Stolhanske as Todd Wolfhouse / Young Baron Ludwig
Cloris Leachman as Great Gam Gam Wolfhouse
Donald Sutherland as Johann von Wolfhaus
Jay Chandrasekhar as Barry Badrinath
Kevin Heffernan as Phil "Landfill" Krundle / Gil "Landfill" Krundle
Blanchard Ryan as Krista Krundle
Steve Lemme as Steve "Fink" Finkelstein
Jürgen Prochnow as Baron Wolfgang von Wolfhausen
Nat Faxon as Rolf
Will Forte as Otto
Eric Christian Olsen as Gunther
Ralf Möller as Hammacher
Gunter Schlierkamp as Schlemmer
Mo'Nique as Cherry
MC Gainey as Priest
James Roday as German messenger
Philippe Brenninkmeyer as Herr Referee
Chauntal Lewis as Girl Sprayed by Keg
Willie Nelson as Himself (cameo)
Despite the statement at the end of Beerfest that Potfest is "coming soon", Broken Lizard intended this as a joke to get publicity. They have stated both that fans were very supportive of the title and that Broken Lizard may decide to make an animated film of the same name. In July 2012, Broken Lizard member Jay Chandraskehar revealed the Smokefest might actually happen, and that Willie Nelson, Cheech of Cheech & Chong and Snoop Dogg agreed to appear in the movie. In June 2013, it was confirmed that the movie would be released after Super Troopers 2. In 2014, it was confirmed that it would be a live action film rather than the proposed animated film. It was announced that a Beerfest TV series will air on CW Seed.
Two versions of the movie have been released: The theatrical version and the unrated version. The unrated version mainly shows more scenes of plot and runs ten minutes longer than the theatrical version. Altogether eight scenes have been added. The film also shows a lot more nudity that wasn't allowed under the R rating.
The film scores 41% on the film-critic aggregate site Rotten Tomatoes, based on 106 reviews with an average rating of 5/10, making it the highest rated Broken Lizard film on the site; the websites consensus stated that "Beerfest features some laugh-inducing gags, but is too long and the pacing too uneven to form a coherent, functioning comedy."