Preceded by

Jack Hightower




Party

Republican Party




Political party

Republican




Succeeded by

Bill Sarpalius





Spouse(s)

Rosemary R. Boulter




Resigned

January 3, 1989




Name

Beau Boulter






Born

February 23, 1942 (age 73) El Paso, Texas, USA (

1942-02-23

)


Children

Rebecca, Matthew, and Elizabeth




Residence

(1) Falls Church, Virginia (2) Amarillo, Texas




Alma mater

Levelland High School University of Texas at Austin Baylor Law School




Role

Former U.S. Representative




Previous office

Representative (TX 13th District) 1985–1989




Education

Baylor Law School, University of Texas at Austin




Member of congress start date

January 3, 1985



Eldon Beau Boulter (born February 23, 1942) is a Washington, D.C.-based lobbyist who was a Republican U.S. representative from Texas between 1985 and 1989.
Contents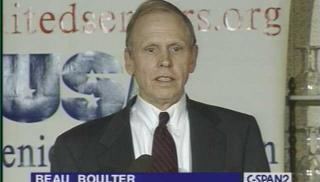 Boulter was born in El Paso, Texas. He graduated in 1960 from Levelland High School in Levellandin Hockley County, near Lubbock. In 1965, he graduated from the University of Texas at Austin, and in 1968, he earned his law degree from Baylor Law School in Waco, Texas. He was thereafter admitted to the bar and practiced law in Amarillo. From 1981 to 1983, he was a member of the Amarillo City Commission.
In 1982, Boulter lost the Republican primary for the 13th district congressional seat. Two years later, he unseated Democratic U.S. Representative Jack Hightower in the general election. He was helped by Ronald W. Reagan's massive landslide that year; Reagan won most of the counties in this district by margins of 2-to-1 or greater. Although the 13th District had become increasingly Republican at the national level, Boulter's win is still regarded as an upset. He was one of six freshmen Republican congressmen elected from Texas in 1984; they were collectively called the Texas Six Pack.
Running for the Senate, 1988
Boulter was convincingly reelected in 1986, and was thought to be all but invincible in his district. It therefore came a surprise when he announced he would give up his seat after only two terms to challenge three-term Democratic U.S. Senator Lloyd M. Bentsen.
Some of Boulter's staunchest supporters were dismayed that he would surrender a seemingly "safe" House seat for the vagaries of challenging the popular and entrenched Bentsen. After all, Bentsen had already defeated three sitting Republican congressmen from presumably "safe" districts: George Herbert Walker Bush of Houston in 1970, Alan Steelman of Dallas in 1976, and James M. Collins of Dallas in 1982. He'd won the latter two races fairly handily, taking more than 55 percent of the vote each time. Geography also was against Boulter as well; no one from west of San Antonio has ever represented Texas in the U.S. Senate. An Amarillo lawyer, however, does serve on the Texas Supreme Court.
Meanwhile, Boulter had difficulty winning the Republican Senate nomination. In the primary, he trailed Houston businessman Wes Gilbreath, a friend of the Bushes. Boulter's 228,676 votes (30.5 percent) were nearly 50,000 below the 275,080 ballots (36.7 percent) received by Gilbreath. In the low-turnout runoff, Boulter prevailed with 111,134 ballots (60.2 percent) to Gilbreath's 73,573 (39.8 percent). The primary totals were a harbinger that Boulter might be yet another weak Republican candidate attempting to unseat Bentsen, who despite a generally liberal voting record in the U.S. Senate was perceived by most voters as "moderate" to "conservative".
Boulter tried to make an issue of Bentsen's use of the "Johnson Law," which allowed the senator to run for vice president while also seeking reelection to the Senate. Boulter took the pro-life position in the campaign, whereas Bentsen supported a woman's right to procure an abortion. Boulter polled 2,129,228 (40 percent) to Bentsen's 3,149,806 (60 percent). Bentsen's raw vote was the highest numerically ever obtained by a statewide Democratic candidate in Texas history. Boulter's weak showing was highly embarrassing for the state GOP, magnified because the candidate at the top of the Republican ticket, George Herbert Walker Bush, who also had been the first of the four Senate nominees to lose to Bentsen, carried Texas fairly easily and in the process, won the 13th in a landslide. Moreover, Boulter's congressional seat went Democratic once again, with the election of then State Senator Bill Sarpalius.
Attempted congressional comeback fails, 1992
Boulter tried to make a comeback in 1992 by running for his old House seat. However, it was--at least on paper--slightly less Republican than its predecessor, and he was handily defeated by Sarpalius, who took 117,892 votes (60 percent) to Boulter's 77,514 (40 percent).
Personal life
Today, Boulter owns a successful lobbying firm in Washington called Beau Boulter, LLC. Boulter's clients have included the United Seniors Association, an organization associated with the late entertainer Art Linkletter, but with ties to Jack Abramoff and CapitolWatch, a taxpayers lobby that Boulter chaired in the late 1980s. Boulter and his wife, Rosemary R. Boulter (born 1943), live in Falls Church, Virginia. They have three children: Rebecca, Matthew, and Elizabeth.
References
Beau Boulter Wikipedia
(Text) CC BY-SA