Indonesia




South Kalimantan




Lambung Mangkurat University


98.46 km2


25 September 1526




Muhidin




625,481 (2010)



Banjarmasin (aka Bandjermasin or Bandjarmasin) is the capital of South Kalimantan, Indonesia. It is located on a delta island near the junction of the Barito and Martapura rivers. As a result, Banjarmasin is sometimes called the "River City". Its population was 625,395 at the 2010 Census.
Main economic sectors include transportation and communication (26.1% of the citys GDP), processing industries (24.9%) and trade and commerce (16.5%). Main processing industries are: plywood, rattan and rubber manufacturing.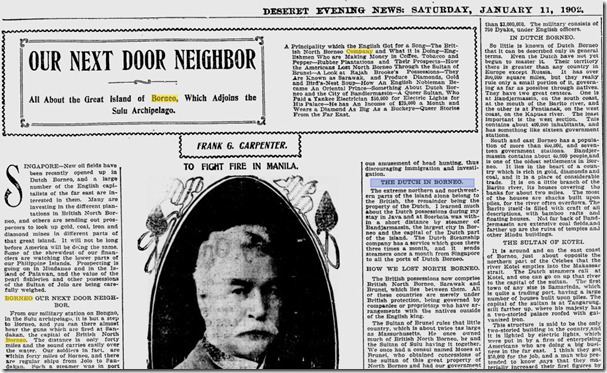 Nan Serunai was an ancient kingdom in South Kalimantan, but soon it was replaced by Buddhist kingdom of Tanjungpuri. In the fourteenth century, Banjarmasin was part of the Hindu kingdoms of Negara Dipa and Negara Daha, a vassal of Majapahit. But Pangeran Samudera converted to become a Muslim in the fifteenth century. Following this Banjarmasin was founded at the junction of the Barito and Martapura Rivers on 24 September 1526. The Dutch opened trade there in 1606. The British controlled the city for several brief periods. The British East India Company (EIC) started trading with the city, which they called Tamborneo or Tomborneo, in 1614. In 1703 the EIC established a factory there, which the inhabitants destroyed four years later. The EIC attempted, highly unsuccessfully, to trade with the city between 1736 and 1746, and then in 1747 the Sultan signed a treaty with the Dutch giving them a trade monopoly.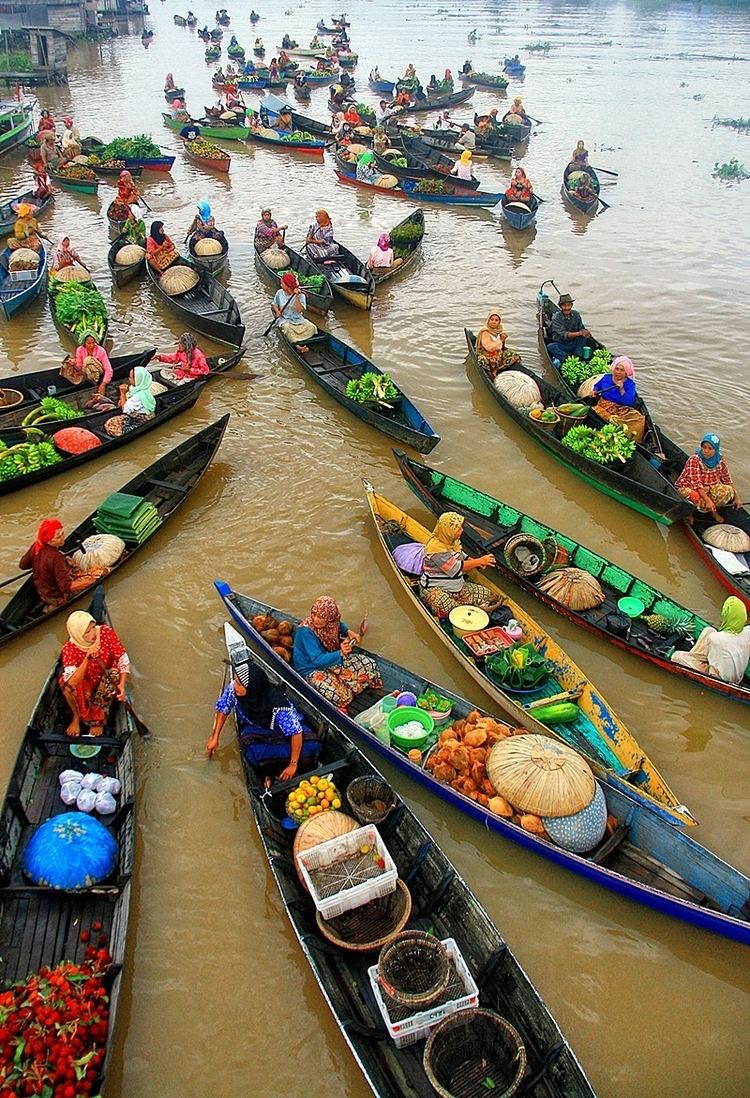 In 1787 it became a Dutch protectorate. Banjarmasin remained the regions capital until the onset of the Banjarmasin War in 1859, when the Dutch headquarters were moved to Martapura.
The Hikayat Banjar is the chronicle of Banjarmasin. This text, also called the History of Lambung Mangkurat, contains the history of the kings of Banjar and of Kota Waringin in South-east and South Borneo respectively.
In 1930 the citys population was 66,000 and reached 444,000 in 1990.
Banjarmasin was the capital of Dutch Borneo. It was therefore an objective for the Japanese during Japanese Occupation of Indonesia during World War II. Banjarmasin was occupied on 10 February 1942.
Banjarmasin Wikipedia
(,)http://sejarahdalamakhbar.files.wordpress.com/2013/03/image2.png%3Fw%3D607%26h%3D373(,)http://www.topindonesiaholidays.com/blog/wp-content/uploads/2014/08/banjarmasin-4.jpg(,)http://1.bp.blogspot.com/_TCJlib5ogWY/TRlK2_nelAI/AAAAAAAAAkc/rNmOfX-16dE/s1600/_DSC0268a-1.jpg(,)http://image.slidesharecdn.com/earlymigration-140707202649-phpapp01/95/the-early-filipinos-8-638.jpg%3Fcb%3D1404782838(,)http://www.topindonesiaholidays.com/blog/wp-content/uploads/2014/08/banjarmasin-3.jpg(,)http://image.slidesharecdn.com/hist2-3earlyphilippinesto1565-140804073732-phpapp01/95/hist2-3-early-philippines-to-1565-14-638.jpg%3Fcb%3D1407157740(,)http://id.indonesia.travel/public/media/images/upload/poi/pasar%2520terapung%25203.JPG(,)http://www.vagabondjourney.com/travelogue/wp-content/uploads/Banjarmasin-indonesia-2.jpg(,)http://www.vagabondjourney.com/travelogue/wp-content/uploads/Banjarmasin-kid.jpg(,)http://farm5.static.flickr.com/4075/4916263834_b8043102dd.jpg
(,)http://fc03.deviantart.net/fs50/f/2009/293/c/d/Banjarmasin_Landscape_by_artSofyan.jpg(,)http://goista.com/wp-content/uploads/2015/04/The-Unique-Ways-of-Building-A-House-in-Gate-of-Banjarmasin-by-DNY-Photography.jpg(,)http://images.fotocommunity.com/photos/landscape/sunrise-sunset/sunset-banjarmasin-ac027b12-0bca-4625-9659-c653e2775d47.jpg(,)https://shiviet.files.wordpress.com/2012/01/dsc_0022.jpg(,)http://photovide.com/wp-content/uploads1/2012/10/Beauty-of-Indonesia-14.jpg(,)http://www.exposure-magz.com/wp-content/uploads/2013/11/photo-by-Nico-Wijaya1.png(,)http://farm7.static.flickr.com/6074/6120989063_6aa3557e85_s.jpg(,)http://images.awd.ws/wphotos/data/images/549037/prop-img-full-hp109py1-16jhjswlbnvuo.jpg(,)http://fc01.deviantart.net/fs70/i/2012/031/2/5/banjarmasin_malam_hari_by_bagusnovrianto-d4o6spe.jpg(,)http://pixdaus.com/files/items/pics/9/95/107995_97cfc8003395d0e404de04fd91380c5b_large.jpg(,)https://farm9.staticflickr.com/8198/8195739594_aaca31655c.jpg(,)http://www.fotoblur.com/imgs/0/0/1/2/4/8/0/232716.jpg%3Fv%3D0(,)http://www.borneotourgigant.com/floating_market_banjarmasin.JPG(,)http://fc04.deviantart.net/fs71/i/2012/002/8/0/a_yani_streets_by_dnyphotography23-d4l45bl.jpg
(,)http://media-cdn.tripadvisor.com/media/photo-s/03/af/ec/55/amaris-banjar-south-kalimantan.jpg(,)https://vibehero.blob.core.windows.net/placephotos/a47b5440_c85c_4d59_9861_35cd3343d53c/f9da74f0_791a_4dfe_bb26_94fe6560f8ac/9.jpg(,)http://www.novotel.com/photos/8489_sm_00_p_953x385.jpg(,)http://media-cdn.tripadvisor.com/media/photo-s/05/b1/30/32/golden-tulip-galaxy-banjarmasi.jpg(,)http://www.indonesia.travel/public/media/images/upload/poi/pasar%2520terapung%25201.JPG(,)https://farm4.staticflickr.com/3049/2746927838_dfe6af601d_o.jpg(,)https://liaamaliadini.files.wordpress.com/2014/07/sotobanjar1.jpg(,)http://media-cdn.tripadvisor.com/media/photo-s/05/df/4d/9f/view-from-swimming-pool.jpg(,)http://www.indonesiatravelguides.com/wp-content/uploads/2013/01/Soto-Banjar-the-Traditional-Food-of-Banjarmasin.jpg(,)http://id.openrice.com/userphoto/photo/0/9D/001UO5270E9B7C6E3B307Fl.jpg(,)http://static4.id.orstatic.com/userphoto/photo/0/9B/001U7U4CE811E773BD3574l.jpg(,)https://vibehero.blob.core.windows.net/placephotos/73f63795_7caf_426a_a8f0_6e008d00da48/4167e26e_686f_4b43_b3f7_3d11b08a9170/9.jpg
(,)http://myindonesiatravel.com/wp-content/uploads/2015/03/juvenile-orangutan-on-tree-stems-with-mouth-open-in-mock-agression-tanjung-puting-kalimantan-indonesia.jpg(,)http://cdn.inseasia.com/wp-content/uploads/2015/02/Tabalong-Festival-IV.jpg(,)http://images.wotif.com/data/images/444916/fb4e02c0da834dafb1306109c7ed9903-full.jpg(,)http://images.wotif.com/data/images/444916/86d8881f75fa45c08374bc231f4733a2-full.jpg(,)http://images.wotif.com/data/images/444916/26b6de37cf5349c897189a0b1d349345-full.jpg(,)http://i.ytimg.com/vi/QShsWAli4qA/maxresdefault.jpg(,)http://i.ytimg.com/vi/IeHXdITKZ44/hqdefault.jpg(,)http://i.ytimg.com/vi/KE4c1iC9iog/hqdefault.jpg
(,)http://1.bp.blogspot.com/-VrJW5byX5gs/VJOYDFwjpuI/AAAAAAAAAFs/qqyU3h1n8sY/s1600/The%252Bfestive%252Btradition%252Bover%252Bthe%252BRiver.jpg(,)http://media-cache-ak0.pinimg.com/736x/53/38/af/5338afa201760b65d105b30b77bb4577.jpg(,)http://borneo-ecotrekking.com/front/wp-content/gallery/images_content/banjarmasin%2520floating%2520market.jpg(,)http://www.potlot-adventure.com/wp-content/uploads/2009/09/Pasar-Terapung-Banjarmasin.jpg(,)http://www.borneoecotour.com/front/images/stories/img_2291.jpg(,)http://www.borneotourgigant.com/bamboo_raft_loksado.JPG(,)http://www.banjarmasintour.com/images/jukung-hias.jpg(,)http://1.bp.blogspot.com/-O4kPYazPHsA/TgmTfxJtj8I/AAAAAAAAARA/1McP8O2ajCs/s1600/P1050960.jpg(,)https://farm4.staticflickr.com/3053/3067416501_f7afb564af_z.jpg%3Fzz%3D1(,)http://yestraveling.com/wp-content/uploads/2014/10/pasar-apung.jpg
(,)http://2.bp.blogspot.com/-2EMvdYxSLTM/U8A2zJcOioI/AAAAAAAAAQA/nhlS3tpFmuI/s1600/float%2Bmarket,kalimantan.jpg(,)http://www.indonesia-tourism.com/south-kalimantan/images/slide1.jpg(,)http://media-cdn.tripadvisor.com/media/photo-s/04/92/27/ea/pasar-terapung.jpg(,)http://media-cdn.tripadvisor.com/media/photo-s/06/5d/67/86/novotel-banjarmasin-airport.jpg(,)http://mw2.google.com/mw-panoramio/photos/medium/19139769.jpg(,)http://www.thejakartapost.com/files/images2/p01.img_assist_custom-467x299.jpg(,)http://v2.garudamagazine.com/images/img_des_banjarmasin1_mar2010.jpg