Bade Miyan Chote Miyan is a 1998 Indian Hindi action comedy film starring Amitabh Bachchan and Govinda in double roles along with Ramya Krishnan, Raveena Tandon, Anupam Kher and Madhuri Dixit in a special appearance. Directed by David Dhawan, the mahurat shot of the film was done on 22 December 1996 by Shweta Bachchan. It was released on 16 October 1998 along with Kuch Kuch Hota Hai.
Contents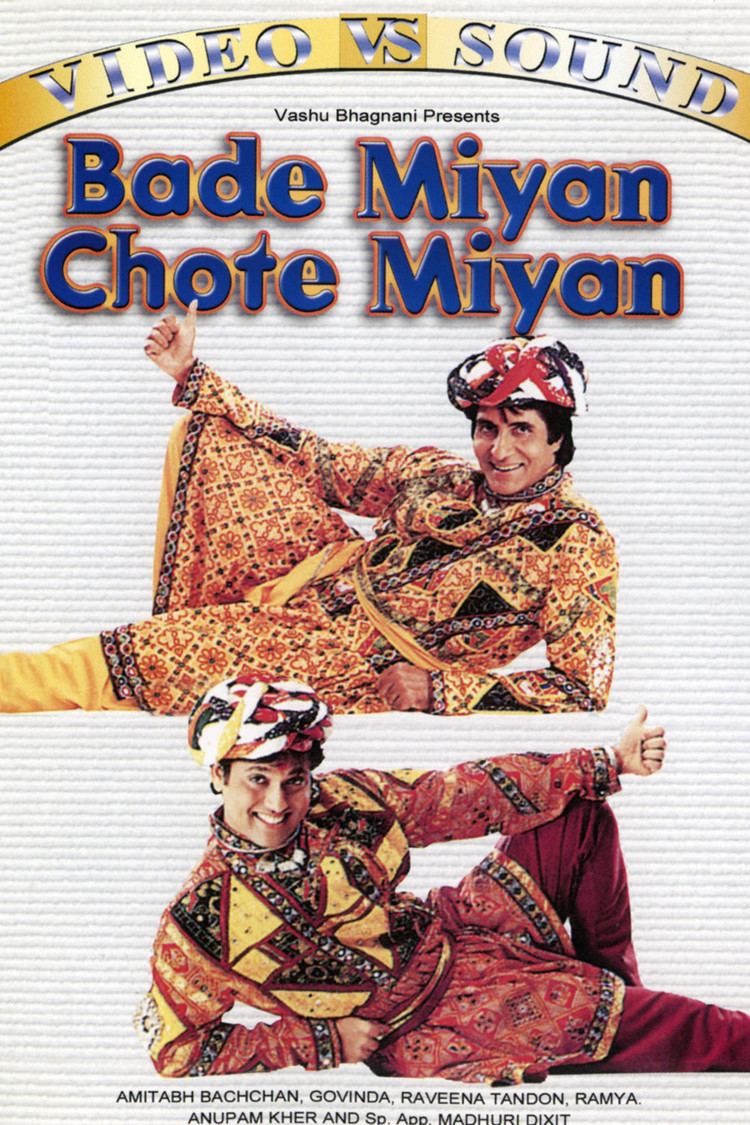 Bade Miyan Chote Miyan was the first box office hit of Amitabh Bachchan since his comeback after a few years of hiatus from Bollywood. The film was the second highest grosser of the year after Kuch Kuch Hota Hai.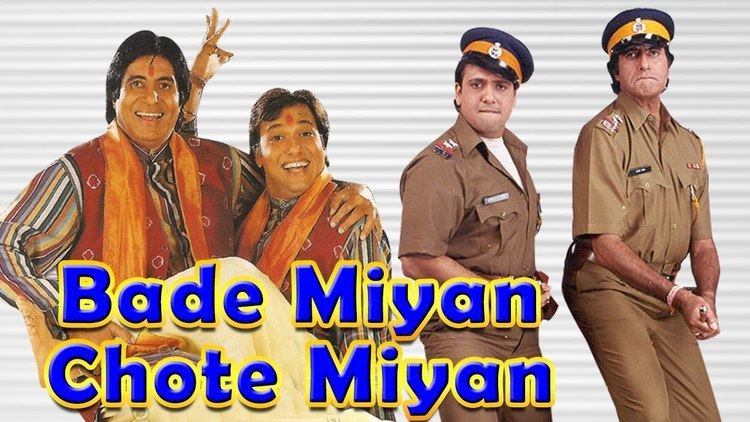 Synopsis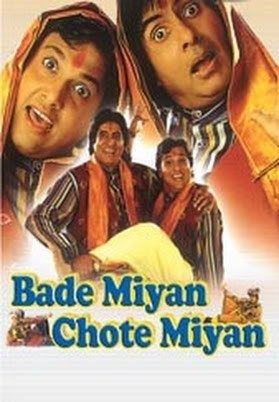 A woman Neha (Ramya Krishnan) witnesses the murder of a friend of her named Madhu (Divya Dutta) by a notorious smuggler Zorawar (Paresh Rawal) but she skips while being chased by Zorawar's goons and ends up in the secure custody of police inspector Arjun Singh (Amitabh Bachchan), a friend of police inspector Pyare Mohan (Govinda). In reality, Neha, unaware of their identities, believes Arjun to be "Pyare", about whom she was agreeably apprised of by Madhu, and so, Arjun has to impersonate Pyare, giving rise to hilarious situations. Concurrently, Pyare flirts with Seema (Raveena Tandon) - Arjun's sister. Everything could have been passable for the two cops if two lookalikes of the cops, by the nicknames "Bade Miyan" (Amitabh Bachchan) and "Chote Miyan" (Govinda) had not been a cause of concern for them because of the misdeeds they commit leading to Arjun and Pyare being accused as the miscreants every time. With background scores of the songs (specially "Bade Miyan Toh Bade Miyan") that stir the listeners, the movie advances through scenes of thrill and amusement.
Plot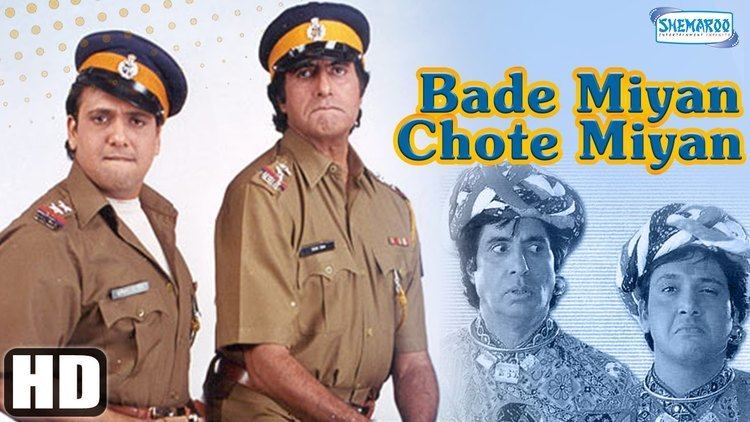 This movie is inspired from the 1995 action-comedy Hollywood film Bad Boys' directed by Michael Bay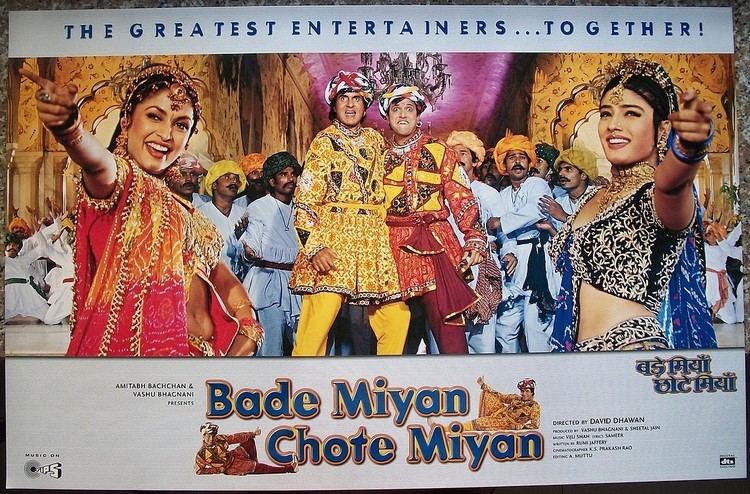 Two friends, Arjun Singh (Amitabh Bachchan) and Pyare Mohan (Govinda), are Police inspector. Arjun's sister Seema (Raveena Tandon) is in love with Pyare. Arjun has no female companion and some petty comments are made about his age.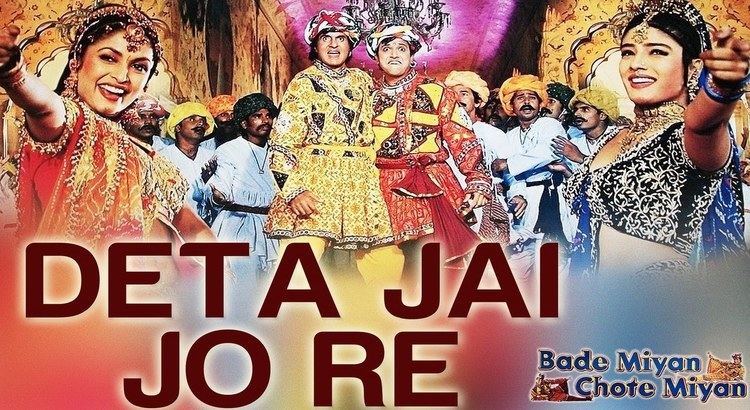 The Zorawar (Paresh Rawal) runs a business smuggling arms and diamonds, under a cover of being a statue maker. Once, in a hotel, he discovers that he is being spied upon and along with the cop spying on him, he gets rid of an eyewitness, played by Divya Dutta.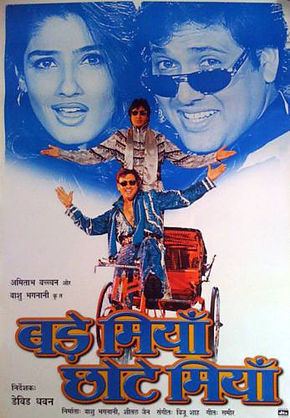 Neha (Ramya Krishnan), a friend of the eyewitness, witness her friend murder. Scared, and with the gangsters after her, she calls the police station and asks for Pyare, but since he is not there, Arjun is asked to go to her, and masquerade as Pyare, who had been described as a very good person to Neha by her dead friend. In a considerable amount of confusion, he takes her to Pyare's house and even ges to the extent of asking Pyare to masquerade as Arjun Singh.
Two petty thief, Bade Miyan and Chote Miyan, a look-alike of Arjun and Pyare arrive in town. Confusion ensue when every crime the crooks commit are blamed on the two inspectors. Things goes further downhill when Shyamlal (Anupam Kher), the police commissioner, is also thrashed by the doubles. Arjun and Pyare are blamed for stealing a diamond from a bank and messing up security operation of Madhuri Dixit (herself). Even Seema and Neha mistake Bade and Chote for Arjun and Pyare.
Arjun and Pyare further land in trouble when Zorawar kidnaps Seema and asks for the diamond and Neha in return. Arjun and Pyare, who have been arrested, are saved by the arrival of Bade Miyan and Chote Miyan, who confuse their acts of theft and conning, and promise to get Neha and Seema back. Bade Miyan and Chote Miyan arrive at Zorawar hideout and stall them while Arjun and Pyare arrive with police force and everyone at the hideout is arrested. The crooks leave after apologising to Neha and Seema for the confusion.
However, some of Zorawar's men, hijack the police van which is taking Zorawar and his associates to jail. They are stopped on the way by Bade and Chote, asking for a lift. The latter realise who really are in the van and proceed to badly thrash Zorawar and his men and return him to jail. Arjun and Pyare are criticised for their mistake regarding the hijacking of the van and the two crooks are given a job in the police force by the commissioner himself. The film ends with Arjun and Pyare ending up being demoted to the post of traffic police officers and Bade and Chote Miyan taking their place as police inspectors.
Cast
Amitabh Bachchan as Inspector Arjun Singh / Bade Miyan (double role)
Govinda as Inspector Pyare Mohan / Chote Miyan (double role)
Ramya Krishnan as Neha
Raveena Tandon as Seema
Anupam Kher as Police Commissioner Shyamlal
Paresh Rawal as Zorawar Bhai
Sharat Saxena as Sharad, Zorawar's henchman
Kader Khan as Waiter / Kadar Bhai
Satish Kaushik as Sharafat Ali
Sushma Seth as Arjun and Seema's mother
Divya Dutta as Madhu
Rakesh Bedi as Makkhan, watchman
Asrani as museum security officer
Avtar Gill as Sundar Kala
Razzak Khan as Khalim Dhile (prisoner)
Tiku Talsania as Jeweller
David Dhawan as Himself, (special appearance)
Viju Khote as man in purple turban in the train (special appearance)
Manmauji as the bald guy in train
Madhuri Dixit as Herself, (special appearance)
Music
The songs of the film, composed by Viju Shah with lyrics by Sameer, worked well. Similar to Shah's prior compositions for films like Mohra and Gupt that became quite popular, the album noticeably showed his offbeat mode of music yielding the tuneful numbers like the title track "Bade Miyan Chote Miyan" and the groovy "Kisi Disco Mein Jaayein". The zippy number "Oye Makhna" performed in Bhangra flair is another popular song of the album. Singers Udit Narayan, Sudesh Bhonsle, Amit Kumar, Alka Yagnik, Jaspinder Narula, Anuradha Paudwal and Kavita Krishnamurthy allied and rendered their voices for the songs listed below:
All lyrics written by Sameer; all music composed by Viju Shah.
References
Bade Miyan Chote Miyan Wikipedia
(Text) CC BY-SA
Bade Miyan Chote Miyan IMDb
Bade Miyan Chote Miyan Rotten Tomatoes
Bade Miyan Chote Miyan themoviedb.org