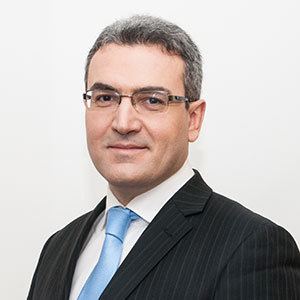 Graduating from the Paris Institute of Political Studies in 1993, Chauprade received a Master of International Law degree in 1996 and a doctorate in political science in 2001 from Paris Descartes University. Trained in mathematics, he is a lecturer in geopolitics at the Royal College of Higher Military Education of the Kingdom of Morocco, director of the Revue française de géopolitique (French Review of Geopolitics) and editor of several collections published by Ellipses in Paris (Grands enjeux, Taupe-Niveau and Référence géopolitique). From 2003 to 2009, Chauprade was a lecturer on the history of political ideas at the University of Neuchâtel in Switzerland. He has taught at the Collège interarmées de défense (CID: French Joint Defense College) since 1999, where he oversees geopolitics courses.
Chauprade is a contributor to African historian Bernard Lugan's magazine, L'Afrique réelle (Real Africa), works for Dominique Venner's La Nouvelle Revue d'Histoire and appears on Radio Courtoisie. He dedicated his book, Géopolitique, constantes et changements dans l'histoire (Geopolitics, Constants and Changes in History) to the students at CID. Chauprade is an officer in the French Naval Reserve.
After the publication of his book, Chronique du choc des civilisations ("Chronicle of the Clash of Civilizations" reedited in 2015), Chauprade was accused by French journalist Jean Guisnel of espousing September 11 conspiracy theories. He was always fighting against those allegations which he found false. Chauprade was removed from his chair at the CID by Supervising Minister Hervé Morin in early February 2009.
During the controversy, Chauprade (who filed a complaint against the Minister and the magazine Le Point) received support from CID students and his former university professor Edmond Jouve. Although CID head Vincent Desportes expressed reservations about Chauprade's writings, Desportes said: "He has never proselytized in his courses or expressed his vision of the world".
A website supporting Chauprade was set up. On 24 March 2009 the Paris Administrative Court ruled in his favour, suspending Morin's decision and saying that the minister had violated a "fundamental freedom". On 1 June 2011 the court upheld its ruling, saying that Morin's decision resulted "from an irregular procedure".
Chauprade organized a conference with Jacques Frémeaux and Philippe Evanno in February 2013 at the Sorbonne (University of Paris IV) on threats in North Africa and the Sahel and Europe's overall security (Menaces en Afrique du Nord et au Sahel et sécurité globale de l'Europe), the proceedings of which were published in April 2013 by Ellipses Editions. Since January 2010, he has funded a geopolitical website. He is recognized as one of 100 most important international authors in geopolitics and International relations("Les grands théoriciens des relations intérnationales" 2015, Studyrama).
According to Chauprade, he follows a new French geopolitical school emphasizing realpolitik and deemphasizing ideology. Its ideas appear in the Revue française de géopolitique (French Review of Geopolitics) and the International Academy of Geopolitics, of which Chauprade is secretary-general. His geopolitical philosophy follows that of François Thual, and can be found in the introduction to Géopolitique, constantes et changements dans l'histoire.
Chauprade considers Francophonie a cornerstone of French independence and power. A strong supporter of a Europe of nations within European borders (without Turkey), he advocates a political agreement with Russia and supports a multi-polar world with a balanced relationship between China and the United States. Chauprade maintains strong relations with Morocco (where he teaches), and travels regularly to the Middle East, Central Europe, Central Asia, Russia and China.
According to Jean-Marc Huissoud, Chauprade is considered a founder of the new French geopolitics, describing the "continuous and discontinuous" in his analysis of international questions. Chauprade has said, "France is at war against some Muslims, not at war with the Muslims but with some Muslims". In his interview for ITélé he said that France is better than a race, it's a civilization. Chauprade defends Judeo-Christian roots of Europe.
Chauprade supported the list headed by Philippe de Villiers in the 2004 European Parliament election. Chauprade should be the National Front's top candidate in the Île-de-France district for the 2014 European elections and Le Pen's advisor on foreign-policy issues.
In an interview with the French bi-monthly magazine L'Homme nouveau on 27 November 2013, he said that the "ideological bipolarity" separating the world is no longer the one opposing liberalism and communism (which are "two materialisms") but the one opposing "materialism and traditionalism": "On one side are those who believe that the individual is the supreme value, on the other are those who think that transcendence or the common good are superior to the human person". Chauprade's "commitment is clearly in the second camp," and he intends "to participate in a project that not only raises the issue of identity in France, but also raises the problem of materialism and rehabilitates transcendence in politics".
Chauprade defends the multipolar vision of politics which includes peaceful relations with Russia and the USA.
In his ITélé interview of 9 November 2015 Chauprade appealed for the return of Philippe de Villiers and showed a strong desire of work by his side.
Aymeric Chauprade was in 2006 a member of the teaching staff of master of geopolitics at Universite Paris I Pantheon-Sorbonne. He held the chair of history of political ideas at University of Neuchâtel from 2003 to 2009.
L'espace économique francophone (Francophone (French-speaking) economic area), Paris, Ellipses, 1996.
Histoires d'Égypte (Histories of Egypt), Paris, Les Belles Lettres, 1996.
Beyrouth éternelle (Eternal Beirut), Paris, Asa Éditions, 1998 (translated in Arabic and English).
Dictionnaire de géopolitique (Dictionary of geopolitics) with François Thual, Paris, Ellipses, 2nd edition, 1999.
Introduction à l'analyse géopolitique (Introduction to geopolitical analysis), Paris, Ellipses, 1999 (sold out).
Les Balkans, la Guerre du Kosovo (en collaboration) (The Balkans, the Kosovo War (in collaboration)), Paris/Lausanne, L'Âge d'Homme, 2000.
Géopolitique des États-Unis (culture, intérêts, stratégies) (Geopolitics of the United States (culture, interests, strategies)), Paris, Ellipses, 2003.
Une nouvelle géopolitique du pétrole en Afrique (A new geopolitics of oil in Africa).
Géopolitique – Constantes et changements dans l'histoire (Geopolitics, constants and changes in history), Paris, Ellipses, 3rd edition 2007.
Chronique du choc des civilisations (Chronicle of the Clash of Civilizations), Éditions Chronique, January 2009.
L'Iran réel (The real Iran), Paris, Ellipses 2009 (under the direction of Aymeric Chauprade)
Chronique du choc des civilisations (Chronicle of the Clash of Civilizations), éditions Chronique, September 2011 (2nd edition completely revised and expanded)
Menaces en Afrique du Nord et au Sahel et sécurité globale de l'Europe (en collaboration avec Jacques Frémeaux et Philippe Evanno) (Threats in North Africa and in the Sahel and overall security of Europe), Ellipses, April 2013
Chronique du choc des civilisations, éditions Chronique, September 2013 (3rd edition updated and expanded)
Prévention des crises et promotion de la paix (Crisis Prevention and Peacebuilding), volume 3 (in collaboration), under the direction of Jean-Pierre Vettovaglia, preface by Abdou Diouf, éditions Emile Bruylant, October 2013
L'immigration extra-européenne, un défi majeur pour l'Union européenne (Non-European Immigration, a major challenge for the European Union), study for the Thomas-More Institute, July 2006 read online