Name

August IV




Parents

August Busch III



Children

August Busch V




Grandparents

Gussie Busch






Full Name

August Adolphus Busch IV


Born

June 15, 1964 (age 56) (

1964-06-15

)

St. Louis, Missouri, U.S.




Occupation

Board member of Anheuser-Busch InBev, former president and CEO, Anheuser-Busch Companies, Inc.


Spouse

Kathryn "Kate" Thatcher (m. 2006)




Great-grandfathers

August Anheuser Busch, Sr.




Similar People

August Busch III, Adolphus Busch, Gussie Busch, Eberhard Anheuser, Patrick T Stokes
August Adolphus Busch IV (born June 15, 1964) is an American businessman and former CEO of Anheuser-Busch. He was the last of the family to control the company, which was purchased in a hostile takeover in 2008 by InBev.
Contents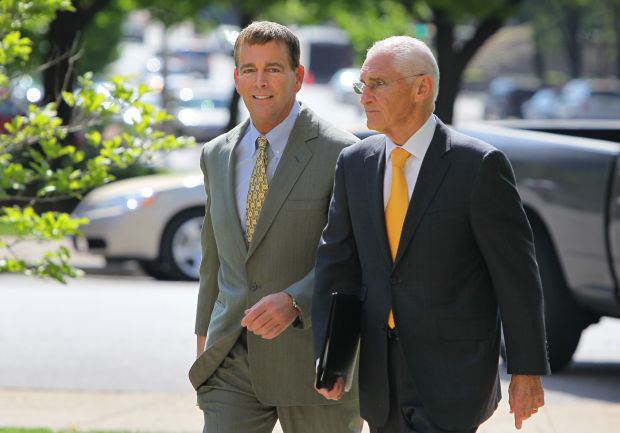 August busch iv analysis of beer heir
Ex-Anheuser-Busch CEO detained after office park landing
Early life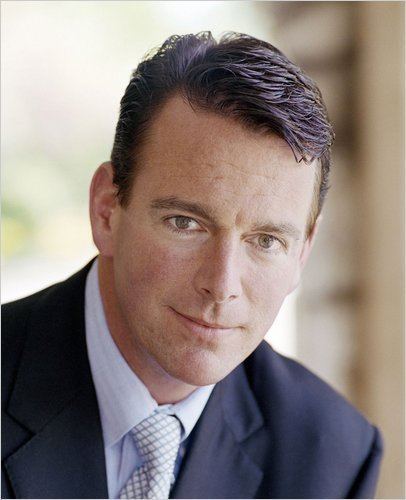 He is a great-great-grandson of Anheuser-Busch founder Adolphus Busch, and a great-great-great-grandson of Eberhard Anheuser who originally purchased the brewery in 1860. He is the son of Susan (Hornibrook) and August Busch III, the former chairman, president and CEO of the company. Busch is known by industry insiders as "The Fourth."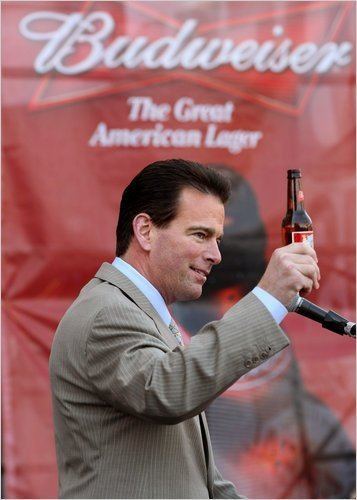 Busch's parents divorced when he was five, and he lived with his mother. His time with his father was mostly spent at the brewery and their relationship was, for the most part, professional.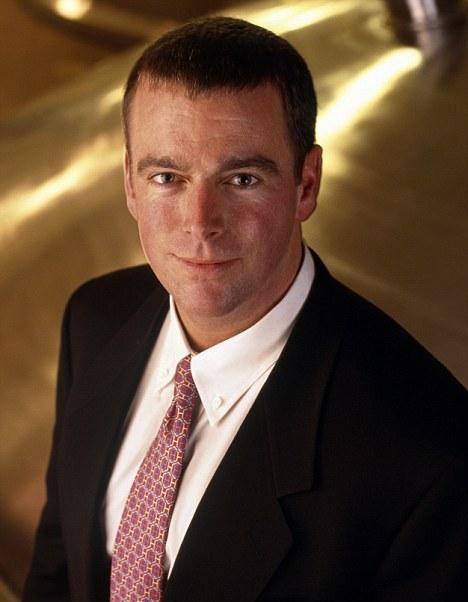 After graduating in 1982 from Parkway West High School in Ballwin, Missouri, Busch studied as an undergraduate at the University of Arizona, but left before completing his degree. Later he earned both an MBA and a bachelor's degree magna cum laude in finance from Saint Louis University. He has a "Brewing On The Spot" certificate from VLB Berlin.
Early years
After graduation he followed the family tradition of starting at the bottom of Anheuser-Busch. He worked as a brewing apprentice in the Old Malt House as a union member of Brewers & Maltsters Local 6 in St. Louis, Missouri, as an intern in the culture yeast center, and later as a foreman in packaging and shipping operations.
In 1989, he moved into marketing, working on the Bud Dry brand launch. Although the launch was considered a success, the product ultimately proved to be unsuccessful. He then worked on updating the image of the company's flagship brand, Budweiser, which had been losing market share, launching among other things the Budweiser Frogs campaign.
Busch's father initially opposed the campaign; he later admitted "I've lost the ability to understand the 21- to 30-year-olds the way I used to."
He was group vice president-marketing and wholesale operations from 2000 to 2002. He was vice president and group executive, and had served in such capacity since 2000.
Chairman and InBev takeover
In 2002, Busch (and other family members) were passed over when the company named Patrick Stokes as its first non-family president and CEO. Busch's father had said that he owns 1% of the stock and that the "board of directors calls the shots" at the company.
Busch became president and CEO effective December 2006. Busch's father had been criticized for not expanding globally and leaving the company open for acquisition. In 2007, August and the directors began discussions to acquire Diageo but the deal never advanced.
Less than 18 months into Busch's tenure, rumors circulated that InBev was attempting to buy the company. In April 2008, Busch told beer distributors that Anheuser-Busch would never be bought "on my watch." Anheuser's stock had closed at $49.20 on April 30, 2008. InBev offered $65 per share in June, and Busch refused. Prior to InBev's offer, Anheuser's stock had never been higher than $51.97. In hopes of keeping its independence, Busch proposed acquiring the remaining 50% it did not own of Grupo Modelo. InBev then said it would not include Busch in the new company board, but would include his uncle Adolphus Busch IV, who had favored the deal. Eventually InBev sweetened its bid to $70 per share and kept Busch on the board.
On July 13, 2008, he signed off on the sale of Anheuser to InBev, ending 156 years of family control. The deal officially closed on November 18, 2008, just as the Late-2000s recession was beginning.
Press reports indicated that the Busch family ownership of the company had greatly dwindled over the years, with Busch's father owning 1.2 percent at the time of the takeover. In total, the Busch family owned 4 percent of the company and were not the company's biggest stockholders. Barclay's owned 6 percent and Berkshire Hathaway owned 5 percent. The family did not own supervoting stock, as do many publicly traded companies with family affiliations. The board did not employ the common takeover defense tactic of staggering its board of directors terms (the AB board was re-elected each year).
According to reports, Busch and his father were estranged. His father was said to have engineered the AB takeover blindsiding the son. The public conflict between father and son led to the higher price. AB gave Busch a title of non-executive director and a contract as a consultant that ran until December 2013. He was also given a security detail through 2011.
The deal was worth $100 million to Busch. He also received a seat on InBev's board for a three-year term, $10.35 million in advance, and the promise of $120,000 a month in consultancy fees, as well as a personal security team. The same month the InBev takeover was completed, Busch resigned as a director of FedEx Corp, a position he had held since 2003.
Personal
Busch holds advanced black belt degrees in the martial arts disciplines of Judo, Tae-Kwon-Do, and Hapkido. Busch, reported as a lean 5-foot-10-inch man in 2005, was described as having a striking resemblance to his father.
Busch married Kathryn "Kate" Thatcher, sixteen years his junior, in August 2006 in Bradford, Vermont shortly before becoming CEO. He filed for divorce on November 26, 2008; the same month the InBev takeover was completed. The couple had a prenuptial agreement, and the divorce moved quickly through the courts, becoming official at the end of January 2009. The couple had no children.
Accident resulting in death of Michele Frederick (1983)
At age 19, while attending the University of Arizona, Busch was in an auto accident that resulted in the death of his passenger, 21-year-old Michele Frederick, a local model and waitress. According to witnesses, Busch had left a bar early one morning with Frederick. The vehicle wrecked at a 25 mph curve known for accidents. The car flipped and Frederick flew through the sunroof and was probably killed instantly when the car rolled over her. Busch left the scene of the accident without informing anyone. When police arrived on the scene hours later, they found empty Bud Light cans scattered in and around the car, along with Busch's driver's license. Police found Busch at his Tucson townhouse 4 miles (6 km) away, with blood on his body, a sawed-off shotgun, and in a dazed condition exhibiting signs of amnesia. Busch was found to have suffered a skull fracture in the accident. After a lengthy investigation by Tucson police in July 1984, the Pima County District Attorney announced he was not charging Busch with any wrongdoing. He said that while Busch appeared to have been speeding at 45 mph, that was not sufficient for charges, and witnesses from the bar did not report that he appeared to be drinking excessively.
As part of regular procedure, police took blood and urine samples from Busch while he was in custody. These samples were to assess whether and how much he had been drinking at the time of the accident. However, the hospital lost the urine sample, and the blood sample had been run through a centrifuge, rendering it useless. No one in the staff could explain what had happened. Police investigator Ron Benson said he had never before seen samples mishandled by hospital staff. Years later Benson said, "I didn't feel good about [dropping the case]. My gut told me this guy was drunk and killed this girl and I couldn't do my best for her because the [blood and urine] evidence just disappeared."
William Knoedelseder, who wrote a biography of the Busch family, speculated that Busch attorneys likely made a private, secret settlement with the Frederick family. August IV's mother, Susie Busch, wrote in a newspaper column that her son had not been treated justly: "there is no just treatment for families with a name and money."
Car chase (1985)
Busch was arrested at the age of 20 in St. Louis after leading undercover police in an unmarked car chase with speeds reaching between 85 and 90 mph. on Kingshighway Boulevard in the Central West End of the city. He was returning from visiting PT's Sports Cabaret, a strip bar in Sauget, Illinois. The officers ended the chase by shooting out the rear tire of Busch's car. Busch claimed he thought they were attempting to kidnap him. The police accused him of trying to run over two officers with his Mercedes. Busch was acquitted of assault by a St. Louis jury.
Death of Adrienne Nicole Martin (2010)
On December 19, 2010, Adrienne Nicole Martin, a 27-year-old woman who had been dating Busch for about two years, was found dead at his home. A toxicology report in February 2011 indicated Martin had cocaine and oxycodone in her system. The St. Louis County Prosecutor said that Martin had lethal levels of both oxycodone and cocaine in her system, and ruled she died of an accidental overdose. in the 2800 Block of South Lindbergh Boulevard in Huntleigh, Missouri. Household employee Michael Jung called 9-1-1 at 1:15 p.m. Busch was in the house at the time. Martin was divorced with one child; she had worked as a waitress.
The matter was investigated by Frontenac, Missouri police, who ordered toxicology tests. The incident occurred on a Sunday. The St. Louis Post-Dispatch was the first to report it four days later on a Thursday.
The initial autopsy revealed no signs of trauma and was inconclusive as to cause of death. Police reported they were investigating the case as a drug overdose. Martin's ex-husband Kevin J. Martin, a Cape Girardeau, Missouri osteopathic physician, said Martin suffered from Long QT syndrome, a heart condition that could cause an unexpected sudden death, but he had not discussed this with authorities. The physician said he had been personally called by August after the death and said he and his former wife "both think the world of August...He is a good man." Martin's mother said that Martin was taking Trazodone for sleep issues. Kevin Martin noted such use needs to be monitored by a physician.
Adrienne Martin's obituary in the Springfield News-Leader described as Busch as "the love of her life." Her mother arranged for cremation after the St. Louis County Medical examiner released her daughter's body to her. The county's medical examiner said the cremation would not affect the investigation. Her mother Christine Trampler said her daughter was happy with Busch.
A toxicology report in February 2011 indicated Martin had cocaine and oxycodone in her system; pill bottles with her name were found containing each of these. She had no prescription for either. The St. Louis County Prosecutor said that Martin had lethal levels of both oxycodone and cocaine in her system, and ruled she died of an accidental overdose. The report noted that Martin's physical condition showed she had been using cocaine for several months to a year.
On March 31, 2011, Adrienne's ex-husband Kevin Martin filed a wrongful death suit against Busch for negligence and on behalf of her son Blake Alexander Martin (born 2003). The case was to be handled in Cape Girardeau.
Adrienne's mother Christine Trampler announced she was hiring New York attorney John Q. Kelly (who previously represented Beth Holloway and the estate of Nicole Brown Simpson) to pursue the case, and also said she would seek custody of her grandson. She was concerned that a friendship between Adrienne's ex-husband and Busch would taint the civil case. On April 6, 2011, Adrienne's father George "Larry" Eby joined the suit, saying he had been deprived of the "companionship, comfort, instruction, guidance, counsel and training of Adrienne Martin." Friends of the family noted Eby and Martin had been estranged during her adult years.
On April 20, 2011, the press reported that Busch had agreed to a $1.5 million settlement with Kevin Martin on behalf of his son. The court would decide how much could be allocated to Adrienne's parents.
Helicopter Incident
On July 10, 2017 Busch was arrested in Swansea, Illinois after police alleged he tried to fly a helicopter while allegedly intoxicated. According to Swansea police, officers were called around 8:15pm when Busch IV appeared to be trying to take off in his helicopter but appeared too intoxicated. He was twice administered a breathalyzer and twice blew a .000. He was taken to a local hospital for blood and urine samples after officers conducted field sobriety tests, most of which Busch IV passed.
References
August Busch IV Wikipedia
(Text) CC BY-SA