Audra The Rapper is an American rapper, songwriter, singer and brand ambassador. Audra was born in Washington, DC and raised in Virginia Beach, Virginia and the Richmond, Virginia area.
Audra's love and push for music came from what she knew best – her family. Raised by her single-mother and grandmother in Richmond, Virginia, Audra has said music was a great inspiration to her, especially when it comes to Jazz. Listening to her grandmother spin Nat King Cole, Louis Armstrong and Ella Fitzgerald made singing a top priority for her. Audra was raised in the church and joined the choir at age 5 and was leading solos by age 6. Audra says she was 6 years old when she got her first CD, Brandy Norwood's (aka Brandy) self-titled debut album and it fixed her attention on having a singing career. But it wasn't until curiosity struck a 13-year-old Audra that she was spurred to branch out into other ways of expressing herself. With the support of her mother and three years of hard work later, the then 16-year-old performed at her very first show as Audra The Rapper. Audra has stated that her major musical influences are Lauryn Hill, Jay-Z, Queen Latifah and Missy Elliott and she would love to collaborate with Lauryn Hill, Jay-Z and Prince.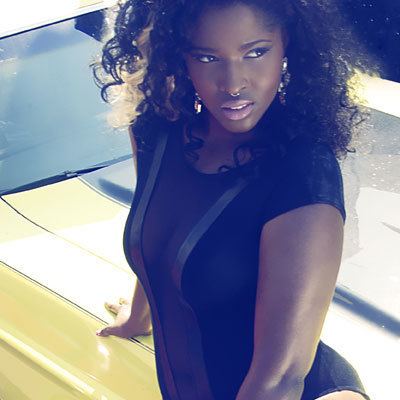 Audra founded "The AMG Music For A Cause Foundation" in 2007, at age 17. The foundation focuses on youth HIV/AIDS awareness/prevention, youth violence prevention and teen pregnancy prevention. For its inaugural event in 2008, Audra organized the first Music For A Cause Concert, which was an eight (8) hour outdoor event featuring 35 gospel, Hip Hop and R&B artists from the DMV (Washington, D.C., Maryland and Virginia) area. The next year, 2009, Audra organized the second [3] Music For A Cause concert which featured Trigga Da Gambler as a special guest performer along with over 30 DMV artists. Audra's work with her foundation was recognized and honored when in 2009, she was nominated in two categories as Community Activist of the Year and Role Model of the Year for Music For A Cause (MFAC) by the Southern Entertainment Awards (S.E.A.s) 2009. Audra The Rapper's Music For A Cause nominations that year grouped her with other nominees such as David Banner for his organization Heal The Hood, Inc. and Big Gates and Plies for their foundation, Power of Visions. In 2010, Audra The Rapper was once again nominated for Role Model of the Year by the Southern Entertainment Awards (S.E.A.s).
In the summer of 2009, Audra The Rapper and Rick Ross crossed paths when by chance they were both at iPower 92.1 radio station in Audra's hometown of Richmond, VA. The two met a second time in October 2010 at a university homecoming concert in Richmond where Audra opened for Ross and her performance lead Ross to endorse and co-sign her. The video with Ross cosigning ATR quickly hit the internet. Audra The Rapper quickly became a mainstay in the hip hop community and threw her hat in the ring as one of the hottest young lyricists soon sharing the stage with Trey Songz, Sean Garrett, Letoya Luckett, Lloyd, Ray-J, MC Lyte, One Chance, Jadakiss, Rick Ross, Big Sean, Travis Porter and more.
Audra The Rapper on numerous occasions has said how Lauryn Hill is her all time inspiration, so much so that Audra's 2010 mixtape, Miseducation of Audra was a tribute to Lauryn.
On the 2010 Miseducation of Audra mixtape Audra The Rapper, pushed her limits and stepped out of her comfort zone. She recorded the song Comfort Zone which was her first, for-public-listening, song that revealed her singing skills. The sustaining popularity of this song and her own personal affinity for the song lead Audra to include it on her 2011 mixtape No Such Thing Does Exist.
Unlike a lot of rappers, whose rap style have easily been categorized as East Coast, West Coast, Hardcore or gangsta, Dirty South or Pop-Rap, Audra The Rapper is first of all a lyricist and has partnered her lyrics with a variety of sounds, reflecting various styles. Audra has said her style is "Ratchet Soul". Audra's sound is raw, unapologetic, and often emotional.
Audra The Rapper has achieved many accolades such as • Audra was featured in the June 2012 issue of "Essence Magazine" and online for Essence Magazine • Audra covered the April 2012 issue of Celebrity Magazine • On February 20, 2012, Audra The Rapper was named by DC radio station 93.9 WKYS as one of The DMV's "Top 30 Under 30" . • Featured in the February 2012 Black History Month article by AOL The Boom Box • Being named one of 20 Emcees To Watch In 2012 by Funk Master Flex and IFWT • Featured in Dr Jay's 2011 Summer Sensation Campaign • Featured in Source Magazine January 2011, The Source Sits Down with Audra The Rapper • Featured in Ozone Magazine issue #81 January 2011.
Aside from her gift of gab in the form of poetry and rap, networking was something that always came easy to Audra. Through her relentless work ethic, Audra cemented her buzz in the music industry and her growing recognition as a rap artist and her unique sense of style also garnered her attention as she built her own ATR brand and became a Brand Ambassador for other companies. Audra The Rapper was selected to perform at New York Fashion Week 2012 for Reebok's Sound & Style event. She performed in a special tribute to the rap group Salt and Pepa. Audra The Rapper was selected by Hennessey as a 2011 Lady Hennessey Ambassador. She was featured in the inaugural issue of New York's Style Blazer magazine[9] - April 2011. Audra was later that year invited by Rocawear to do a photo shoot for their [10] Artful Dodger clothing line and to perform at Rocawear's office function. In an interview with Roc4Life.com Audra talks about Fashion and her affinity for Rocawear.
In June 2011, at age 21, Audra The Rapper was named by Ford sponsored HelloBautiful.com as one of Hello Beautiful 30 Under 30: Women to Watch - Audra The Rapper, along with Raven-Symone and Jennifer Hudson. See Hello Beautiful's 30 Under 30 Complete List.
In 2011, Audra The Rapper was graduated from Old Dominion University in Norfolk, VA with a B.S. in Communication and a minor in Music Management and Production while finishing up her third studio project. Having released a few singles over the last couple of years, and after a short hiatus spent redeveloping her sound and finding inspiration in design, art and her roots in jazz, Audra The Rapper has announced the upcoming release of her new album Retrospectrum in January 2015.
2005 "I Got Yo Weave"
2006 "I Got Dibbs"
2010 "Comfort Zone"
2011 "Beautiful Dreamer"
2011 "Love Song Remix" ft Mickey Factz and Raheem DeVaughn
2012 "Fresh Prince" ft Rocki Evans
2013 "Hit and Run" ft Abir Haronni
2013 "'Master Bait"
2007 Sweet and Sour
2010 Miseducation of Audra
2011 No Such Thing Does Exist
2012 TBA
2011 Coo Coo
2011 Sweet N Sour Cypher Pt. 1 presented by The Source
2011 Sweet N Sour Cypher Pt. 2 presented by The Source
2011 Sweet N Sour Cypher Pt. 3 presented by The Source
2011 Sweet N Sour Cypher Pt. 4 presented by The Source
2011 Beautiful Dreamer
2012 PORN