Athos, Count de la Fère, is a fictional character in the novels The Three Musketeers, Twenty Years After, and The Vicomte de Bragelonne by Alexandre Dumas, père. He is a highly fictionalised version of the historical musketeer Armand de Sillègue d'Athos d'Autevielle (1615–1644).
Contents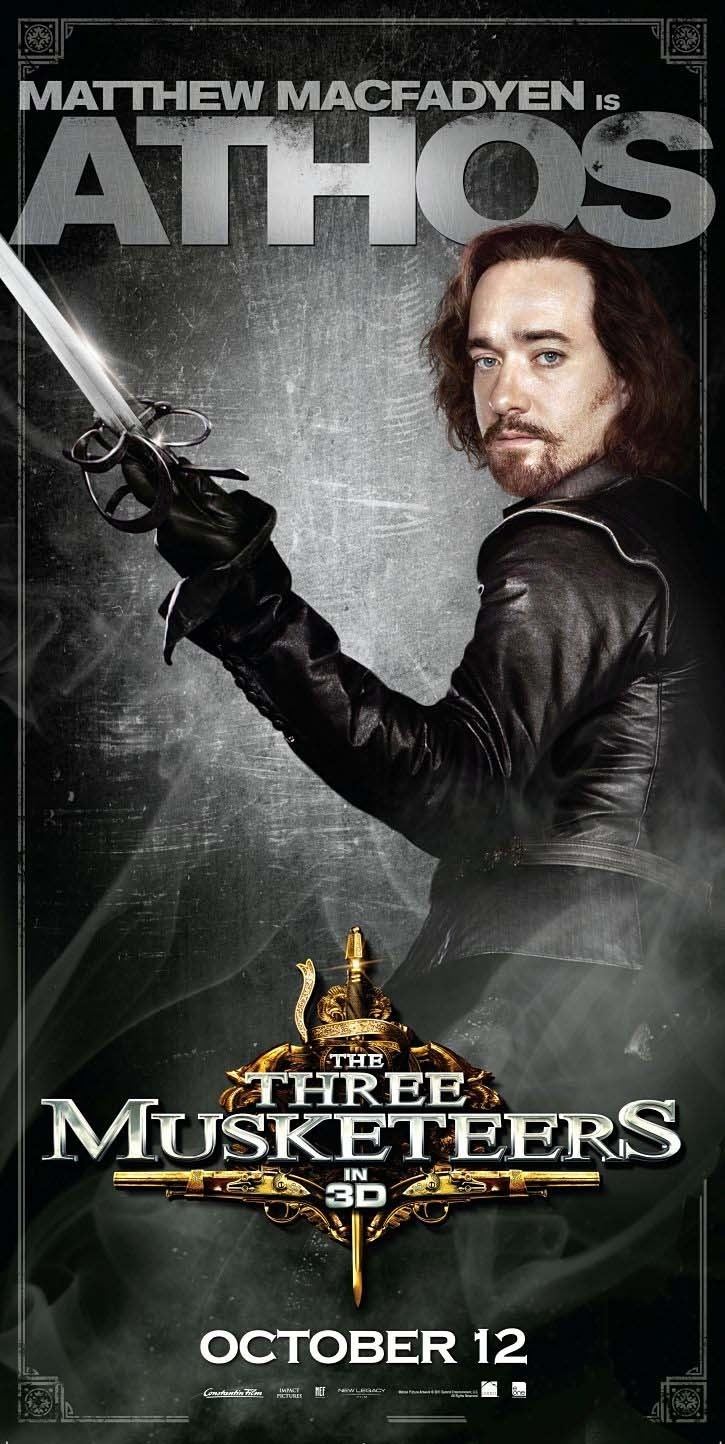 In the novels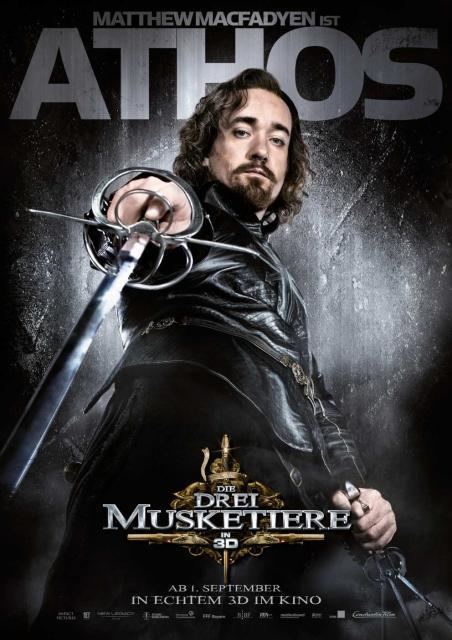 In The Three Musketeers, he and the other two musketeers, Porthos and Aramis, are friends of the novel's protagonist, d'Artagnan. He has a mysterious past connecting him with the villain of the novel, Milady de Winter. The oldest by some years, Athos is described as noble and handsome but also very secretive, drowning his secret sorrows in drink. He is very protective of d'Artagnan, the youngest, whom he eventually treats as a son.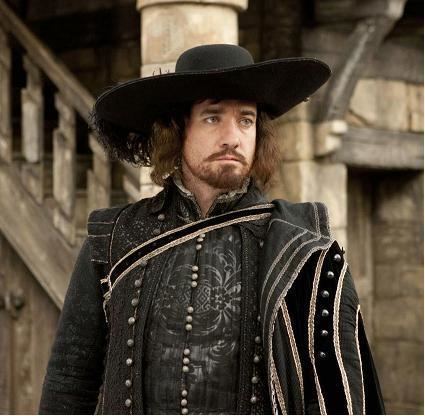 By the end of the novel, it is revealed that he is the Count de la Fère, was once married to Milady and attempted to execute her after discovering that she was a criminal on the run, an event which left him bitter and disillusioned. He ends up masterminding a second attempt, which is this time successful.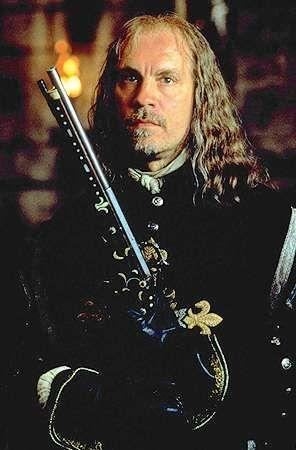 In the second novel, Twenty Years After, he has retired from the service and abandoned his nom-de-guerre of Athos. He has also adopted the young hero, Raoul, vicomte de Bragelonne, who turns out to be his natural son, fathered on a former mistress of Aramis, and has somewhat regained his balance through the joy of fatherhood. After launching his son into the military career, Athos however seeks new causes to occupy his life and successively embraces the Fronde and a doomed mission to rescue Charles I of England. The Count de la Fère he is uncharacteristically terrified by the appearance of Mordaunt, the son of Milady, who is attempting to avenge the death of his mother by killing those responsible. Athos, despite his reluctance to engage with the son of his ex-wife, ends up forced to slay him in an underwater fight in the Thames.
In the third novel, The Vicomte de Bragelonne, Athos initially takes a major behind-the-scenes part in historical events, first helping with the restoration of Charles II to the throne of England, and then being entrusted with the ambassadorial task of arranging the wedding of Henrietta of England and Philippe I, Duke of Orléans. His part in the novel's various plotlines is after this minimal. Athos eventually falls out with king Louis XIV of France, who has seduced his son's fiancée, and is briefly thrown to the Bastille for voicing his contempt. After being pardoned at d'Artagnan's instigation, Athos withdraws to his home, where he dies of sorrow after his son is killed at war.
Athos's first name is never told in the novels. However, in Dumas's play "The Youth of the Musketeers," the young Milady, then named Charlotte, calls the then Vicomte de la Fère, Olivier.
In film and television
Actors who have played Athos on screen include:
Herbert Delmar, in The Three Musketeers: Parts I and II (1911)
Alfred Hollingsworth, in The Three Musketeers (1916)
Henri Rollan, in Les trois mousquetaires (1921)
Léon Bary, in The Three Musketeers (1921) and The Iron Mask (1929)
Henri Rollan, in Les Trois Mousquetaires (1933)
Paul Lukas, in The Three Musketeers (1935)
Van Heflin, in The Three Musketeers (1948)
John Hubbard, in The Three Musketeers (1950)
Steve Brodie, in Lady in the Iron Mask (1952)
Jean Martinelli, in Les Trois Mousquetaires (1953)
Paul Hansard, in The Three Musketeers (1954)
Domenico Modugno, in The Three Musketeers (1956)
Barry Morse, in The Three Musketeers (TV movie) (1960)
Georges Descrières, in Les Trois Mousquetaires: La Vengeance de Milady (1961) and Les Trois Mousquetaires: Les Ferrets de la Reine (1961)
Franco Fantasia, in D'Artagnan contro i tre moschettieri (1963)
Jeremy Watson, in The Three Musketeers (1966)
Jeremy Young, in The Further Adventures of the Three Musketeers (1967)
Erik Maes, in Die Drie Musketiers (1968)
Powys Thomas, in The Three Musketeers (1969)
Yvan Tanguy, in Les Quatre Charlots Mousquetaires (1971)
Oliver Reed, in The Three Musketeers (1973), The Four Musketeers (1974), and The Return of the Musketeers (1989)
Veniamin Smekhov, in D'Artanyan i Tri Mushketyora (1978), Mushketyory 20 let spustya (1992), and Tayna Korolevy Anny ili Mushketyory 30 Let Spustya (1993)
José Ferrer, in The Fifth Musketeer (1979)
Akira Kamiya, in Anime San Jushi (1987)
Kiefer Sutherland, in The Three Musketeers (1993)
Jean-Luc Bideau, in Revenge of the Musketeers (1994)
Edward Albert, in an early 1998 film of The Man in the Iron Mask
John Malkovich, in The Man in the Iron Mask (1998)
Gordon Carpenter, in Three Musketeers (1999)
Scott Hickman, in Young Blades (2001) (unaired TV series pilot)
Jan Gregor Kremp, in The Musketeer (2001)
Christopher Cazenove, in La Femme Musketeer (TV miniseries) (2003)
Heino Ferch, in D'Artagnan et les trois mousquetaires (2005)
Matthew Macfadyen, in The Three Musketeers (2011)
Tom Burke, in The Musketeers (TV series) (2014–2016)
References
Athos (character) Wikipedia
(Text) CC BY-SA