Founded

1970s




Membership (est.)

1,300-2,000




Years active

1970s-present




Founding location

Long Beach / Los Angeles, California, United States.


Territory

Active in 14 U.S. states (2009)




Ethnicity

Primarily of Laotian, Vietnamese and Cambodian descent.




Similar

Tiny Rascal Gang, Wah Ching, Crips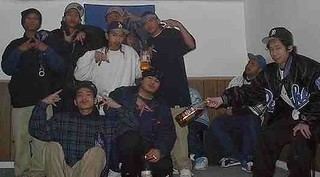 The Asian Boyz, or ABZ, are an Asian American street gang formed in the 1970s, according to the FBI, or co-founded by Filipino American Marvin "Shy Boy" Mercado in the 1990s in Southern California, according to The Huffington Post. Gang members are mainly males of Vietnamese, Cambodian or Laotian descent.
Contents
The gang are allied with the Crips. They are active in 14 states, in 28 different cities in the U.S.
History
The Asian Boyz was formed in Long Beach due to Asian immigrants being harassed by the East Side Longos, a Mexican American gang that originated from Anaheim Street.
On the East Coast, their gang colors are forest green, black and white. Asian Boyz also have a tattoo of a dragon head with crystal globes. On the West Coast, they use blue, similar to the Crips.
The Asian Boyz gang was established in Long Beach. There are additional factions in states on the east coast. However, the ABZ are spread across the United States, mainly on the east coast of the U.S. According to the FBI's National Gang Threat Assessment in 2011, the Asian Boyz has members in California, Massachusetts, Missouri, North Carolina, Pennsylvania, and Utah.
Notable crimes
In August 1997, the leader of the Asian Boyz Van Nuys set, Sothi Menh, was arrested in Phnom Penh, Cambodia, and extradited to the United States after fleeing the country in January that year. He was wanted for committing five gang-related murders in the San Fernando Valley in 1995. In September 1998, seven of the Asian Boyz were charged with seven murders, 18 attempted murders and five instances of conspiracy to commit murder in Van Nuys, Los Angeles, in 1995.
On August 12, 2006, a fight broke out between Bloods and Asian Boyz gang members at a house in Lowell, Massachusetts, where a birthday party was being held. Asian Boyz members left the party and allegedly started throwing bottles and other objects. Billeoum Phan, 14, began firing at the Asian Boyz members. One of the shots hit Asian Boyz member Samnang Oth, killing him. Phan was convicted of manslaughter and sentenced to incarceration until he turns 21. He is required to serve a 5-year probation after his release.
Three members of the gang were charged with beating a 15-year-old boy named Sang Vu to death in New York, in December 2006. Richie Nguyen who was 16 was sentenced to 5 to 15 years of prison for manslaughter. Samnang Chou was sentenced to 10 years of prison for second-degree assault.
In March 2008, four men abducted 24-year-old Vutha Au from Santa Rosa and drove him to a beach near Jenner, California, where they fatally shot him. Quentin Russell, who was 24 years old at the time of the shooting, was the shooter, and brothers Sarith Prak and David Prak, and Preston Khaoone, were charged in connection with the murder and abduction of Au. All four defendants were convicted and sentenced to life without parole on July 27, 2012.
In the 1990s, Pierre Mercado, the brother of Marvin Mercado, was responsible for four murders in an attempt to intimidate other gangs. He fled to the Philippines and remained there for 11 years until he was extradited to the United States in 2012. In 2013, Mercado was sentenced to 218 years to life in prison.
Rivalries
The Asian Boyz has been in a long conflict with the Wah Ching gang. One of the first shootouts between the two the gangs occurred in the 1990s. The shooting occurred in El Monte at a pool hall. An Asian Boyz gang member, Lea Mek, was killed by Wah Ching gang member Chung Lewong Yang. Another shootout between the two gangs occurred in San Marino that led to the deaths of two youths at a San Marino High School graduation party in June. After an investigation by the authorities, police claimed that when the Asian Boyz gang members arrived at the party, they saw that Wah Ching gang members were there, so they left and came back later with weapons to open fire on the Wah Ching gang members. Over nine gang members were arrested. Police searched the homes of the gang members and seized five weapons. The shootouts between the two gangs were called "Summer Madness" by the Asian Boyz gang.
References
Asian Boyz Wikipedia
(Text) CC BY-SA