8.1

/

10

Alchetron

8.2

Rate This




Director

Sachin Pilgaonkar


Language

Marathi




Country

India





Release date

1989





Similar

Navra Maza Navsacha, Gammat Jammat, Dhoom Dhadaka
Ashi Hi Banwa Banwi is a 1989 comedy Marathi film directed by Sachin Pilgaonkar and released in India in 1988. The movie is a remake of 1966 Hindi film Biwi Aur Makan directed by Hrishikesh Mukherjee which was later remade in Kannada as Olu Saar Bari Olu in 2003 and in Hindi as Paying Guests in 2009.
Contents
Cast
Ashok Saraf - Dhananjay Mane
Sachin Pilgaonkar - Sudhir (Sudhya)/Sudha
Laxmikant Berde - Parshuram (Parshya)/Parvati (Paro)
Siddharth Ray - Shantanu Mane
Supriya Pilgaonkar - Manisha
Ashwini Bhave - Madhuri (Madam)
Priya Arun - Kamala
Nivedita Joshi - Sushma
Nayantara - Lilabai Kalbhor
Viju Khote - Bali
Sudhir Joshi - Vishwas Sarpotdar (Malak)
Sumit - Sumya (Neighbour)
Plot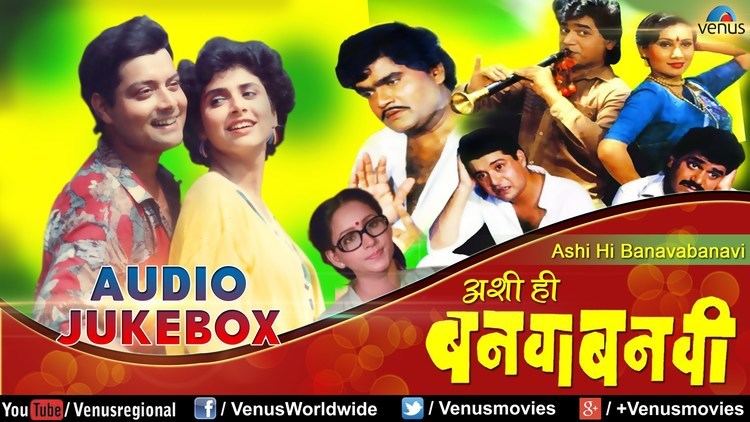 Dhananjay Mane (Ashok Saraf) is a street-smart salesperson in a cosmetic store owned by Madhuri (Ashwini Bhave) in Pune. He lives as a tenant of a stingy landlord Vishwas Sarpotdar (Sudhir Joshi). He is soon joined by his younger brother Shantanu (Siddharth Ray) who is a Medical student. Though prohibited by the landlord, Dhananjay and Shantanu allow their friends Parshuram (Laxmikant Berde) and Sudhir (Sachin Pilgaonkar), who have come to Pune in search of jobs, to secretly live with them. One night, Dhananjay, Parshuram and Sudhir insult their landlord while drunk and are taken away by Shantanu, who arrives at the scene a little too late. Enraged by this harassment, Vishwas Sarpotdar orders them to vacate the place.
Many futile attempts of finding a new home for rent later, Dhananjay and Shantanu finally find a nice place in the huge house of a rich, old, kind and half-blind widow Lilabai Kalbhor (Nayantara), who lives with her shrewd servant Tanu and is often harassed by Bali (Viju Khote) for money. Forced to show themselves as married couples, a condition set by the landlady, Dhananjay and Shantanu make Parshuram and Sudhir disguise as their wives as Parvati and Sudha, respectively. Shortly after arriving at their new rental home as couples, the landlady's niece, Manisha (Supriya), and her friend Sushma (Nivedita Joshi), who is also Shantanu's girlfriend, join them for a long stay at the house. Sudhir (disguised as Shantanu's wife Sudha) is now a successful singer and courts Manisha while Shantanu makes up a fake story of his wife's cancer to appease Sushma, who is clearly upset at seeing him married. Meanwhile, Dhanajay and his employer Madhuri also fall in love with each other. Dhananjay and Co develop a bond of motherly love with their landlady.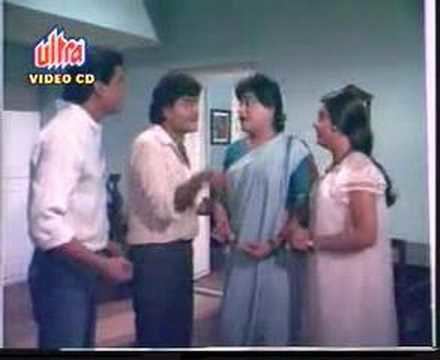 Eventually, Tanu and Bali come to know about the disguises and Dhananjay and Co are forced to leave. On their way out, they are exposed in front of their landlady who hands them over to police. But at the police station, she absolves them of their deceits and allows them to stay with her as her sons.
References
Ashi Hi Banwa Banwi Wikipedia
(Text) CC BY-SA
Ashi Hi Banwa Banwi IMDb
Ashi Hi Banwa Banwi themoviedb.org