Occupation

Novelist, poet




Period

1939–2001




Died

July 13, 1995, Kolkata




Language

Bengali




Genre

Fiction




Education

University of Calcutta





Nationality

Indian




Name

Ashapoorna Devi




Books

Pratham Pratisruti




Ethnicity

Bengali




Role

Novelist




Awards

Jnanpith Award






Born

8 January 1909 Potoldanga, Calcutta, India (

1909-01-08

)


Movies

Chhoti Si Mulaqat, Tapasya, Agni Pariksha, Ek Vivaah Aisa Bhi




Similar People

Uttam Kumar, Johny Antony, Anil Ganguly, Ravindra Jain, Murali Gopy
Ashapoorna Devi | Bengali Novelist and Poet | Jewels of Indian Literature | Director - Madhulika
Ashapoorna Devi (8 January 1909 – 13 July 1995) also Ashapurna Debi or Asha Purna Devi, was a prominent Bengali novelist and poet. She has been widely honoured with a number of prizes and awards. In 1976, she was awarded Jnanpith Award and the Padma Shri by the Government of India; D.Litt by the Universities of Jabalpur, Rabindra Bharati, Burdwan and Jadavpur. Vishwa Bharati University honoured her with Deshikottama in 1989. For her contribution as a novelist and short story writer, the Sahitya Akademi conferred its highest honour, the Sahitya Akademi Fellowship, in 1994.
Contents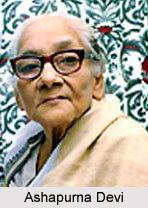 Biography
Ashapoorna Devi was born on 8 January 1909, at her maternal uncle's home at Potoldanga in North Calcutta. Her birth name was Asha Purna Devi (Gupta). Her early childhood was spent in a traditional and extremely conservative family at Vrindaban Basu Lane amongst a large number of relatives. Due to the domination of her grandmother, a staunch supporter of old customs and conservative ideals, the female children of the house were not allowed to go to school. Private tutors were employed only for the boys. It is said that as a baby Ashapurna used to listen to the readings of her brothers sitting opposite to them and that was how she learnt the alphabets.
Ashapurna's father Harendra Nath Gupta was a famous artist of the time who worked for C. Lazarus & Co. fine furniture makers as a designer. Ashapurna's mother Sarola Sundari came from a very enlightened family and was a great book lover. It was her "intensive thirst" for reading classics and story books which was transmitted to Ashapurna and her sisters in their early age.
Due to shortage of space, Harendra Nath shifted his family to a new house at 157/1A Acharya Prafulla Chandra Road (beside the Khanna Cinema Hall), which provided freedom to Sarola Sundari and her daughters to read according to their heart's desires. To satisfy Sarola Sundari's tremendous urge of reading there had been a continuous flow of books and magazines from the libraries of the time. As there was no dearth of leisure for the daughters and no bar to reading adult books from a very early age, Ashapurna and her sisters built a love-relationship with books. Though Ashapurna had no formal education as such, she was self-educated.
The period in which Ashapurna was raised was socially and politically restless, a time of nationalist agitation and awakening. Though the children of Harendra Nath did not have direct contact with the outside world, they were quite sensitive to the restlessness going on throughout the country led by Mahatma Gandhi and other political leaders who were ready to sacrifice their lives to bring independence. Thus different factors were responsible for nourishing the specific culture which guided Ashapurna from her early childhood to youth, and carried her to a definite platform through various experiences and ideals of life.
According to Ashapurna, she and her sisters used to compete with each other by composing and reciting poems. This gave rise to an unusual tenacity which inspired Ashapurna to secretly send a poem to Sishu Sathi in 1922. Ashapurna was thirteen and her poem "Bairer Dak" (The Call from the Outside) was published, with a request from editor Rajkumar Chakravorty to send more poems and stories. That was the beginning which developed into a never-ending flourish for Ashapurna, culminating into a permanent place for her into the realm of Bengali literature.
Ashapurna was sent to be married in 1924 when she was fifteen years of age, leaving Calcutta for her betrothed's family residence in Krishnanagar. She was married to Kalidas Gupta, and the couple moved frequently as they established themselves. In 1927 they settled in Calcutta on Ramesh Mitra Road, Bhowanipur and later in a bigger house at 77 Beltola Road, where they lived until 1960. They then had to shift to a separate flat near Golpark with their only son Sushanta, daughter-in-law Nupur, and a granddaughter Shatarupa. Later, in 1967, another granddaughter, Shatadeepa, was added to the family. In 1970, Kalidas Gupta and Ashapurna built their own house in Garia at 17 Kanungo Park. Ashapurna lived there until she died on 13 July 1995.
Along with the normal chores of domestic life, Ashapurna realised a significant place in creative literature through sheer power of will. The poem "Bairer Dak" marked the beginning of the odyssey of one of the most prolific creative geniuses of Bengali literature whose credits include 242 novels and novelettes, 37 collections of short stories, and 62 books for children. She has written over 3000 short stories.
In the beginning of her writing career, Ashapurna wrote only for children – Chhoto Thakurdar Kashi Yatra was the first printed edition published in 1983, followed by others throughout her literary career.
In 1936 she first wrote a story for adults, "Patni O Preyoshi", published in the Puja issue of Ananda Bazar Patrika. Prem O Prayojan was her first novel for adults, published in 1944.
Since this period, her writing continued as a never-ending process. Most of her writings marked a spirited protest both for men and women, against the inequality and injustice stemming from the gender-based discrimination and narrowness of outlook ingrained in traditional Hindu society. Ashapurna Devi's stories lay threadbare the oppression women have to face and made a fervent appeal for a new social order, though not subscribing to the modern theoretical feminism of western mode. Her magnum opus, the trilogy Pratham Pratishruti (1964), Subarnolata (1967) and Bakul Katha (1974), symbolises an endless struggle for women to achieve equal rights.
Upon her death she was at the peak of her fame, leaving behind unique literary creations. Ashapurna Devi had been widely honoured with a number of prizes and awards, noted below.
Accolades
The Lila Prize from the University of Calcutta (1954)
The Bhutan Mohini Dasi Gold Medal (1966):
The Raindrop Memorial Prize from the Government of West Bengal (1966)
The Jnanpith Award (1976) for Prothom Protishruti 
The Haranath Ghosh Medal from the Bangiya Sahitya Parishad (1988)
The Jagattarini Gold Medal from the University of Calcutta (1993)
Television adaption
Her novel "Baluchori" was adapted as a TV serial in Deepto TV named Aparajita.
References
Ashapoorna Devi Wikipedia
(Text) CC BY-SA