Name

Arun Govil




Siblings

Vijay Govil




Spouse

Sreelekha Govil




Role

Actor








Born

12 January 1958 (age 65) (

1958-01-12

) Meerut, Uttar Pradesh


Occupation

Actor, producer, director




Parents

Shri Chandra Prakash Govil




Movies and TV shows

Sawan Ko Aane Do, Ramayan, Ayaash, Saanch Ko Aanch Nahin, Luv Kush


Similar People

Zarina Wahab, Deepika Chikhalia, Sunil Lahri, Arvind Trivedi, Ramanand Sagar



Children

Amal Govil, Sonika Govil



Safar zindgi ka arun govil
Arun Govil (born 12 January 1958) is an Indian actor, producer and director. He has acted in various Hindi, Bhojpuri, Braj Bhasha, Oriya and Telugu movies. He is best known for playing Rama in Ramanand Sagar's hit television series Ramayan (1986).
Contents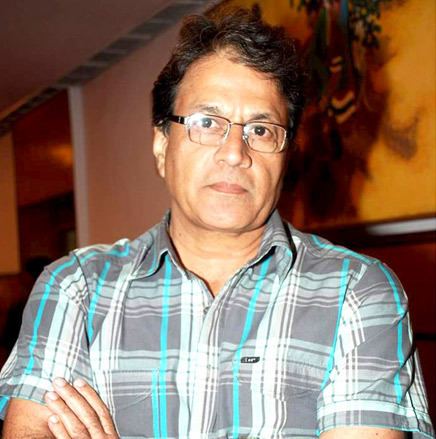 Talash arun govil deepika chikhalia part 4
Personal life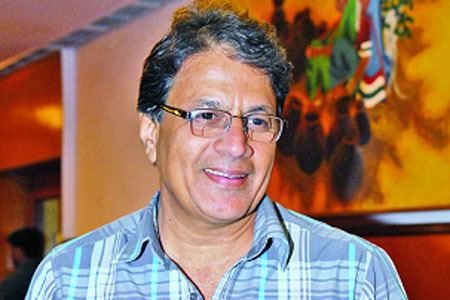 Arun Govil was born in Meerut, Uttar Pradesh. He got his formal education at Meerut University, where he acted in some plays. He spent his teenage life in Shahjahanpur, Uttar Pradesh. His father wanted him to become a government servant while Arun wanted to do something for which he would be remembered. In 1975, at the young age of 17, he moved to Mumbai to start his own business there. He later found his way into acting.
Family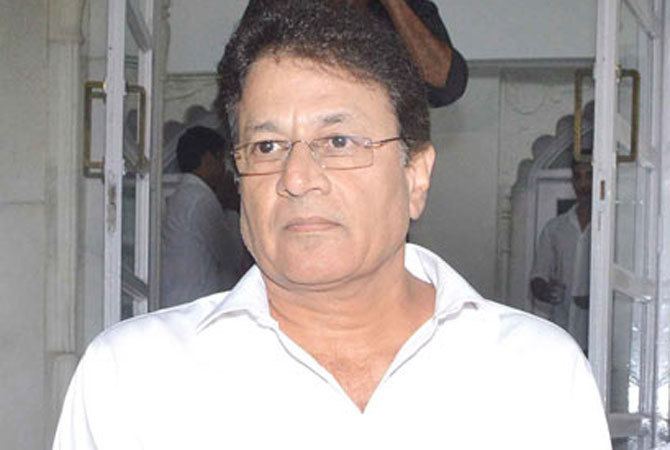 Arun Govil is the fourth of six brothers and two sisters. His elder brother Vijay Govil is married to Tabassum, a former child actress and the host of the first Bollywood Celebrity talk show on Doordarshan Phool Khile Hain Gulshan Gulshan which continued for 21 years. His nephew is Film and TV actor Hoshang Govil (Son of Vijay and Tabassum Govil).His father Shri Chandra Prakash Govil was a government officer. Govil is married to actress Shrilekha, with whom he has a son and a daughter.
Religious beliefs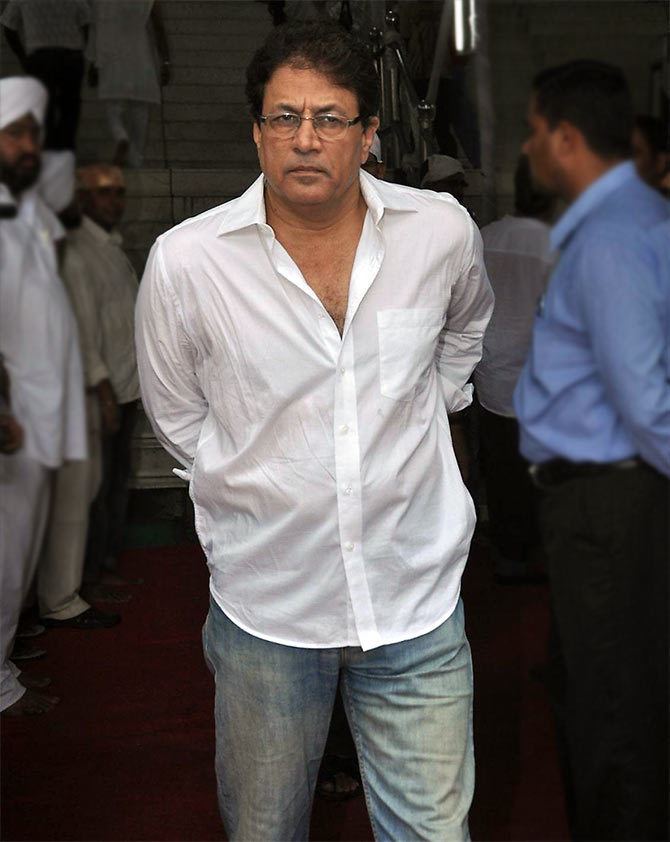 He found that after working in Ramayan his spirituality became even more stronger. He is a Hindu.
Actor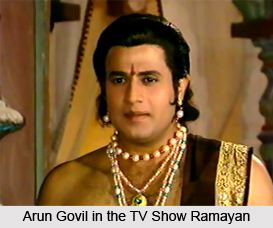 Arun Govil got his first break in Indian cinema in the 1977 film Paheli When he was introduced to Tarachand Barjatya by his sister in law Tabassum. He later starred in other films such as Sawan Ko Aane Do (1979), Saanch Ko Aanch Nahin (1979), Ayaash (1982) and Itni Si Baat (1981).
Ramanand Sagar cast Govil as Vikramaditya in his television series Vikram Aur Betaal and Rama in his highly successful television series Ramayan, for which he won the Uptron Award for "Best Actor in a Leading Role" in 1988. His role as Rama provided great exposure to him and led to him being cast in other religious-based roles, including Harishchandra in Vishwamitra (TV series) and Buddha in TV series Buddha. Arun govil has worked in movies of several languages. He has worked in Oriya movies like Bidhira Bidhan (1989) and many Telugu movies like Edu Kondalaswamy (1991), Govindha Govindha (1993), and Great Robbery (1996). "Aa re Kaaliya" He has also got an opportunity to anchor show on lord Ram, "Jahan Jahan Ram charan chali jaahi". He also lent his voice in 1992 mythological Indo-Japanese animation movie "Ramayana: The Legend of Prince Rama" as Lord Rama.
Producer
He later set up a production company with his Ramayan co-star Sunil Lahiri. He produced and acted in Mashaal, a TV series based on the Indian independence movement. His wife Shrileikha acted and co-produced the show as well.
Filmography
Actor
-
Hukus Bukus (filming)
as
Pandit Radheshayam
-
six-nine-five (695) (filming)
2023
OMG 2 (filming)
as
Lord Ram
-
Woh Huye Na Hamare (TV Series)
as
Ravindra Damania
2023
Jubilee (TV Series)
as
Narain Khanna
- Jubilee (2023) - Narain Khanna
- Bewafa (2023) - Narain Khanna
- Kismet (2023) - Narain Khanna
- Rajmahal (2023) - Narain Khanna
- Taxi Driver (2023) - Narain Khanna
- Baazi (2023) - Narain Khanna
- Barsaat Ki Raat (2023) - Narain Khanna
- Dosti (2023) - Narain Khanna
- Sunghursh (2023) - Narain Khanna
2010
Lava Kusa: The Warrior Twins
as
Ram (voice)
2007
Shoot on Sight
as
Narrator (uncredited)
2004
Pyaar Ki Kashti Mein (TV Series)
2003
Mahima Kashi Vishwanath Ki
2001
Kaise Kahoon (TV Series)
1999
Ashiqui (TV Series)
as
Susheel Oberoi
- Episode #1.7 - Susheel Oberoi
- Episode #1.6
- Episode #1.5 - Susheel Oberoi
- Episode #1.4
- Episode #1.3
- Episode #1.2
1997
Alif Laila (TV Series)
- Episode #2.14 (1997)
- Shahzaada Jalaal Taalib aur Malika Hameera - 7 (1997)
- Shahzaada Jalaal Taalib aur Malika Hameera - 2 (1997)
1997
Dhaal: The Battle of Law Against Law
as
Inspector Deodhar
1997
Do Ankhen Barah Hath
as
Police Inspector
1995
Shanivrat Mahima
as
Bhagwan Indra / Lord Venkestwara
1995
Vishwamitra (TV Series)
as
Raja Harishchandra
1995
Haathkadi
as
Arun Chauhan (Suraj's brother)
1995
Vansh (TV Series)(1995)
1994
Kanoon
as
Pankaj (Vishal's brother)
1993
Shri Krishna (TV Series)
as
Ram
- Pradyumn's Birth - Ram
1993
Muqabla
as
Havaldar Satyaprakash
1993
Govindha Govindha
as
Lord Venkateswara
1993
Ramayana: The Legend of Prince Rama
as
Rama (voice)
1991
Brahmarshi Vishwamitra
1991
Edu Kondalaswamy
as
Lord Venkateswara
1988
Luv Kush (TV Series)
as
Ram
1989
Shubh Chintak (Video)
1987
Ramayan (TV Series)
as
Ram
- Ram Reaches Ayodhya (1988) - Ram
- Shri Ram heads for Ayodhya (1988) - Ram
- Agni-pariksha (1988) - Ram
- Lord Ram kills Demon Ravan (1988) - Ram
- Indra sends his chariot for Shri Ram (1988) - Ram
- Ravan attacks Shri Ram (1988) - Ram
- Ravan challenges Ram and Lakshman (1988) - Ram
- Indrajit goes to perform a tantrik yajna (1988) - Ram
- Sanjeevani (1988) - Ram
- Indrajeet Vadh (1988) - Ram
- Sushen Vaidya (1988) - Ram
- Ravan congratulates Indrajit (1988) - Ram
- Laxman get injured by Indrajit's 'shakti' weapon. (1988) - Ram
- Lakshman fights with Atikaya (1988) - Ram
- Atitkaya, Devantak, Narantak and Trishira (1988) - Ram
- Ram & Lakshman Bound bu Indrajit's Nagapasha (1988) - Ram
- Kumbhkarn vadh (1988) - Ram
- Kumbhakaran (1988) - Ram
- Ravan comes to the battlefield (1988) - Ram
- Battle Starts (1988) - Ram
- Queen Mandodari appeals to Ravan (1988) - Ram
- Angad tells Ravan to surrender himself (1988) - Ram
- Army surrounds Lanka (1988) - Ram
- Shri Ram surveys Lanka (1988) - Ram
- Queen Mandodari begs Ravan (1988) - Ram
- The construction of the bridge is completed (1988) - Ram
- Sukh meets Sugriv (1988) - Ram
- Bibhishan meets Shri Ram (1988) - Ram
- Ram Setu bandhan (1988) - Ram
- Ravan summons his council (1988) - Ram
- Shri Ram meets Sugriv and his vanar Sena (1987) - Ram
- Hanuman takes leave of Sita (1987) - Ram
- Hanuman ravages Ashok Vatika (1987) - Ram
- Lanka Dahan (1987) - Ram
- Jambubant reminds Hanuman of his dormant strength (1987) - Ram
- Hanuman meets Sita in Ashok Vatika (1987) - Ram
- Search for Sita (1987) - Ram
- Lakshman enters Kishikindha in a fury (1987) - Ram
- Sugriv and Angad come to Shri Ram for his blessings (1987) - Ram
- Sugriv becomes king (1987) - Ram
- Sugriv tells Shri Ram about Bali (1987) - Ram
- Ram kills Vaali (1987) - Ram
- Friendship between Shri Ram & Sugriv Shri Ram (1987) - Ram
- Hanuman meets Shri Ram (1987) - Ram
- Shri Ram & lakshman reach Shabaris ashram (1987) - Ram
- Shri Ram & Lakshman meet wounded Jatayu (1987) - Ram
- Kidnap Plan by Raavan (1987) - Ram
- Sita Haran (1987) - Ram
- Shurpanaka Encounter (1987) - Ram
- First meeting with Jatayu, Sita in Panchavadi (1987) - Ram
- Dandakaranya (1987) - Ram
- Sita meets Atri & mother Anusuiya (1987) - Ram
- Ramas Shoes installed on the throne of Ayodhya (1987) - Ram
- Bharath returns to Ayodhya with Ramas Shoes (1987) - Ram
- Bharat Milap (1987) - Ram
- Bharath rejects to become King (1987) - Ram
- Ram meets Bharat (1987) - Ram
- Bharath Returns to Ayodhya (1987) - Ram
- King Dasharath's Death (1987) - Ram
- Valmiki's Ashram and Chitrakoot (1987) - Ram
- Bharadwaja's Ashram (1987) - Ram
- Meeting Nishadraj Guha (1987) - Ram
- Departing Ayodhya (1987) - Ram
- Preparing for the Journey to the Forest (1987) - Ram
- Kaikeyi Demands Her Boons (1987) - Ram
- Rajyabhishek (1987) - Ram
- Discussion on Dasharatha's heir (1987) - Ram
- Sita's arrival at Ayodhya (1987) - Ram
- Ram and Sita's Marriage (1987) - Ram
- Marriage Preparations (1987) - Ram
- Sita's swayamvar and Parasuram (1987) - Ram
- Sita's Swayamvara (1987) - Ram
- Ram meets Sita (1987) - Ram
- Ganga Redemption of Ahilya (1987) - Ram
- Vishwamitra comes to Ayodhya and Ram kills Taraka Rakshasi (1987) - Ram
- Continuing Gurukul (1987) - Ram
- Rama going to Gurukul (1987) - Ram
- Birth and childhood of Lord Ram (1987) - Ram
1988
Neeli Aankhen (Video)
1985
Vikram Aur Betaal (TV Series)
as
Vikramaditya
- The Revenge of Nagin (1986) - Vikramaditya
- The Story of Greedy Apurva (1986) - Vikramaditya
- The Dreams of Dagdoo (1986) - Vikramaditya
- The Justice of King Satyadev (1986) - Vikramaditya
- The Love Story of Four Princes (1986) - Vikramaditya
- The Legendary Love of Sukesh and Legendary Duty of King Dharamveer (1986) - Vikramaditya
- The Realization of Prince Anandsen (1986) - Vikramaditya
- The Gambling Temptation of Gopu (1986) - Vikramaditya
- The Story of Rajkumar and the Bird (1986) - Vikramaditya
- The Unsuccessful Penance of Gunkar (1986) - Vikramaditya
- The Dilemma of Mahamantri and King Vallabh (1986) - Vikramaditya
- The Lover of Princess Chandraprabha (1986) - Vikramaditya
- Love Is Eternal (1986) - Vikramaditya
- The Giant and the Brave Boy (1986) - Vikramaditya
- Who Is the Real Father (1985) - Vikramaditya
- Whom Will the Princess Marry? (1985) - Vikramaditya
- The Prince and the Three Sensitive Sisters (1985) - Vikramaditya
- The Husband, the Thief, and the Lover (1985) - Vikramaditya
- Three Sensitive Brothers (1985) - Vikramaditya
- King Chandrasen and His Servant Satvasheel (1985) - Vikramaditya
- Rich Girl Accepts Thief as Husband (1985) - Vikramaditya
- The Story of Padmavati and Prince Vajramukti (1985) - Vikramaditya
- Three Suitors and Somprabha (1985) - Vikramaditya
- Love Story of King Yashodhan (1985) - Vikramaditya
- King Rupsen and His Bodyguard Virvar (1985) - Vikramaditya
- King Vikramaditya and the Yogi/Suryamal and His Bride's Dilemma (1985) - Vikramaditya
1985
Maujaan Dubai Diyan
as
Jaganath's neighbor
1985
Lallu Ram
as
Shankar / Raju
1985
Baadal
as
Thakur Kiran Singh
1985
Yudh
as
Police Inspector Bhargav
1985
Do Dilon Ki Dastaan
as
Kamal
1985
Sapnon Ke Chhahon Mein
1984
Kanoon Meri Mutthi Mein
1984
Sasural
as
Narendra Sharma
1983
Lal Chunariyaa
as
Special appearance
1983
Justice Chaudhury
as
Inspector Ramesh Chaudhary
1981
Jiyo To Aise Jiyo
as
Kundan Sharma
1981
Shradhanjali
as
Raju Kumar
1981
Commander
as
Inspector Arun
1981
Kasam Bhawani Ki
as
Anand
1980
Judaai
as
Umakant S. Verma
1979
Saanch Ko Aanch Nahin
as
Ajay S. Agarwal
1979
Sawan Ko Aane Do
as
Birju
1979
Raadha Aur Seeta
as
Shekhar Verma
Producer
2008
Happy home (TV Series) (producer)
1993
Shiv Teri Mahima Nyari (co-producer)
Director
Thanks
1993
Shri Krishna (TV Series) (thanks - 1 episode)
- Usha To Marry Aniruddh? - (thanks)
Self
2020
The Kapil Sharma Show (TV Series)
as
Self
- Ramayan's 33 Years (2020) - Self
2017
Sa Re Ga Ma Pa L'il Champs (TV Series)
as
Self
- Episode #6.2 (2017) - Self
1986
Rimjhim Geeton Ki (Documentary)
as
Self
Archive Footage
1993
Shri Krishna (TV Series)
as
Ram
- Ram Gets Married To Sita - Ram
References
Arun Govil Wikipedia
(Text) CC BY-SA