Name

Arthur Dow





Education

Academie Julian






Died

December 13, 1922, New York City, New York, United States




Artwork

Spring Landscape, Boats at Rest




Books

Composition, Theory and Practice of Teaching, Composition - Part 1 ‑ Scholar's
Arthur Wesley Dow (April 6, 1857 – December 13, 1922) was an American painter, printmaker, photographer and influential arts educator.
Contents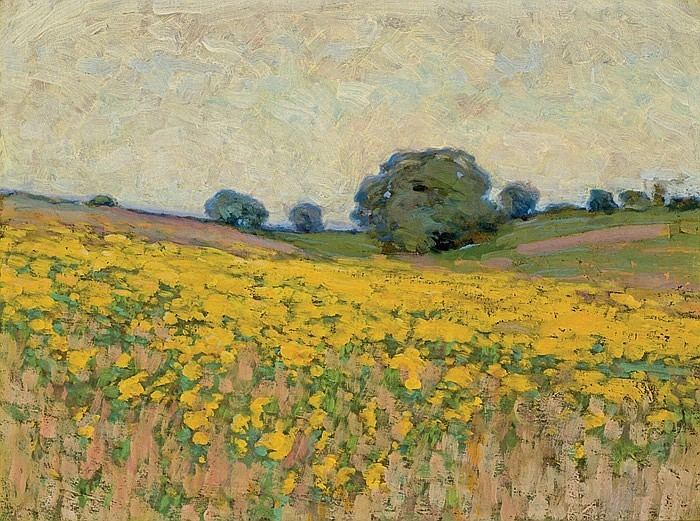 Study by m francis mccarthy of ipswich marshes by arthur wesley dow
Career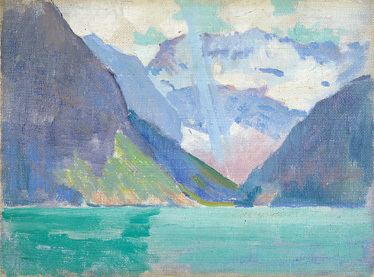 Dow taught at three major American arts training institutions over the course of his career beginning with the Pratt Institute from 1896-1903 and the New York Art Students League from 1898-1903; then, in 1900, he founded and served as the director of the Ipswich Summer School of Art in Ipswich, Massachusetts, and from 1904 to 1922, he was a professor of fine arts at Columbia University Teachers College.
Ideas on teaching art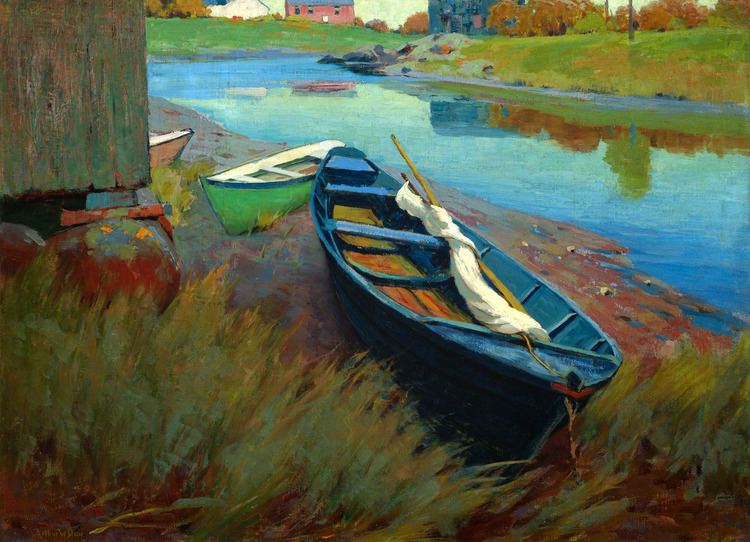 His ideas were quite revolutionary for the period; he taught that rather than copying nature, art should be created by elements of the composition, like line, mass and color. He wanted leaders of the public to see art is a living force in everyday life for all, not a sort of traditional ornament for the few. Dow suggested this lack of interest would improve if the way art was presented would permit self-expression and include personal experience in creating art.
His ideas on Art were published in the 1899 book Composition: A Series of Exercises in Art Structure for the Use of Students and Teachers. The following extracts are from the prefatory chapter "Beginnings" to the second edition of this book (1912):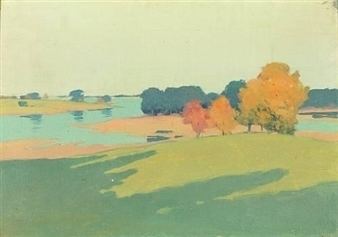 Composition ... expresses the idea upon which the method here presented is founded - the "putting together" of lines, masses and colors to make a harmony. ... Composition, building up of harmony, is the fundamental process in all the fine arts. ... A natural method is of exercises in progressive order, first building up very simple harmonies ... Such a method of study includes all kinds of drawing, design and painting. It offers a means of training for the creative artist, the teacher or one who studies art for the sake of culture.
Fenollosa
In "Beginnings", he acknowledges his debt to Ernest Fenollosa:
The history of this structural system of art teaching may be stated in a few words; and here I am given the opportunity to express my indebtedness to [Fenollosa].
An experience of five years in the French schools left me thoroughly dissatisfied with academic theory. In a search for something more vital I began a comparative study of the art of all nations and epochs. While pursuing an investigation of Oriental painting and design at the Boston Museum of Fine Arts I met the late Professor Ernest F. Fenollosa.
After detailing some of Fenollosa's attributes and history, he continues:
He at once gave me cordial support in my quest, for he also felt the inadequacy of modern art teaching. He vigorously advocated a radically different idea, based as in music, upon synthetic principles. He believed music to be, in a sense, the key to the other fine arts, since its essence is pure beauty; that space art may be called "visual music", and may be studied and criticised from this point of view.
He continues:
Convinced that this new conception was a more reasonable approach to art, I gave much time to preparing with Professor Fenollosa a progressive series of synthetic exercises. My first experiment in applying these in teaching was made in 1889 in my Boston classes, with Professor Fenollosa as lecturer on the philosophy and history of art.
Influence on others
He taught many of America's leading artists and craftspeople, including Georgia O'Keeffe, Charles Sheeler, Charles J. Martin, two of the Overbeck Sisters and the Byrdcliffe Colony.
Biography
The significance of Arthur Wesley Dow as an artist and teacher is becoming increasingly apparent. A champion of fine craftsmanship in a wide variety of art media, Dow was a leading figure in the Arts and Crafts revival that became prominent in America in the late nineteenth and early twentieth centuries. He advocated principles of pure design and promoted the creation of handmade rather than machine made objects. Dow also played an important role in American art as his work bridged the gap between Eastern and Western art.
Applying principles of Oriental design to depictions of commonplace locales, Dow created works that were ahead of their time, anticipating the East/West synthesis that would be sought by modernist artists as the twentieth century progressed.
Born in Ipswich, Massachusetts into an old, established New England family, Dow received his first art training in 1880 from Anna K. Freeland of Worcester, Massachusetts. The following year, Dow continued his studies in Boston with James M. Stone, a former student of Frank Duveneck and Gustave Bouguereau. In October 1884, Dow followed the path of many native painters of his era, and departed for Paris.
In the French capital, he enrolled at the Académie Julian where his instructors were Gustave Boulanger and Jules-Joseph Lefebvre. Among his fellow students were John Henry Twachtman, Willard Metcalf, and Edmund Tarbell. While abroad, Dow spent his summers in Pont Aven, Brittany, in the company of the Americans, Benjamin Harrison, Arthur Hoeber and Charles Lazar.
Dow returned to America in 1887. A year later, the first solo exhibition of his work was held at the J. Eastman Chase Gallery in Boston. After spending another summer in Pont-Aven, Dow settled in Ipswich in 1889 and began to hold private art classes. Soon, however, he moved to Boston, where he became interested in Egyptian and Aztec artifacts, which he saw at the Boston Public Library and the Museum of Fine Arts.
At the same time, he began to study the prints of the Japanese artist, Hokusai. He sought out the curator of Japanese art at the Museum, Ernest Fenollosa, who shared his view that art should be both pictorial and decorative and introduced him to the other masters of Sumi ink painting and woodblock techniques. Soon after meeting Fenellosa, Dow developed a method for making woodcuts that reflected his study of Japanese techniques. He found the subjects for his prints mainly on Boston's North Shore, which he felt were well suited to the Japanese-inspired appreciation of nature that he sought to express.
In 1893, Dow was appointed assistant curator of the Japanese collection at the Museum of Fine Arts under Fenellosa. Two years later, he gave a lecture outlining his ideas on Japanese art, which became the basis for his popular teaching manual, entitled "Composition," which was published in 1899. As this text was used by public schools, it served to disseminate Dow's ideas broadly.
Dow later wrote additional books on design including "Theory and Practice of Teaching Art and Constructive Art Teaching." Dow also had an active teaching career. He taught first at the Pratt Institute in Brooklyn, then at the Art Students League in New York and, finally, at Columbia University's Teachers College. In his teaching, Dow emphasized abstract concepts of line, notan and color in order to arrive at a synthesis of eastern and western thought. His famous pupils, Max Weber and Georgia O'Keeffe, carried his methods even further into abstraction. One of his most influential pupils, the respected educator and printmaker Pedro Joseph de Lemos, adapted and widely disseminated Dow's theories in dozens of theoretical and instructional publications (1918-1950) for art schools.
After 1900, Dow maintained a studio in his native Ipswich and conducted summer classes there. The nearby marshes and the area of Bayberry Hill were frequent subjects of his landscapes. His work in print mediums took up most of his time during the first decade of the century but, when he returned to oils in 1907, he began to experiment with a brighter palette and more expressive brushwork.
Dow died in New York on December 1, 1922. His work is represented in the Amon-Carter Museum, Fort Worth, Texas; the Metropolitan Museum of Art, New York; Museum of Fine Arts, Boston; Wadsworth Athenaeum, Hartford, Connecticut; Herbert F. Johnson Museum of Art, Cornell University, Ithaca, New York; the San Diego Museum of Art; the Fine Arts Museums of San Francisco; Achenbach Foundation for Graphic Arts, Boston; the National Museum of American Art, Washington, D.C.; Columbia University, New York; Ipswich Historical Society; The Two Red Roses Foundation/ Museum of the American Arts and Crafts Movement; the Ipswich Public Schools and many other public and private collection—Spanierman Galleries,
References
Arthur Wesley Dow Wikipedia
(Text) CC BY-SA