Covid-19
DC Comics




New God




Apokolips




Artemiz




Female Furies






John Ostrander (writer) Luke McDonnell (artist)




Uses a bow and arrow which affect the dead, keen senses, has a trio of cybernetic hounds




Suicide Squad #35 (November 1989)




John Ostrander, Luke McDonnell




Speed Queen, Bernadeth, Bloody Mary, Gilotina, Stompa
Artemiz is a fictional character, and extraterrestrial hunter published by DC Comics.
Artemiz first appeared in Suicide Squad #35 (November 1989) and was created by John Ostrander and Luke McDonnell.

A member of the Female Furies, Granny Goodness' cadre of female warriors, Artemiz is a fierce archer that uses her bow and arrows as a weapon, as well as her cyberpak, Unus, Secondus, and Tertius, a trio of ferocious cybernetic wolves. Artemiz was not one of the original Furies, but rather joined after Lashina was betrayed by Bernadeth and left on Earth. Granny Goodness recruited Artemiz into the Furies to fill the loss. She often bickers with Stompa, but got along well with the other Furies. Her keen senses are often helpful, and the Furies occasionally have her scout the area rather than stay with the team.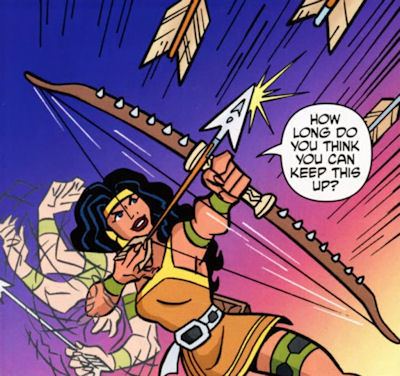 During the battle with Suicide Squad, Artemiz battled Nightshade, who defeated her but did not kill her. Granny Goodness, after Nightshade's boasting, told her she should have. Later, she joined the Furies as they battled Supergirl while searching for Twilight.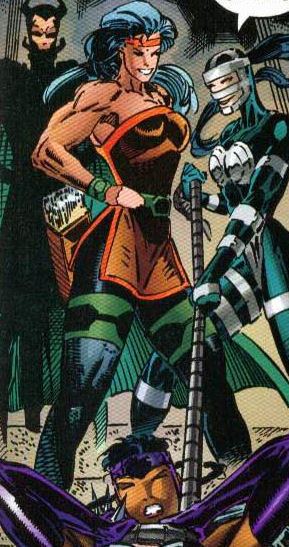 She and her teammates then attempt to have Wonder Girl join their ranks when various New Gods are found murdered by the Infinity-Man. While they are not successful in recruiting the novice Amazon, Artemiz's teammate Bloody Mary is killed by the Infinity-Man causing the team to return to the Apokolips.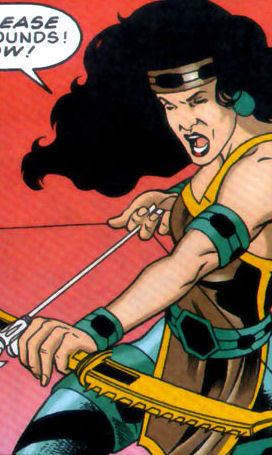 Artemis is a huntress who commands a pack of Cyberhounds. She is trained in the use of a long bow. She has standard arrows and has used other more specialised arrows.
Artemis appeared in the DC Super Hero Girls TV special "DC Super Hero Girls: Super Hero High," voiced by Teala Dunn.
Artemiz Wikipedia