Goswami was the editor-in-chief and a news anchor of the Indian news channel Times Now and ET Now, from 2006 to 2016. On Times Now, he anchored The Newshour, a live debate, that at 9 pm (IST) weekdays on the channel. He also hosted a special television programme Frankly Speaking with Arnab. On 1 November 2016, Goswami resigned as Editor-in-Chief of Times Now. His news channel Republic TV was launched on 6 May 2017.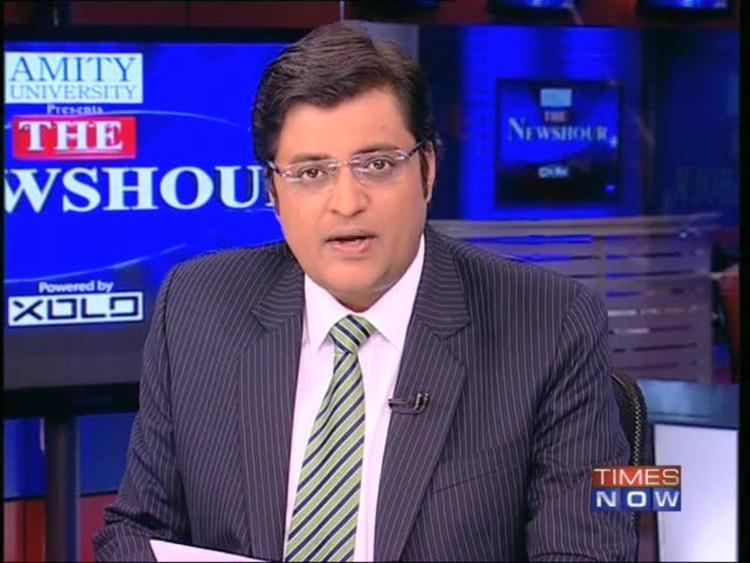 Goswami was born in Guwahati, Assam on 9 October 1973. His paternal grandfather, Rajani Kanta Goswami, was a lawyer, a Congress leader and an independence activist. His maternal grandfather, Gauri, was a Communist and leader of the opposition in Assam for many years. He was a writer and a recipient of the Asam Sahitya Sabha Award. Arnab Goswami's father is Colonel (Retd.) Manoranjan Goswami and his mother is Suprabha Gain-Goswami. Manoranjan has been a member of the Bharatiya Janata Party and contested the 1998 Lok Sabha Polls as the BJP candidate for the Guwahati to Lok Sabha of Assam where he was defeated by Congress candidate Bhubaneshwar Kalita. His maternal uncle, Siddhartha Bhattacharya, a BJP MLA from Gauhati East constituency, was the head of the Assam unit of the party before Sarbananda Sonowal took over in 2015.
As an army officer's son, he attended schools in various cities. Arnab has a Bachelor's (Hons.) in Sociology from the Hindu College in Delhi University. In 1994 Arnab completed his Master's in Social Anthropology from St. Antony's College, in Oxford University.
In 2000, Arnab was a Visiting D C Pavate Fellow at the International Studies Department at Sidney Sussex College, Cambridge University.
Before joining NDTV in 1995 Arnab Goswami started his career in The Telegraph in Kolkata; He later shifted his career in TV news broadcast with NDTV 24x7 in 1995, where he anchored daily newscasts, and reporting for News Tonight a programme telecast on DD Metro. Later as the news editor, he was part of NDTV's core team during the transition from programme producer to the 24-hour mode in 1998. He hosted the Newshour show every weeknight. Newshour was the longest running news analysis shown on any channel (1998–2003). As a Senior Editor with NDTV 24x7, he was responsible for the overall editorial content of the channel.
He hosted one of the channel's top rated news analysis show Newsnight, which won him an award for the Best News Anchor of Asia 2004 in the 2004 Asian Television Awards.
Since 2006, Goswami was the editor-in-chief and a news anchor of the Times Now news channel. His show The Newshour is aired at 9 pm with live news coverage, which has featured notable personalities like Parvez Musharraf. He also hosts a special programme Frankly Speaking with Arnab, which has featured personalities such as Benazir Bhutto and former UK Prime Minister Gordon Brown, Afghanistan President Hamid Karzai, retired head of state of the Tibetan Government in Exile Dalai Lama, former United States Secretary of State Hillary Clinton, and was the first to interview Prime Minister Narendra Modi since he took office in 2014. He has also written a book named Combating Terrorism: The Legal Challenge. On 1 November 2016, Goswami resigned as the Editor-in Chief of Times Now.
Goswami is the Managing Director, Editor-in-Chief and co-founder of the news channel called Republic TV which was launched on 6 May 2017. Within a week of its launch, Republic TV topped the BARC charts for viewership among English news channels in India.
Some commentators have criticized Goswami for his style of TV panel discussion. Kavita Krishnan, a Communist Party of India (Marxist–Leninist) (CPI-ML) affiliated activist, criticized Goswami's stance on sensitive issues and stated that "When channels and newspapers brand terror accused as "terrorists", or rape-accused as "rapists" and orchestrate the chant for the death penalty for them; when they act as stenos or loudspeakers for the police or investigative agencies in terror cases; are they not doing grievous harm and endangering people's lives and safety? Are they not conveying allegations as guilt?" Caravan magazine editor Hartosh Singh Bal referred to Arnab Goswami's anchoring as "scripted drama and he's often happy to a play a role."
Bennett, Coleman & Co Ltd, also known as The Times Group, has filed a criminal complaint against Arnab Goswami, the former editor-in-chief of the group's Times Now. In a complaint filed on Tuesday, May 16, with the Azad Maidan Police Station, Mumbai, the BCCL accused Goswami and Prema Sridevi of theft, criminal breach of trust, misappropriation of property and infringement of BCCL's intellectual properties by using the material on Republic TV on May 6 and May 8.
Goswami's heated discussions during The Newshour has invited criticism from newsweekly Outlook running a cover story titled 'The Man Who Killed TV News'. "Newshour is where Arnab plays judge, the audience the jury", the report stated, adding that "On key news events, Arnab has emerged as The Great Polariser, his acid tongue stripping complex issues of all nuance" Goswami, in a key note address to Goafest, defended his brand of journalism by stating, "The journalism I follow is journalism of opinion and is not PR driven. If my opinion helps bringing about a change, I will opine and not shy behind the wall of neutrality."
During the launch of the Republic TV, Goswami has said that "being a nationalist is a prerequisite to being a journalist". His ideology in that statement was criticised by some commentators for not complying with journalistic code of ethics and principles, particularly by not 'being a "watchdog" in a democracy', and also by being pro-government and anti-opposition.
On May 26, 2017, MP Shashi Tharoor filed a defamation case in the Delhi High Court against Goswami in connection with Republic TV's story the alleged truth behind the death of Shashi's wife Sunanda Pushkar, where his channel claimed that Tharoor was closely linked with his wife's death. On May 29, 2017, The Delhi High Court issued notice to Arnab and his news channel Republic TV over Shashi Tharoor's defamation ple, stating "Bring down the rhetoric.
Goswami has been nominated for and received several awards:
2003 – Asian Television Award for Best Presenter or Anchor (Runner up)
2007 – Society Young Achievers Award for excellence in the field of Media
2010 – Assamese of the Year Award by News Live
2010 – Ramnath Goenka Award for Excellence in Journalism (TV) by the Indian Express Group.