First season

1890




Seating capacity

38,000




Location

West Point, New York




Head coach

Jeff Monken




Division

Division I (NCAA)




Athletic director

Boo Corrigan




Field surface

FieldTurf




Arena/Stadium

Michie Stadium




Mascot

Army Mules




League

Division I (NCAA)






Other staff

Brent Davis (OC) Jay Bateman (DC)




Conference

NCAA Division I FBS Independent Schools




Rivals

Navy Midshipmen football, Air Force Falcons football




Profiles




Twitter

Facebook

YouTube

Instagram
The Army West Point Black Knights football team represents the United States Military Academy in college football. Army is currently a Division I Football Bowl Subdivision (FBS) member of the NCAA. The Black Knights currently play their home games in West Point, New York at Michie Stadium, with a capacity of 38,000. Army is currently coached by Jeff Monken who is in his 3rd season as head coach. Army is a three time national champion, winning the title in 1944, 1945, and 1946.
Contents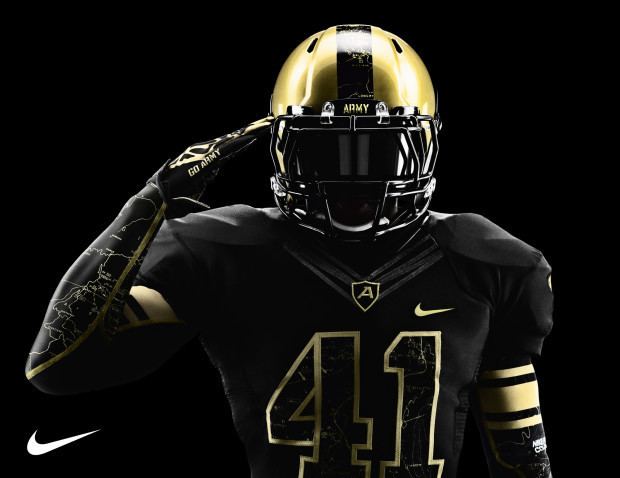 With the exception of seven seasons (1998–2004) where the team was a member of Conference USA, Army has competed as an independent, meaning that they have no affiliation with any conference. Currently, Army is one of four schools in the FBS that does not belong to any conference; the other three being BYU, Notre Dame, and UMass. However, all four of these schools belong to conferences for all other sports. Army is primarily a member of the Patriot League, BYU is a member of the West Coast Conference, Notre Dame belongs to the Atlantic Coast Conference, and UMass belongs to the Atlantic 10 Conference.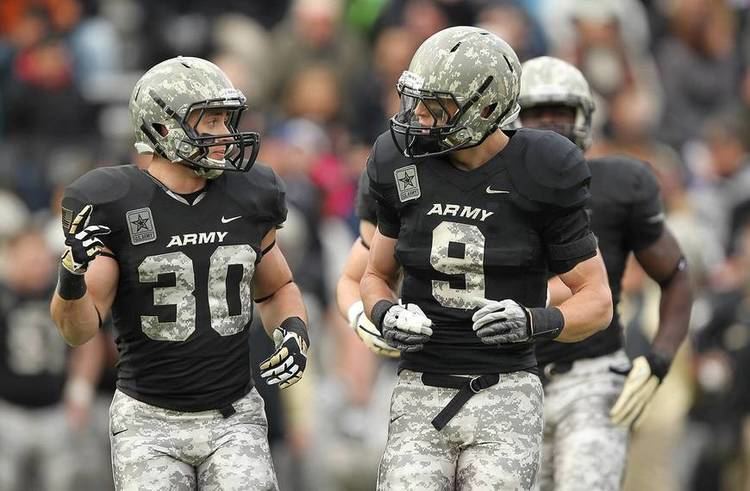 Three players from Army have won the Heisman Trophy: Doc Blanchard (1945), Glenn Davis (1946), and Pete Dawkins (1958).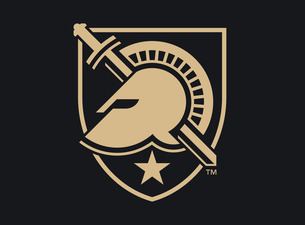 History
Army's football program began on November 29, 1890, when Navy challenged the cadets to a game of the relatively new sport. Navy defeated Army at West Point that year, but Army avenged the loss in Annapolis the following year. The academies still clash every December in what is traditionally the last regular-season Division I college-football game. The 2015 Army–Navy Game marked Army's fourteenth consecutive loss to Navy. From 1944 to 1950, the Cadets / Black Knights / the Corps had 57 wins, 3 losses and 4 ties. During this time span, Army won three national championships.
Army's football team reached its pinnacle of success during the Second World War under coach Earl Blaik when Army won three consecutive national championships in 1944, 1945 and 1946, and produced three Heisman trophy winners: Doc Blanchard (1945), Glenn Davis (1946) and Pete Dawkins (1958). Past NFL coaches Vince Lombardi and Bill Parcells were Army assistant coaches early in their careers.
The football team plays its home games at Michie Stadium, where the playing field is named after Earl Blaik. Cadets' attendance is mandatory at football games and the Corps stands for the duration of the game. At all home games, one of the four regiments marches onto the field in formation before the team takes the field and leads the crowd in traditional Army cheers.
For many years, Army teams were known as the "Cadets." In the 1940s, several papers called the football team "the Black Knights of the Hudson." From then on, "Cadets" and "Black Knights" were used interchangeably until 1999, when the team was officially nicknamed the Black Knights.
Between the 1998 and 2004 seasons, Army's football program was a member of Conference USA, but starting with the 2005 season Army reverted to its former independent status. Army competes with Navy and Air Force for the Commander-in-Chief's Trophy.
Michie Stadium
Michie Stadium is the home stadium of the Army Black Knights in West Point, New York, which was opened in 1924. The stadium is named after the first Army football head coach, Dennis Michie. In 1999 the field was renamed Blaik Field at Michie Stadium in honor of Former Coach Earl Blaik.
Traditions
Songs
Alma Mater is the Army's school song. Army's fight song is On, Brave Old Army Team. Army also plays other organized cheers; Army Rocket Yell, Black, Gold, and Gray, and USMA Cheer.
Mascot
Army's mascot is Army Mules. The Army Mules date back to 1899, being officially adopted by Army in 1936.
Commander-in-Chief's Trophy
Air Force, Army, and Navy have played each other every year since 1972 for the Commander-in Chief's Trophy. Air Force leads the FBS service academies with 19 victories, Navy has 15 victories, Army has 6 victories, and the trophy has been shared 4 times.
Air Force
Air Force and Army meet annually during the Commander-in-Chief's Trophy every year. Air Force leads Army 35–14–1 in overall meetings, and 32–12 in the Trophy series.
Navy
Army and Navy play each other annually in the Army–Navy game, which is also a part of the Commander-in-Chief's Trophy. This series is one of the oldest and traditional rivalries in the NCAA. They first met in 1890, and have played each other annually since 1930. The games are generally played at a neutral site. Navy leads the series 60–50–7.
Notre Dame
Notre Dame is a rivalry which has fallen into obscurity. In much of the early 20th century, Army and Notre Dame were considered football powerhouses, and met 34 times between 1913 and 1947. Though the rivalry has slowed down, they last met in 2016. Notre Dame leads the series 38–8–4. Many media members considered the 1946 contest to be the "Game of the Century".
Rutgers
This rivalry stems from 1891 with Army and Rutgers being two of the only three programs (a third is Navy) to come out of the original, informal "Ivy League" that are still members of the NCAA Division I FBS). ("See" Before There Was An Ivy League "and" Ivy League#History of the athletic league.) Army is Rutgers' second oldest active rivalry. Rutgers and Army have met 40 times since 1891 and Rutgers leads the series 22–18.
Current coaching staff
John Loose was the linebackers coach at Army from 1992 to 1998
Tucker Waugh was the wide receivers coach at Army from 2000 to 2004.
Head coaching records
Charles Dudley Daly coached did not coach the 1917–1918 seasons.
Dennis Michie coached 1 game in 1890, and then coached a full season in 1892.
Ernest Graves, Sr. coached the 1906 & 1912 seasons.
Championships
Army has won 3 national championships, two from the AP and one from Helms Athletic Foundation.
Other notable players
President of the United States and General of the Army Dwight D. Eisenhower and General of the Army Omar Bradley were on the 1912 Army football team. Eisenhower was injured and his football career was over by 1913, when the two future generals were juniors. Bradley, a star of the Army baseball team for four years, was on the field in 1913 when Notre Dame upset Army in an historic college football game in which the forward pass was used for the first time. Bradley played end opposite the legendary Knute Rockne, the Notre Dame end who later coached the Irish to national championships before dying in a plane crash near Bazaar, Kansas, on Easter Friday in 1931.
Award winners
Heisman Trophy
Doc Blanchard – 1945 Glenn Davis – 1946 Pete Dawkins – 1958
AFCA Coach of the Year
Earl Blaik – 1946 Tom Cahill – 1966
Eddie Robinson Coach of the Year
Tom Cahill – 1966
Bobby Dodd Coach of the Year Award
Bob Sutton – 1996
Maxwell Award
Glenn Davis – 1944 Doc Blanchard – 1945 Pete Dawkins – 1958
Outland Trophy
Joe Steffy – 1947
William V. Campbell Trophy
Andrew Rodriguez – 2011
James E. Sullivan Award
Andrew Rodriguez – 2011
Radio
National radio rights to the Black Knights are currently held by ESPN Radio, while regional radio rights are held by the Army Sports Network.
Current broadcast teams
ESPN Radio
Clay Matvick (play-by-play)
Mark May (color analyst)
Army Sports Network
Rich DeMarco (play-by-play)
Dean Darling (color analyst)
Tony Morino (sideline reporter)
Joe Beckerle (pre and post-game)
References
Army Black Knights football Wikipedia
(Text) CC BY-SA